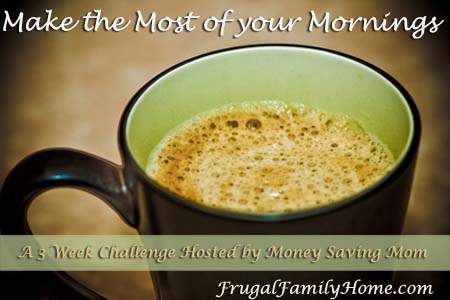 Photo Credit
Well I made it through the first week of working on this challenge by Money Saving Mom. If you want to get a morning routine set up you might want to follow along too.
This week these are the habits I have set up
1. Bed by 10:30 each night
2. I have my top 5 things to do each evening
3. I have set a time to wake up at 6:30 and out of bed by 7:00
4. Each morning I will pray and name three things I am thankful for to help my day get off to a good start.
Today assignment for Day 5, Have a Plan for your Day
I have weekly goals that I plan each Sunday. But I don't have yearly goals. Crystal suggests to pick 1-5 yearly goals and work a little each day towards meeting them. So instead of just working through your day and getting done what needs to be done. You have a plan for the bigger things you want to accomplish.
Goals for the Rest of this Year
1. Homeschooling for my daughter, sophomore year
2. Homeschooling for my son, first grade
3. Set up and follow a blogging schedule
4. Get caught up on scrapbooks and keep up
5. Encourage others each week through letters, phone calls, and e-mails

Since we are over half way through this year, these will be the goals I will work on until January. Then I can set up new yearly goals at the start of the year. This yearly goal setting thing is new to me so I am sticking to just 5 goals to work on until then end of the year. Then come January I can make goals for the whole year and see how I do with accomplishing them.
Do you set goals each year and then plan a way to reach them by doing a little each day?
[signoff]
Other Posts in this Series
Make the Most of your Mornings Day 1 and 2
Make the Most of your Mornings Day 3
Make the Most of your Mornings Day 4