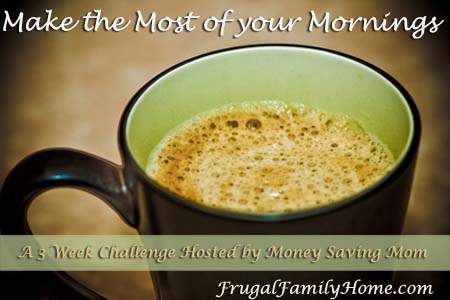 Photo Credit
I am continuing to follow along with Money Saving Mom on this 3 Week Challenge. I am trying to get into a morning routine so when we start our fall schedule for homeschool half of the morning battle will already be won.
So far this week these are the habits I have set up
1. Bed by 10:30 each night
2. I have my top 5 things to do each evening
3. I have set a time to wake up at 6:30 and out of bed by 7:00
Think of simple things you can do to help your attitude each morning be a good one.
So I am going to spend time between my wake up time and the time I get out of bed doing a few things to help my day be more positive. I will be in prayer for things for my day and for others that come to mind. I will also think of three things I am thankful for each morning. Having an attitude of thankfulness really can help start my day the right way.
I know when my son was in the hospital I would be so thankful each day for even the smallest progress and I would pray for a calm spirit so I could help my son get through that day. My attitude is so much better when I dwell on the positive than when I worry about the "what ifs".
What do you do to get your day off on a good start?
[signoff]
Other Posts in this Series
Make the Most of your Mornings Day 1 and 2
Make the Most of your Mornings Day 3