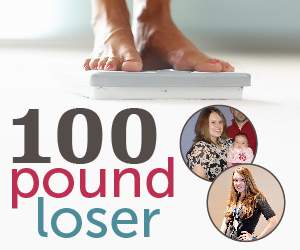 I have to admit I was so happy to get a chance to review this book. I have been waiting for this book to come out since I found Jessica's blog and started following it. So when the opportunity arose for me to get a free copy of her ebook for a review I didn't hesitate. Since one of my goals for this new year is to lose 40 pounds this ebook release is really timely for me.
If you are looking to lose weight in this new year too, you will want to read 100 pound loser. Jessica in her book shares about how she lost 100 pounds.
What I though about the ebook,
I really liked reading it. 100 pound loser was a quick read but oh so entertaining. Jessica uses humor in the book to make the book very entertaining and easy to read. The book starts out with Jessica's struggle with her weight story and the day she came to the realization that something had to change.
She shares many good ideas in her book one that she touches upon is the need for acceptance of your body or your body isn't bad and the need for balance. Which I believe balance is where so many diet changes go wrong. Too much swing in the opposite direction of what you have been doing usually is not the best choice.
Jessica shares the changes she made and what she did to achieve her 100 pound weight loss. Along with helps to help the reader along on their own weight loss journey. She keeps a positive and up beat attitude throughout the whole book. She also shares with a "real" feel of what she thinks and does and how she is not perfect and was not perfect during her weight loss journey.
There are areas she talk about in this ebook from just how she finds time to fit in exercise to as a mother keeping check on your attitude about your body, so you are not sending the wrong message to little ones in your home. She even has included some questions she has received from others about her weight loss and her responses. Towards the end of the book Jessica has included some info on resources she used herself.
This book doesn't include a step by step meal plan for losing 100 pounds. It doesn't include a workout regime either. Jessica does share a few times each mom has to find what works best for her and her family which will be different for each person. But it does contain advice on how she was able to accomplish a 100 pound weight loss while being a busy mom with very little extra time and ideas on how start on your own weight loss journey.
So if you are looking for a quick read to give you some advice that worked for another mom, maybe just like you, be sure to purchase a copy of 100 pound loser for yourself. I think you will find her message enjoyable to read and helpful in your own weight loss journey.
(Disclosure: I received this book for free to review but the opinions in this post are all my own. The links are my referral links)