I really didn't do any shopping today. My husband picked up our Zaycon chicken this morning and I spent about an hour and half processing our chicken. I will do a post about it soon. But I did do my big shopping trip to Winco on friday along with stopping at Safeway.
Here is my purchases at Safeway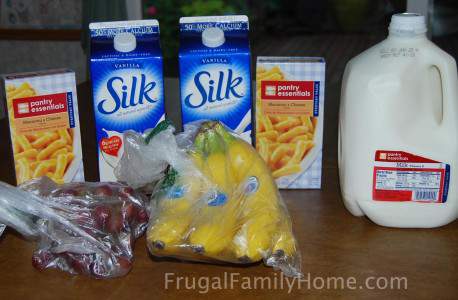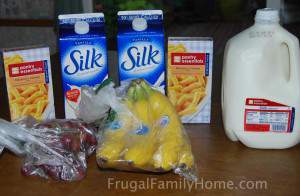 2 Silk Soy Milk $2.79 on sale
Used $2/2 coupon
Used doubler $.50
Paid $1.54 each
Pantry Essentials Gallon Milk $1.99 with Just for U coupon
Bananas $.39/lb with Just for U coupon $.94
Grapes $1.68 (ouch, we are just tired of apples and Everyday Deals did not have any)
2 boxes Pantry Essentials Mac and Cheese $1
Total Spent $8.37
Winco Trip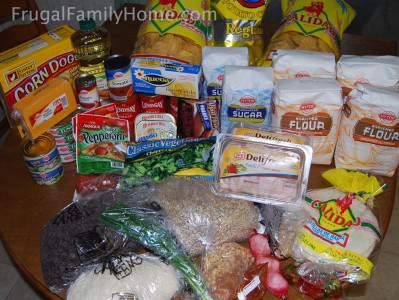 I go to Winco Foods about once every 4-5 weeks. I purchase what I need to complete my meals I have planned for the next month and any staples we are running low on that are a good price.
Frozen Broccoli $1.08
Frozen Stir Fry Veggies $1.28
4 Oscar Mayer Lunch meat $1.98 each (I usually purchase this at Grocery Outlet for $1.49 but we were out)
Nucoa Margarine $1.62
Corn Dogs $5.87 (my son requested these)
Ball Park Hot dogs $1.48
3 Armor Pepperoni $1.98 each
Cheddar Cheese 16 oz $2.76
Bulk Rice $.48/lb $1.08
Bulk Chocolate Chips $2.23/lb $9.39 (I did not realize I was getting so much, we are stocked up now)
Bulk Gummi Worms $1.88/lb $.83
Bulk Chili Powder $3.38/lb $.51
Bulk Raw Sunflower Seeds $1.38/lb $6.02
Ginger root $.98/lb $.25
Green Onion $.48
Bulk Cashew Pieces $7.04/lb(these were marked $6.98 but rang up wrong I did not catch it) $3.31
Garlic $.98
Sardines $.87 each
Lindsay Olives $.78 each
4 Tuna $.66 each
Flour Tortillas 30 ct $3.08
Tomato Soup $.58
3 Tomato Paste $.43 each
2 Water chestnuts $.49 each
2 Sugar 4lbs $2.27 each
4 Flour 5lbs $1.56 each (it is less expensive to buy 4 5lb bags instead of 2 10lb bags)
2 Calidad Chips $3.18 each
Potato Chips $1.72
Potatoes 10lb $2.38
Total Spent $86.80 
Total Spent $11.80
Total Spent this week for our groceries was $106.97. So now my major shopping is done for this month. I will only need to stock up on any deals I find, get fresh fruits, vegetables and milk as we need it.
How did you do on your shopping this week?
[signoff]
Disclosure: The Zaycon Foods link in this post is my referral link.