This past week I really needed to pick up bread at the bread store. You see my family can only eat two kinds of bread at the bread store, the Seattle Sourdough Company Bread and the Franz Organic Bread. Those two types of bread are the dairy free ones they carry.
As luck would have it, when I arrived at the bread store there wasn't a loaf to be had of either of those two types of bread on the discount racks. There was some at full price, but I just can't bring myself to pay that much for a loaf of bread. So I left the store empty handed. We had two loaves of bread left in the freezer, so I figured I could just make those stretch this week and I did.
I got creative with lunches, serving sandwiches on the cheap tortillas I found at Everyday Deals Extreme Discount. We ate hot dogs one day for lunch. We had pizzas made on hamburger buns one day and pizzas made on tortillas another day. All in all it worked out great and I didn't have to spend the extra money on bread. If we really had ended up needed bread I would have made a batch of my frugal bread, but with the heat, I'm glad I didn't have to bake this week.
Here's how my shopping went for this week. I stopped by Winco Foods to pick up items we needed for the next two weeks of dinners. I decided to split my big Winco shopping trip into two smaller trips this month. It worked out well, except I noticed going mid month is not the best time to shop Winco Foods. The prices ended up being higher than normal or the items I usually purchase weren't on sale. 🙁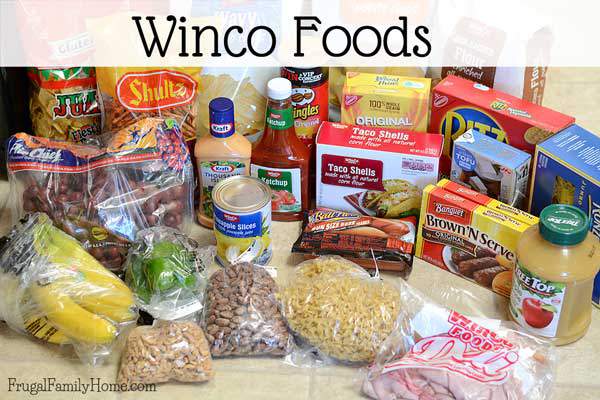 My Purchases at Winco Foods
2 bags of Tortilla Chips $2.98 each (There were no tortilla chips on sale like usual)
2 bags of Potato Chips $1.58 each
5 dozen Eggs $8.96 (so happy to see the price down from $10.99)
Pretzels $2.48 (ouch, I usually pay $1.88)
Grapes $1.48/lb
Bananas $.52/lb
Potatoes 10 pounds $1.78
Pringles $1.25 each, Used $1/3 coupon, Paid $.92 each
2 Applesauce $1.97 (I still have some home canned but this was a good price so I bought some)
4 Nabisco Crackers $1.98 each, Used(2) $.75/2 coupon, Paid $1.60 each
Egg Noodles $1.15/lb
Bell Pepper $.98
Almonds $7.13/lb
Cashews $5.41/lb
2 Tofu $1.68 each
Canned Pineapple $1.08
Jumbo Shell Pasta $1.98 (this makes two dinners so not too bad)
Taco Shells $.98
Ketchup $.78
Deli Turkey $5.18
Deli Ham $2.02
3 pkgs Sausage $.98 each
Ball Park Franks $2.98
2 Kraft Dressing $1.78 each, Used $.75/1 coupon, Paid $1.40 each
Flour $3.55
Total Spent $89.18
Everyday Deals Extreme Discount Purchases
2 pkgs 20 pack Flour Tortillas $1 each (these are usually $2.98 each at Winco Foods)
4 head of Lettuce $.25 each
2 pkgs Cookies $1 each
2 pkgs Mini Oreos $1.59 each
3 pkgs Granola Bars $1 each
2 pkgs Strawberries $.50 each
Total Spent $12.18
That brings my total spending for this week to $101.36. A little higher than I like but I did purchase the main items for dinners for two weeks. I usually like to keep my weekly grocery spending to $75 a week or $300 a month. We keep pretty close to that total since I use cash for my grocery shopping.
What deals did you find this week while at shopping? I would love to have you share about them in the comments below.
[signoff]