This is such a great frugal homemade bread recipe. Because you don't need eggs or milk to make it. And the loves turn out lights and fluffy. This is our go-to recipe when making fresh bread at home.
Mmm, bread, homemade bread. I just love the smell of homemade bread baking. I used to make brea din our bread maker at least 3 times a week. It was great having homemade bread on hand. But then my bread machine died.
I thought about purchasing a new one right away. But I decided to give making bread by hand a try, after all, that's how I used to make bread before I purchased the bread machine.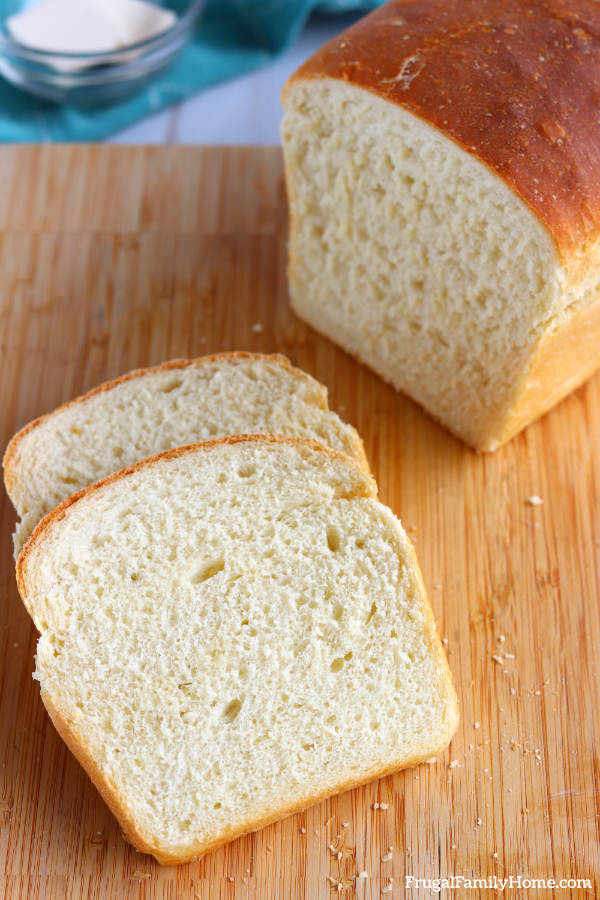 I call this recipe a frugal recipe because it doesn't take many ingredients and it's inexpensive to make. it's just $.44 a loaf.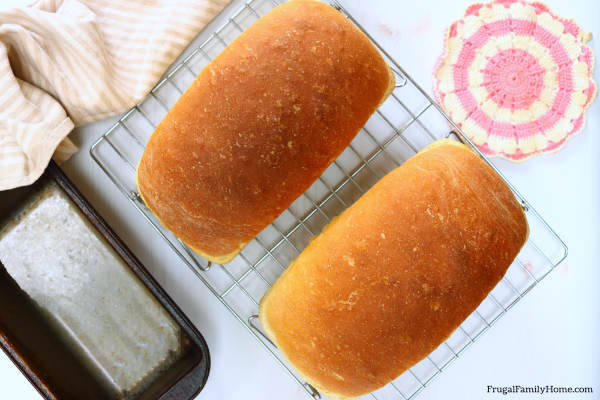 Ingredients Needed to Make Homemade Bread without Milk or Eggs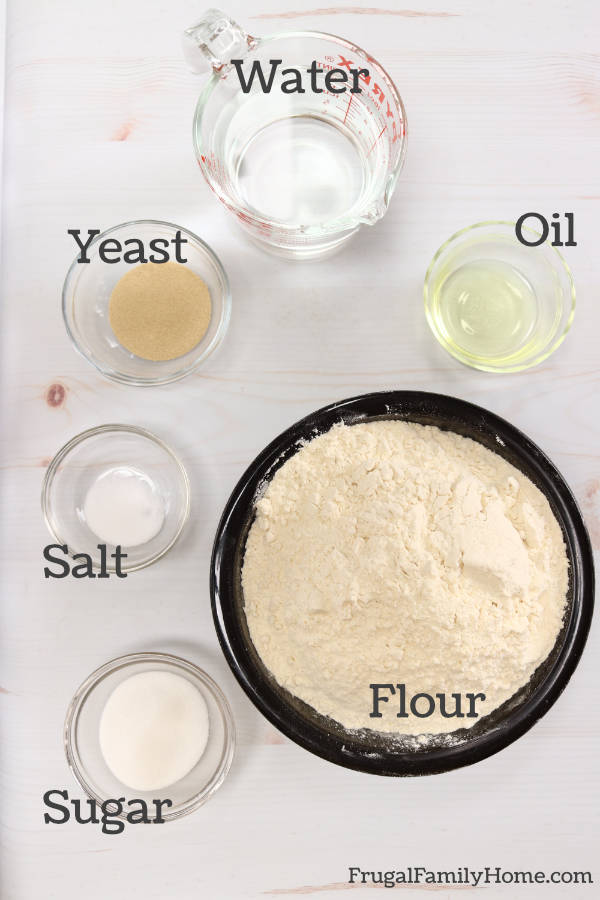 You'll only need 5 ingredients to make this delicious homemade bread with no milk and eggs. Well, I guess it's actually 6 if you count the water too.
What you'll need to make this homemade bread recipe…
2 cup Water, make sure it warm but not too hot
1 tablespoon of Yeast
3 tablespoons of Sugar, You can use Honey if you like
2 tablespoons of Oil, canola, olive, melted coconut oil
1 teaspoon salt
6-7 cups Flour, I use all-purpose unbleached flour
This recipe is fairly easy to make and I can make two loaves in the time it took my bread machine to make one.
Making bread by hand does take a little more hands-on time but most of the time is waiting for the bread to rise.
But if you're in a hurry, try this bread recipe that is also dairy free and egg free this is a super quick no knead bread recipe for homemade bread. Make it in just an hour from start to finish.
When I am baking bread I usually start the bread in the morning, mixing up the dough and adding it to the oven to rise.
Then we do some of our homeschool lessons. After about an hour I come back and punch the dough down, shape it and place it in the loaf pans.
After that small task, I have another half hour or so before I need to do anything again.
Making fitting baking bread into your day, easy.
And here's a video to show you each step of this homemade bread recipe.
How to Make Homemade Bread with No Milk, No Eggs (Video Tutorial)
If watching a video isn't for you, I understand scroll down for the written instructions and bread making tips too.
Step by Step Instructions for Making Homemade Bread
1. Heat water to 120 degrees. Stir in yeast and let sit for 5 minutes too proof.
2. Mix 2 cups of flour, sugar, and salt in a large bowl. Stir to mix.
3. Add vegetable oil and yeast mixture to flour mixture. Beat with a mixer for 2 minutes.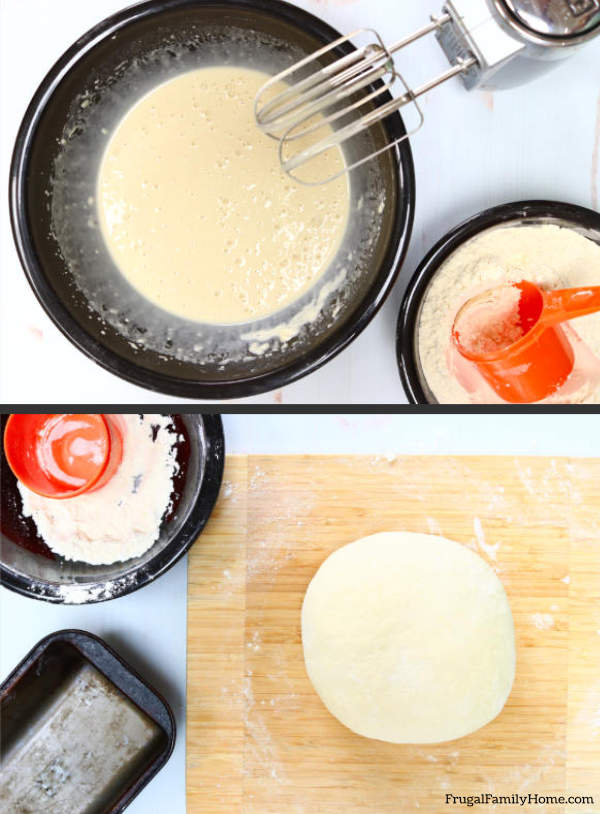 4. Add 1 cup of flour at a time to the dough and mix with a spoon.
5. Keep adding flour and stirring until dough becomes too thick to stir.
6. Once the dough is too thick to stir, use your hands to mix in flour to make a soft but not sticky dough.
7. Turn the dough out onto a floured surface. Knead for about 8-10 minutes or until dough is smooth. The dough shouldn't be sticky or dry.
8. Place in the dough into a greased bowl, let rise for about an hour or until doubled in size in a warm place.
9. Punch down dough and cut in half. Shape each half into a loaf. Place into a greased loaf pan.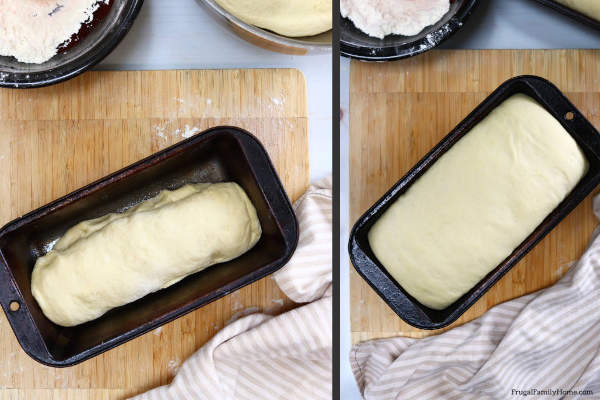 10. Let rise in loaf pans in a warm area for 30 minutes or until doubled in size.
11. Bake in a 350-degree oven for 30-35 minutes or until golden brown. When tapped on the loaf should sound hollow.
12. Let sit in loaf pan about 3-5 minutes. Then remove from pan and let cool on a wire rack.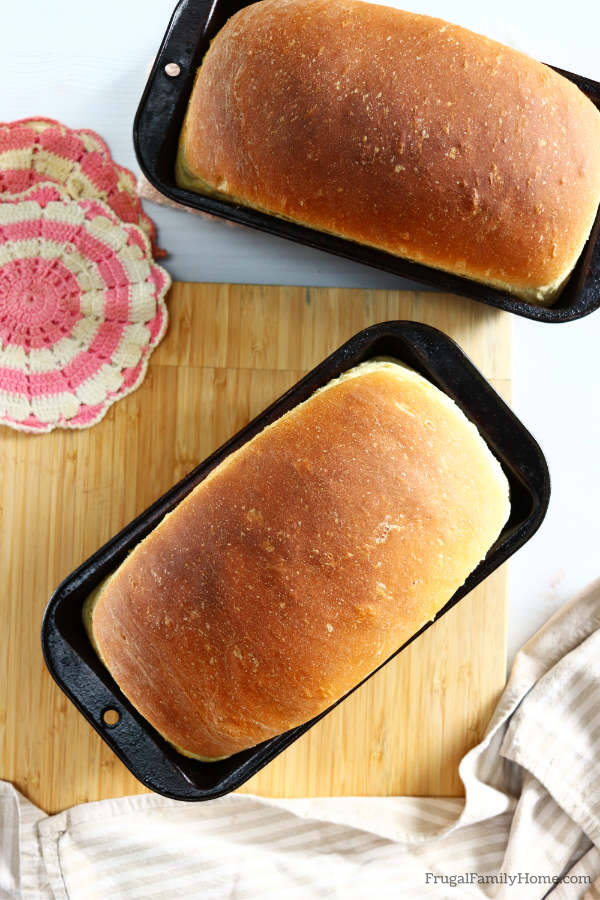 Once the dough has risen enough in the loaf pans, turn the oven on and the great aroma of baking bread starts in just a short amount of time. Yum!
So, if you don't have a recipe and want to give bread baking a try, you'll want to use this recipe. But be forewarned, your family may not want to go back to store-bought bread. 🙂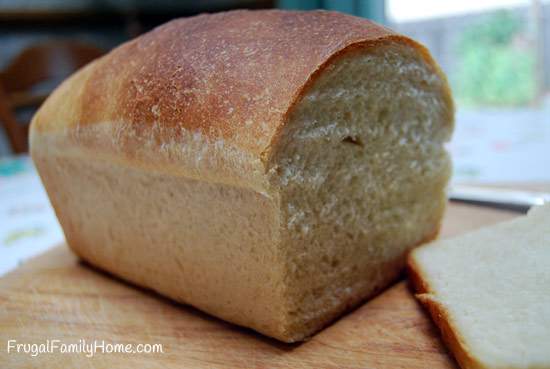 A few bread baking tips,
Make sure the water is warm and not hot. It should feel warm to the touch to be just right.
Mix in as much flour as you can with a spoon and then mix as much as you can with your hands.
The dough should be tacky but shouldn't stick to your hands if it's too sticky add more flour.
The amount of flour needed can change with the weather, more humid or wet weather, you will need more flour.
To test to see if the loaf is done baking tap the to if it sounds hollow it is done.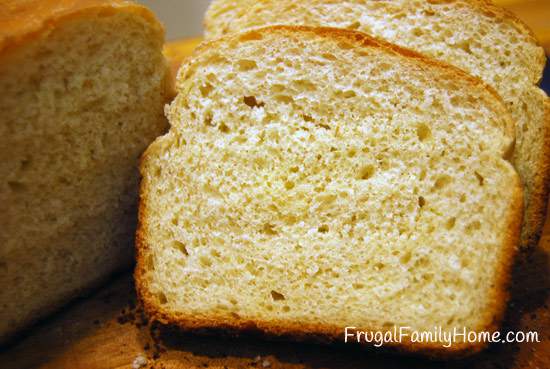 This recipe is great since it doesn't use any eggs. It also doesn't call for milk so it's dairy-free too. And a great recipe to make when you are low on milk and eggs but need bread.
If you prefer whole wheat you could try substituting half of the all-purpose flour for whole wheat and using brown sugar instead of white sugar in the recipe.
Get the Printable Recipe…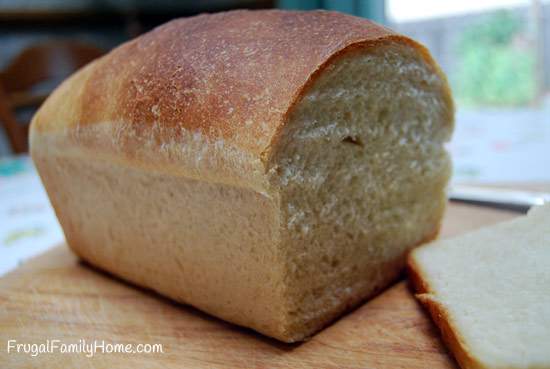 Frugal Homemade Bread
Ingredients
2

cups

Warm Water

1

tablespoon

Yeast

3

tablespoons

Sugar

2

tablespoons

Oil

canola, olive, or coconut melted

1

teaspoon

Salt

7

cups

Flour
Instructions
Add the yeast to the warm water and stir to dissolve.

In a large mixing bowl add the sugar, oil, salt and 2 cups of flour.

Mix in the yeast mixture with the flour mixture. And stir or mix with a mixer for a couple of minutes.

Gradually add in more flour 1 cup at a time.

Stir after each addition of flour until it's too thick to stir then, turn out onto a floured surface to knead in more flour until it's not sticky. Add 1/4 cup to 1/2 cup at a time.

Knead the dough on a floured surface for about 8-10 minutes, until the dough becomes elastic and smooth.

Place the dough in an oiled bowl and let rise in a warm place for about an hour.

Punch down the dough and shape into loaves. Place the dough in greased loaf pans. Let rise until double about 30 minutes.

Bake at 350 degrees for about 30 to 35 minutes.

Remove the bread from loaf pans and cool on a wire rack.
Nutrition
Serving:
1
slice
Calories:
150
kcal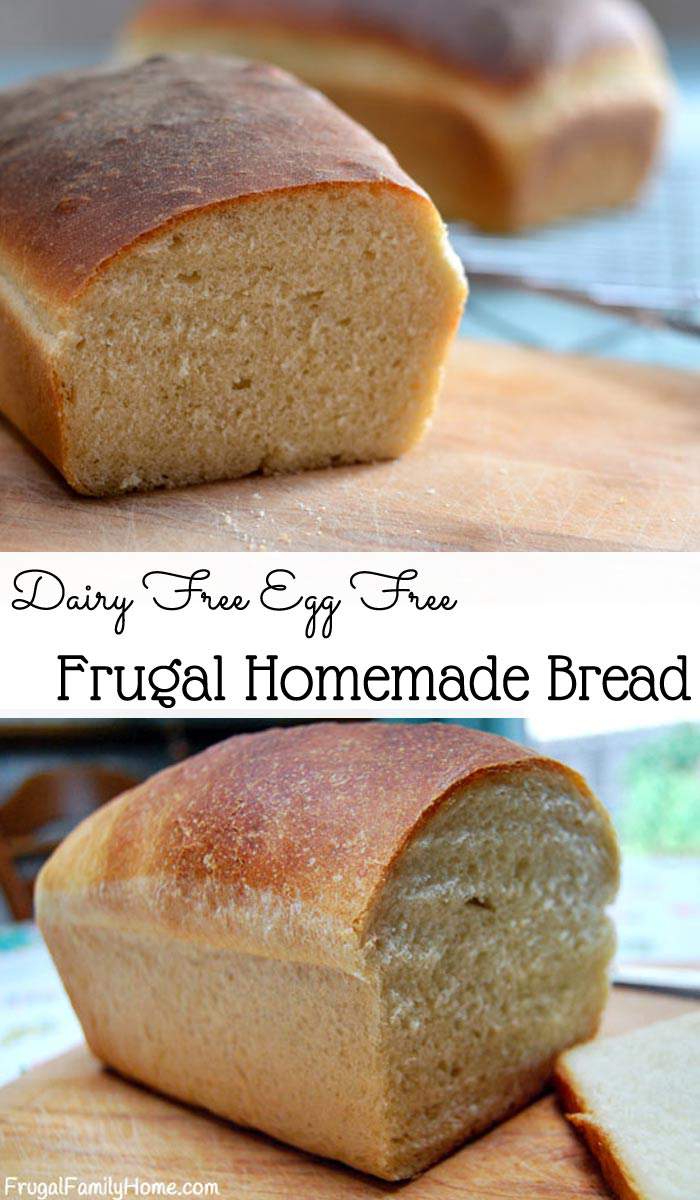 Do you make your own bread?
Find morefrugal recipes here.
Check out thehomemade bread video tutorial to see more bread making tips.
More Post You'll Enjoy,
Budgeting Money, Small Changes Big Savings
This post was originally published on November 13th 2013 but has been updated with a new video and photos.