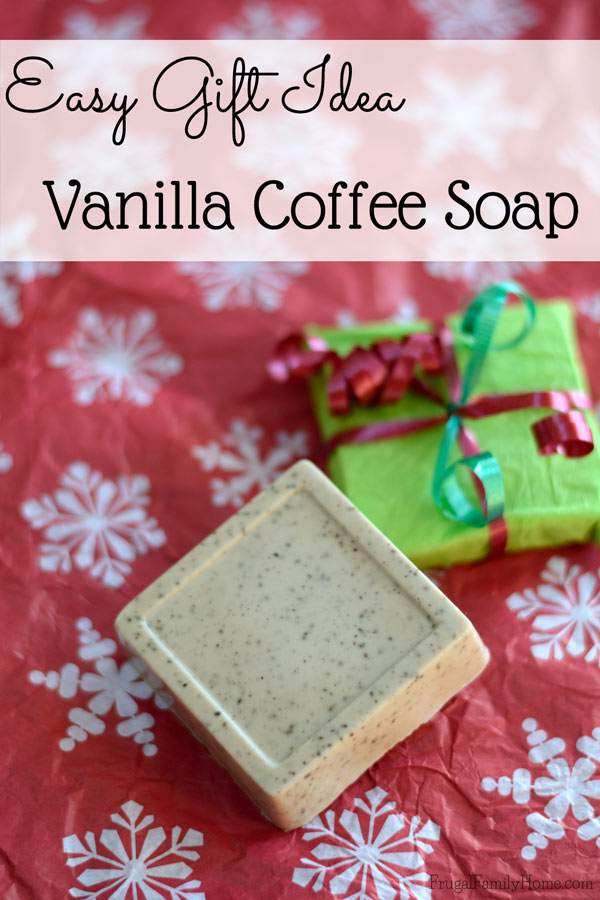 Today's easy gift idea is super easy. I have, in the past, made my own soap. I would mix the lye and the oils to get beautiful handmade soap. I could share one of those recipes with you, but to make that soap it takes a lot more time and equipment, than the one I'm sharing today.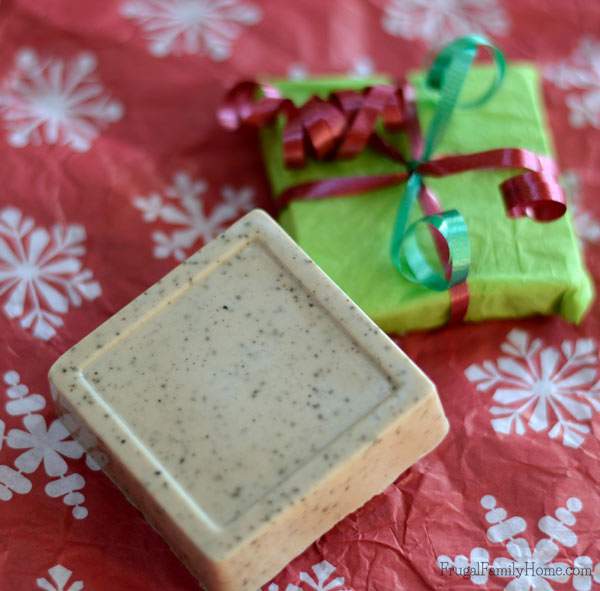 This vanilla coffee soap starts with a block of melt and pour soap from the craft store. Using the bulk soap helps to make this gift such an easy one to make. So easy your kids can even help.
Just so you know, the links in this post are my referral links. When you use them I can make a little money at no extra cost to you. See my disclosure policy for more information.
There is just something about a handmade soap that is so nice. You can make almost any scent you would like and the soap bases are really very good. I picked up a block of the shea butter soap from Michael's. But you can also purchase similar soap at Amazon too.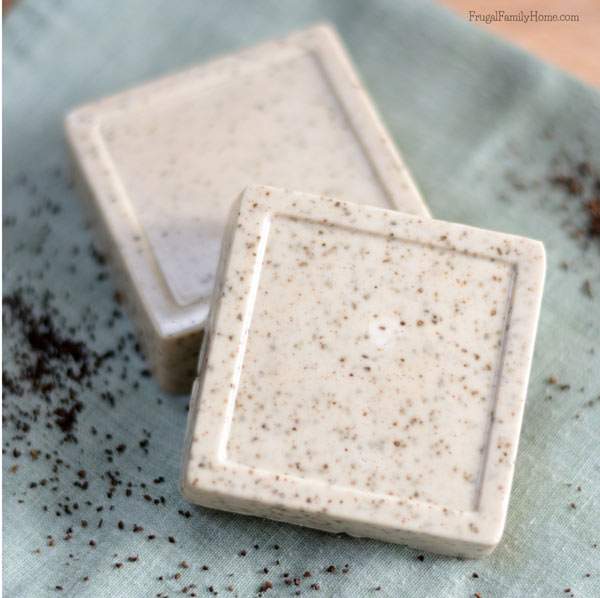 The only other items you'll need is the vanilla scent, coffee grounds, and a mold. I purchased a square and oval mold from Michael's. But you can purchase a round, square or pretty much any other shape at Amazon too. I like the silicone ones from Amazon better than the plastic.
More Beauty Recipes You'll Enjoy

Peppermint Swirl Soap
Honey Lip Balm
Rose Scented Sugar Scrub
DIY Lotion Bars
Making the Soap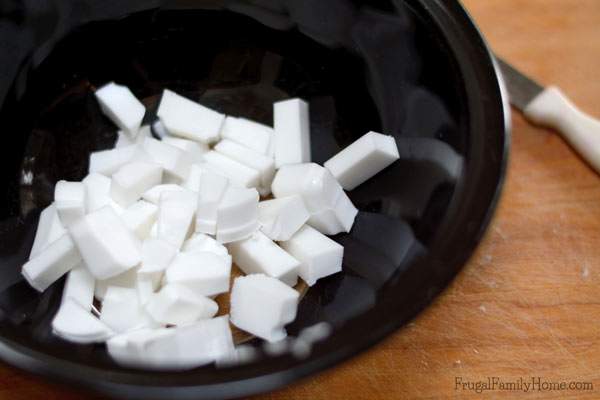 First, cut up the soap base into chunks and place in a pan or microwave safe bowl. Then microwave for about 15 seconds at a time, then stir. Keep these intervals up until the soap is melted. Make sure all the chunks are melted. If you don't the soap will start to set back up really fast. I learned this the hard way. 🙂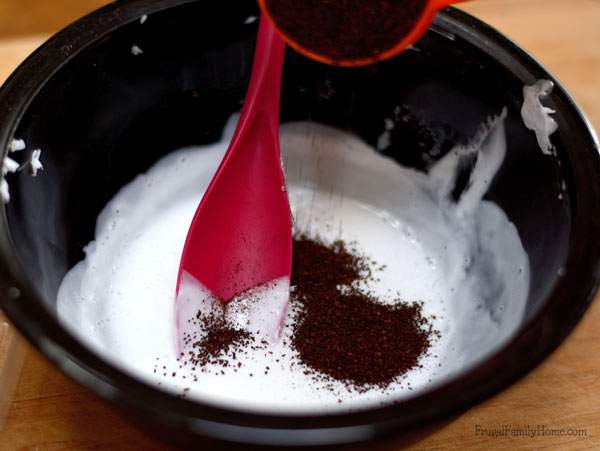 Add in the coffee grounds. I used mocha swirl coffee grounds in mine. Stir them in to distribute them well.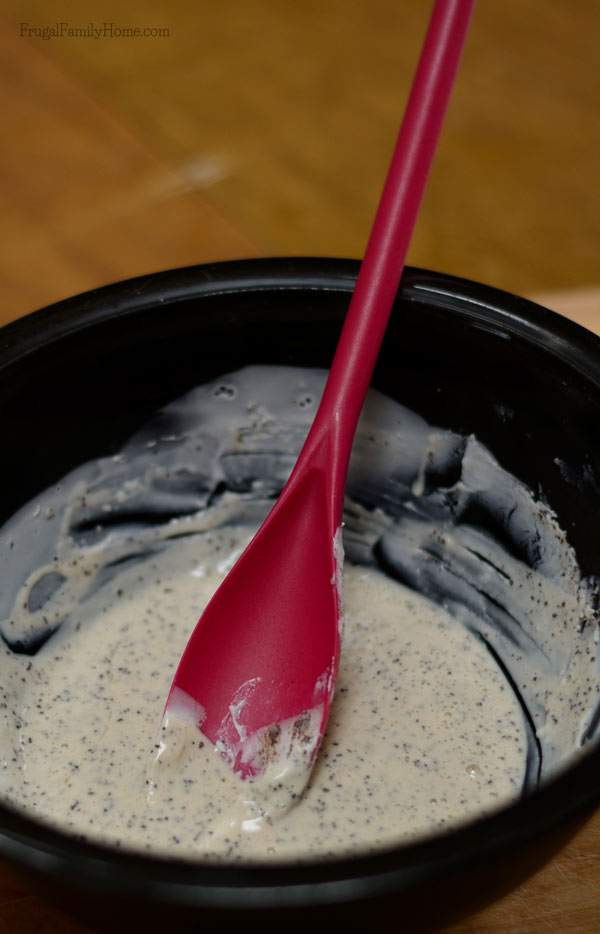 Next add in the scent you want. My ground coffee had a nice scent to it, but I added the vanilla scent in too. Just for an extra boost of scent in the soap.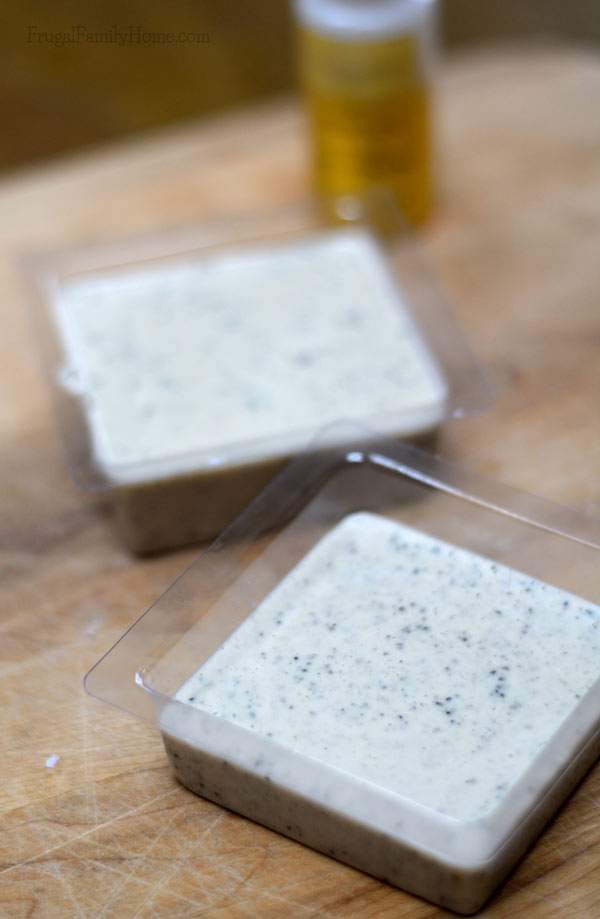 Pour into the soap mold and then let sit until firm. Don't touch the soap while it setting up. This can take a while. It all depends on how big your soap mold is. Mine was set in an hour.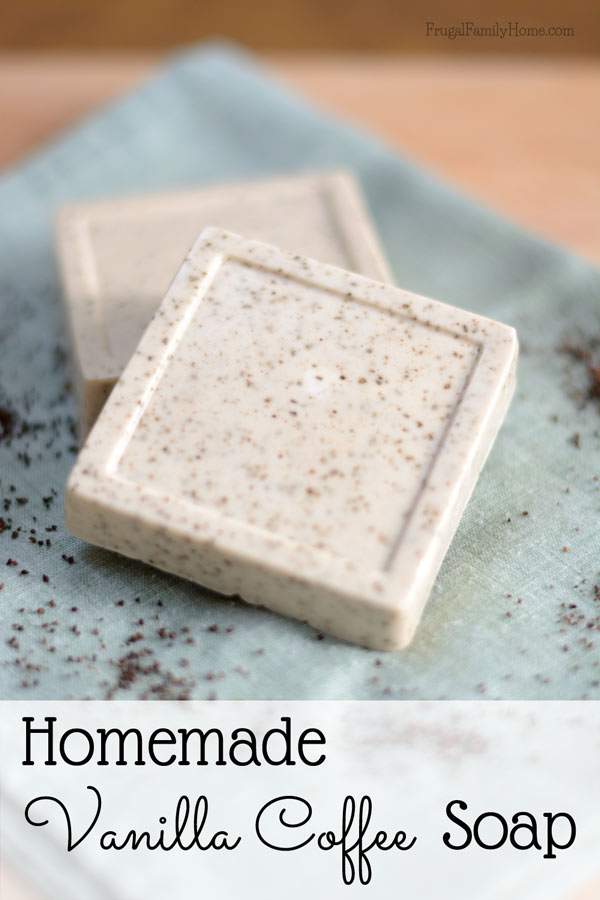 Once hardened the soap should pop right out and be ready to use.
Even though I don't drink coffee, I love the smell of this soap. I'm sure the coffee in the soap will be good to exfoliate the skin too. This soap would make a great gift for a gardener or a coffee lover.
How to Make Soap on a Rope
If you wanted to make soap on a rope to hang in the shower, you could add a doubled over piece of braided yarn or string to the mold after adding the soap. The soap will harden around it and you'll have a way to hang up the soap to keep it dry between uses.
Make sure to support your "rope" while the soap is hardening. Mine sunk down into the soap all the way so was able to show through the front. Not a huge deal, but if you want pretty soap be sure to support the rope until it is set.
What handmade gifts have you been working on? I would love to have you share about your projects in the comments below.
[signoff]
More Beauty Recipes You'll Enjoy

Peppermint Swirl Soap
Honey Lip Balm
Rose Scented Sugar Scrub
DIY Lotion Bars
More Ideas You'll Enjoy,