You want to make your own bread from scratch, but the time involved in making it has always held you back. Well, don't let it hold you back any longer. Oh, no this no knead bread recipe can be made in about an hour.
Yes, you read that right homemade yeast bread from start to finish in just one hour. And it's so easy, even if you've never made bread before, you can make this bread.
I've got a video for you and step-by-step photos below.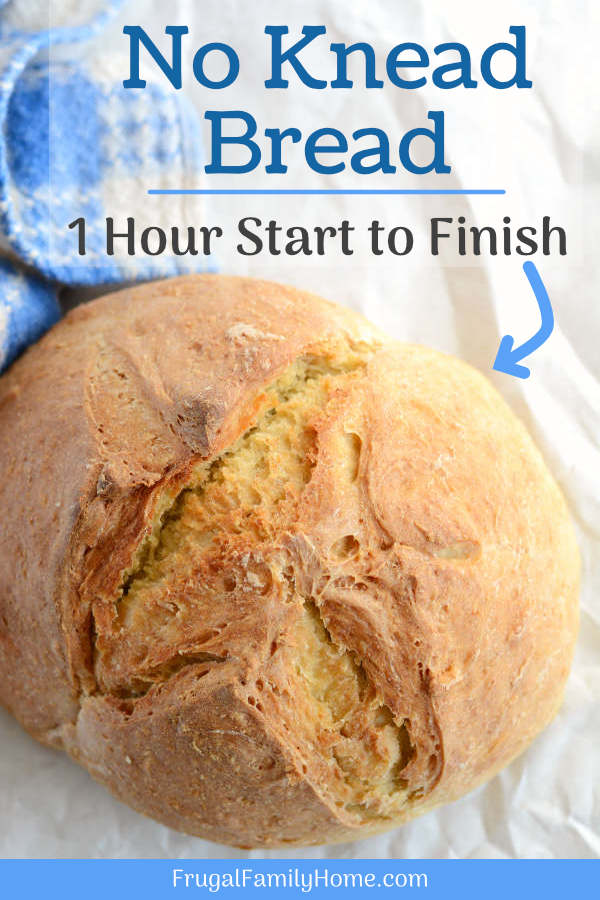 More Great Yeast Recipes: Quick Dinner Rolls | Easy Cinnamon Rolls | Homemade French Bread
There is something about homemade bread. While it's baking, it smells so good.
Then to take a fresh loaf out of the oven, cut a piece and add butter to it. Oh, it's a little slice of heaven you can hold in your hands.
And if you've been wanting to learn how to make yeast bread, this is the perfect recipe to start with.
It's not time consuming at all, just about an hour from bowl to belly or start to finish.
No kneading, no proofing the yeast, and only 15 minutes of rising.
This bread virtually makes itself. Only a few minutes of hands on time for you.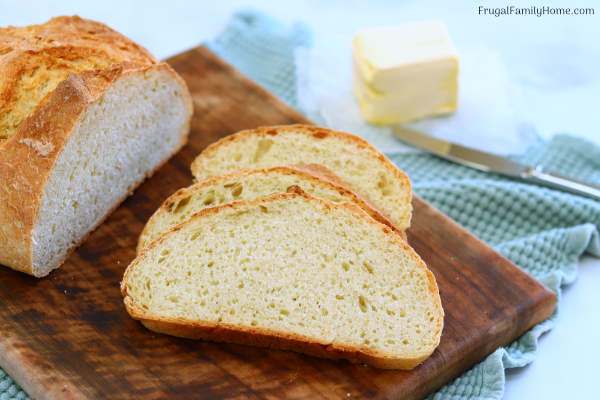 It's really so easy, even if you've never made bread you can make this bread, yes you can!
Let's get started! Soon your family will come to the kitchen being drawn in by the smell of your delicious homemade bread.
What You Need for this Homemade Bread Recipe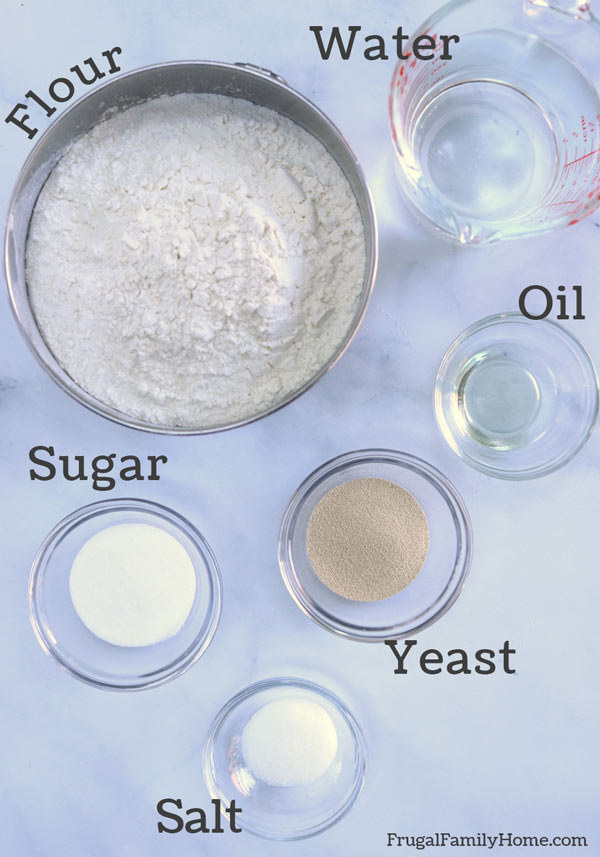 This no knead bread recipe is easy to make and simple too. Only 5 ingredients needed. You probably have all of them in your cupboard right now.
Flour, I use unbleached flour
Yeast, you have to have yeast
Sugar, helps the yeast to growFlour, I use unbleached flour
Yeast, you have to have yeast
Salt, brings out the flavor
Oil, a little in the bread and some to oil the bowl
Now you know what you need, let me show you how to make this homemade bread.
How to Make No-Knead Bread (Video Tutorial)
I made a quick video for you. They say a picture is worth a thousand words. Well, I say a video is like having someone right there alongside you to teach you. So it has to be about 10,000 words, wouldn't you say?!
But if watching a video isn't for you. I have all the steps below with photos too. Along with bread baking tips to help your bread turn out perfectly.
How to Make No Knead Bread Step-by-Step
Step 1 The Dry Ingredients
Measure your flour, sugar, salt, yeast, and place them into your food processor. And pulse a few times to mix.
Recipe Tip: the flour needed for this recipe can fluctuate. If you live in a humid area, you will need more flour (start with about 5 1/2 cups add more if needed). If you live in a dry area, it will need less flour (start with 5 cups).
Step 2 Measure Liquid Ingredients
Heat your water to warm. You want it between 120 degrees and 130 degrees. Then add your oil.
Recipe Tip: The water temperature is really important in this recipe. Since it doesn't have much rise time, the water needs to be warm, but not so hot to kill the yeast. I use my meat thermometer to test the temperature.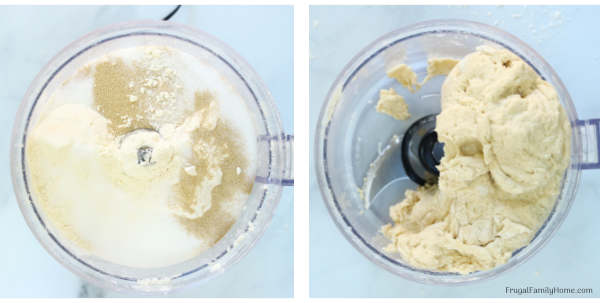 Step 3 Combine the Dry and Liquid Ingredients
With the food processor running, add the water and oil in the chute slowly. And keep it running until the dough forms a ball.
Take off the lid and feel the dough, if it's sticky, add a couple of tablespoons of flour. If too dry, add a tablespoon or more of water.
Then pulse.
Step 4 Pulse 20 times
Now that the dough has formed a ball, you'll want to pulse the food processor about 20 times.
And now the bread dough is ready to rise.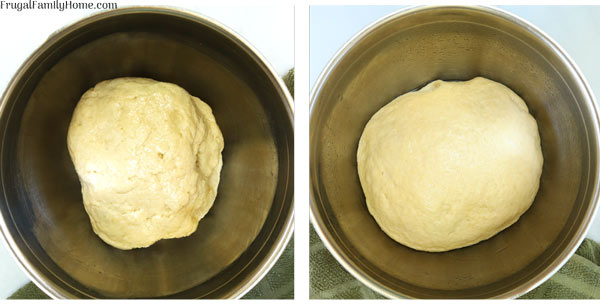 Step 5 Let Dough Rise
In a large bowl, add a drizzle of oil. Then rub it on the sides and bottom of the bowl.
Add the bread dough to the bowl, then flip a few times to coat with oil.
Cover with a towel, place in a warm area and let rise 15 minutes.
While that is rising heat, a couple of cups of water.
Step 6 Shape the Loaves
Now that the dough has risen. Cut the dough in half and form two balls. Place them on a cookie sheet and then score a deep X in the top of each one.
Place the cookie sheet in a cold oven.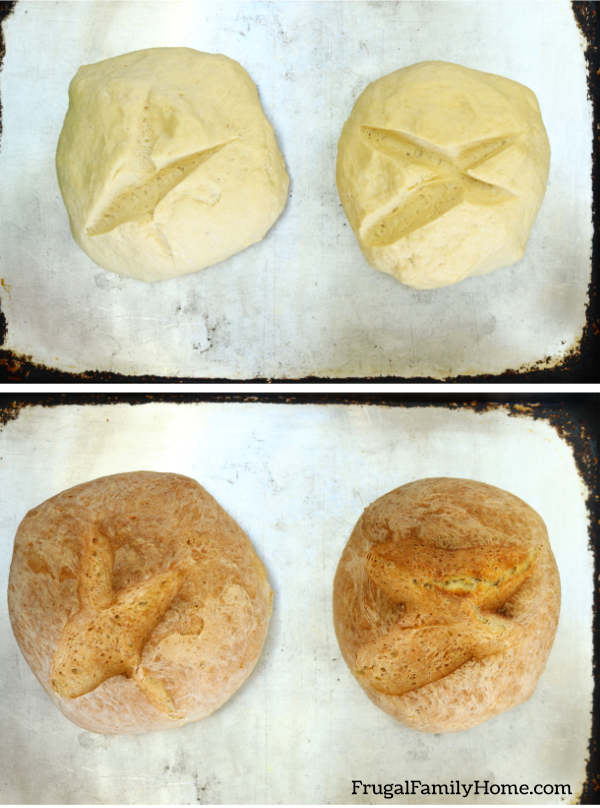 Step 7 Bake, How to Set Up the Oven
Because this is a quick no knead bread recipe, you want to add the bread to the oven when it is cold. Place the cookie sheet on the middle rack.
Then add a cake pan on the rack in the lowest position. Pour very hot water into the cake pan. Bake at 400 degrees for 40-50 minutes.
Recipe tip: the water in the pan below the bread helps to keep moisture in the oven while the bread is cooking. Starting with a cold oven gives the bread time to rise as the oven heats. Don't preheat the oven.
Step 8 Let Cool on a Rack
Now that you have two beautiful loaves of bread, let them cool on a rack. The crust should be crisp. If you leave them on the cookie sheet, they will sweat and the bottom will get soggy.
If you can't resist the bread until it's cooled. Cut a slice and smear with butter. It's so good.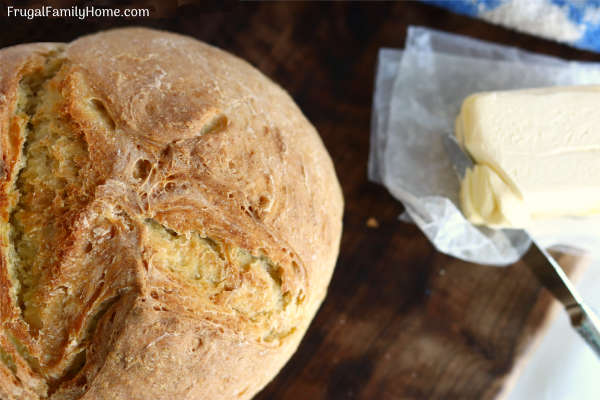 What is No Knead Bread, Why Don't You Knead It?
You make traditional no knead bread with a long rise time too. It kneads itself. But sometimes I don't have time to let it sit around for hours. I need bread quick.
And that's when I use this recipe. It's crusty on the outside and delicious and bubbly on the inside. It's denser than traditional bread. It's great with soup or salad when you want a heartier bread to eat or dip.
What Happens if I Knead, No Knead Bread?
It will be fine just proceed with the recipe. No harm will be done at all.
Yeast Tips…
Be sure to check the date on your yeast packages. Be sure to use it before the "Best By" date.
If you have a bulk or larger jar or package of yeast, be sure to refrigerate or freeze it in an airtight container once opened.
I buy yeast in bulk and store some in an airtight container in the refrigerator and the rest in a vacuumed sealed bag. And keep it in a cool and dry area.
Because yeast is a living organism and will lose activity. If you bake little, buy small quantities or the foil packages of yeast.
More Articles About Bread Baking: Frugal Homemade Bread | How to Make Bread Video Tutorial | How to Proof Yeast
See, that wasn't too hard, was it?! You can make your own homemade no knead bread in about 1 hour, from start to finish. It's the fastest no knead bread ever.
The flavor is good and it's the perfect side to a yummy bowl of soup. Or perfect addition to a dinner salad.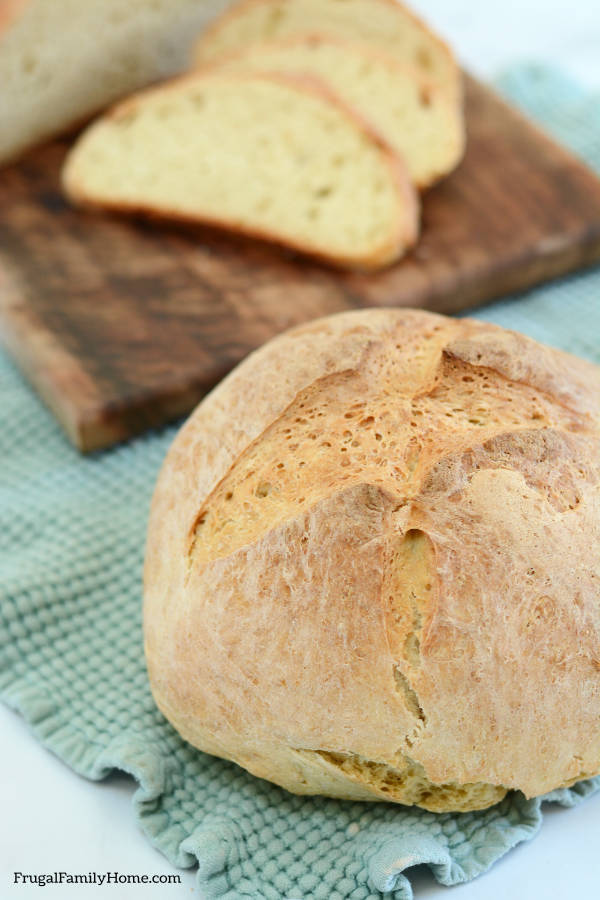 Get the printable Recipe…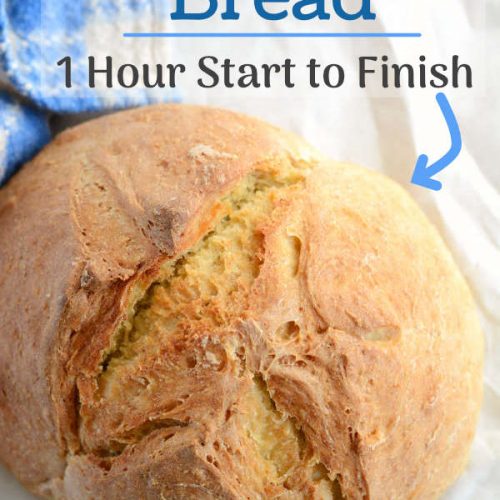 No Knead Bread in an Hour
This no knead bread recipe is the fastest recipes. You can have it made start to finish ready to eat in about an hour.
Ingredients
5-6

cups

Flour

2

tablespoons

Yeast

2

tablespoons

Sugar

1

tablespoon

Salt

2

cups

Water

120 to 130 degrees

1

tablespoon

Oil

plus more for oiling the bowl
Instructions
Place the flour, yeast, sugar, and salt into the food processor and pulse a few times to mix.

Mix the water with the oil.

Slowly add the water mixture through the chute of the food processor with it running.

Process until the dough forms a ball. Remove the lid and check the dough. If it's too wet, add a tablespoon or two of flour. Too dry, add a tablespoon or two of water and pulse a few times.

Remove the dough from the food processor and add to an oiled bowl. Turn the dough a few times to coat the dough with oil.

Cover the bowl with a towel and let rise 15 minutes in a warm place.

Heat 2-4 cups of water to almost boiling. While the dough is rising.

After the dough has risen, cut in half and shape into two balls.

Place the dough balls on a cookie sheet and score the top of each with a deep X.

Place the cookie sheet in the oven on the middle rack of a cold oven.

Place a cake pan on the lowest rack in the oven.

Add the hot water to the cake pan.

Close the oven and set to bake at 400 degrees.

Bake the bread for 40-50 minutes or until golden brown.

Move bread to a wire rack to cool.

Enjoy!
Video
Nutrition
Serving:
1
slice
Calories:
85
kcal
Carbohydrates:
17
g
Protein:
2.5
g
Fat:
0.7
g
Subscribe and you'll get Recipes
sent right to your inbox!
Click the button below and fill out the form.