Inside: Have you ever made french bread before? If you haven't this tutorial will show you how to make french bread at home.
There is nothing quite as good as the smell of baking bread. It just fills the air awaken your sense of smell and has you craving a bite of bread almost immediately after smelling it.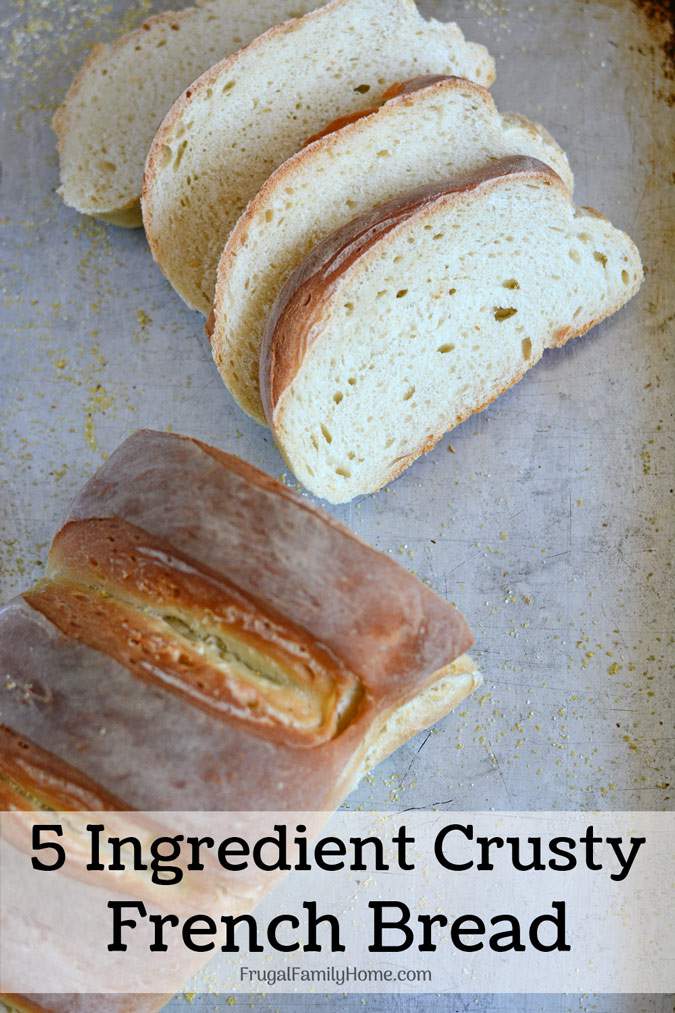 If you've ever been near the grocery store bakery when the bread just came out of the oven, you almost can't resist bringing a loaf of fresh warm homemade bread home. All of the stores in our area bake their own fresh french bread every day.
French bread is one of my favorite bread. The outside has nice crisp crunch as you sink your teeth into it. That crust outer crust gives way to that fluffy and chewy center of the bread. It's great with all kind of toppings from garlic butter to homemade strawberry jam.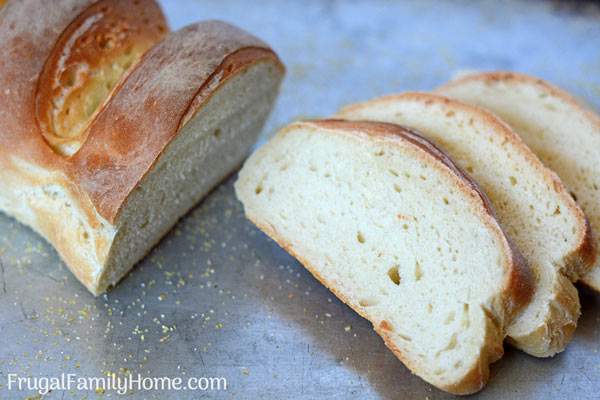 It works great as a spoon to mop up the last bit of soup from a bowl or to dip into a steamy warm bowl of soup. It's great for all sorts of dishes from pasta to salad and almost everything in between. And when it's a day old it makes a perfect french toast you could ask for.
Now if I have convinced you that you need to make a loaf or two for yourself. And you want to experience that delicious smell circulating through your home this french bread recipe is one to give a try.
French bread is an easy and frugal bread to make, I'm sharing just how cheap it is below. If you haven't made bread before be sure to check out the bread making video below.
In the video, I'm making a few loaves of my frugal bread recipe. The steps in this how to make french bread tutorial are similar and the video will help if you haven't made bread before.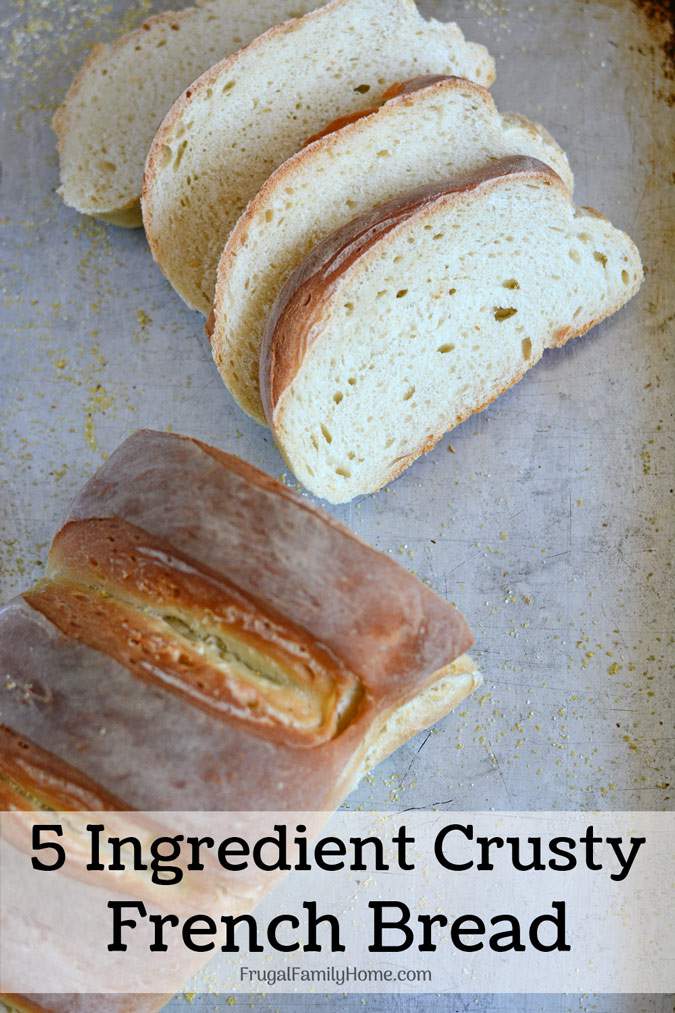 French Bread
Ingredients
2

cups

Water

warm about 110 degrees

1

tablespoon

Yeast

1

tablespoon

Sugar

1

tablespoon

Oil

2

teaspoons

Salt

5 to 6

cups

All-Purpose Flour
Instructions
Add the yeast, sugar and warm water to a mixing bowl. Stir and let it proof about 10 minutes the mixture should get foamy on top.

To the yeast mixture in the bowl add 3 cups of flour, salt, and oil. Mix with a mixer or in a stand mixer for 2 minutes.

Slowly add enough flour to make a firm dough. The dough should be firm and not sticky.

Turn the dough out onto a floured surface and knead about 10 minutes until the dough is smooth and elastic. Adding more flour as needed.

Place into a greased bowl and let rise until the dough has doubled in size. This takes about 45 minutes to an hour.

Punch the dough down and cut in half.

Roll the dough into two long slender loaves.

Place on a cookie sheet sprinkled with cornmeal or into a french loaf pan.

Cut slits in the top with a sharp knife.

Let rise until doubled in size.

Bake at 375 for about 30 minutes or until golden brown and the loaf sounds hollow when tapped on.

Cool on wire racks.
How to Make French Bread Step by Step Photos and Tips
These are the steps I follow each time I make this french bread recipe. It turns out great, makes the house smell wonderful and taste delicious. Plus it's inexpensive to make.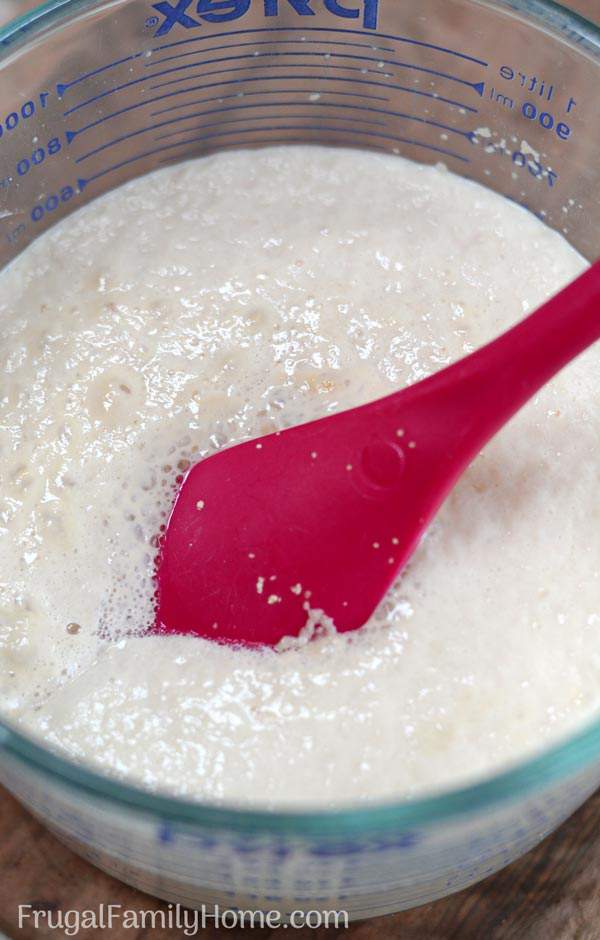 1. Proof the yeast in warm water with the sugar until foamy. If your yeast doesn't get foamy, it's probably bad and you need to get a new batch of yeast or your water was too hot. Keep the water right around 110 degrees.
2. Beat the mixture with only 3 cups of flour added to build the gluten in the bread. The dough should fall in a sheet-like pattern when the dough has been beaten enough.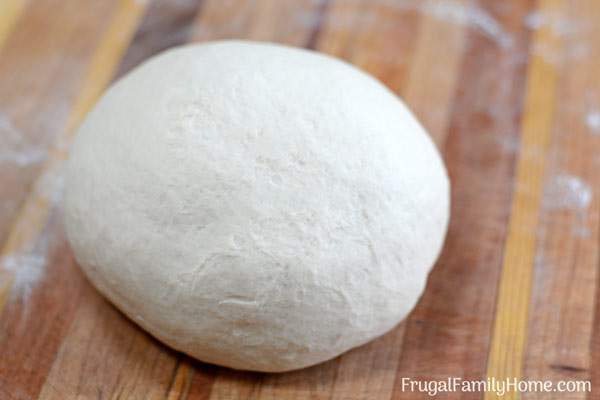 3. Add enough flour to make a firm dough and knead until smooth and elastic.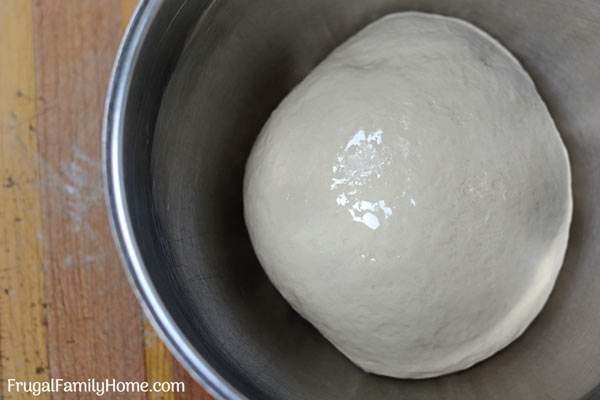 4. Place in a greased bowl, turn the dough to coat and then let rise until doubled in size.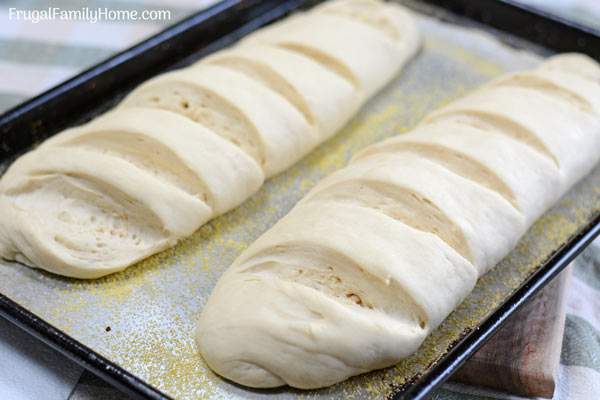 5. Cut the dough in half and roll out into two long slender loaves. Place on a cookie sheet sprinkled with cornmeal. Then cut slits in the top of the loaves and let rise until doubled again.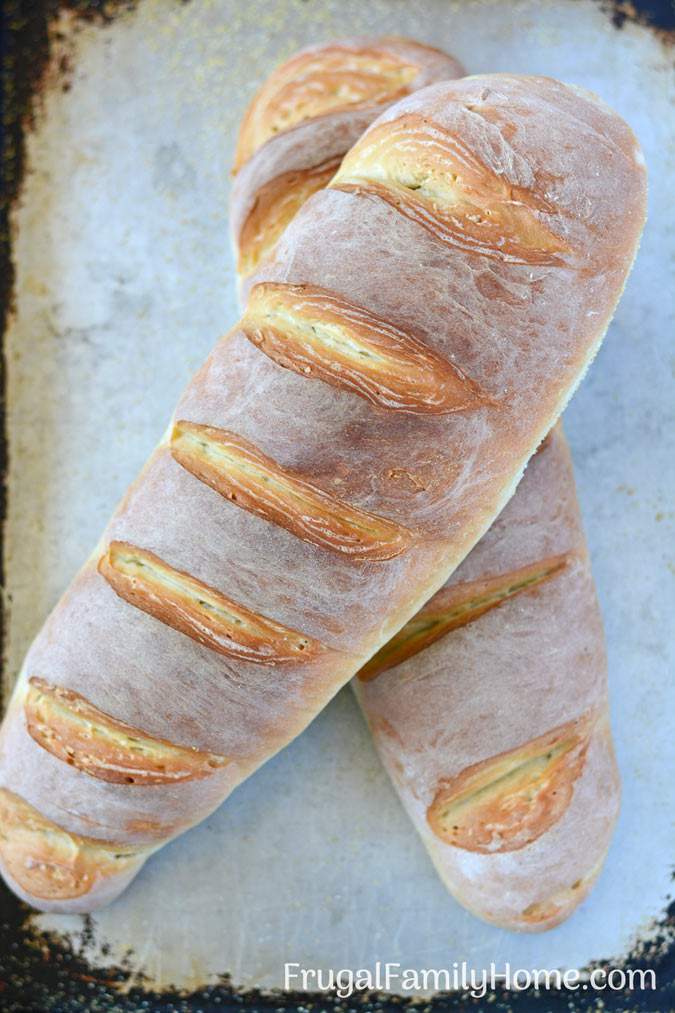 6. Bake until golden brown and you can hear a hollow sound when tapping on the loaf.
How Much it Cost to Make Two Loaves of this Homemade French Bread
It's hard to believe that a bread this delicious is so frugal too. Because it's made with simple ingredients you can make two loaves of french bread for a fraction of the cost of buying just one loaf at the store.
The hands-on time isn't much either a few minutes to mix the dough. About 10 minutes to knead the dough. Then about a total of 5 minutes to punch down and shape the bread. Which makes this recipe just a little over 15 minutes needed in hands-on time. The rest of the time is waiting for it to bake or rise.
Cost Breakdown for 2 Loaves of French Bread
Flour $.40
Yeast $.05
Sugar $.02
Oil $.03
Salt $.004
That makes the cost of two loaves of homemade french bread $.50 or about $.25 a loaf. Of course, there will be some electricity cost involved to bake the bread but it's still is quite a bit cheaper than store bought.
A loaf of store-bought french bread costs $1.50 a loaf, if you make the bread at home you can save $1.25 each loaf. Not bad at all for about 15 minutes of hands-on work and you get two loaves of bread too.
A Few Kitchen Tools that Help When Making This Recipe
These tools are not needed because you can do the whole process by hand with just a hand mixer, a bowl, and spoon. But if you have them or have been looking for an excuse to get them these tools are helpful.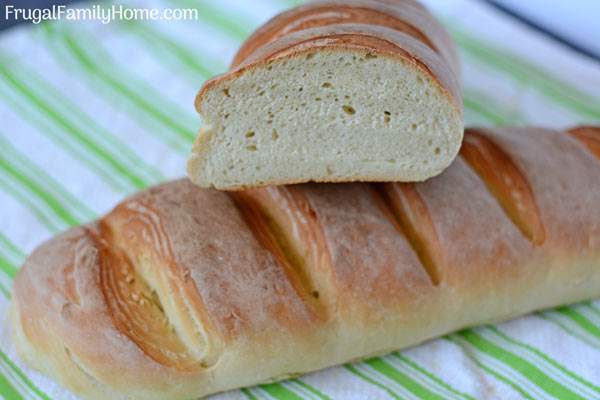 The links below are my referral links. When you purchase through them I can make a little money at no extra cost to you. Thanks for your support in this way.
Now you know how to make french bread, will you be giving it a try? I know we are never disappointed by this recipe and I hope you and your family will love it too.
Pin it for Later

More Great Bread Recipes to Try
Frugal Homemade Bread~dairy and egg free
Butter Dips Quick Breadstick~ no yeast recipe
Apple Cinnamon Quick Bread~great for dessert or breakfast
SaveSave
SaveSave
Subscribe and you'll get Recipes
sent right to your inbox!
Click the button below and fill out the form.