That delicious smell of cinnamon rolls baking in the oven. That smell can pull you out of a deep sleep. But what if you don't have time to make them but have a craving for them. No problem make these quick no yeast cinnamon rolls instead.
No rising, no waiting, from bowl to belly in about 30 minutes. Now that's fast. And they can be made vegan and dairy free see the recipe below.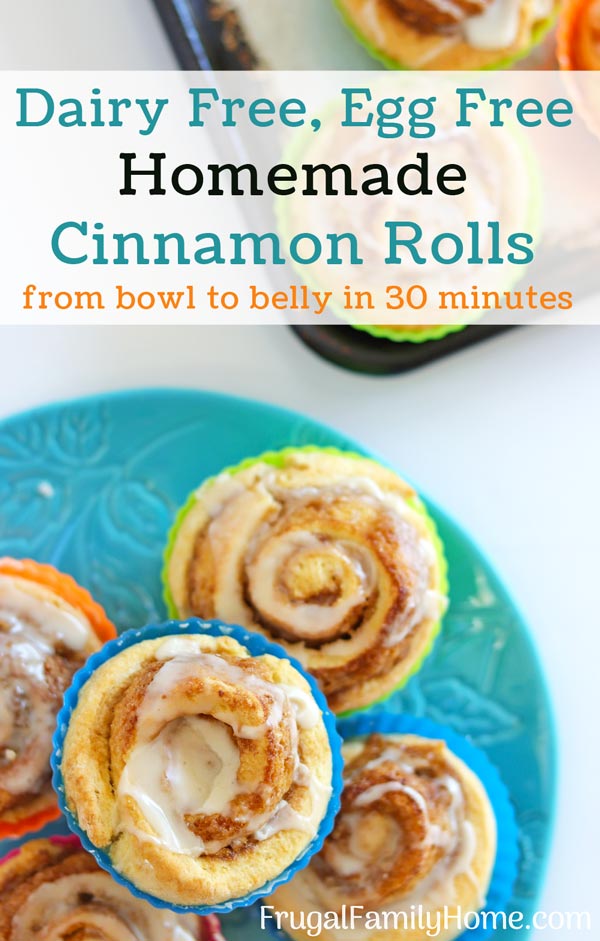 How to Make Homemade Cinnamon Rolls without Yeast
Now you might be wondering how in the world do you make cinnamon rolls without yeast. I mean they have to rise, don't they?
Yes, they need to rise but yeast isn't the only way to make that happen. You can use baking powder instead.
It's the baking powder that makes these rolls rise in the oven while they bake so you can get them mixed, baked and ready to eat in minutes, instead of hours.
Now don't get me wrong. I love homemade cinnamon rolls made with yeast. They are so good but they can take a couple of hours to make.
But who wants to get up at dark o'clock to mix dough for cinnamon rolls? Not me, I make them ahead the night before.
This recipe for quick homemade cinnamon rolls are for those times when you wake up and have a hankering for cinnamon rolls but don't want to have to wait until lunch to eat them.
They are quick and easy to mix in a bowl with a spoon, roll the dough out, sprinkle with sugar and cinnamon. Roll up and bake. It's really that simple.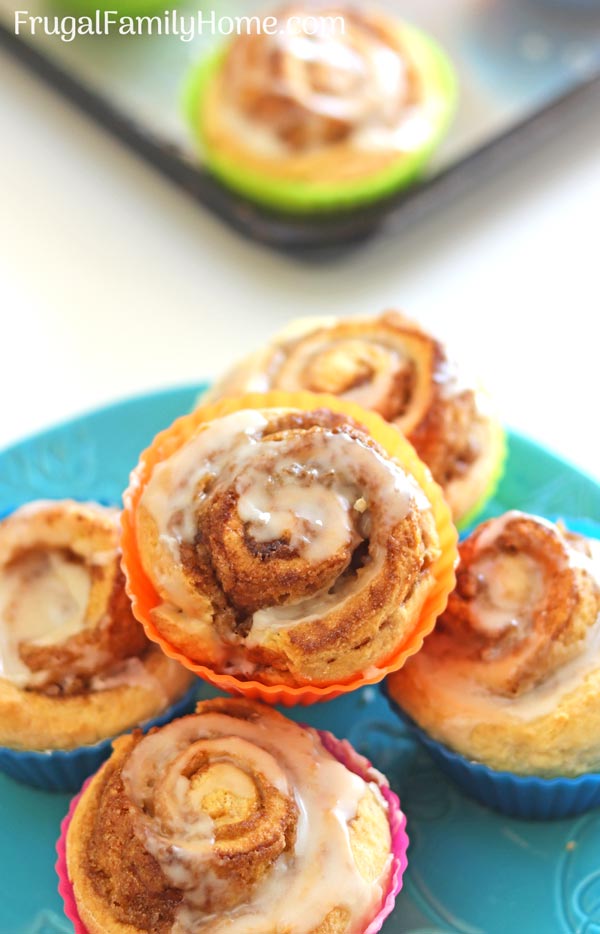 What You'll Need to Make No Yeast Cinnamon Rolls
Bowl, a nice medium to large size mixing bowl. I like this one with a handle for easy by hand mixing.
Whisk, to mix the dry ingredients so you don't end up with a glob of baking powder in the dough.
Rolling Pin, to roll out the dough before adding the sugar and cinnamon
Muffin Cups, these are optional but I love to cook the homemade sticky buns without yeast in them. Makes for easy clean up and keeps the rolls from spreading out instead of up. You can use a muffin tin but these are so much easier to clean.
Ok, if you are clamoring to make your own homemade cinnamon rolls watch the recipe video. It's a quick step by step video so you can watch as you make them.
Step By Step Recipe Video for No Yeast Cinnamon Rolls
Keep on reading for baking tips and how to make these dairy free and vegan too.
Variations for these Sticky Buns Without Yeast
Dairy Free Cinnamon Rolls
If you need to make your cinnamon rolls dairy free just substitute the milk for soy milk, almond milk or any other non dairy milk you prefer.
Use a dairy free margarine in place of butter in the recipe too. We like Earth Balance or Nucoa margarine.
Or use oil in the recipe in place of the butter if you prefer. You may need a little more flour.
No Cinnamon Rolls
If you don't care for cinnamon, like me, you can use nutmeg instead or leave it out altogether.
No Brown Sugar
We prefer brown sugar over white sugar in this recipe but you can use white sugar instead.
Although I think the brown sugar give them a flavor of homemade caramel rolls. But if
you don't have any brown sugar use white sugar instead.
Baking Tips…
Mixing
Place all the dry dough ingredients in the bowl and then mix well with a whisk. It helps to break up any clumps of baking powder.
Cutting in the Butter
You can use a fork or pastry knife to cut in the butter into the flour mixture. But I find that using my hands works well.
Just pinch the butter between your fingers and drop it back into the flour. It easy to do, see the video to see how.
Add the wet ingredients and only mix until all the dry ingredients are moistened. Then knead to bring the dough together. Only 2-3 times is needed.
Want more rings in your homemade cinnamon roll?
Roll the dough out thin and roll it up tightly once the brown sugar cinnamon mixture is added.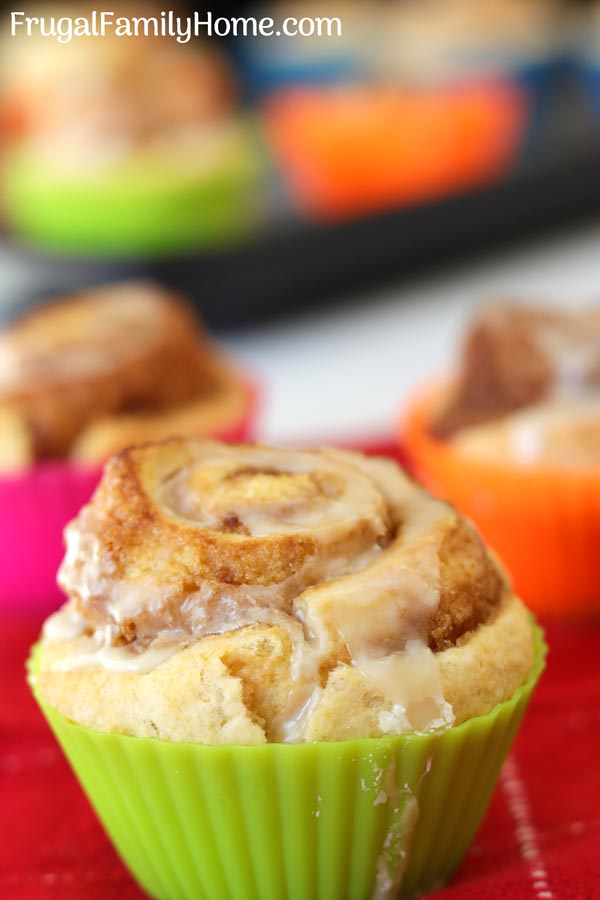 Baking Tips for the Best No Yeast Cinnamon Buns
Place your cinnamon rolls into a silicone muffin cup, this is my preference for easy clean up. Or into a muffin tin.
Alternatively you can bake them close together in a square 8 by 8 inch pan or 9 inch round cake pan.
Because these have no yeast they can tend to spread sideways instead of expanding upward.
Giving them a barrier to going out helps them to rise up instead of out. That's why I make ours in muffin cups or tins.
Don't forget to grab the printable recipe so you can make a batch for yourself.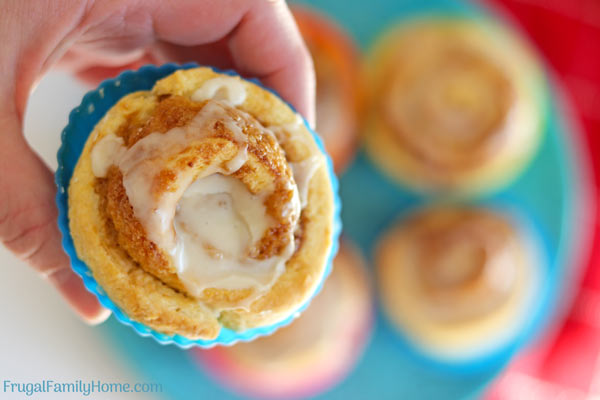 Easy No Yeast Cinnamon Rolls
Easy cinnamon that only take 30 minutes from bowl to belly. And these are made without eggs or yeast. And can be made dairy free too. A great quick breakfast treat.
Ingredients
2

cups

Flour

1

tablespoon

Sugar

1/3

cup

Butter or Margarine or Oil

1

tablespoon

Baking Powder

2/3

cup

Milk
Filling
1/3

cup

Brown Sugar or White Sugar

1

teaspoon

Cinnamon or Nutmeg

1

tablespoon

Butter or Margarine

melted
Glaze
1

cup

Powdered Sugar

1

teaspoon

Vanilla

1

Tablespoon

Milk
Instructions
Place flour, sugar, and baking powder into the bowl. Whisk with a whisk to mix well.

Cut in the butter or margarine. If using oil instead skip this step.

Add the milk to the flour mixture, if using oil add it now with the milk.

Stir with a spoon until the flour is just moistened.

Use your hands to bring the dough into a ball.

Knead the dough 2-3 times to bring it together on a floured surface.

Roll the dough into a large rectangle.

Brush the melted butter on the dough.

Sprinkle with the brown sugar and cinnamon or nutmeg on top of the dough.

Roll the dough up starting at the short side.

Cut the roll of dough into 12 pieces.

Place each piece into a muffin tin, silicone muffin cup or into a square or round baking dish leaving a little space between them.

Bake at 400 degrees for 12 minutes or until golden

While baking mix the glaze.

Place the powdered sugar in a bowl.

Add the milk and vanilla

Mix with a small whisk.

Once the cinnamon rolls are done baking and still warm. Drizzle with glaze.

Enjoy!
Video
Notes
To make this recipe dairy free use soy milk, almond milk, or any other dairy free milk of your choice. 
Nutrition
Serving:
1
roll
Calories:
188
kcal
The next time you have a craving for a warm, sweet homemade cinnamon roll in the morning. Skip the bakery and make these quick and easy no yeast cinnamon rolls instead.
No rising or waiting. Make them from bowl to belly in about 30 minutes. Your family will be impressed and you can sleep in too.
More Easy Breakfast Treats…
Subscribe and you'll get Recipes
sent right to your inbox!
Click the button below and fill out the form.