Are you always on the search for easy to make breakfast ideas? I know we eat the same breakfast most weekdays but then on the weekends I want something a little special for breakfast, but I also like to make sure it isn't too expensive either. That's why I love this recipe for Cinnamon Twist Scones.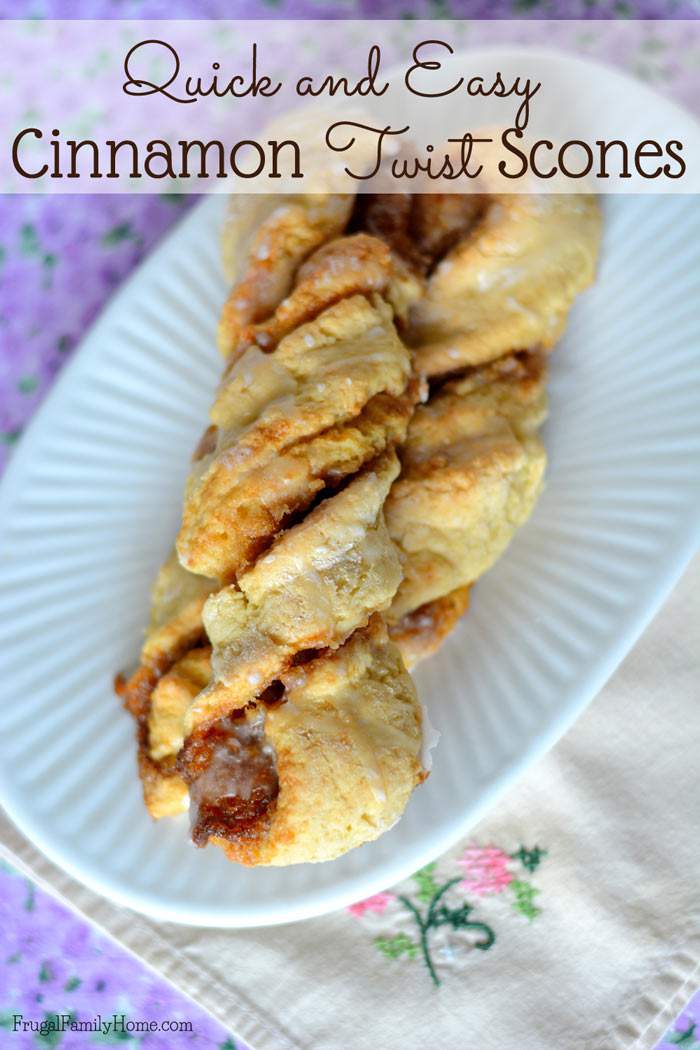 Here's the printable recipe to add to your recipe binder,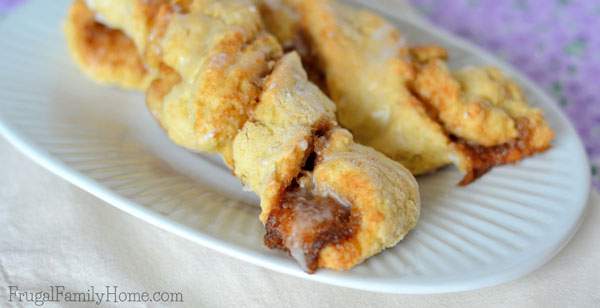 Quick and Easy Breakfast Recipe, Cinnamon Twist Scones
Ingredients
2

cups

of Flour

1/2

cup

of Sugar

3

t

Baking Powder

1/2

t

Salt

1/2

cup

Margarine or Butter

if you don't have to eat dairy free

1

Egg

Enough milk mixed with the egg to make 3/4 cup

1

T

Margarine or Butter for spreading on the dough

Filling

1/4

cup

Brown Sugar

1

t

Cinnamon
Instructions
Preheat oven to 400 degrees.

Mix together flour, sugar, baking powder, and salt.

Cut in the margarine or butter until the chunks are small pea sized.

Add in most of the milk and egg mixture. You want all the flour moistened but you don't want the dough too sticky. If you have any leftover milk/egg mixture you can add more milk to make another batch or you can add a few more eggs and make scrambled eggs.

Knead the dough about 10 turns. Then roll out into a rectangle.

Spread the dough with the butter and then sprinkle with the cinnamon and brown sugar.

Fold the bottom 1/3 of the dough up. Then fold the upper 1/3 of the dough down. You want the layers to overlap. Press lightly to seal.

Cut the dough into strips.

When placing them on a greased cookie sheet twist twice.

Bake at 400 degrees for 15 minutes.

Optional, You can drizzle with powdered sugar and milk glaze or just eat them plain.
A Little More About This Cinnamon Twist Scone Recipe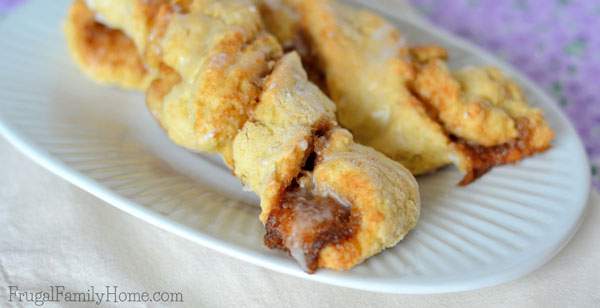 I think I received this recipe from one of the ladies years ago at the Christian Home Keepers Forum. I went to look for the forum again but it looks as though it has been shut down. It was a great resource to ask questions and share homemaking solutions for many years. I learned quite a bit from so many ladies there.
This is a great recipe, easy to make, very little kneading and no rising of the dough. If you can make biscuits you can make this recipe.
A batch of these cinnamon twist scones will cost about $1.23 a batch or $.10 each, give or take a little as prices do vary a little from time to time. A much better price than the store bought versions of rolls that can cost a dollar each.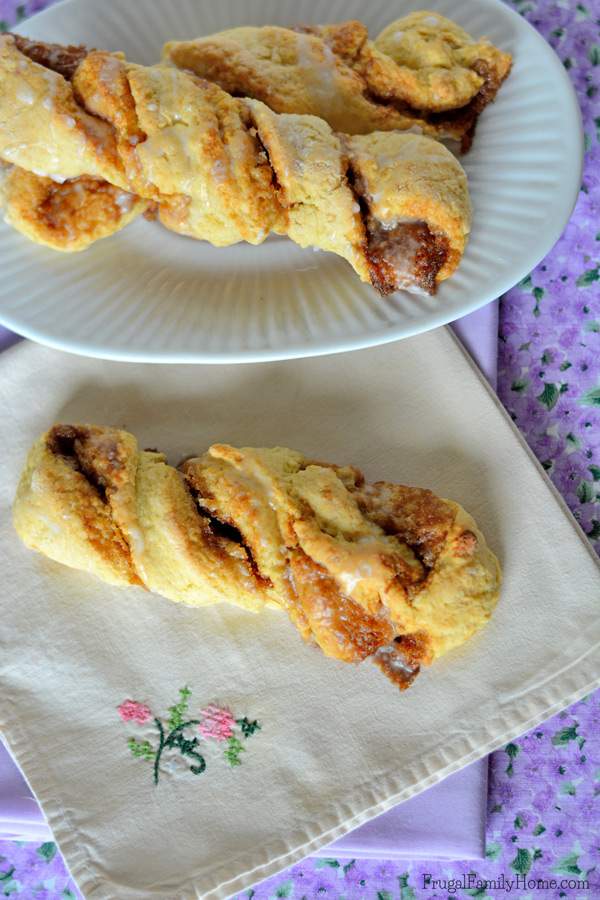 While this recipe isn't as super cheap as Oat Groats or Rice Cereal, it is a great recipe to rotate into your menu when you want something a little special without breaking the bank. These are also great to serve as a dessert.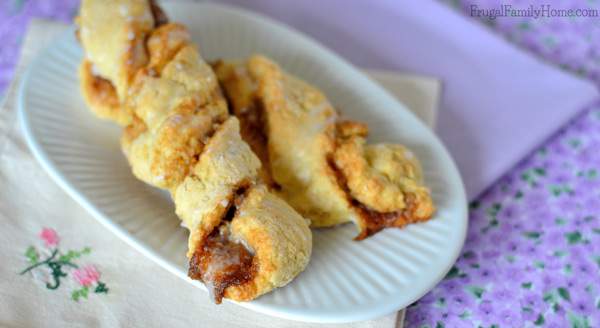 A Few Tips for Making These Cinnamon Twist Scones Great
Add just enough of the milk/egg mixture to moisten the dough. If too much is added it will cause the dough to stick to the board when you roll it out. You just want to the flour moistened but not sticky.
Don't overwork the dough. Make sure to flour the board well as you roll out the dough so it won't have to be rolled out twice. If the dough is rolled out more than once it can make the dough tough.
When twisting the strips as you place them on the cookie sheet, pinch the strips at each end in your fingers and give both hands a twist. That will make a nice twist in the strip and then just place it on the cookie sheet. You can repeat the twist twice if you want a tighter twist to the scones.
If you like your scones a little sweeter mix powdered sugar with a little milk to make a glaze. The glaze should be running and not thick like frosting. While the scones are cooling on the cookie sheet drizzle with the glaze.
What inexpensive breakfasts do you like to make?
Other Posts in The 4 Weeks of Frugal Recipes Series
Day One, Oat Groats
Day Two, Rice Cereal
Subscribe and you'll get Recipes
sent right to your inbox!
Click the button below and fill out the form.