How to proof yeast and why you want to. It's the first lesson in the bread baking 101 series. With these tips, you'll be a great bread baker in no time.
When you first start working with yeast there are so many things you need to learn. There are terms you need to know. Techniques to master and it can be overwhelming.
Especially when you put time into making a loaf of bread and it turns out like a brick. It can be hard to know what went wrong.
When my daughter was little I realized I needed to learn to bake bread. The only problem was I didn't have someone to show me how.
My mom, grandma, and great-grandma had passed away. I'm not even sure if my mom knew how to bake bread from scratch other than quick bread. So I was on my own to learn.
There were new things to learn about baking yeast bread. I had to seek out the answer and figure it out. But I don't want you to have to do that.
I love making bread now. I bake bread often and over the years I've learned, by trial and error mostly, what works and what doesn't. I want you to become a confident baker too and knowing how to proof yeast is important.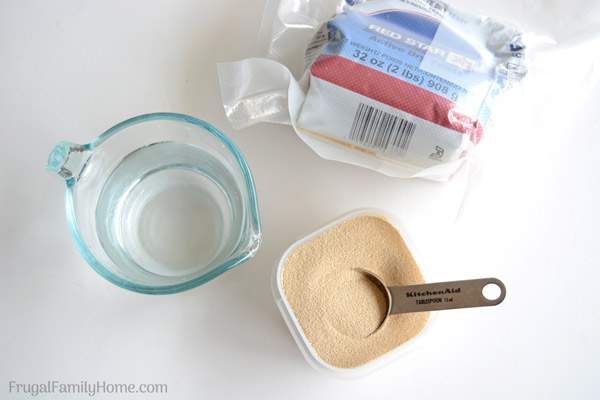 How to Proof Yeast
When I first read in a recipe I needed to proof the yeast. I didn't know what they were talking about. I looked it up found that yeast is living and you can kill it, who knew. I didn't at the time.
Proofing yeast can help you save time and money. But you have to know how to proof yeast to start. Watch my quick video below to learn how to proof yeast then read on below to see why you want to do this each time you bake.
Why Should I Proof Yeast
There are a few reasons why you'll want to proof your yeast before adding it to the bread. When you proof yeast you can save time and money.
You can save time because you'll know your yeast is active and good. If you don't test it first, your yeast could be bad and you'll end up with a brick of bread instead of a nice fluffy loaf of bread.
All the time and effort you invested in making bread will be wasted if your yeast isn't good or active.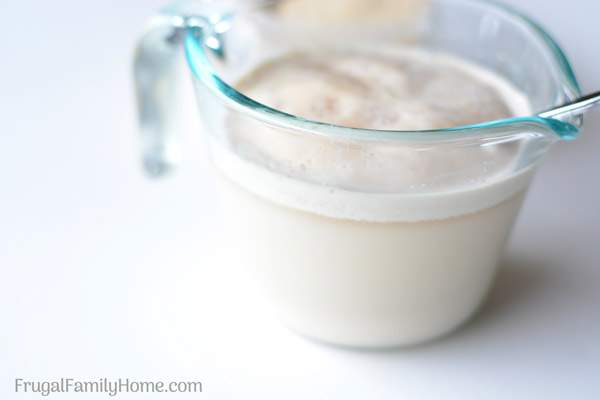 You'll save money too. You'll know your yeast is good. You'll know you didn't kill the yeast with too hot of water and you won't have wasted any other ingredients.
When you don't proof the yeast, you can risk your water or liquid being too hot and killing the yeast. Which in turn will waste the rest of the ingredients in your recipe because the bread won't turn out or won't rise at all.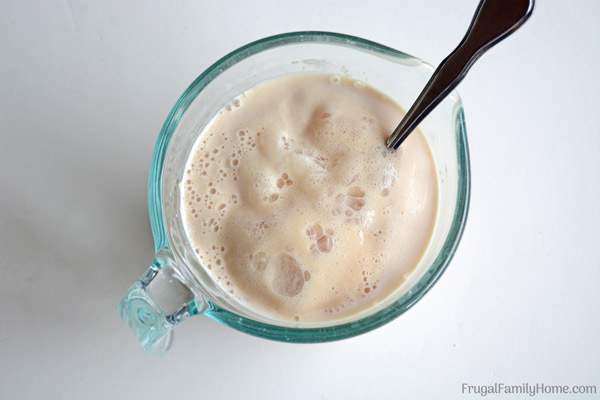 When you proof the yeast first you can be sure…
The yeast is active. When combining the yeast with water and letting it set and proof. If the yeast is active it will form bubbles on top of the yeast water.
You can add a sprinkle of sugar or flour to the yeast water to give the yeast something to eat if you are unsure if it's active or not.
You can be assured your yeast hasn't been killed. When you add the yeast to proof in your warm liquids before adding it to the recipe you can be sure to it's alive and not dead. Too hot of liquids can kill the yeast and cause the bread not to rise.
When you mix the yeast with the water before adding it to the other ingredients you can make sure it's active and not dead.
Active yeast means better rising bread. When you take the time to proof the yeast and make sure it's active and it can give you the best chance at a nice and fluffy loaf of bread.
Now you know how to proof yeast it's just one of the essential items you need to know to make bread from scratch. I'll be adding more to this series soon, so be on the lookout for them.
In the meantime, you'll want to check out a few of my other bread making articles.
Video Instructions for How to Make Frugal Bread
Homemade French Bread
90 Minute Cinnamon Rolls
Quick and Easy Dinner Rolls
Pin it for later….