You might be like me, you love from scratch baked items. Baked items like delicious from scratch cinnamon rolls, but don't often have the time to make them. Or maybe you haven't ever baked with yeast and it seems just a little intimidating to you. Or possibly you've had a bad experience baking with yeast. You ended up with a hard rock like item instead of a fluffy and delicious loaf of bread.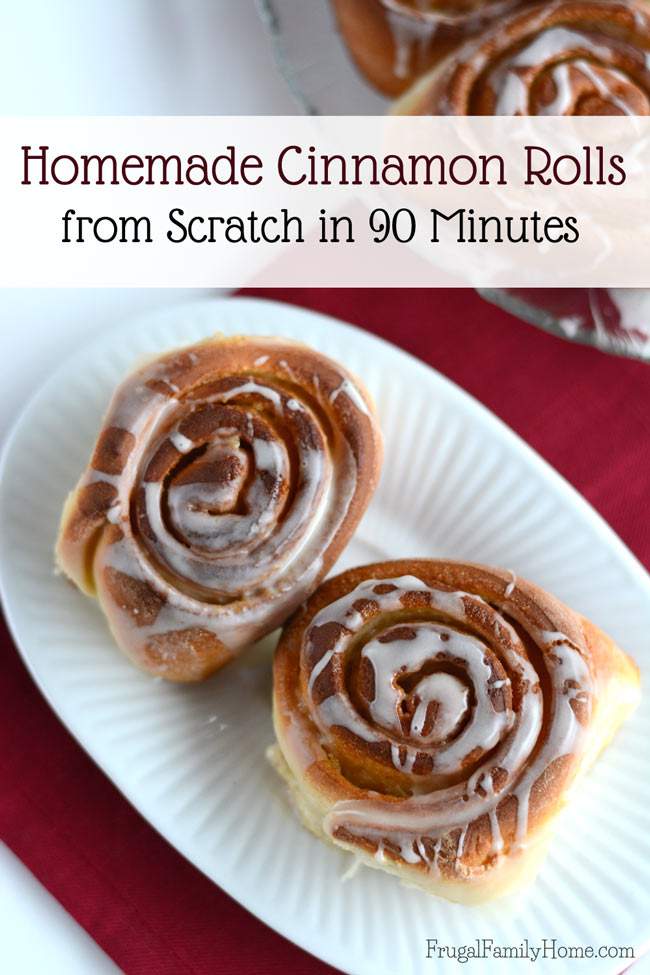 I don't want to have time or fear hold you back from making your family beautiful homemade cinnamon rolls.
With this 90 minute from scratch cinnamon roll recipe, you can conquer your fear of yeast and have yummy rolls to eat in no time.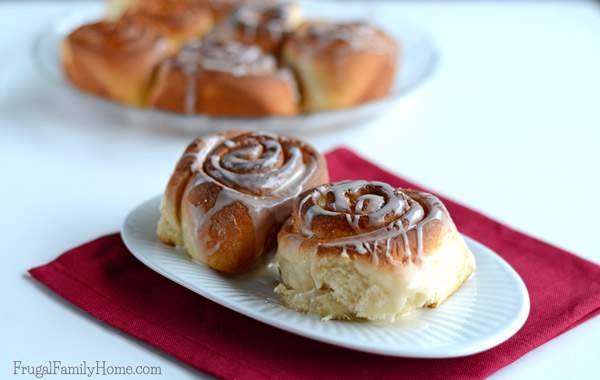 Let's get right to the recipe so you'll know if you need to shop before making your own batch of these delicious and quick cinnamon rolls. Be sure to scroll on down after grabbing the recipe for the step by step video tutorial of the recipe.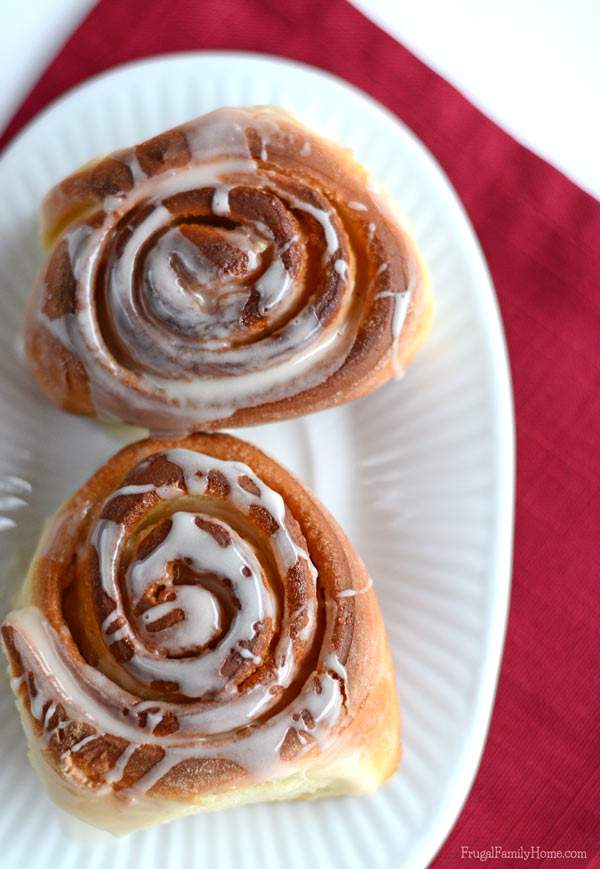 Homemade Cinnamon Rolls
Ingredients
2

tablespoons

Yeast

4-5

cups

Flour

1/4

cup

Sugar

1

teaspoon

Salt

1

cup

Milk or Soy Milk

1/2

cup

Water

1/4

cup

Butter or Margarine

Filling

1/2

cup

Brown Sugar

1

teaspoon

Cinnamon

4

tablespoons

Margarine or Butter

softened

Glaze

1/2

cup

Powdered Sugar

1

teaspoon

Vanilla

1-2

tablespoons

Milk or Soy Milk
Instructions
Place 1.5 cups flour into a bowl. Add sugar, yeast, and salt. Stir to mix.

Place the milk, water, and margarine in a microwave-safe dish and microwave until heated to 120 to 130 degrees.

Add the milk mixture to the flour mixture and beat for two minutes.

Add another cup of flour to dough mixture and beat another two minutes.

With a spoon or your hands, mix in as much of the remaining flour as you can.

Turn the dough out onto a floured surface and knead the dough until it is firm and no longer sticky and smooth. About 5 minutes.

Place the dough in a greased bowl and let rise in a warm spot for 15 minutes.

Punch dough down and divide into two equal portions.

Roll out one portion of dough into a rectangle on a floured surface.

Spread 2 tablespoons of softened butter onto the dough rectangle.

In a small bowl mix the brown sugar and cinnamon together. Spread half of the brown sugar mixture over the buttered dough.

Roll the dough up from one end to the other. I usually start at the short end of the dough and roll up.

Pinch the edges of the dough to secure it.

Cut the dough roll into 1-inch sections, with a sharp knife. Place the rolls into a greased cake pan.

Repeat for the second portion of dough.

Place the rolls in a warm place and let rise for 15 minutes or until doubled in size.

Bake in 375-degree oven for about 20 minutes.

While rolls are baking, make the glaze. Add the powdered sugar to a small bowl with the vanilla and one tablespoon of milk. Mix well. If the glaze is too thick to drizzle, add a little more milk to reach drizzling consistency. Set aside until rolls are done baking.

Once rolls are done remove from the oven and drizzle with glaze.
Baking from Scratch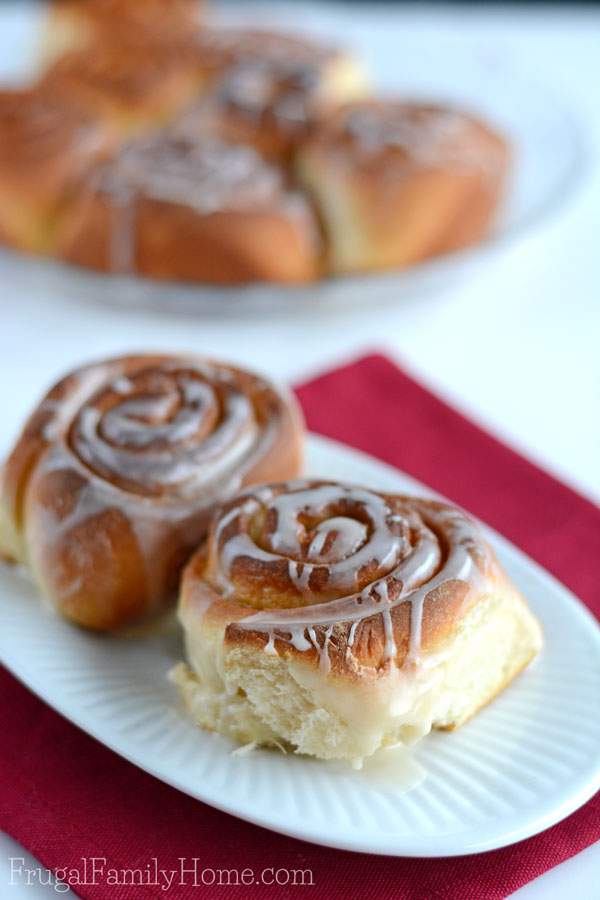 My mom didn't cook from scratch. She was a box cooker or baker. We had homemade items from a box regularly, it wasn't quite from scratch but it was made at home.
My experience when I started baking was limited. I guess you could say I didn't know how bad things could go when I started cooking from scratch. When I needed to start cooking from scratch I just jumped in full force and did it. And most of the recipes turned out good.
But maybe your first few experiences with baking from scratch weren't as good. Maybe you've had some fails when working with yeast. I understand, I've had my share of flat bread or deflated rolls or tough muffins. Some of it was so hard or dry we couldn't even eat it. But I kept trying and getting better at baking.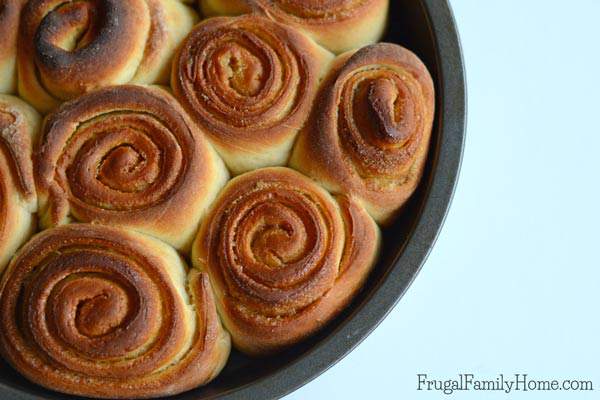 I want your experience with this recipe to be a good one, no a great one. I want it to build your confidence that you can bake anything you want. One baking victory after another helps to build your confidence and your skill at baking.
If this is your first time working with yeast or your first time making cinnamon rolls from scratch be sure to watch the video below so you can see the full recipe made step by step. It will be like I'm there right alongside you showing you each step of the recipe.
A Few Tips For Making These Homemade Cinnamon Rolls
Here're a few tips to help this recipe for homemade cinnamon rolls turn out great. These are little things I do each time I bake a batch and don't really think about. It does become second nature after a while, but these tips are things to keep in mind as you are working the recipe.
Don't worry about how much total flour you'll use. Be sure to have at least 5 cups on hand and maybe a little more. The amount of flour I use in this recipe can vary. Some days it's more and some days it's less, the main tip to remember is you want a firm dough that isn't sticky.

If the dough is sticky you need to add more flour. But you don't want dry crumbly dough either.

Watch the temperature of the milk mixture. If the milk mixture is too hot it can kill the yeast if it's too cold it can make the rising times longer. It should feel warm to the touch but not hot. If you have a thermometer you want to get between 120 and 130 degrees.

Don't be afraid to use your hands to mix the dough. I use my mixer at first but as I'm adding flour, I switch to a spoon or my hands to mix the flour in.

Your hands are a good gauge to how much more flour you need to add. If the dough seems a little dry, knead the dough before adding more flour, even if you still have quite a bit to add per the recipe.

If the dough seems too sticky and is sticking to your hands, you need to add more flour.

The perfect dough consistency is when you can knead the dough without it sticking to your hands but you need just a little flour on the board every so often to keep it from sticking.

If you love cinnamon, add more to the brown sugar. I'm not that big of a cinnamon fan and sometimes I just leave it out. But if cinnamon is your thing add extra in if you like. Nutmeg is also yummy and occasionally I'll skip the cinnamon and use nutmeg instead.

Use a sharp knife to cut the dough roll. If you use a dull knife it will smash the rolls out of shape while cutting them. A sharp knife works best.

If you don't have a nice sharp knife, use string or thread, to cut the rolls. Run it under the log to place to cut, bring the string up on both side and cross on the top. Pull the ends away from one another and it will cut the rolls.

If you love frosting on the cinnamon rolls, make the glaze thicker, so you can spread it on instead of drizzling glaze on. You can even add a tablespoon of butter or margarine to the glaze to make it more of a frosting if you like.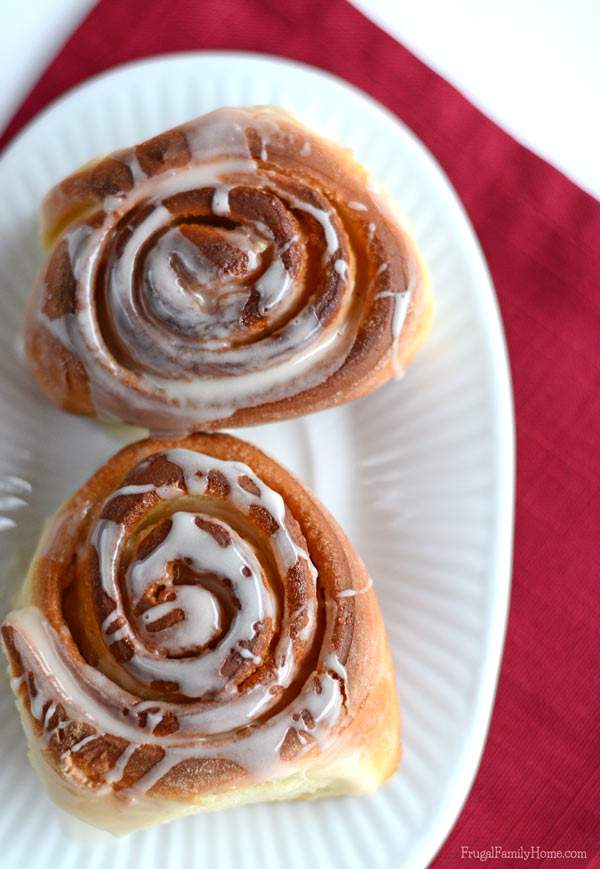 I hope this video tutorial and these tips for making your own from scratch cinnamon rolls was helpful to you. If you found it helpful I would love to have you share this recipe with your friends. It's easy with the social sharing buttons below. Thanks so much for sharing!
If you have any question about this recipe, please leave me a comment below.
You can find more baking from scratch recipes on the baking page.
Here's a Few Other Popular Yeast Bread Recipes to Try
Frugal Homemade Bread with Video Tutorial
Raspberry Rolls
Quick and Easy Dinner Rolls
Subscribe and you'll get Recipes
sent right to your inbox!
Click the button below and fill out the form.