If you saw my super saving saturday post from last week, you might have noticed the great deal I found on strawberries at Fred Meyer. Well, I went back on the last day of the sale and purchased three more pounds of strawberries for just $.99/lb.
I dehydrated 1 1/2 pounds of strawberries over the weekend. We ate one pound and the last pound is sitting in the refrigerator partly frozen. Our refrigerator sometimes freezes items. Why I don't really know. I have it set at 37 degrees so it shouldn't freeze anything, but for some reason it does.
I shared a photo on Instagram of the smoothie, I was making for breakfast, after I discovered the refrigerator had frozen the strawberries. If you're on Instagram I would love to have you follow me.
Here's the rest of the items I picked up this week.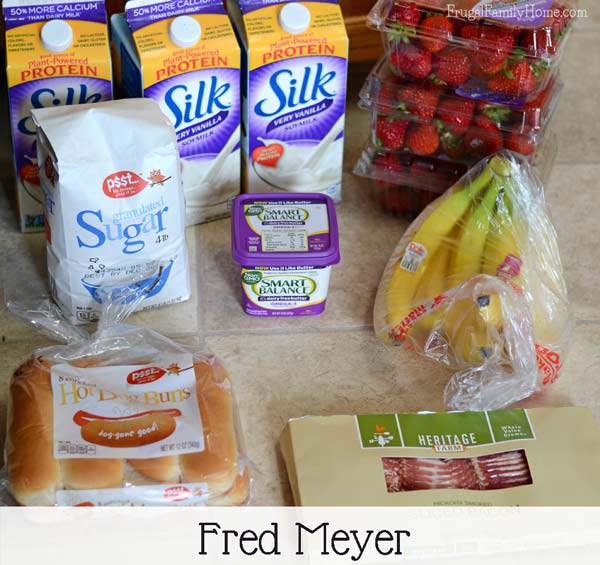 Fred Meyer Purchases
3 Silk Soy Milk $1.49 each on closeout, used (2) $.75/1 coupons, Paid $.99 each
Hot Dog Buns $.99 each
Hoagie Rolls $1.99
Heritage Farms Bacon $2.50
Smart Balance Dairy Free Margarine $2.99, used coupon for $1/1, Paid $1.99
3 packages Strawberries $.99 each
Sugar $2.19
Bananas $.69/lb
Paid $17.19
Everyday Deals Extreme Discount Purchases
2 packages Rainier Cherries $1 each
2 packages Celery Hearts $.50 each
3 packages Cookies $1.59 each
3 packages Granola Bars $1 each
Mini Peppers $1.59
Total Spent $12.36
I also stopped by the bread store and picked up 4 loaves of organic whole wheat bread and one loaf of french bread for $5.
I harvested three heads of lettuce, a couple pounds of green beans, about 6 cucumbers, a handful of cherry tomatoes,  and a pound of blueberries out of the garden this week too.
My grocery spending for this week comes to $34.55.
If you are local Fred Meyer has some great deals through today.
Cherries $1.77/lb
Half-Gallon Milk $.99 with ad coupon
Boneless Skinless Chicken Breasts for $1.99/lb
Fred Meyer Frozen Vegetables $.79 with in ad coupon
Coca-Cola 2 liter $1
Country Style Ribs or Spareribs $1.97/lb
Be sure to drop by Fred Meyer today if you want to take advantage of these sale prices. I might need to go by to get some more cherries for our family.
What deals did you find while shopping this week?
[signoff]
Need help knowing a good deal? Print a copy of my Rock Bottom Price List.