Struggling with
What to Cook for Dinner?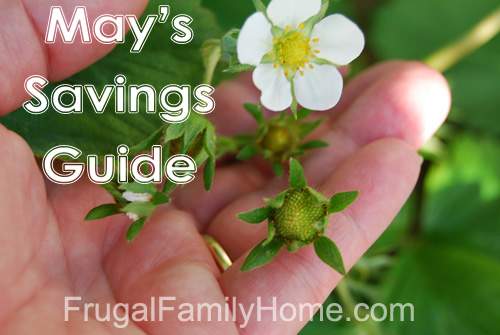 Here's this month's saving guide. This guide can help you to know what is in season, what you are likely to find on clearance and on sale this month. Along with Freebies and Holidays too. This list can help you save by purchasing produce in season, scooping up clearance deals and ideas for free activities for this month.
We are eagerly awaiting the local strawberries to ripe so I can make some strawberry jam and rhubarb strawberry jam.
May's Savings Guide
Items you'll find on clearance in May:
Graduation party supplies (end of month)
Gifts for mothers after Mother's Day (plants, flowers, fragrance gift sets)
Spring planting, flower bulbs
Winter clearance deep discounts now on linens, shoes, boots, jackets, coats, clothing etc
A good time to buy in May:
Graduation supplies (signs, napkins, party goods etc) buy toward end of month into June and tuck away for next year (if applies)
Cookout-barbecue supplies Hot dogs, hamburger meat, rolls & buns, cheese, charcoal
Watermelon (Memorial Day)
Condiments (ketchup, mustard, relish etc)
Popsicles & ice cream toward month's end
Gift for mom's B-day
Mexican food(Cinco de Mayo)
cherries, okra, zucchini
rhubarb, artichokes
Asparagus, peas
Broccoli, lettuce, apricot
Pineapples, watermelon (toward months end) avocado, artichokes cauliflower, celery
radish, garlic,  onions
leeks, beets, turnips, carrots, onions potatoes, spinach
Lemon, red grapefruit
orange, apricots, kiwi
mango papaya, d'anjou pear, strawberries
Look for free events in your area; May 4th free comic book day
May 10th National public gardens day
Remember to schedule your little ones for free events like the Lowes Build and Grow or Home Depot
Harvest buttons and shoe laces off of shirts and shoes that are unusable and can't be donated (save for another use, pair of shoes etc)
Hit yard sales for things you need and schedule a yard sale to get rid of unwanted stuff
Challenge your family to a weekend of "no spending"
1 May Day
4 Star Wars Day
5 Cinco de Mayo
6 National Teacher's Day
8 VE Day, WW II
12 Mother's Day – second Sunday
18 Armed Forces Day -third Saturday
24 Victoria Day (Canada)
27 Memorial Day
Thanks, Frugal Family Fun