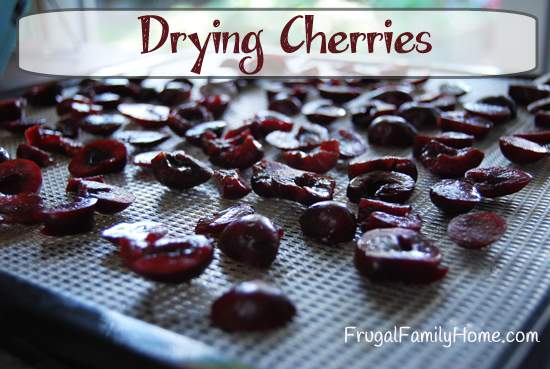 I have been getting cherries on sale at such good prices I have been freezing them and dehydrating them. Cherries are really fairly easy to dehydrate. Just wash, pit and dehydrate. They turn out really sweet and don't have added preservatives or sugar. I use a dehydrator the most but I've included some information on oven dehydrating and solar dehydrating too.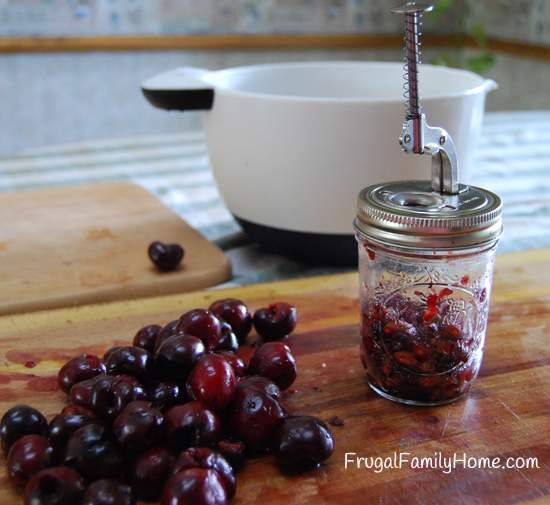 Pitting the cherries can be the pits. Sorry I couldn't resist. But you can see my video of how to pit cherries with a paper clip or with my favorite cherry pitter. If your family really likes cherries or you know you will be preserving cherries each year, I would purchase this cherry pitter (Amazon Affiliate link) it's inexpensive and can save you lots of time.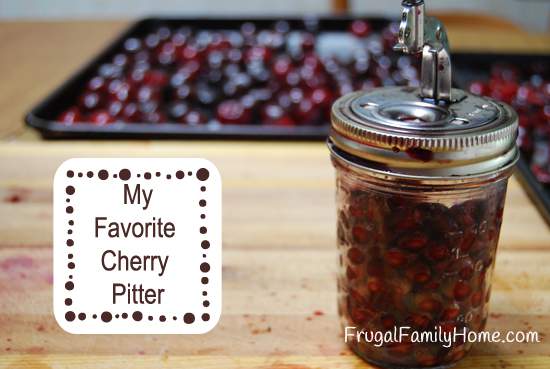 Once the cherries are washed and pitted you will need to decide whether you want them whole, halved or sliced. I usually at least cut the cherries in half and I also slice a tray or two,  because we use the dried cherries in oatmeal packages and it's easier to break the sliced ones up.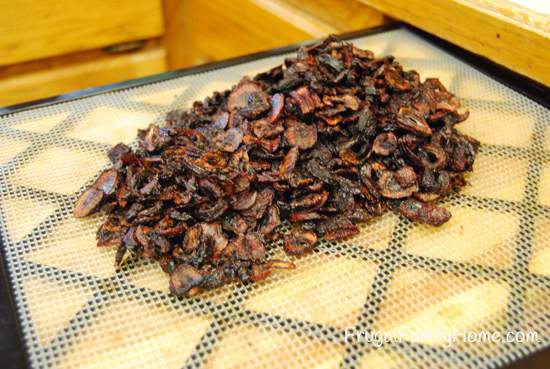 I just load them onto my dehydrator tray, set it to 135 degrees and let it go for about 8 hours. I like to really dry them well, so I don't risk any molding. If you leave them a little soft I would store them in the refrigerator or the freezer just to be on the safe side.
If you don't have a dehydrator here's the oven instructions
Prepare your cherries just as above but place them on a baking sheet or on a cooling rack on a baking sheet. Either way will work. Set the oven to the lowest temperature. My oven has a warm setting I use but if your oven doesn't just set the temperature as low as it will go. Most ovens have a 200 degree setting which will work.
Then just wait for them to be done. It will take about 6-9 hours for them to dehydrate.
If you don't want to use the oven try making a solar dehydrator
Here's a You Tube video I found on how to construct a solar dehydrator out of a pizza box, screening and a piece of glass. How cool is that!?
If you can't see the video try this link.
Storing and Using Dried Cherries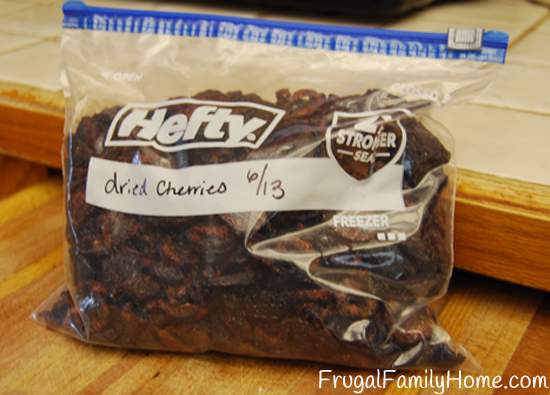 I store my dried cherries in a vacuum sealed bags in the freezer. The ones we are eating I just leave in a zipper bag or sealed canning jar in the cupboard. We use them in our homemade oatmeal packages, muffin mixes, in a few chicken dishes I make and we eat them plain for a snack.
To rehydrate the cherries, place them in a bowl and add just enough boiling water to cover. Let them sit in the water for about 15 minutes until they plump up. Then use the cherries as you would fresh or frozen cherries. If you are making muffins or any other baked item with the rehydrated cherries,  be sure to save the liquid off the cherries and use it as part of the liquid called for in the recipe. The cherry water adds flavor and color.
Do you think you will give drying cherries a try?