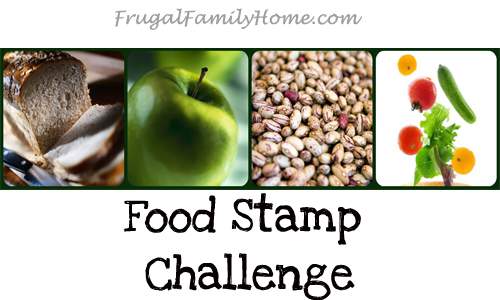 Now we are half way through this challenge. Most days of this challenge are just like any other day at our home. We eat the way I describe in this post on a regular basis. I didn't change our menu to adapt to the challenge but I thought it would be fun to see how well we would cope on a budget that is the equivalent to food stamps.
Today we were out of the house most of the day so I packed the kids a snack and lunch. Eating out is not really an option for those on food stamps as you can't purchase hot food on food stamps. So stopping at the drive-thru was not going to be an option for us. About 1 pm when we still were not home I had wished I had packed me a snack too. But I did wait until getting home to eat my lunch.
So this is how our meals went today,
Breakfast
Kids, toast with peanut butter and jam, eggs and oatmeal $.32 each or $.74 for both
My husband and myself had the same breakfast of toast with peanut butter and jam with water $.42 for both of us.
Total for breakfast $1.16
Lunch
Kids had a sandwich, dried peaches, potato chips and a cookies $.54 each or $1.08 for both
Husband's lunch, sandwich, tortilla chips, pear and cookies and a granola bar for snack $.72
Myself, a freezer mac and cheese, watermelon and granola bar $.67
Total for our Lunches $2.47
Dinner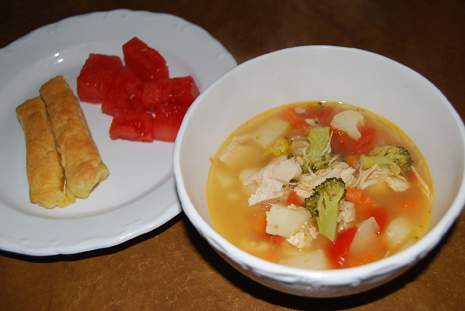 For our dinner tonight I made a homemade chicken vegetable soup. Since I have been making all of our own soups for a while now the only store-bought soup we like is tomato. I kept the soup really easy. I make what I call soup kits when I make a roasted whole chicken I also make broth for soup. I make the whole chicken for our first meal in the crock pot then I take all the bones out of the bird and place them back in the crock pot with a bunch of water and cook overnight, the next morning I have a wonderful chicken broth. Then I take some of the leftover chicken place it into a quart sized freezer container and then I add in the cooled broth and freeze. Instant chicken soup kit, just add vegetables and you have soup.
So to my chicken soup kit I added in half a quart of water and some potatoes, carrots, broccoli, cauliflower and a few tomatoes. I just let it simmer for about a half an hour and we had soup. I also made some butter dip breadsticks and added some watermelon we had left from the other night.
The cost for this meals for the four of us was $2.82 
Our snacks for the day
Kids snacks were the usual $.72
After dinner snacks
Cereal with milk for each of us, a cheese stick, and some dried peaches $1.12
Total for snacks $1.84
So the grand total for today's meals was $8.29 or $2.07 a person. 
This time of year I really like to make soup. Fall is such a great time of year for soup and making soup can be so inexpensive too.
What is your favorite inexpensive meal?
[signoff]
Other posts in this series
Food Stamp Challenge
Food Stamp Challenge Day 1
Food Stamp Challenge Day 2
Food Stamp Challenge Day 3