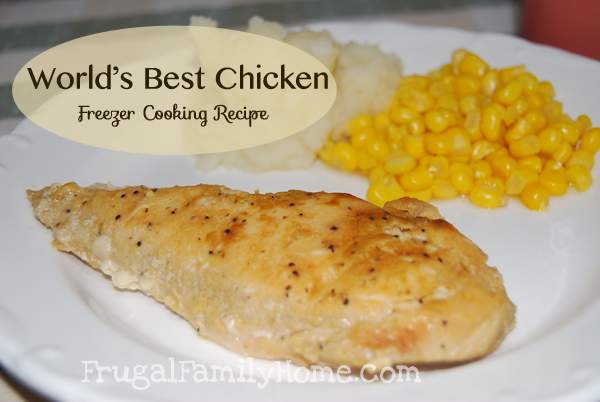 World's Best Chicken Freezer Cooking Recipe
We are making our way through the new chicken recipes I added to the freezer. Recently we tried out the World's Best Chicken recipe and I have to say it was really good. This recipe is definitely one I will be adding to my regular chicken freezer batch cooking.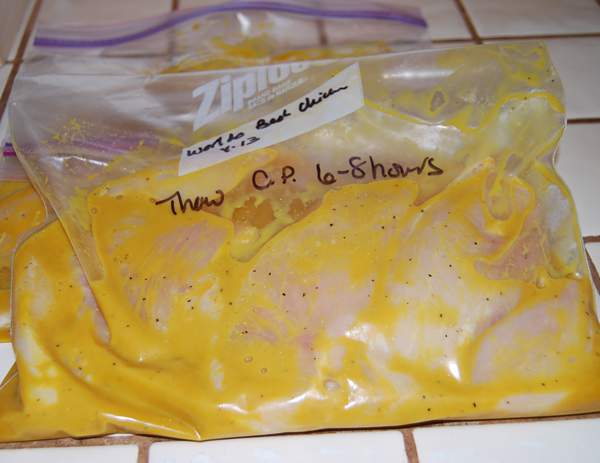 I love that this recipe is a dump the sauce onto the chicken then into the freezer. It's fast and easy. I just put all the ingredients into the freezer bag. Gave the ingredients a mix by squeezing them around then added the chicken. I didn't even have to dirty a bowl. 🙂
I like to label the bag with not only the name of the contents but how to prepare the recipe. To prepare the recipe is just as easy as the freezer prep. Just thaw and put the chicken and sauce into the crock pot, cook on low for about 8 hours and the chicken is done. I am sure you could bake or grill the chicken too and it would be just as good, maybe even better.
The recipe calls for just a few items,  Dijon Mustard, Maple Syrup, Red Wine Vinegar, Salt and Pepper. The original recipe called for using chicken thighs but I made it with boneless chicken breasts. But I am sure you could use whatever pieces of chicken your family likes the best.
Go to Over The Moon to get the original recipe (just scroll down to almost the bottom).
Here's how I prepared the mine, I just can't help myself when it comes to changing a recipe.
World's Best Chicken
1 cup Yellow Mustard
1/2 cup Maple Syrup ( I use my own homemade pancake syrup)
2 T Red Wine Vinegar
1 t Salt
1/2 t Pepper
6 pounds Boneless Skinless Chicken Breasts
Mix all the ingredients except the chicken breast in a bowl or in the freezer bag.

Add the chicken to the freezer bag with the sauce.
Label and Freeze
To Prepare
Thaw
Place chicken with sauce from freezer bag into crock pot. Cook on low 8 hours or on high 4 hours.
Enjoy!
Freezer Cooking Tip: I like to try to freeze the chicken in the freezer bag flat. This helps the chicken packages to take up less room in the freezer and it thaws faster too.
What is your favorite way to prepare chicken?
[signoff]