Recently I found a great deal on ground beef. It was just $1.99 a pound. That is an awesome buy for our area. I snatched up 10 pounds and decided to stock the freezer with some homemade meatballs.
Since I use these meatballs in dishes from BBQ Meatballs to Teriyaki Meatballs I don't like to season them too heavily. Since a good flavor for BBQ might not be very good for the Teriyaki ones. This recipe has good flavor, just nothing too strong, so it works in a variety of different recipe.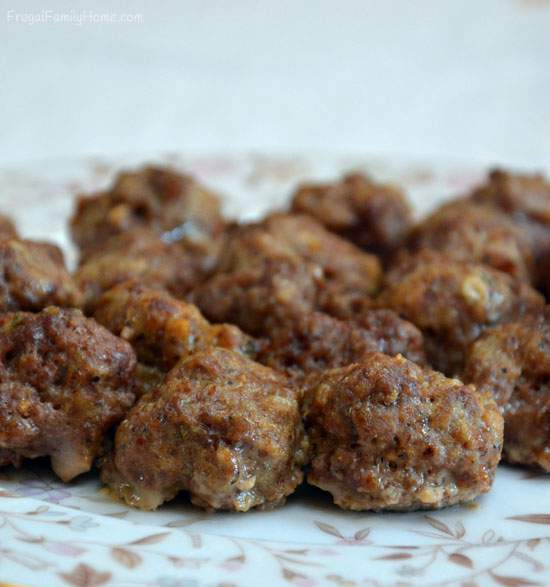 Use Fine Breadcrumbs in the Meatballs
I like to use breadcrumbs in my meatballs but I'm sure finely crushed crackers would work really well too. I make my own fresh breadcrumbs by taking two to three slices of bread and processing them through the blender. I find the blender works to get the breadcrumbs very fine. But I'm sure a food processor would work well too.
I usually keep the heels of bread in a bag in the freezer, so I can make breadcrumbs whenever I need them. To make the breadcrumbs, I thaw the slices and then process them. Here my Make Your Own Breadcrumb tutorial if you haven't made them before.
When making meatballs I try to mix all the ingredients well but not over mix them. To make the meatballs easier to mix, I will mix all the ingredients except the ground beef first. Then once the bread has absorbed some of the liquid, I will add the ground beef and mix well.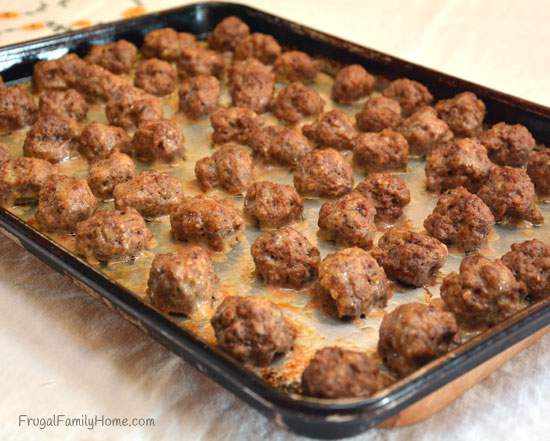 Meatballs Can Be Frozen Raw or Cooked
I roll our meatballs and place them on a greased cookie sheet and bake at 400 degrees for about 20 minutes. I like to make meal prep very easy for me at dinner time, so I cook them first.
But if you don't like to pre-cook them you can freeze them raw. Roll the meatballs and place on a cookie sheet and freeze until solid. Then place them in a freezer bag. Either way will save you time getting dinner ready.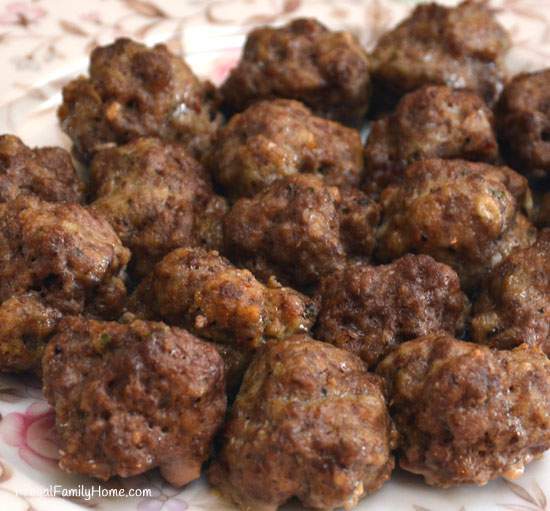 Here's my Favorite Recipe
Freezer Friendly, Homemade Meatball Recipe
Ingredients
4

pound

Ground Beef

3 1/2

cups

Fine Bread Crumbs

3

Eggs

1/2

cup

Milk or Soy Milk

if you need to eat dairy free like us

1

Onion

finely chopped

1/2

tablespoon

Garlic Powder

1

tablespoon

Salt

2

teaspoons

Pepper

1

tablespoon

Dried Parsley

2

teaspoons

Dried Basil
Instructions
Mix all the ingredients in a large bowl except the ground beef.

Let the mixture sit a few minutes so the breadcrumbs absorb some of the liquid.

Add the ground beef to the breadcrumb mixture and mix well.

Form into meatballs and place on a greased cookie sheet.

Bake at 400 degrees for 20 minutes.

Cool, once cooled place into a freezer bag and label.

Reheat when ready to use.
What do you make for the freezer when you get a good deal on ground beef?