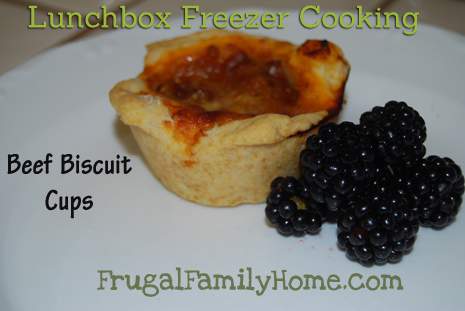 Today for my freezer cooking I made Beef Biscuit Cups. I saw this recipe somewhere years ago and we make it once in a while. But I thought these would work great for this series. You can see more recipes from others at Money Saving Mom.
The original recipe calls for using the biscuits from a tube and pasta sauce from a jar. Since we need to eat dairy free I make my own biscuit dough to use in this recipe. Today I also made my own pasta sauce too. But if you have some pasta sauce and a tube of biscuits in your pantry you can use them instead.
The kids were busy today so I was on my own for this freezer cooking. I first browned up some hamburger with onion and garlic then I added in 8 oz of tomato sauce and about 1/2 teaspoon of each dried basil and oregano. Then I let this simmer on the stove while I prepared the biscuits.
I have a favorite dairy free biscuit recipe I use that doesn't use butter and I substitute soy milk for the milk. I call them my 3-2-1 biscuits. They are really easy to whip up just for recipes like this. I am also kinda lazy when it comes to getting out the biscuit cutter. So I usually take a knife and just cut the biscuits into squares for a time-saving measure. Don't look too close at the photos or you will see my mistake of cutting only 9 biscuits instead of 12. I had to borrow a little from some of the larger biscuits to make the extra 3.
In these beef biscuit cups I made I did add some Romano cheese that I purchase at Costco. We have 3 out of the 4 of us in our family that are allergic to cow's milk. But we can eat goat and sheep cheeses. If your family can't tolerate even goat or sheep cheese you can always just leave it off or use a soy alternative. Until I found we could eat the sheep and goat cheese, I would make these without any cheese at all and without cheese they are equally delicious. Well at least to our family with milk allergies.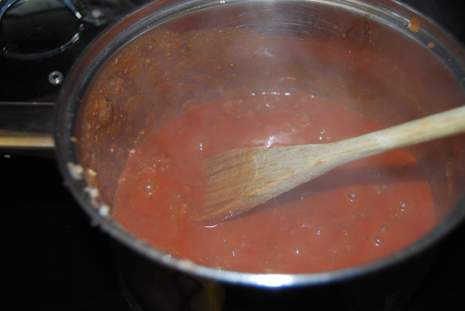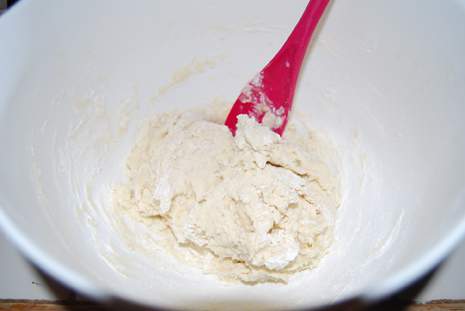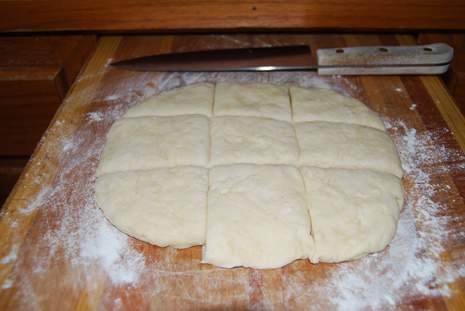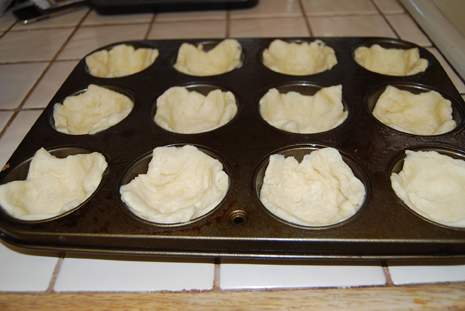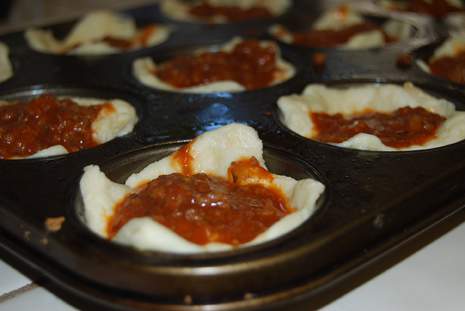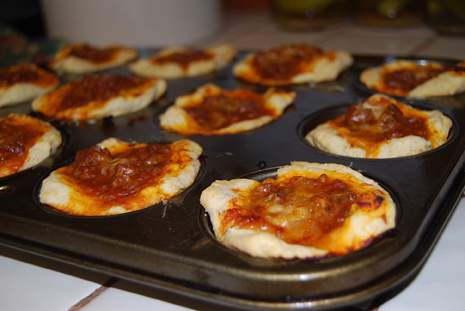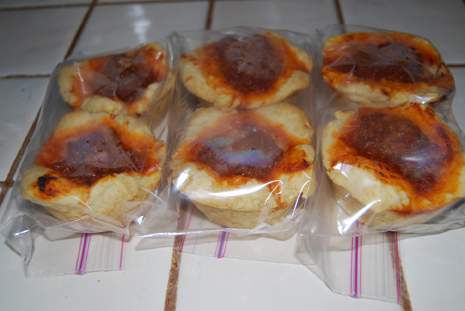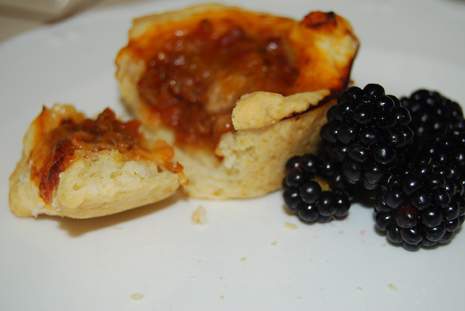 Beef Biscuit Cups
Ingredients
1/2 pound ground beef (browned with garlic and onion)
8 oz of Tomato Sauce
1/2 t each of dried basil and oregano
Biscuit dough (see recipe below or use your favorite recipe)
Cheese (if you don't have to eat diary free-We do sometimes use a little Sheep Romano on top)
Brown hamburger and add the tomato sauce, basil and oregano. Stir in and let it simmer until you are ready for it.
Mix up the biscuit dough and press into the greased muffin tins. Then spoon in a tablespoon or two of the meat/tomato mixture into each biscuit cup you have made. Sprinkle with cheese if using it.
Bake on 375 for 15-20 until biscuits are just golden. Remove from oven and let rest 5 minutes then enjoy.
To Freeze: I placed these on a rack to cool and then once they were mostly cooled I placed them into a freezer bag and into the freezer for another day they went.
To Eat: Thaw in the refrigerator, then microwave until warm or heat in the oven until warm.
3-2-1 Biscuits (Can you guess how they got their name?)
1 teaspoon of Salt
2 cups of Flour (white or whole wheat or whole wheat pastry flour or a mix)
3 teaspoons of baking powder (if I am using whole wheat I like to add an extra teaspoon)
1/3 cup water
1/3 cup milk (we use soy milk to make this dairy free)
1/3 cup of oil ( I have used a little more milk and water and have used as little at 1/4 cup with good results before)
Mix all the dry ingredients into a bowl. Measure out the wet ingredients into a one cup measuring cup. Add the liquid to the dry ingredient stir to moisten all the flour. Then turn out on a floured board or counter and knead about 6-10 times. Then press out into about 1/4 inch thick. Cut the biscuits with a glass or biscuit cutter. I just use a knife and cut into square of 12 -16 (12 for the beef biscuit cups)
Bake on 450 for 12-18 minute until golden brown on top and bottom.
Do you have a favorite recipe that could be used as a freezer meal? I know until now I never thought for making these ahead and freezing them.
[signoff]
More Posts in This Series
Lunchbox Freezer Cooking, Dairy Free Mac and Cheese Cups (Day 1)
Lunchbox Freezer Cooking, Peanut Butter and Jelly Sushi Rolls (Day 2)