Struggling with
What to Cook for Dinner?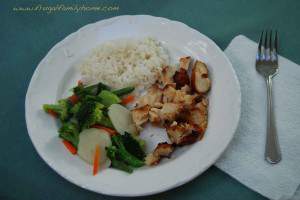 Our menu for this week:
Halibut Roast, Mashed Potatoes, and Green Beans
BBQ Asian Chicken, Rice, and Veggies
Beef Stew, Biscuits, and Fruit
Grandma's Pork Chops, Roasted Veggies, and Fruit
Cashew Chicken Stir Fry, Rice, and Pan Fried Noodles
Grilled Steak, Baked Potatoes, and Salad
Out to Eat for Son's Birthday
That is our menu this week. What are you having at your house?