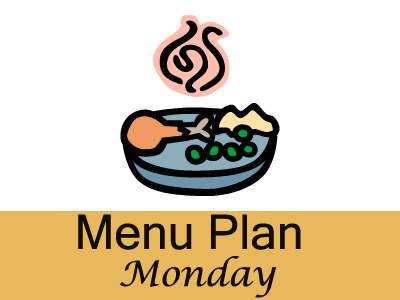 This week I will be making a few chicken dinners out of our freezer stash. The Cherry Chicken Skillet and the Sweet Asian Chicken are both from the freezer. I am trying a new recipe Crock Pot Lasagna Soup this week. I am hoping we all like it. My son can be a little picky at times. I am also using a pork roast to stretch into two meals this week. I love to cook once and eat twice. I will also be making taco soup if you have never tried a taco soup recipe you should really give it a try. This type of soup has fast become a favorite in our house.
Our Menu
Dinners
Build Your Own Haystacks and Fruit
Cherry Chicken Skillet Dish, Baked Potatoes and Vegetables
Crock Pot Lasagna Soup, Salad and Breadsticks
Garlic Herb Pork Roast, Roasted Potatoes and Broccoli
Pork Tacos (using leftover pork roast) Chips and Salsa and Fruit
Sweet Asian Chicken, Rice and Stir Fry Vegetables
Crock Pot Taco Soup, Chips, Cheese and Fruit
Lunches
Leftovers
Corn Dogs with chips
Tuna Sandwiches, Chips and Fruit
Breakfast
Toast, Eggs and Oatmeal Packets
Waffles, Sausage and Eggs
Apple Nut Crumble Muffins, Eggs and Sausage
What's cooking at your house this week?
[signoff]