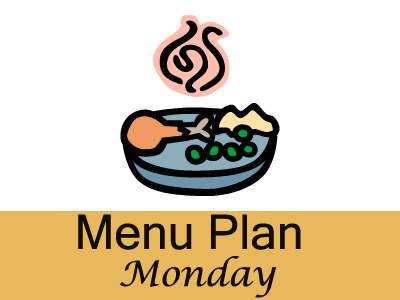 For our menu plan this week I am making recipes I make fairly often. I am trying to use some of the chicken we have in the freezer as I will be getting 20 pounds more to process and put in the freezer. So I want to make sure to use some of the older freezer chicken packages first. So three of our meal will be make with chicken this week.
Here is our menu,
Dinners
Teriyaki Meatballs, Rice and Stir Fry Vegetables
Chicken Marsala over Noodles with Fruit and Salad
Pan Fried Pork Chops, Mashed Potatoes and Green Beans
Sweet Asian Chicken, Rice and Stir Fry Vegetables
London Broil, Baked Potatoes, Salad and Rolls
Leftover London Broil on a Salad with Rolls
Stir Fry Chicken with Pan Fried Noodles, Rice and Fruit
Lunches
Most days will be leftovers
Sandwiches with Veggie Sticks and Fruit
Dairy Free Macaroni and Cheese with Fruit
Breakfasts
Pancakes, Eggs and Sausage
Toast, Oatmeal and Eggs
Dairy Free Chocolate Donuts, Eggs and Bacon
What is your family's favorite meal you make?
[signoff]