Pancakes are quite a staple around our house. We eat them often. Probably because, one they are easy to make and two, because my whole family loves them.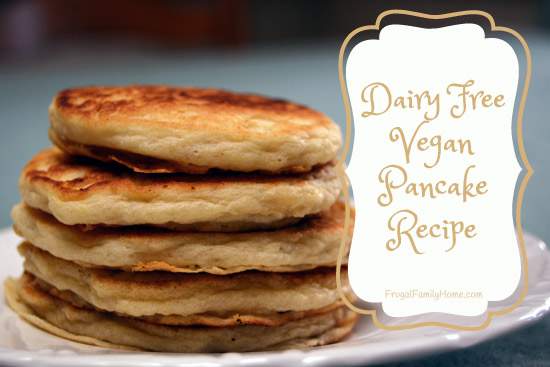 Since most of my family is allergic to dairy (I'm the only one who isn't) I need to make pancakes diary free. I also use an egg substitute of 1 heaping tablespoon of soy flour and 1 tablespoon of water to replace the egg.
I learned about this years ago while reading The Tightwad Gazette (amazon affiliate link), it's a great book if you haven't read it before.
Sometimes I will double or triple the recipe depending on how many people I am feeding. As far as the oil goes I will use canola or olive oil but melted coconut would work also.
We will sometimes add dry fruit to the mix or mini chocolate chips.
When I mix in dry fruit or mini chocolate chips I mix them into the dry ingredients. Also be careful you don't over mix the batter as it can make the pancakes a little tough.
I usually just whisk the batter while adding the liquid ingredients. Just mix until the dry ingredients are moistened. There will be lumps.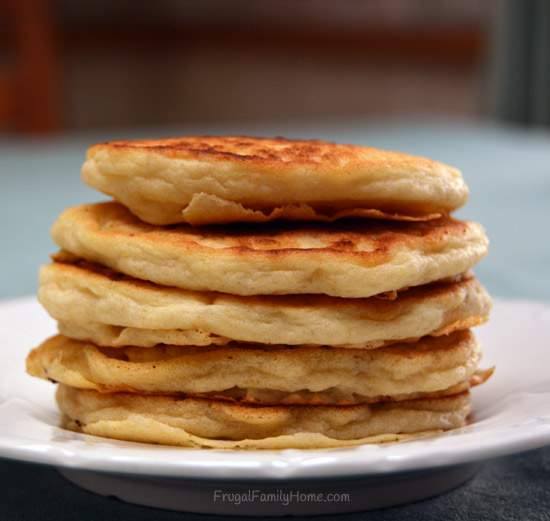 Here's my favorite recipe,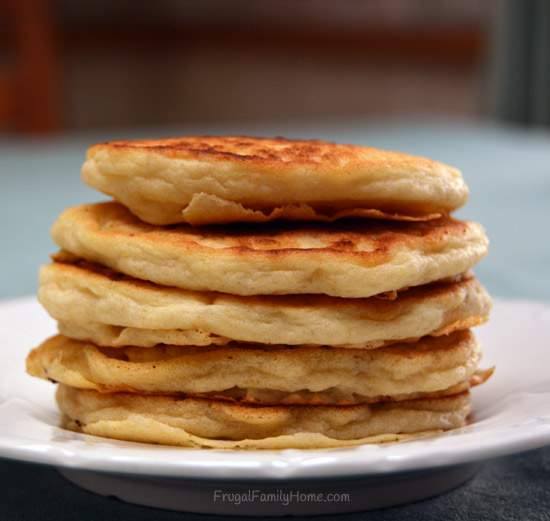 Pancake Recipe (Dairy-free and Vegan)
Ingredients
1

cup

flour

if using whole wheat add 1 teaspoon more of baking powder

1

tablespoon

of sugar

1/2

teaspoon

of salt

1

Tablespoon

of baking powder

1/2

cup

of water

1/2

cup

of milk or juice

1

egg or 1 Tablespoon of Soy Flour with 1 Tablespoon of water
Instructions
In a bowl add flour, sugar, salt, baking powder and soy flour if using.

Mix with a whisk to combine.

In another bowl combined water, juice or milk and egg or just 1 tablespoon more of water if using soy flour and oil.

Mix and add to dry ingredients stirring to mix. Be careful not to over mix there will be lumps remaining.

Heat a skillet on the stove over med to med-high heat.

Oil the skillet or spray with non-stick spray.

Place enough batter for one pancake in the pan. Let cook until bubbly on top and browned on the bottom side. Flip and brown other side.

Place in a warm oven on a plate to keep warm while cooking the rest.
Serve with fruit and whipped topping or homemade syrup and butter. Also good is peanut butter and syrup.
What's your favorite topping to eat on pancakes?
Be sure to subscribe to my email blog updates, so you never miss a new recipe.
Subscribe and you'll get Recipes
sent right to your inbox!
Click the button below and fill out the form.