An easy danish recipe with jam filling. Make this homemade danish recipe in no time to enjoy for breakfast on a busy day or for brunch.
Breakfasts can be busy and hectic during the week. That's why we stick with toast and eggs most weekdays.
But when the weekends come we like to enjoy something a little special for breakfast.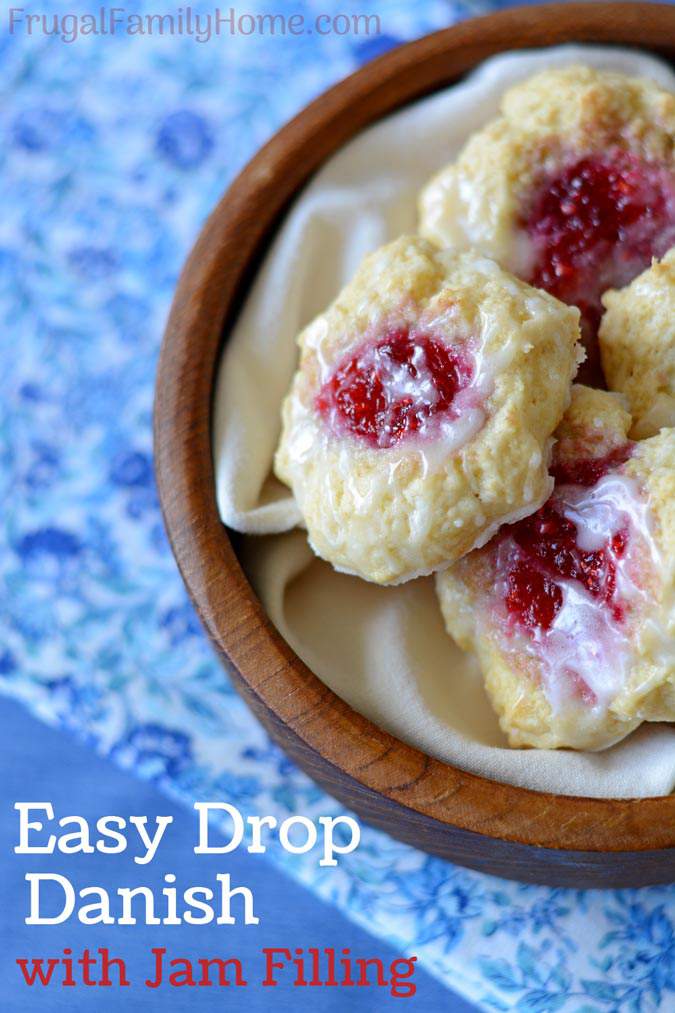 But I don't want that special breakfast to cost us too much money either. So instead of purchasing muffins or a package of danish at the store, we make our own at home. Plus we can avoid the dairy products my family is allergic to.
Now you might be thinking but making my own baked goods is going to be time-consuming. You need to let the yeast proof, then rise, and so on. It's going to take way to long and my family will be starving before the food is done.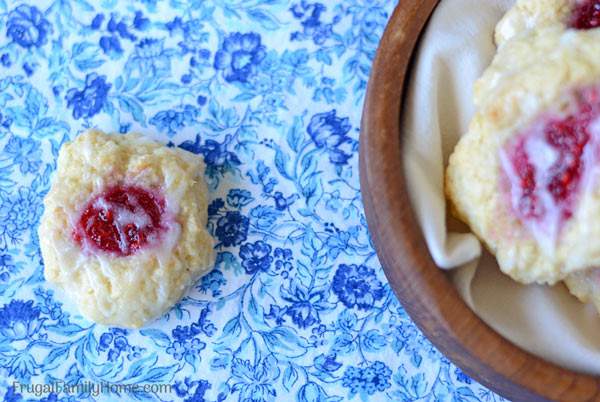 I hear you and that's why this recipe is so perfect. It's quick and easy to make without any proofing or rising time at all.
Just mix, drop onto the baking sheet, and bake. So simple and easy but delicious too.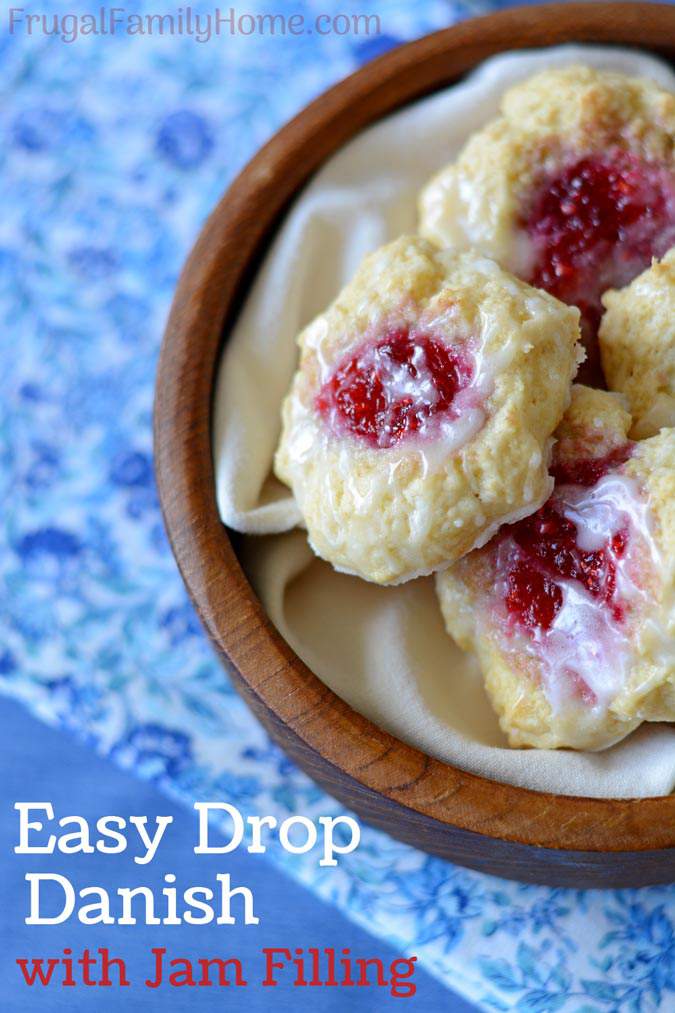 Easy Drop Jam Danish
Ingredients
2

cups

Flour

1/2

cup

Sugar

3

t

Baking Powder

1/2

t

Salt

1/2

cup

Margarine or Butter

1

egg

Enough milk added to the egg to make 3/4 cup

I use soy milk to make these dairy free

Jam for filling

Drizzle

Powdered sugar

Milk
Instructions
Mix dry ingredients.

Cut in the margarine or butter.

Add most of the egg/milk mixture to moisten the flour. You want the dough moist but not sticky.

Drop by the spoonfuls onto the baking sheet. Make a thumbprint in each of the dough balls. Then add the jam in each thumbprint.

Bake 400 degrees for about 15 minutes or until lightly browned.

Optional: Mix 1/4 cup powdered sugar with just enough milk to be able to drizzle it. Drizzle over the warm danish.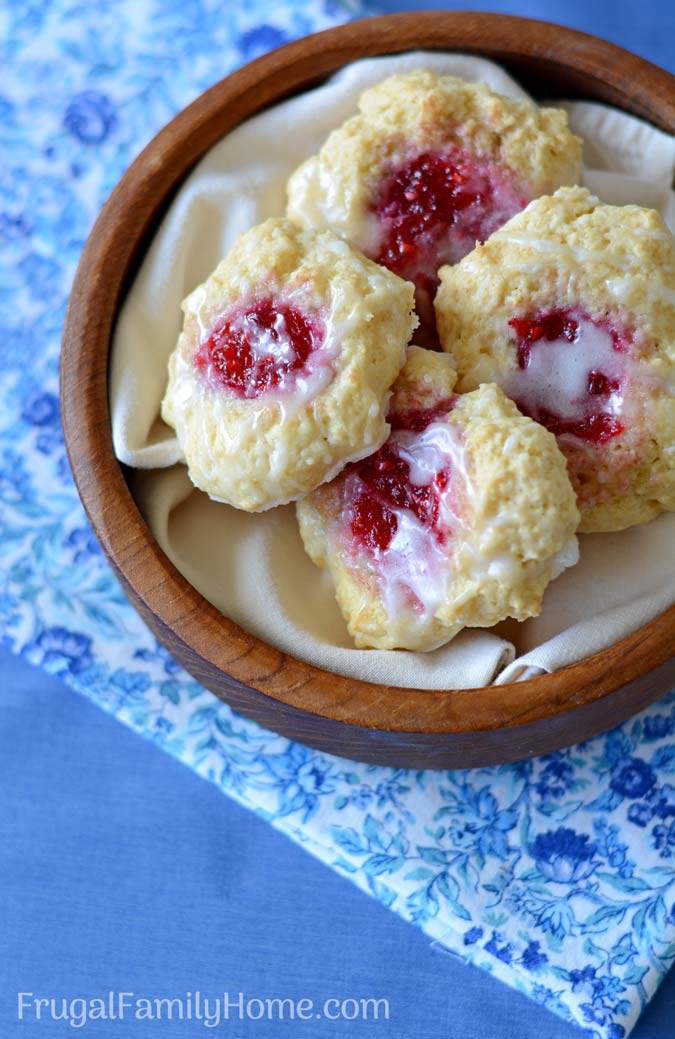 Tips for Making this Homemade Danish Recipe
Mix the egg and milk in a separate container, I use my liquid measuring cup. Depending on humidity you might not need all of the milk mixture or you might use it all. You want the dough moist but not sticky or dry.
Cutting in the Butter or Margarine, after mixing the dry ingredients you'll need to cut in the butter. You'll want to end up with small pea sized pieces of butter in the flour mixture. You can use a pastry cutter or a couple of knives, but I like to use my hands.
To cut in the butter with your hands, cut the butter into 1 tablespoon sized squares drop them into the flour mixture and then pick up the butter pieces with flour give it a squeeze until you feel the butter smush a little then drop it.
Do this over and over until the butter is distributed evenly and you have about pea sized pieces of butter mixed in.
Mixing the Dough, Since this isn't a yeast dough, you don't want to over mix it. Add your egg/milk mixture to the flour/butter mixture and stir until the flour is just moistened. If you over mix the batter the danish will be tough.
Drizzle after Baking, this step is optional. The danish are great with the jam on top but to make them look more like store bought danish add the drizzle or glaze. It's best to drizzle the danish while still warm right out of the oven.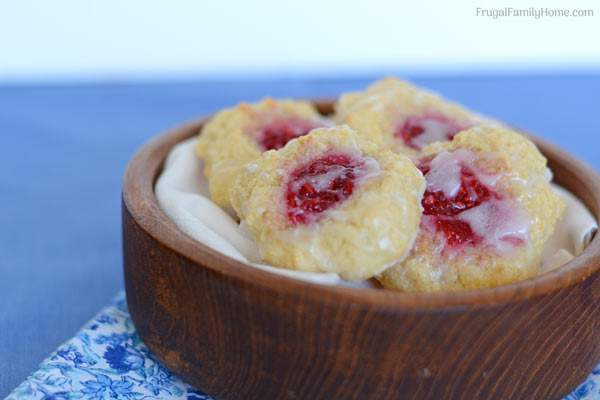 How Much Does it Cost to Make Jam Danish at Home?
I like to see how much I'm actually saving when I make recipes from scratch at home. Sometimes the savings is really big other times not so much. But it's always good to know and it can help you determine if it's worth your time to make a recipe at home or to buy it at the store.
Flour $.22
Sugar $.11
Baking Powder $.08
Salt $.0004
Butter/Margarine $.50
Egg $.06
Milk $.27
Powdered Sugar $.05
Jam $.50
The cost for a batch of 14 easy drop danish it's $1.79 or just $.13 each danish. That's quite a bit of savings considering that a package of store-bought danish with 6 to a package costs around $3 or more.
While this homemade danish recipe might be a little different from the store-bought variety, I don't think you'll mind. They are easy to make and the cost savings is really good when you make a batch at home.
What items do you make at home to help save money?
Other Homemade Baked Breakfast Ideas
Cinnamon Twist Scones
Baked Maple Bars
Baked Double Chocolate Donuts
Subscribe and you'll get Recipes
sent right to your inbox!
Click the button below and fill out the form.