Breakfast it's easy to skip and not get a good start to the day but with these yummy breakfast haystacks you'll want to make time to eat breakfast.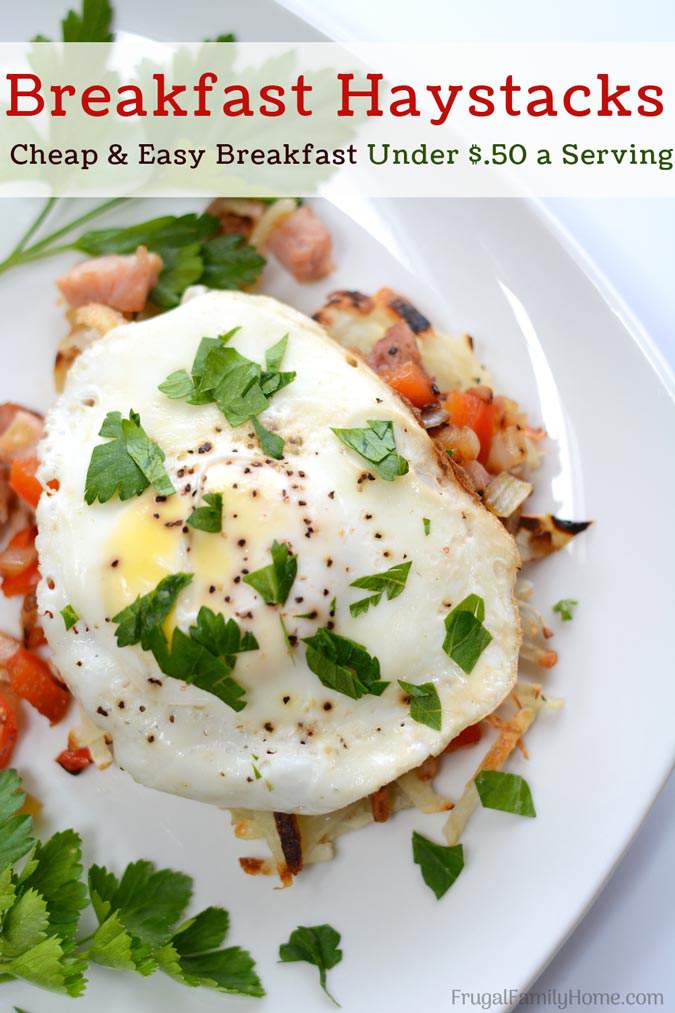 We stick to the same breakfast each weekday morning, toast and eggs. But on the weekends and holidays I like to make something a little more special for us to enjoy.
But we don't always want a sweet breakfast, like cinnamon rolls or scones. Although those are delicious, some days you crave a hearty breakfast. That's when I make these breakfast haystacks.
Below you'll find the recipe video along with the printable recipe to be sure to scroll on down to see them all.
Ingredients Needed for Breakfast Haystacks
Potatoes, one per person medium sized
Egg, one per person
Onions, if desired
Ham or Bacon, if desired
Green Pepper, if desired
Salt and Pepper
Topping, optional Salsa, Cheese, Green Onions, Chives, Parsley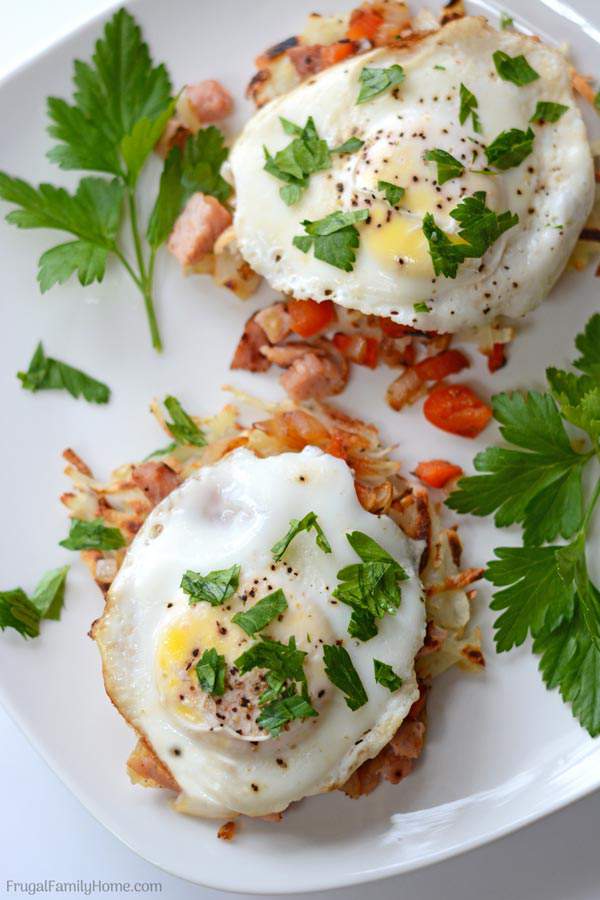 Kitchen Items I use to Prepare this Recipe
The links below are my referral links. When you purchase through them, I can make a little money at no extra cost to you. See my disclosure page for more information.
Electric Skillet, I love this electric skillet it's easy to adjust the cooking temperature and I use it for all kinds of cooking. I use it to prepare pancakes, hash browns, pan fried pork chops, pan baked scones, stir-fry recipes and more. It's really versatile
Grater or Food Processor, My family purchased me a new food processor for my birthday and I love it. It works great and is easy to clean. If it's out, I'll use it to shred the potatoes but a grater works good too.
Spatula, I love this plastic spatula. Food doesn't stick to them and they can be used with all of my pans.
How to make Breakfast Haystacks
Below you'll find the full recipe prepared on video. If watching a video isn't your thing keep on scrolling down to get the printable recipe instead.
Tips for Making Breakfast Haystacks
Prep the ingredients before you begin. The recipe cooks up pretty quickly so prep the ingredients ahead of time so they are ready.
Wait to prep the potatoes last to keep them from turning brown.
Get the pan warm before adding the potatoes. Heat pan then add the oil and potatoes.
I like to use bacon fat in the center of the potatoes instead of oil it adds flavor. I only use about a teaspoon for four servings.
Let the potatoes cook until browned on the first side then start the other ingredients. I wait to cook the optional ingredients until the potatoes are cooked on one side.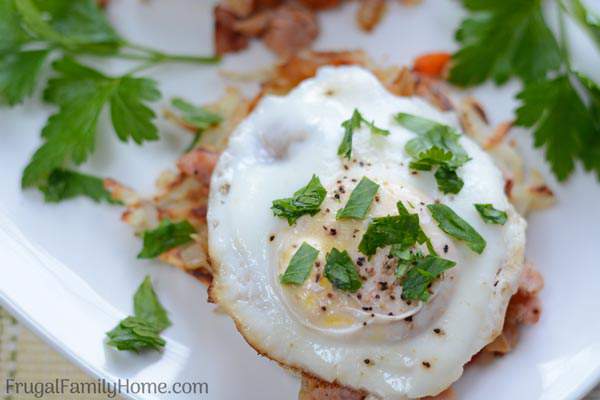 Because I use a larger skillet, I'm able to add the peppers, onion and ham alongside the potatoes as they cook. But you might need another skillet if you don't have a big skillet.
Prepare the eggs once the potatoes are flipped to the second side. Once I've flipped the potatoes and added the optional ingredients, I cook the eggs.
You can prepare the eggs any way you like we prefer fried eggs for this recipe.
Once everything is ready assemble and top. Once the cooking is done, it's time to assemble. Add potatoes to the plate first, then top with the optional ingredients. Add your egg and any topping you'd like.
You could use salsa, cheese, parsley, green onions or even chives on top. Just sprinkle and serve.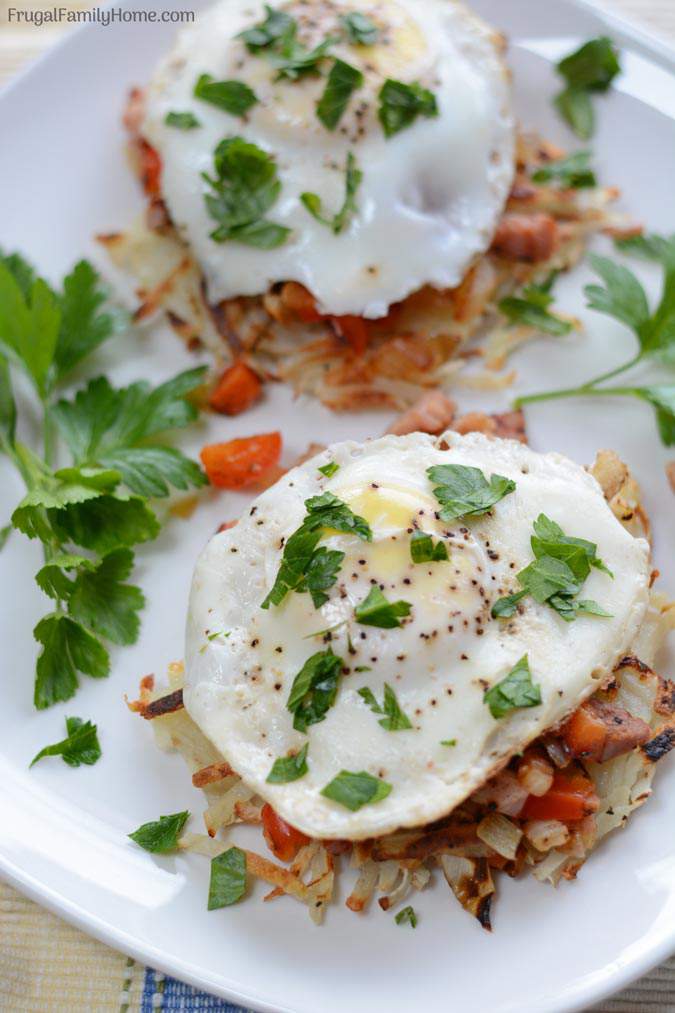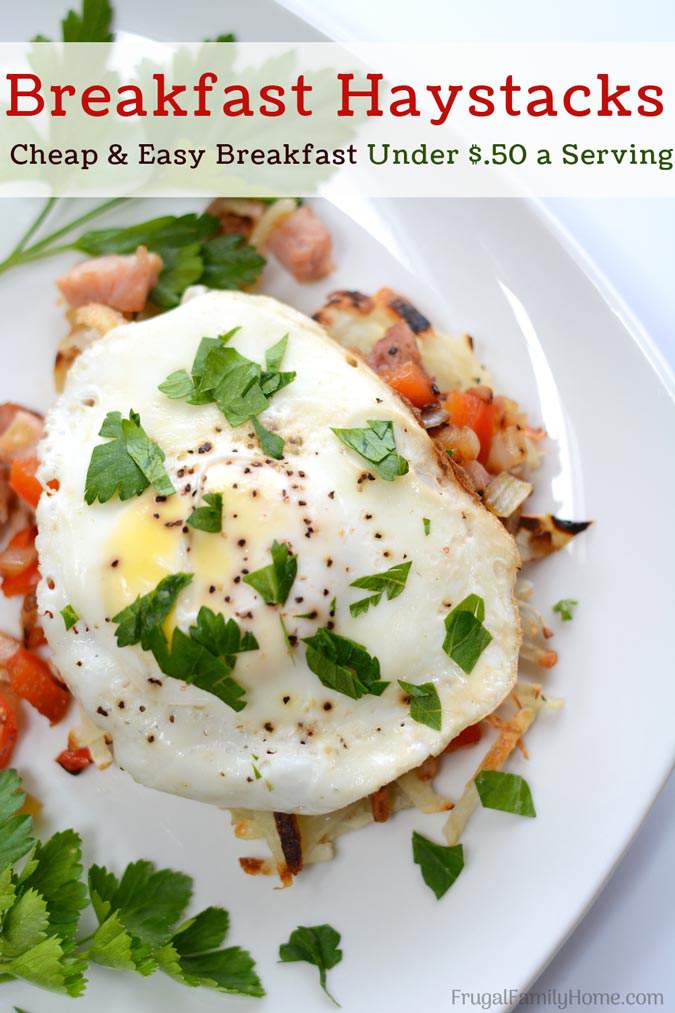 Breakfast Haystacks
These are Weight Watchers friendly at 7 points per serving.
Ingredients
4

medium Potatoes

4

Eggs

1-2

ounces

of Ham or cooked Bacon or any leftover cooked meat

optional

1/2

Green Pepper

chopped (optional)

1/2

Onion

chopped (optional)

Parsley

Chive, Salsa, Green Onions, or Cheese for Topping (optional)

2

teaspoon

Oil
Instructions
Prepare all the ingredients before you cook. It will make it easier to prepare this recipe. Prep the potatoes last to keep them from turning brown.

Heat a medium to a large skillet over medium high heat. Add each shredded potato in a stack and them smooth out. Add a little oil or bacon grease to the middle to help them brown up. Cook without moving until golden brown then flip.

Once the potatoes are cooked on one side, add the onion, green peppers and ham if using to the skillet or to another skillet if there isn't enough room. Stir and cook to brown them.

Cook the 4 eggs the way you prefer.

Once the potatoes are brown on both sides, the eggs are cooked and the optional items are cooked it's time to assemble the haystacks.

Place a potato patty on the plate, add the optional items then top with an egg. If using optional topping ingredients sprinkle them on now. Serve warm.
Because you can customize these breakfast haystacks, they can be weight watcher friendly too. The basic recipe is 7 SmartPoints.
How Much will these Breakfast Haystacks Cost to Make?
If you are like me and try to keep your grocery cost low but want to feed your family well, it's good to know the cost of your meals. I've figured out the cost of this recipe to help you decide if it's a good one to fit into your budget.
To find the prices below I used the regular price I pay at WinCo Foods. Your prices might vary depending on where you live. But at least it will be close.
4 Potatoes, $.30
4 Eggs, $.48
Pepper, $.40
Onion $.10
Oil and Seasoning $.10
That brings the cost of this recipe to $1.38 for 4 servings. Or just $.35 per serving. That really beats eating out. To round out the meal, we add a slice of toast and a little fruit too. Which still keeps the price of this meal low.
If you add ham or bacon that will add a little cost but I try to add those extra items in when we have leftover from the dinner the night before.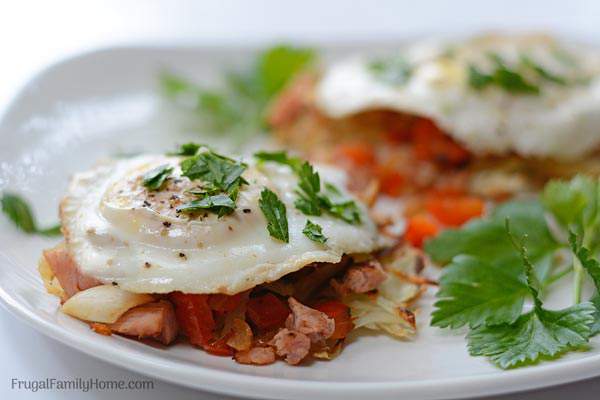 These breakfast haystacks are a delicious and hearty breakfast for a weekend when you don't feel like eating something sweet. They cook up quickly and everyone can have just what they want on theirs, helping with picky eaters.
What would you top your breakfast haystack with?
Pin it for Later…
Subscribe and you'll get Recipes
sent right to your inbox!
Click the button below and fill out the form.