A delicious recipe for brown sugar steaks. They are super easy to make with simple ingredients. They can be grilled or broiled, so they are a perfect dinner for any time of the year.
With more sunny days than rainy days it's time to get out and start grilling. Our favorite items to grill are pizza, burgers, marinated chicken, and of course steak. And this recipe for brown sugar steak is perfect for summer grilling.
The sugar caramelizes a bit making for a yummy sweet coating. It's delicious with the mix of brown sugar and spices.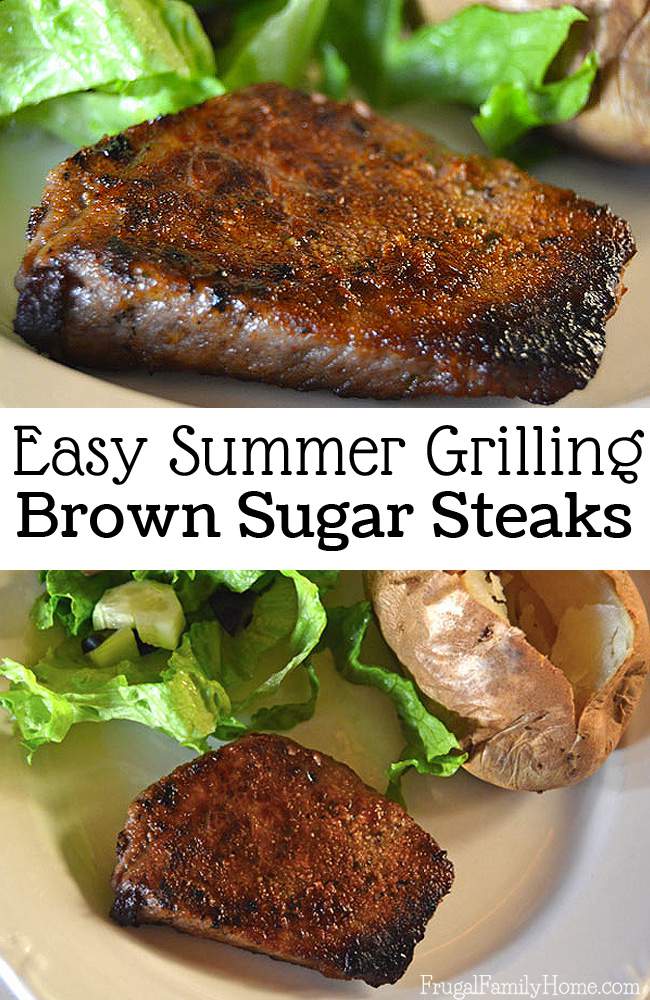 With more sunny days than rainy days it's time to get out and start grilling. Our favorite items to grill are pizza, burgers, marinated chicken, and of course steak.
I usually make spice rubbed steaks and tuck them away into the freezer. But this night I decided to try something different.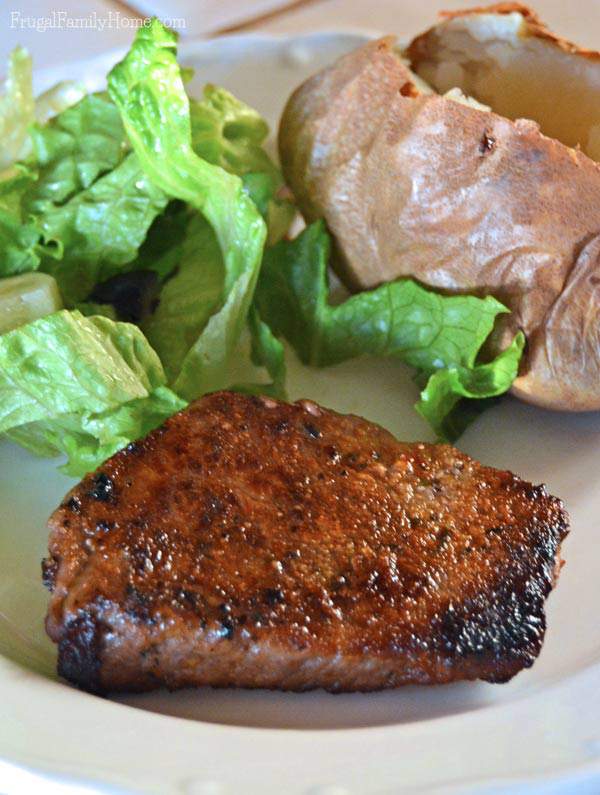 I decided it might be nice to have something a little spicy, not too much, since our family doesn't do spicy. So I put together a rub with the spices we like the best, along with some brown sugar. I rubbed the steaks and put them into the refrigerator to marinated for a few hours.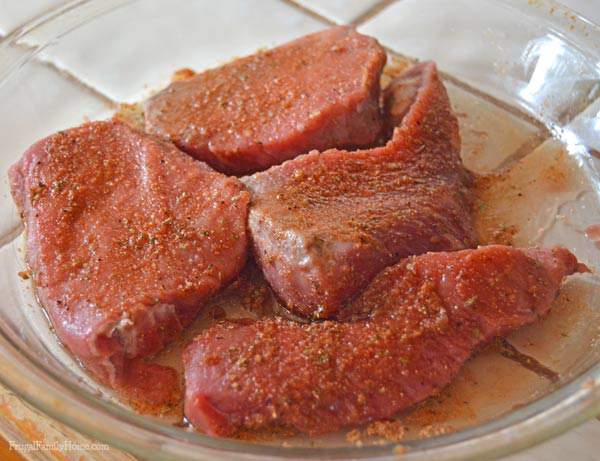 I marinated mine for about 4 hours but overnight would be fine too. After the steaks had time to sit and soak up all those great flavors, it was time to put them on the grill and see how great or awful they would be. (you have probably figured out by now that they turned out great since I'm sharing the recipe)
We have a wood-fired grill so they cook over an indirect heat source. If you are using charcoal or gas. I would sear the meat on a direct flame or over hot coals and then move them over to the low heat area of your grill to cook through to the doneness you like.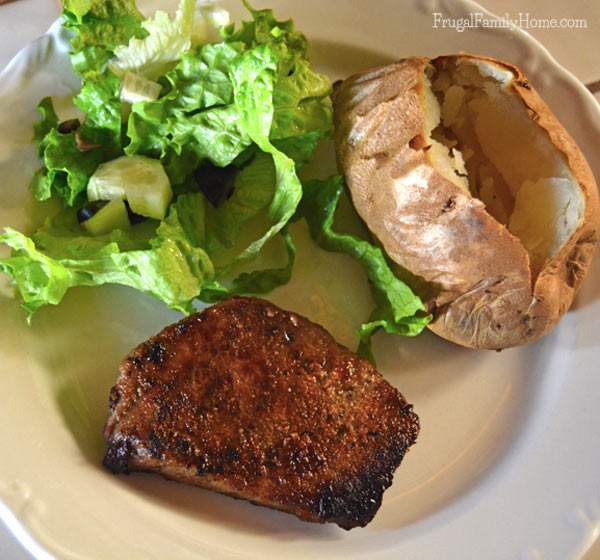 Because of the sugar in the rub, if you keep them over direct heat the whole time, the sugar won't just caramelize, it will burn. Nobody wants burnt steaks.
If you only have a direct heat source it might be good once the meat is seared, to place them in a cast iron skillet, to buffer the flames while the steak finishes cooking to the doneness you like.
They smelled delicious while cooking. A little hint of sweet and a little hint of garlic and onion. Just perfect. We like our steaks well done.
So, we cooked ours until the internal temperature was about 160 degrees. But if you want your steak medium, stick with around 150 degrees or for rare 130 degrees. It's best to use a meat thermometer instead of cutting the meat to keep all of the great juices inside the steak.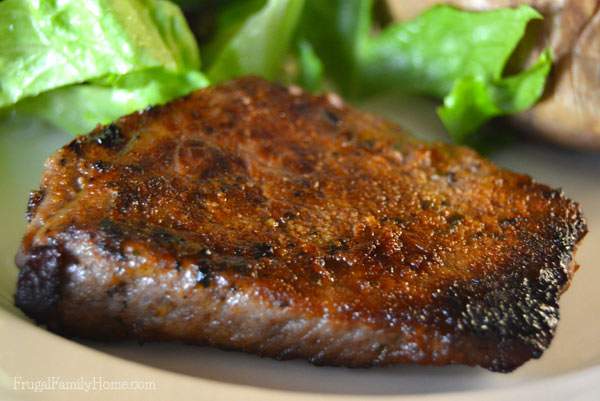 After cooking the steak be sure to transfer them to a plate and cover with foil. It's best to let them rest for about 15 minutes, so the juices stay in the meat instead of all over your plate.
The rub made a wonderful, slightly spicy and sweet, crust on the steak that gave it a slight crunch. The inside of the steak was nice and juicy. I know I'll be making these brown sugar steaks for the freezer, along with my spice rubbed steaks. They are just so good.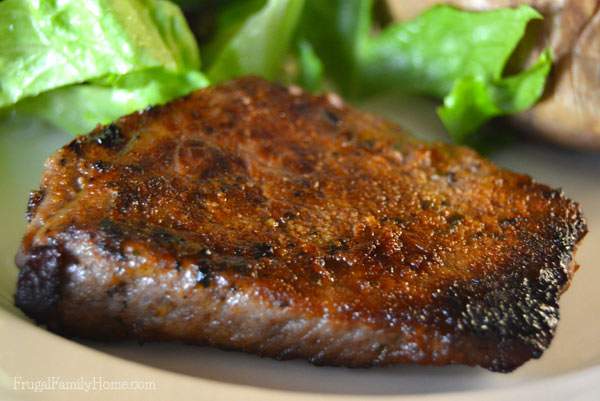 Brown Sugar Steaks
Instructions
Mix all of the ingredients in a bowl except the steak.

Place the steak in a shallow dish and rub the seasoning mix all over each of them.

Let the steak marinate in the refrigerator for a couple of hours or overnight.

Cook on a grill until done to the doneness you like.

After the steaks are done cooking place on a platter and cover with foil and let the meat rest for about 10-15 minutes.

Enjoy!
What is your favorite way to season steak?
Subscribe and you'll get Recipes
sent right to your inbox!
Click the button below and fill out the form.