A couple of years ago I shared a cookie recipe I call, Debbie cookies. They are actually chocolate twinkle cookies I make each year, to give at Christmas. I call them Debbie cookies after my cousin who gave me the recipe. She has pass on, but I always have great memories of her when I make these cookies. Today is her birthday, so I thought it was fitting to share this recipe today.
This year, I tried something a little different with this cookie recipe. Once you have the dough made, the dough balls are rolled in powdered sugar. But I thought wouldn't it be neat to roll them in powdered candy canes instead. That is how I came up with this recipe for chocolate mint twinkle cookies.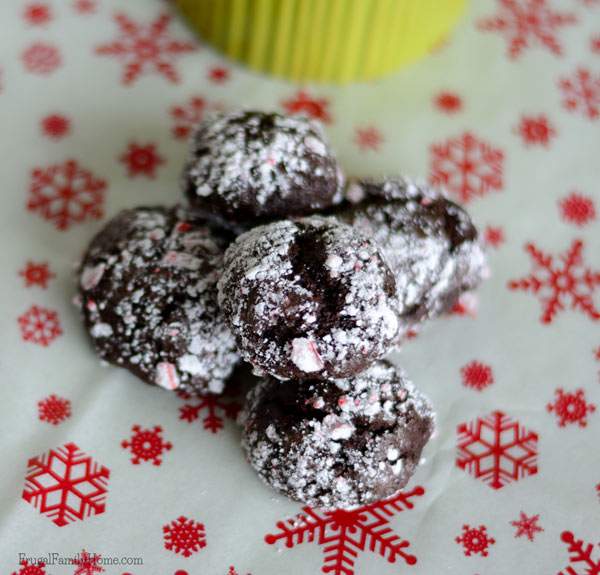 I love the combination of mint and chocolate. Maybe that's why I love the peppermint patties, so very much. Well these are somewhat like a peppermint patty flavor in a cookie.
To make these cookies, you will want to mix up a batch of the chocolate twinkle cookie dough (link to my recipe just in case you don't have one). Then chill for at least 4 hours or overnight. I chilled mine overnight to be on the safe side.
I took some small candy canes, while still in the package and crushed them with my rolling pin. You want some powdered and a few chunks here and there. This might be also accomplished in a food processor, but I didn't try it. I was too lazy to dig it out of the back of the cupboard.
Once the candy canes are crushed. Add them to a shallow dish. You'll need half a cup of crushed candy canes (about 15 small candy canes) and a half cup of powdered sugar to roll the dough balls in. Mix the candy canes and powdered sugar together in the dish.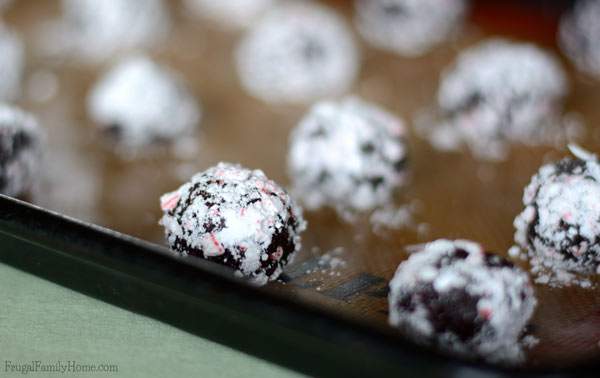 Take the chilled cookie dough and scoop a teaspoon size portion of dough and then roll them into balls, with your hands. Once the ball are rolled, roll them in the candy cane/powder sugar mixture. Place on a lined cookie sheet.
Bake in a 350 degree oven for 10-12 minutes or until done. Let cool on sheet until set and them move them to a wire rack to full cool.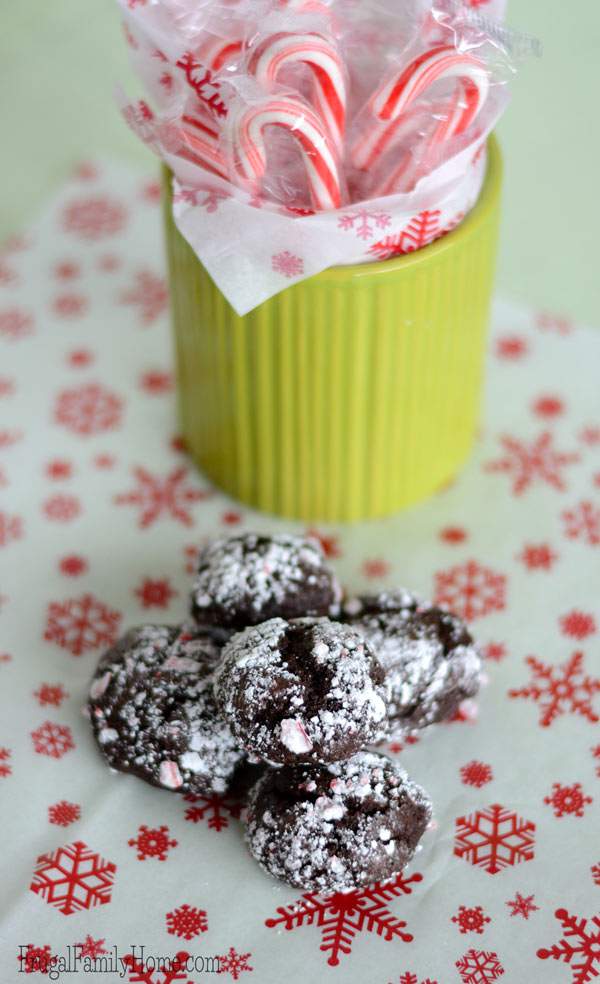 These cookies have a really nice chocolate mint flavor. There is a little crunch of mint on the outside and then you taste the yummy chocolate. I'm so glad I thought to give this a try. I think I like them better than the original recipe.
What's your favorite cookie to make at Christmas time? Does making them trigger special memories for you? Be sure to bake with your kids to create some new memories for them too.