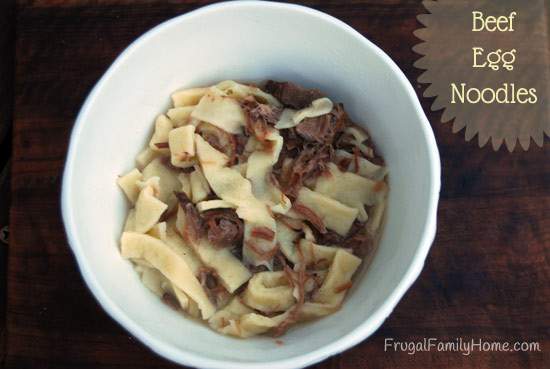 There is something about winter that makes me just crave comfort food. I love comfort food, not just for how it makes my tummy happy but how the memories associated with the recipes make my heart happy too.
The recipe I'm sharing today is one of those comfort foods that has a lot of great memories attached to it.
My great grandma used to make these noodles for us often. While I was at school my great grandma would start a batch cooking and then after school my sister, my mom and myself would go over to pick up the big silver kettle full of these great noodles.
We always got to sample some before heading home.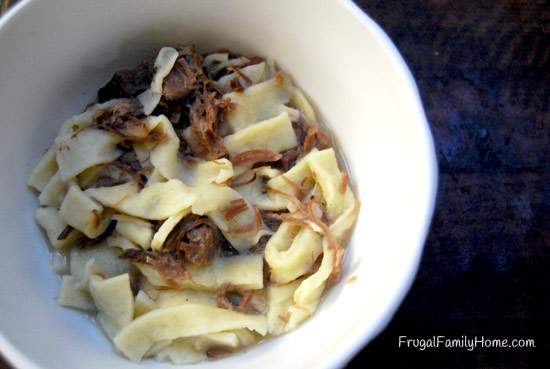 Then we would get to have them again at dinner. My mom always served them over mashed potatoes with green beans on the side.
The gravy the noodles were in would seep down into the potatoes flavoring them too. Making every bite just wonderful.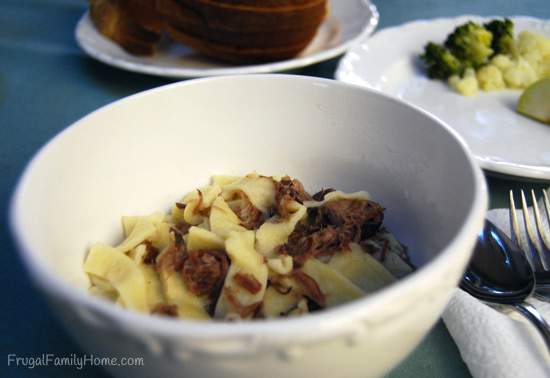 Here's the recipe so you can make them and try them out. I usually make these when I have leftover roast beef. I usually save the broth from the roast and use it to cook the noodles in.
If you don't have any homemade beef stock you can use some from the store.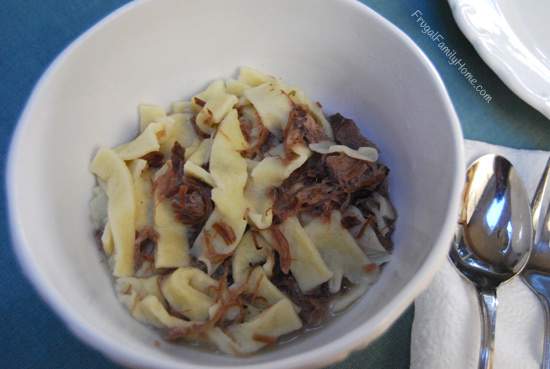 The only other ingredients needed are eggs, salt, and flour. So that makes this recipe a really easy and frugal one too. 🙂 Here's the full recipe to print,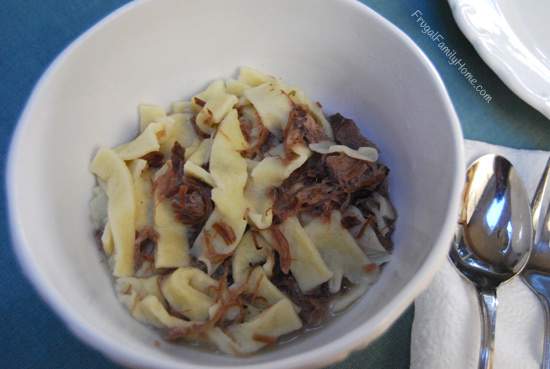 Homemade Beef Noodles
Ingredients
2

cups

Roast Beef

cooked

2

Eggs

slightly beaten

1/2

teaspoon

of Salt

1

cup

Flour

plus more for rolling out the noodles

4

cups

of broth for cooking the noodles
Instructions
Making the Noodles
Mix the eggs and salt.

Stir in the flour then turn the dough out on a well-floured board.

Knead the dough 3-5 times, then cut the dough in half.

Roll the first piece of dough out very thin. Then cut into strips about 1/4 inch wide and then cut the strips crosswise about one inch long.

Sprinkle the cut noodles with flour and then toss with flour.

Repeat for the second dough ball.
Cooking the Noodles
Bring the broth to a boil.

Drop the noodles into the broth and stir.

Simmer for about 20-25 minutes or until cooked through.

Add in the cooked roast beef and continue to simmer until heated through.

Enjoy!
See my tutorial post on how to make egg noodles.
What is your favorite comfort food? Do you have a special memory associated with it?
SaveSave