For as long as I can remember my family always made crisp recipes. From cherry to berry and everything in-between we had all kinds of fruit crisp recipes to enjoy. If you haven't ever tried making a fruit crisp before you're going to love this easy apple crisp recipe.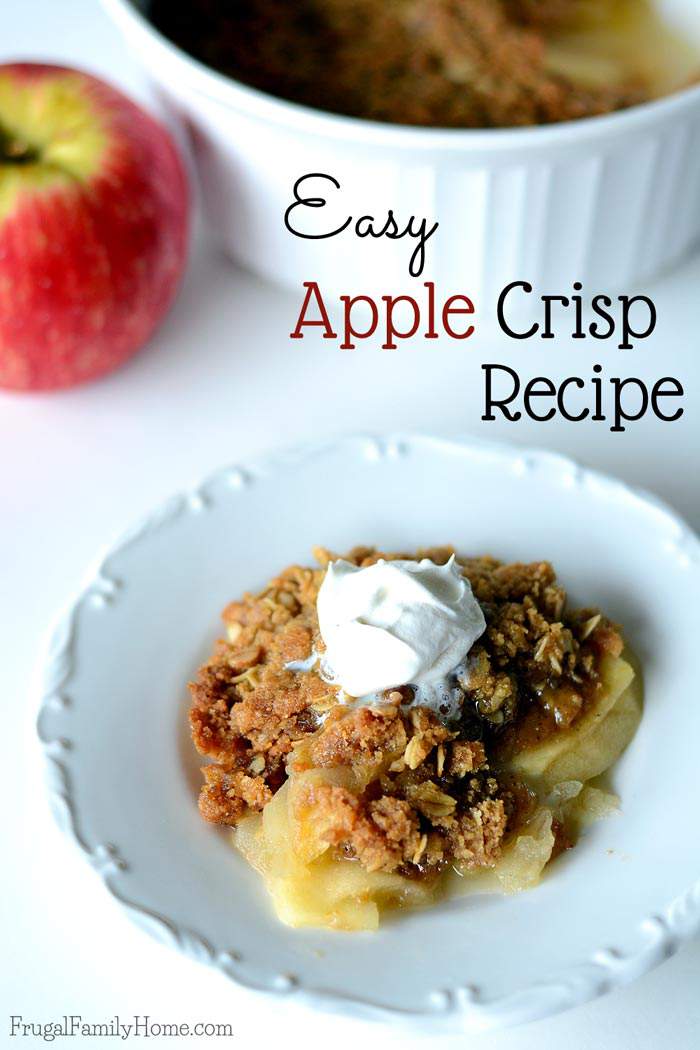 I know some bakers like to use apple pie filling in a crisp. I try to avoid the extra ingredients when I can, so I make my apple crisp with apples instead of pie filling. You can toss the apples with a little flour if you like a thicker juice with the apples but I find just using the apples in this recipe works out great.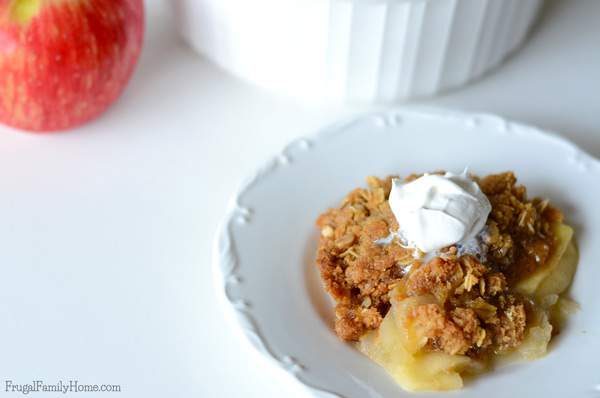 The 6 Ingredients Needed to Make Apple Crisp
Apples, about 4 medium or 4 cups sliced
Butter or Dairy Free Margarine if you need to eat dairy free (I'm sure coconut oil (referral link) would work well too)
Brown Sugar
Flour
Rolled Oats
Nutmeg
How to Make This Easy Apple Crisp Recipe
I like to start by peeling, coring and slicing the apples. I like the apples sliced thinly. You can do this with a knife, but I really like using mandolin slicers like this one,(referral link) that was highly rated on the Cooks Country show. It's on my list to purchase the next time I order from Amazon.
Once the apples are all sliced, I place them in a greased casserole dish. I usually use my square 8-inch pyrex pan.(affiliate link) But this time I used my corning ware casserole dish. (affiliate link) It's nice that it has a lid to put on it if you will be taking this dish to a party or a friends house.
To make the topping, I place the brown sugar, flour, nutmeg, and rolled oats into a medium sized bowl and then cut in the butter or margarine. I find this works best if I cut it in with my hands. I just pinch the butter into the dry ingredients and let go and do this over and over again until the mixture is like small pea pieces.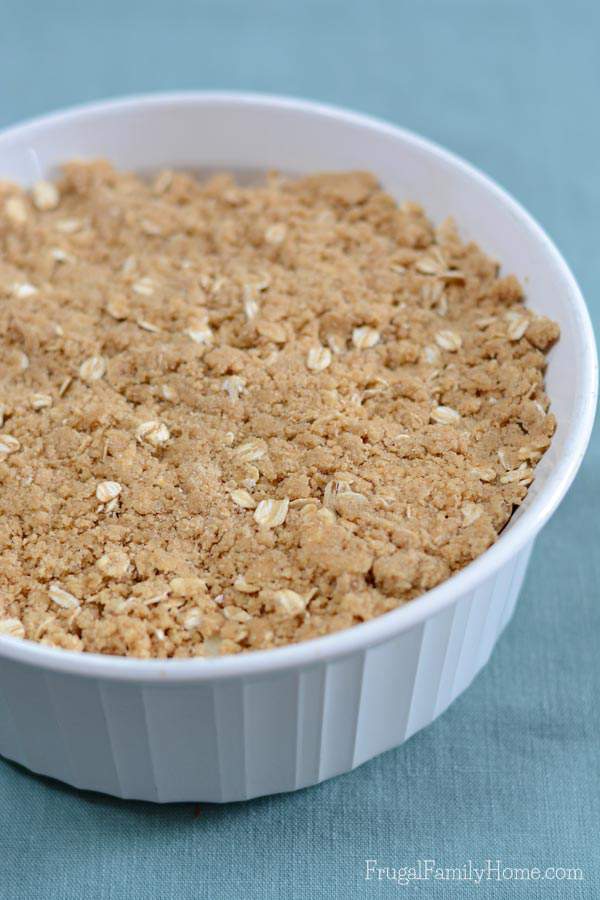 Once the crisp topping is ready. I sprinkle it over the apples and bake until golden brown on top.
The smell is so good when it's cooking. I love how great it smells but what's even better is how it tastes. There is the nice crunch of the crisp topping with the warm and slightly soft apples under the topping. I like to make sure I get a little crunchy topping and a little apple in each bite.
This is also great with a little whipped cream on top, or with a little drizzle of caramel sauce or even chocolate sauce. Yum!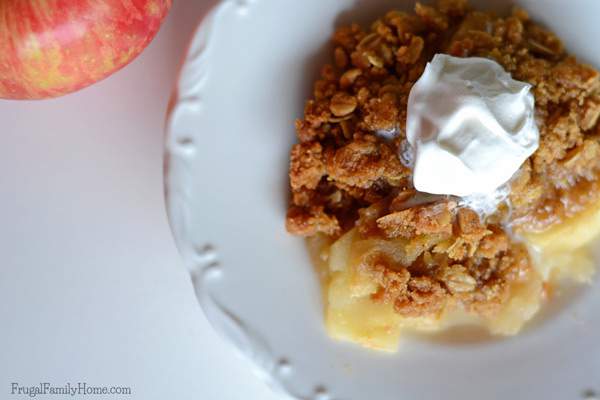 Here's the printable recipe for you to add to your recipe file,
Delicious and Easy Apple Crisp Recipe
Ingredients
4

cups

Apples

cored, peeled and sliced thin

2/3

cup

Brown Sugar

3/4

cup

Flour

1/4

cup

Rolled Oats

3/4

teaspoon

Nutmeg

1/3

cup

Butter or Dairy Free Margarine
Instructions
Grease an 8-inch square casserole dish and set aside.

Core, peel, and slice the apples. Add the apples to the prepared dish.

In a medium bowl, combine the brown sugar, flour, oats, and nutmeg.

Cut in the butter to make a crumbly mixture with pieces about the size of small peas.

Place the crisp mixture on top of the apples, to cover them.

Place the apple crisp into a 375 degree oven for 30-45 minutes or until golden brown and crisp on top.

Enjoy!
What is one of your favorite apple recipes? I would love to have you share it in the comments below.
Looking for more apple recipes to try? Click here to find more!
Some of the links in this post are my referral links. When you use them I might make a little money at no extra cost to you, thanks for your support in this way. You can see my disclosure policy for more information.
Subscribe and you'll get Recipes
sent right to your inbox!
Click the button below and fill out the form.