There are a few side dishes I need, no have to make each summer. It just wouldn't be summer without enjoying these great side dishes each year. shared my Best Macaroni Salad Recipe a while back and today I'm sharing this delicious creamy potato salad with bacon and chives.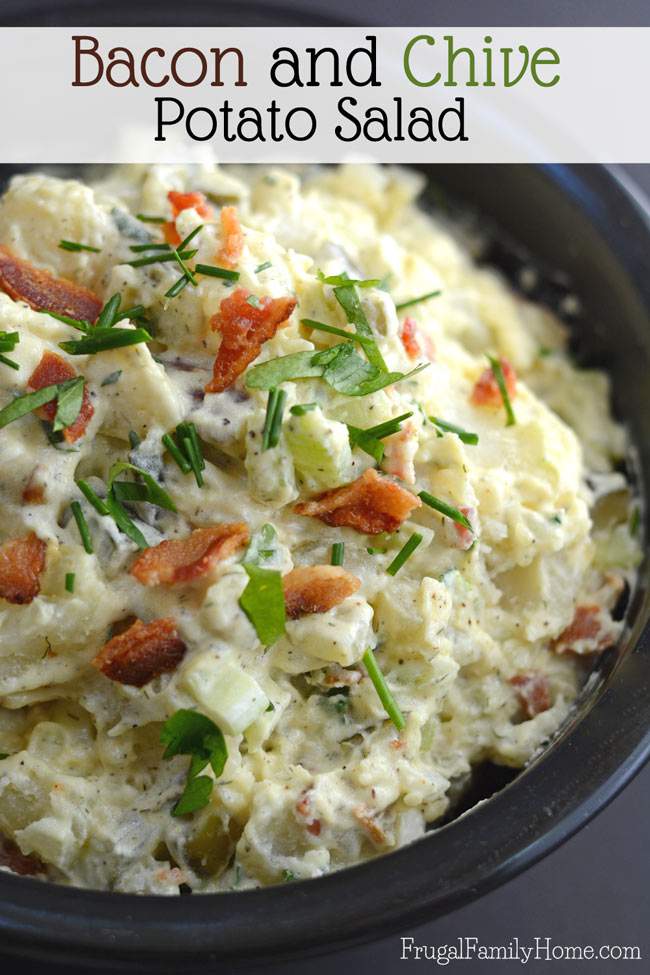 I love having a good side dish recipe to take to a picnic or party. I know my grandma used to make macaroni or potato salad often when I was growing up.
It's an easy side dish that's quick to make and doesn't take too many ingredients. But sometimes you want something a little special, if that you, you'll want to try this recipe.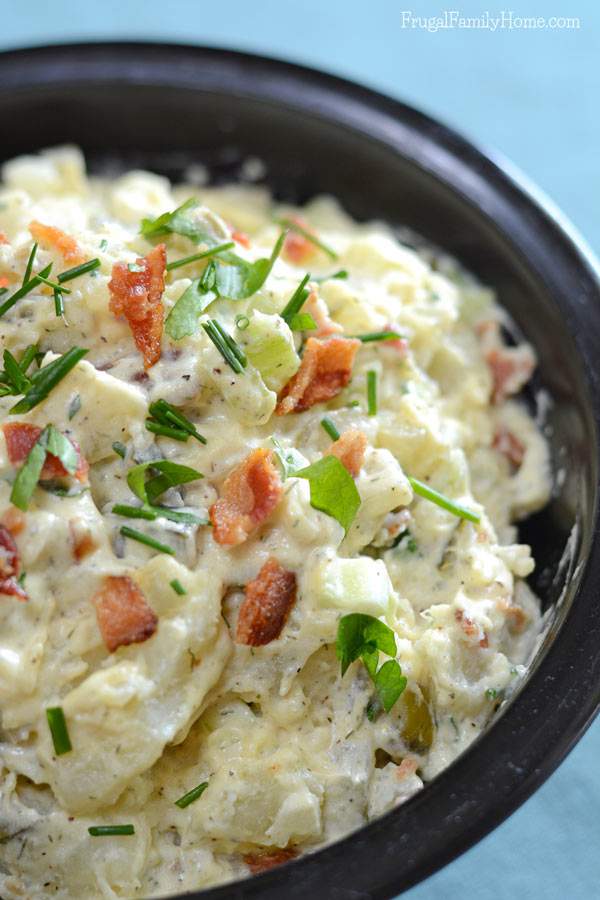 Dress Up Plain Potato Salad with Bacon and Chives
Ingredients
3

cups

Potatoes

cooked and diced (about 3-4 potatoes)

1/3

cup

Onion

chopped

1/3

cup

Dill Pickles

chopped

1/3

cup

Celery

chopped

6-8

slices

Bacon

cooked and crumbled

3/4

cup

Mayonnaise or Vegan Mayonnaise

1

tablespoon

Vinegar or Dill Pickle Juice

2

tablespoons

Mustard

1

tablespoon

Fresh Chives

chopped or 1/2 teaspoon or Dried Chives

1/4

teaspoon

Dried Dill Weed

1

tablespoon

Fresh Parsley

chopped or 1/2 teaspoon Dried Parsley

1/2

teaspoon

Salt

1/8

teaspoon

Pepper
Instructions
To a large bowl add the potatoes, celery, onion, bacon, chives, dill weed, and parsley. Stir to combine.

In a smaller bowl combine the mayonnaise, mustard, salt, pepper, pickle juice, and stir to combine.

Add the mayonnaise mixture to the potato mixture and stir until it is all well coated.

Transfer to a dish with a lid and refrigerate several hours until chilled through or overnight.
I first discovered how delicious bacon could be in potato salad when I was helping care for my cousin with cancer. My daughter and I would spend one day a week with her, helping her while her parents and hubby took a break.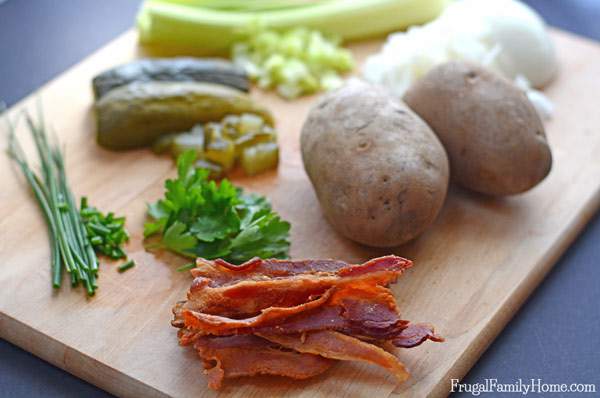 She wasn't really hungry for much because of the chemo, but one thing she loved to eat was a bacon potato salad from a local store. We picked some up one day and I was hooked. It was so much better with bacon. But then again how can you go wrong with bacon!?
After a few trips to pick up the bacon potato salad for lunch for us, I knew what I needed to do. I needed to develop an at-home version of this delicious potato salad recipe.
I wanted to see if I could alter our family potato salad recipe to be as tasty as this bacon version and I do believe I've achieved it with this bacon and chive potato salad recipe. I hope when you try this recipe you'll agree too.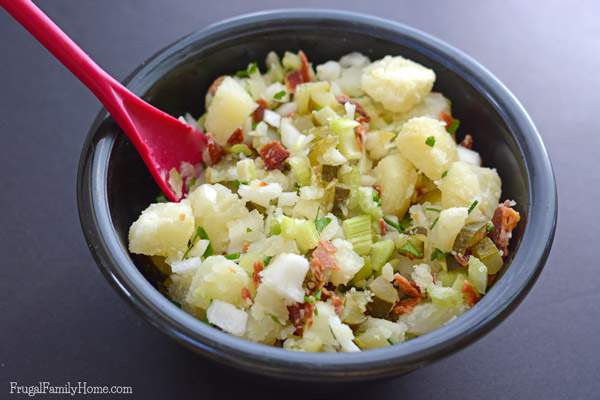 I started with my family's potato salad recipe then added chives, bacon, and parsley too. The combination turned out so good.
It has the creaminess of the original potato salad with a bit of a crunch from the crisp bacon. Combined that with the fresh flavor of the chives and parsley, you might sprinkle on a baked potato, and you have the perfect potato salad recipe.
If you love eggs in your potato salad you can add them in too. I didn't add them to this version but I'm sure they would be very tasty in it.
For your next picnic or barbecue, you need to give this creamy potato salad with bacon and chives recipe a try. I'm sure you and your guests will love it as much as our family does.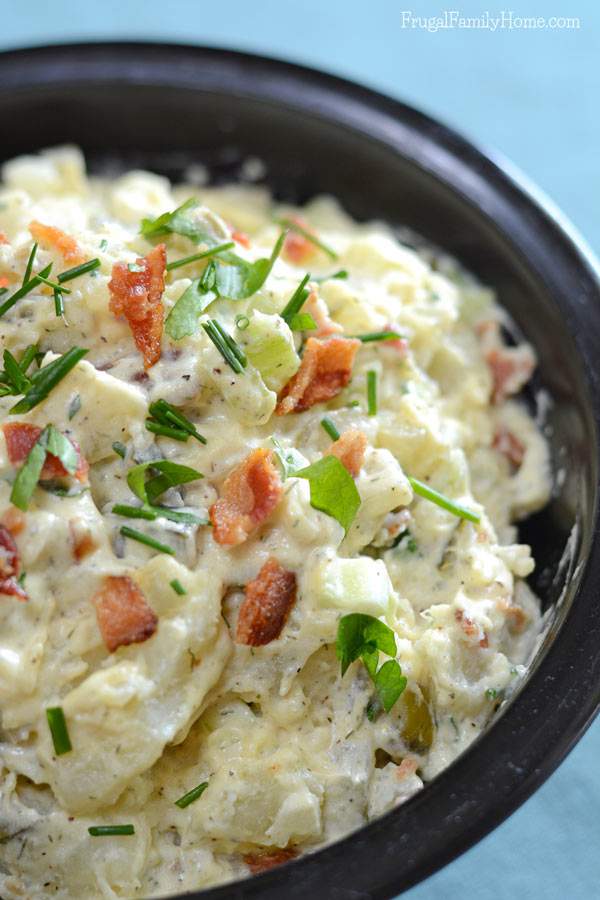 What side dishes do you have to enjoy each summer? I would love to hear about them. Please leave your summer side dish must eats in the comments below.
More Summer Recipes to Try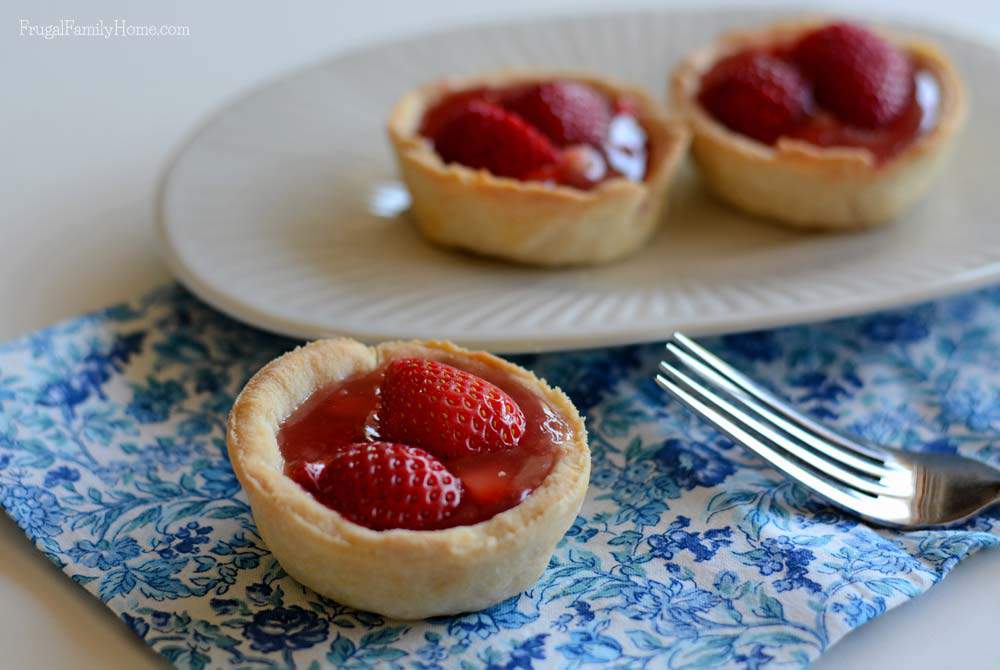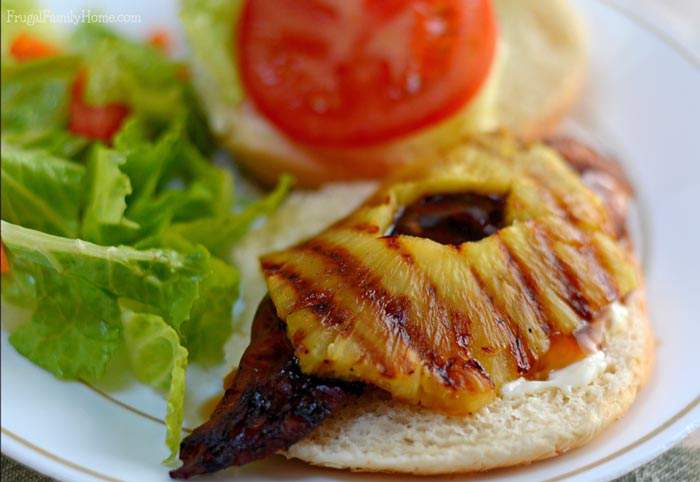 Grilled Teriyaki Chicken Sandwich
Subscribe and you'll get Recipes
sent right to your inbox!
Click the button below and fill out the form.