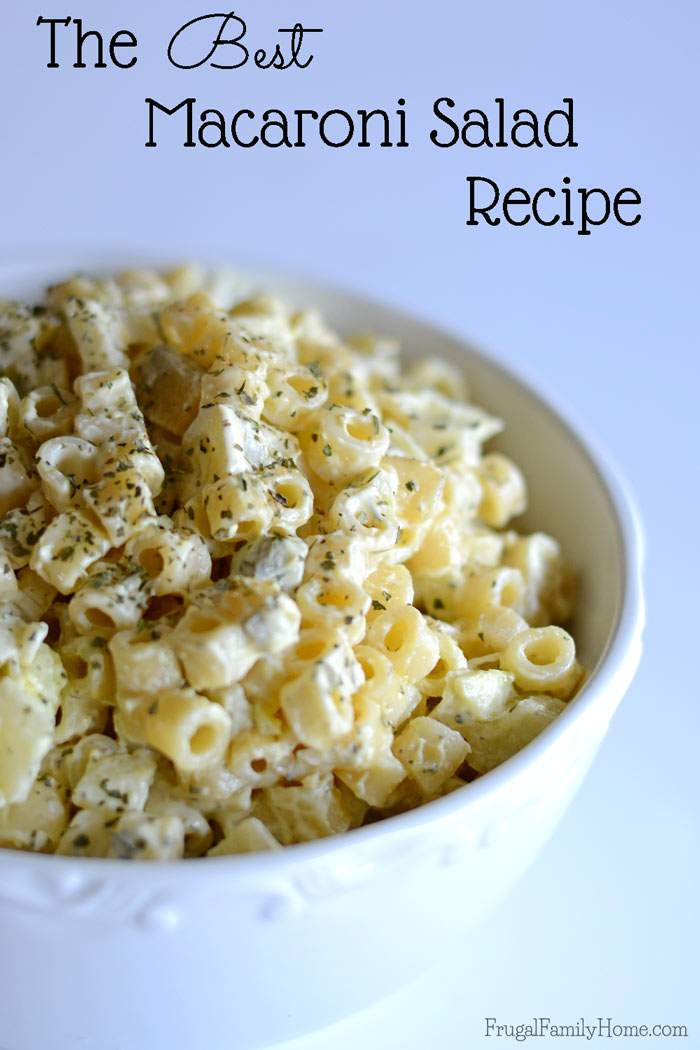 We love to grill burgers in the summer. Now our family usually loves homemade baked fries with our burgers, but during the summer, it's just too hot to bake fries. Instead of fries, I'll make the best macaroni salad recipe to go alongside those yummy burgers.
This macaroni salad recipe is the one my grandma, aunt, and mom used to make all the time. I'm a little partial and like potato salad a little better than macaroni salad. But my the rest of my family loves macaroni salad. They win out and I end up making this recipe quite often during the summer.
This is not only a great side dish for summer barbecues but it's a great side dish any time of the year. If you've never tried homemade macaroni salad, I think you'll love this recipe. It's so much better than the store-bought containers of macaroni salad and easy to make too.
Just so you know some of the links below are my referral links. Which means when you use them I might make a little money at no extra cost to you. Thanks for your support in this way. You can read my disclosure policy for more information.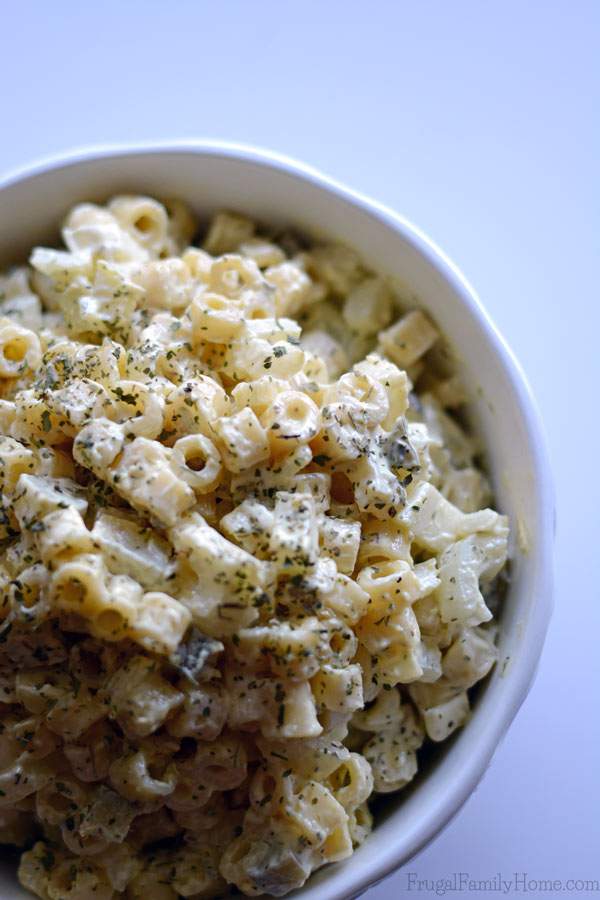 How to Make the Best Macaroni Salad Recipe
Step 1
Boil the pasta. I usually make my macaroni salad with elbow macaroni or salad macaroni. But you can use any small pasta you like. Cook the pasta according to the directions and drain the water. Be sure to drain the water well so the dressing won't get diluted. I use my colander and it works well. If you have limited space in your kitchen you might want to pick up a collapsible colander.
Step 2
Chop the veggies. I always include equal parts of dill pickle, onion, and celery to this macaroni salad recipe. But if you have picky eaters who can spot an onion a mile away and won't eat a dish with them in it. Skip the chopped onions and add in about a teaspoon or two of onion powder. The onion flavor will still be there, just not as strong and no onions for your picky eater to spot.
Step 3
Mix in the chopped vegetables with the cooked pasta.
Step 4
Make the dressing. Mix together mayonnaise, vinegar or dill pickle juice, pepper, salt, parsley, dill weed, dried chives, and mustard in a bowl.
Step 5
Mix the salad dressing with the pasta mixture and mix well to coat the pasta and vegetables. It's important to really mix the dressing in well to coat the pasta and vegetables. You want to get that yummy dressing all over each bite.
Step 6
Refrigerate until ready to eat. I like ours to sit about 2 hours before we eat it. I keep it in a covered bowl in the refrigerator. The flavors all mix together and the dressing thickens up a bit and gets nice and creamy.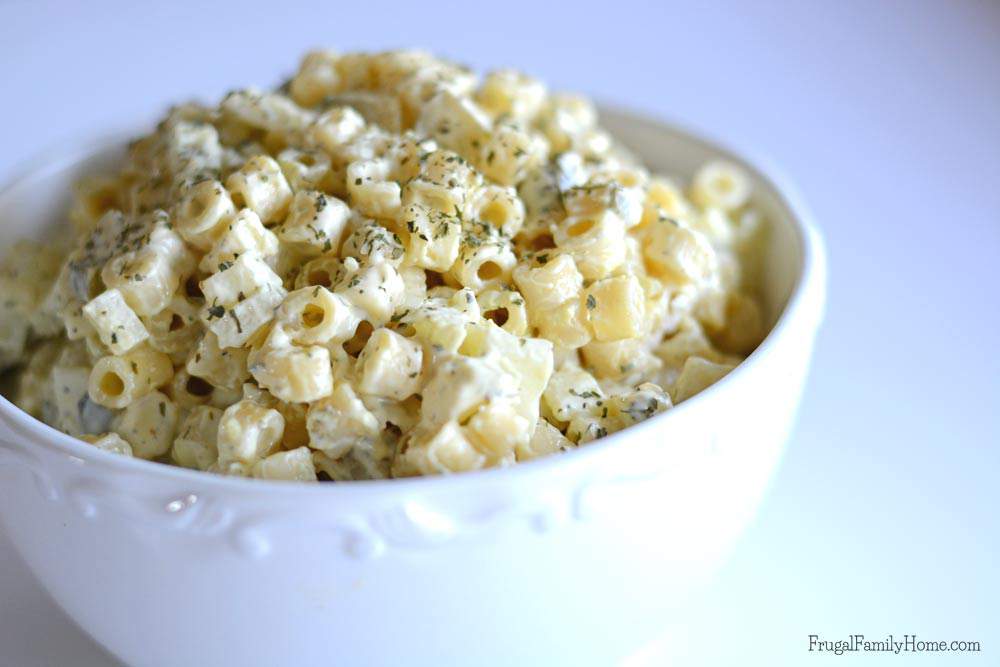 Before serving, give a good stir to mix everything well again. Sometimes the dressing can settle a little. Serve as a side dish to almost any barbecued meat or with our favorite burgers and hot dogs. I always keep this salad in the refrigerator until we are ready to serve it. If it's hot out I don't let it sit out for long, since it has mayonnaise it needs to be kept cold.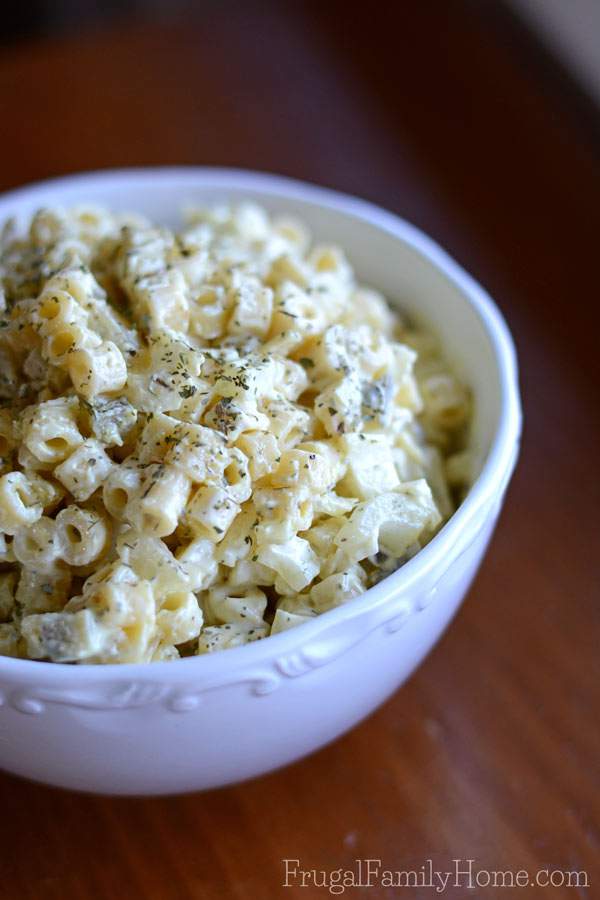 Here's the printable version of the recipe for you,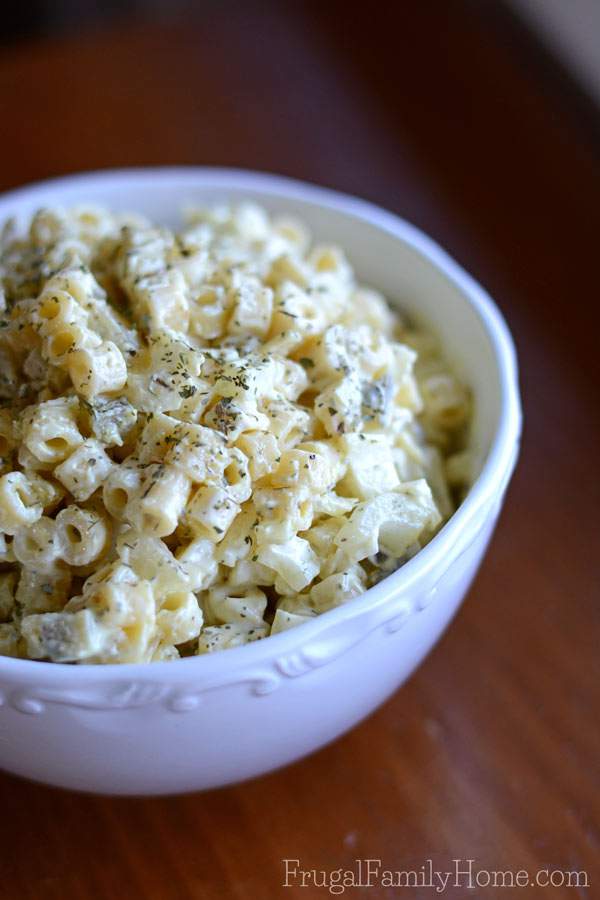 Best Macaroni Salad Recipe
A delicious side dish any time of the year.
Ingredients
1 1/2

cups

Macaroni

Salad Macaroni or Other Small Pasta

1/3

cup

Celery

chopped

1/3

cup

Onion

chopped or for picky eaters 1-2 teaspoon of onion powder

1/3

cup

Dill Pickle

chopped

3/4

cup

Mayonnaise or Vegan Mayonnaise

1

tablespoon

Vinegar or Dill Pickle Juice

2

tablespoons

Mustard

we use yellow

1/4

teaspoon

Salt or to Taste

1/4

teaspoon

Pepper

1/4

teaspoon

Dried Chives

1/4

teaspoon

Dried Dill Weed

1/4

teaspoon

Dried Parsley
Instructions
Cook pasta according to directions, drain and set aside.

Chop the celery, onion and pickles. Mix with the cooked pasta.

In a medium bowl, mix together the mayonnaise, mustard, vinegar or dill pickle juice, salt, pepper, chives, parsley, and dill weed.

Mix the dressing with the pasta and vegetables until well combined.

Refrigerate until ready to serve.
Nutrition
What's your favorite summer side dish recipe?
Other Summer Recipes You'll Enjoy
Side Dish, Easy Coleslaw
Easy Teriyaki Chicken
Skillet Pizza Pockets
More Posts You'll Love,
Subscribe and you'll get Recipes
sent right to your inbox!
Click the button below and fill out the form.