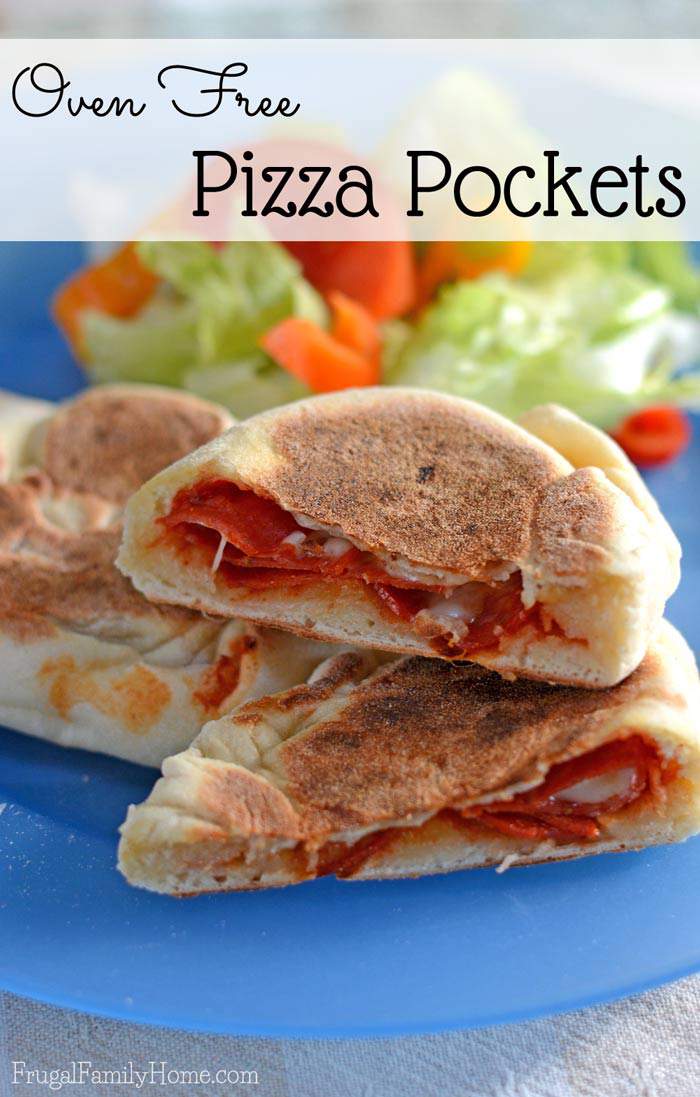 A few weeks ago, when the weather suddenly turned summer-like for two days then dropped 20 degrees the next day, during that temperature spike, I had pizza on the menu. Since it was warm out, I didn't want to run the oven. I could have grilled the pizza, but just didn't feel like it, plus we were running low on wood pellets.
With all that in mind, I decided to try to make pizza on the stove top. I know, what was I thinking?! Really, what I was thinking was, if this doesn't turn out, we will go out to eat. If it does, I will have an easy way to make pizza all summer long. It seemed like a good gamble at the time.
I thought the easiest way to accomplish making pizza in the skillet, would be to make pizza pockets. After all my family loves pizza any old way. If your family loves pizza and you want a way to prepare it without heating up the kitchen, you need to give this a try.
I was so surprised out how well "baking" the pizza pockets in the pan worked. I did have to turn the burner down to medium low by the third batch of pizza pockets in the pan, but they all turned out really good. The cheese inside was nicely melted and the outside was slightly crisp.
What you will need to make Skillet Pizza Pockets
Pizza Dough
Pizza Sauce
Pepperoni or Other Fillings desired
Shredded Cheese
Nice sized skillet, I like my cast iron one (affiliate link)
I used my pizza dough recipe and it made 12 nice sized pizza pockets. It's really a quick and easy recipe. If you need a pizza dough recipe that doesn't need to rise, give my favorite recipe a try.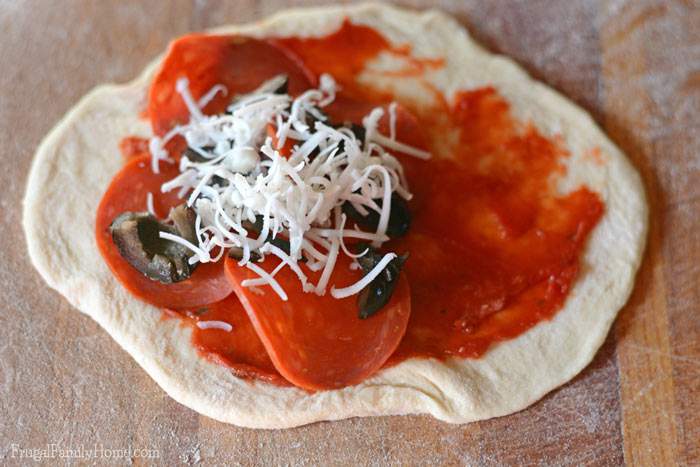 For the pizza sauce, I mixed a can of tomato paste with a little pizza seasoning, I purchase at Winco Foods, in the bulk section. I also added a tablespoon of sugar and salt and pepper to taste.
For our family, I used goat cheddar cheese for my kids and husband. I used regular mozzarella for mine. They all melted really nicely. I think next time I might add in a little chopped sweet peppers and olives too.
Step by Step Instructions "Baking" Pizza Pockets in a Skillet
Step One
Preheat a cast iron skillet on the stove over medium heat. While the skillet is preheating, make the pizza dough and divide it into 12 small balls. Roll one out into an oval shape.
Step Two
Add the pizza sauce on top of the dough. Add the fillings you desire and then top with cheese. I used about a tablespoon of cheese on each one.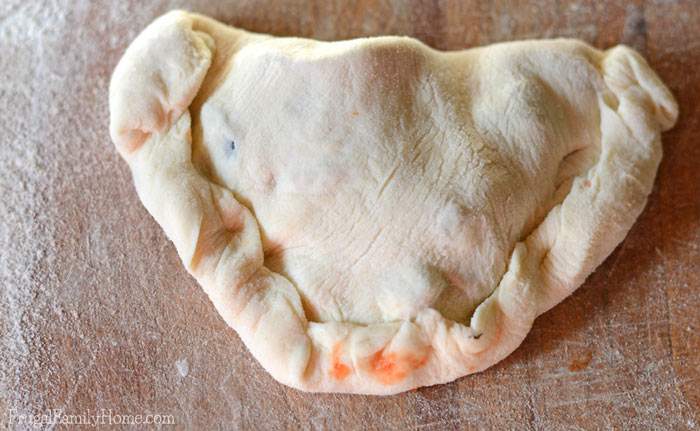 Step Three
Fold the dough over in half to cover all the toppings and cheese. Seal the edges so you don't lose any of those great fillings while cooking.
Step Four
Once you have 3-4 pizza pockets ready. Place them into the skillet and cook on one side until brown. It will take about 5 minutes. Flip and bake on the other side until browned. Keep warm while finishing the rest of the pizza pockets.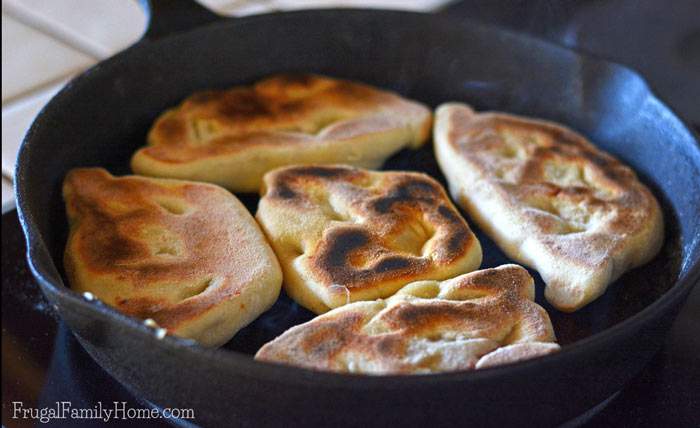 The cheese was nicely melted. Be careful because the filling will be really hot. I found out the hard way when I went to cut one in half for my son and the steam came out and burnt my hand. Be sure to let them cool a little before serving them.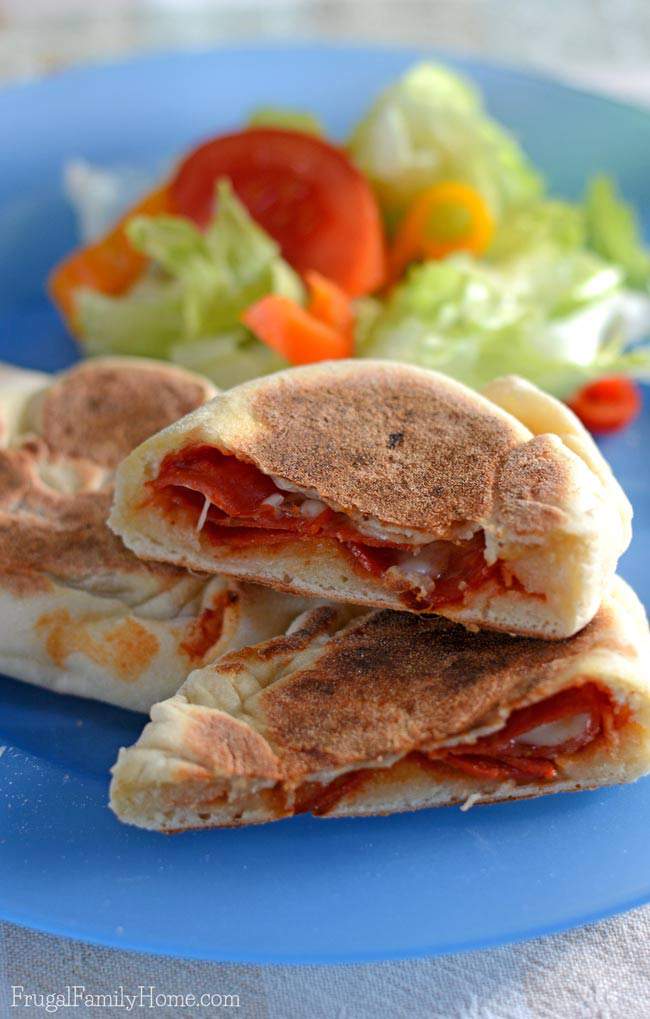 Here's the recipe to print, so you can save it for one of those hot summer days to come, when your family really wants pizza.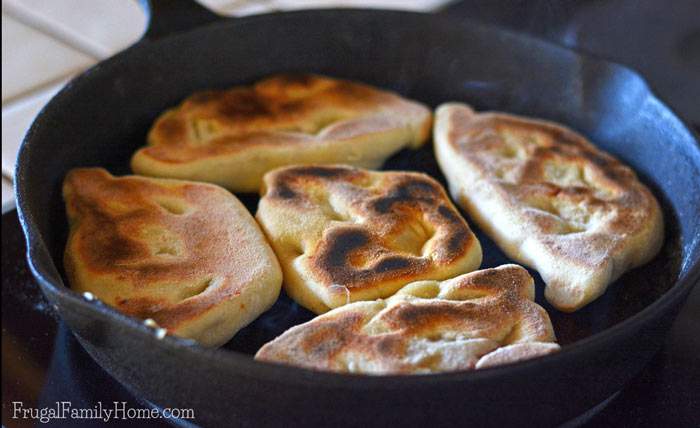 Skillet Pizza Pockets Recipe
A great way to enjoy pizza when it's too hot to turn on the oven.
Ingredients
1

batch Pizza Dough

1/2

cup

Pizza Sauce

1

package Pepperoni

8

oz

Shredded Cheese
Instructions
While making the pizza pockets heat a cast iron skillet on the stove over medium to medium high heat.

Divide pizza dough into 12 small balls.

Roll out each ball into an oval and add a little pizza sauce to each one.

Add 3-4 slices of pepperoni.

Add about a tablespoon of cheese to the top of the pepperoni.

Fold one side of the dough over to cover the fillings.

Seal the edges of the pizza dough.

Flatten slightly if needed.

Place 4-5 pizza pockets into the hot skillet and let cook on the first side until brown.

Flip and cook until brown on the other side.

Once both sides are golden brown.

Remove from skillet, let cool slightly and enjoy.

Be careful as the contents will be really hot.
What's your favorite topping for a pizza? My favorite is pepperoni and black olives.
More Oven Free Meals You'll Want to Try
Slow Cooker Hamburger Dish
Teriyaki Chicken
Herb Rubbed London Broil
Subscribe and you'll get Recipes
sent right to your inbox!
Click the button below and fill out the form.