We love pizza around our house. My kids could eat it at least twice a week and not get sick of it. We used to pick up the take and bake pizza often, but then I discovered how cheap and easy it is to make pizza at home.
If you are a little fearful of working with yeast you have to give this recipe a try.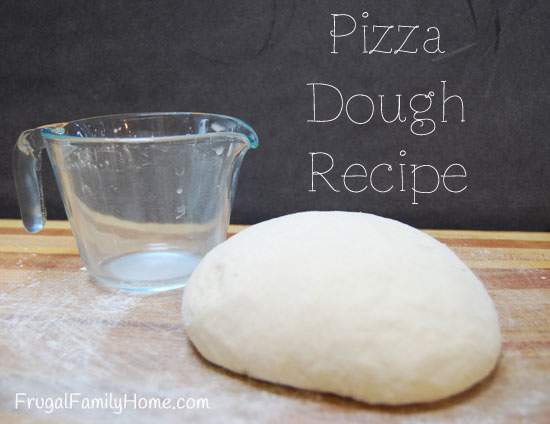 At our house, we eat pizza about twice a month in the fall and winter months. I love how heating up the oven in the cooler months can help to heat the house too.
In the summer, I will cook this pizza crust recipe on our wood-fired grill, to make the pizzas outside to keep our house a little cooler on those hot summer days.
We prefer to have thin crust pizza and the recipe I use actually makes 3 medium sized pizza crust. There's no oil in my recipe which helps to keep the crust crisp.
This recipe doesn't involve any rising time so it is also really quick to make. So if you haven't ever worked with a yeast dough before the main thing to remember is to proof the yeast first.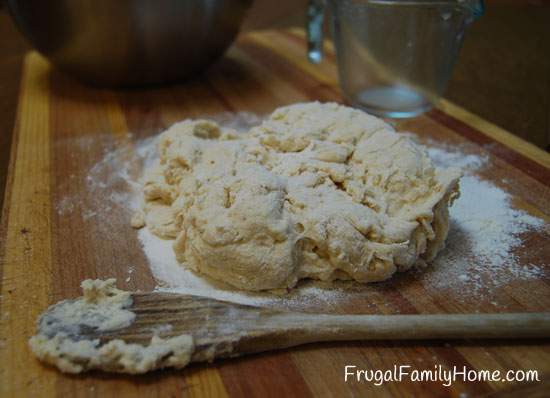 To proof the yeast you will want to stir the yeast into warm water and let it sit for about 5 minutes before you add it to the flour mixture. You want the temperature of the water to feel warm but not hot.
If the water is too hot it will kill the yeast instead of helping it grow. You can tell the yeast is proofed when you see some bubbles start to form on the top of the yeast/water mixture.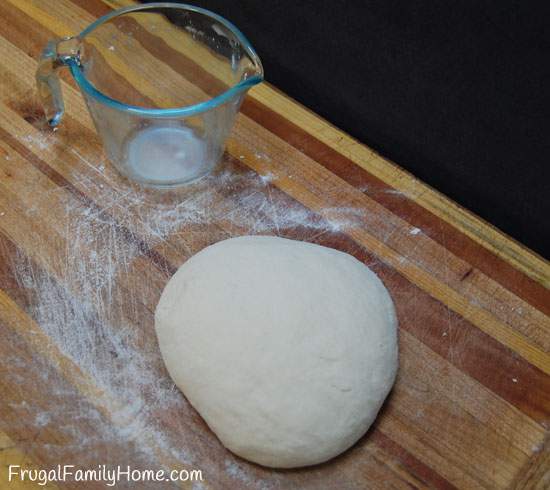 We like to add traditional toppings to our pizzas, things like, pepperoni, olives, green peppers and sometimes cooked ground beef. For cheese, we use goat gouda or goat cheddar, since we have cow's milk allergies in our family. But the pizza is also good with the dairy-free cheese such as Daiya or Trader Joe's dairy-free shredded mozzarella.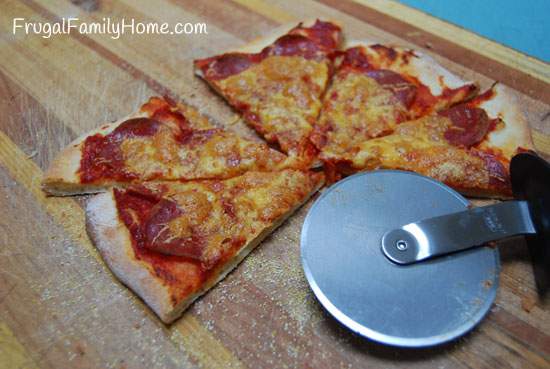 Here's the recipe I use,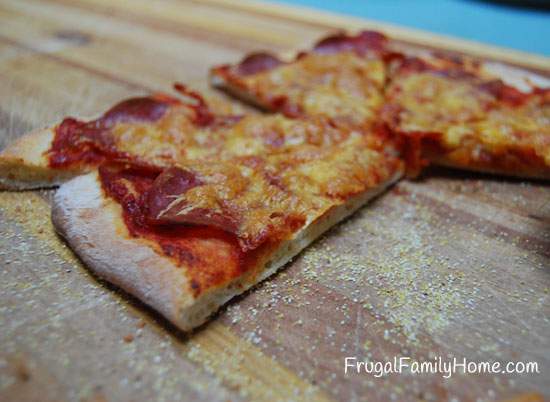 Pizza Crust
Ingredients
3

cups

Flour

1

teaspoon

Sugar

1

teaspoon

Salt

1 1/4

cups

Warm Water

1

tablespoon

Yeast
Instructions
Mix the warm water with the yeast and stir to dissolve. Let the yeast proof for about 5 minutes.

Measure out the rest of the ingredients in a bowl and add the yeast mixture.

Stir and then once all of the flour mixture is moistened place on a floured surface and knead about 5 minutes or until dough is smooth. You may need to add more flour as you are kneading the dough.

Divide dough into 3 pieces and roll each out into a circle.

Add pizza sauce and toppings.

Bake 500 degrees on a cookie sheet or pizza stone for about 8-10 minutes or until pizza crust is golden brown.
Notes
This recipe is adapted from Money Saving Mom's pizza crust recipe.
What's something you make from scratch that you used to purchase ready-made in the past?
This post is part of the Make it From Scratch Challenge hosted by Crystal of Money Saving Mom
Subscribe and you'll get Recipes
sent right to your inbox!
Click the button below and fill out the form.