Wondering how to make homemade pizza sauce? Give this homemade pizza sauce recipe a try. It's quick and easy to make, no cooking required. Plus it's dairy-free, gluten-free, and vegan too.
Homemade pizza can be so delicious but to make homemade pizza great you need a great homemade pizza sauce.
This quick and easy recipe can show you how easy it really is to make homemade pizza sauce.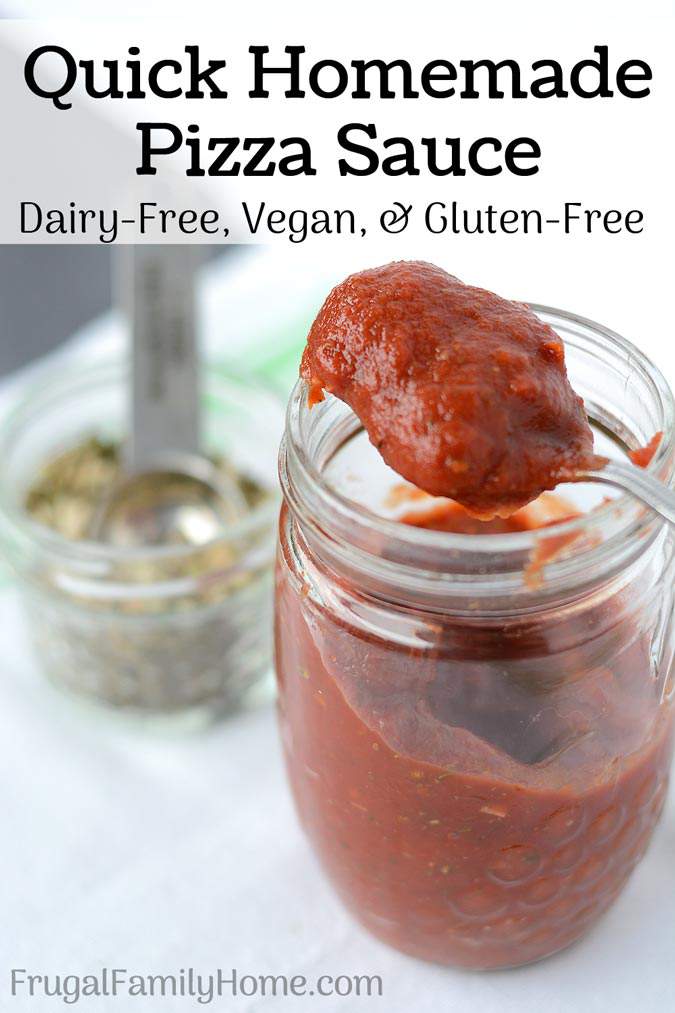 I've been making homemade pizza for a while. When I first started making pizza at home I bought store bought pizza sauce.
There wasn't anything wrong with it but I thought for the money it was worth it to make my own pizza sauce at home.
After all pizza sauce only contains a few ingredients. I thought how hard could it be to make.
I started out by using tomato sauce. But when I used the tomato sauce, the pizza sauce was too thin for our liking. It was too thin, not thick enough to really stick to the pizza crust.
My next try was to use tomato paste as the base of my homemade pizza sauce recipe. But again this wasn't right. It ended up being too thick and hard to spread well.
Finally, after many tries, I settled on this recipe for homemade pizza sauce. It's just right, not too thin or too thick. I adjusted the tomato paste sauce that was too thick, by thinning it with a little water.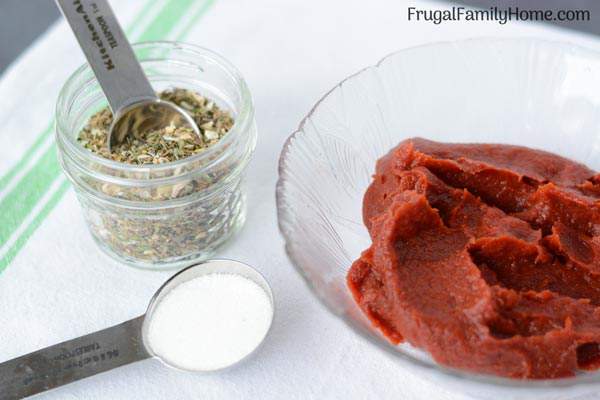 I use dried spices in my pizza seasoning. While the sauce sits in the refrigerator, the spices absorb a little of the water, softening them up and taking away a small amount of water making for a perfect easily spreadable pizza sauce.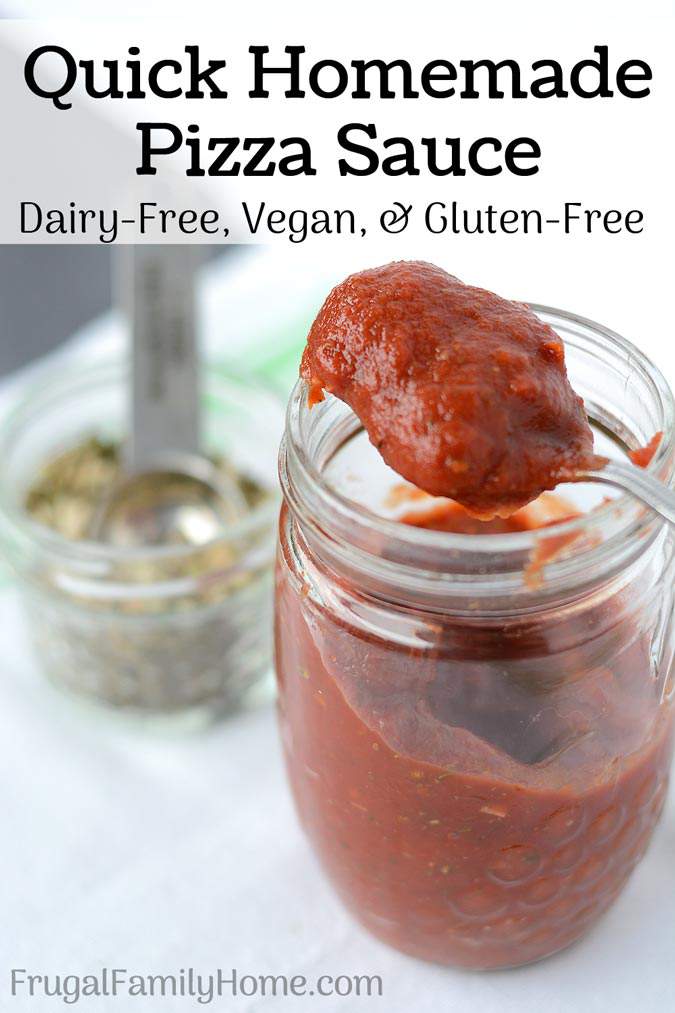 Homemade Pizza Sauce
Ingredients
1

can Tomato Paste

1/4

cup

Water

1

tablespoon

Sugar

1 1/2

teaspoon

Pizza Seasoning
Instructions
Mix all ingredients in a bowl.

Place in the refrigerator for 30 minutes.

Spread on pizza dough and add toppings.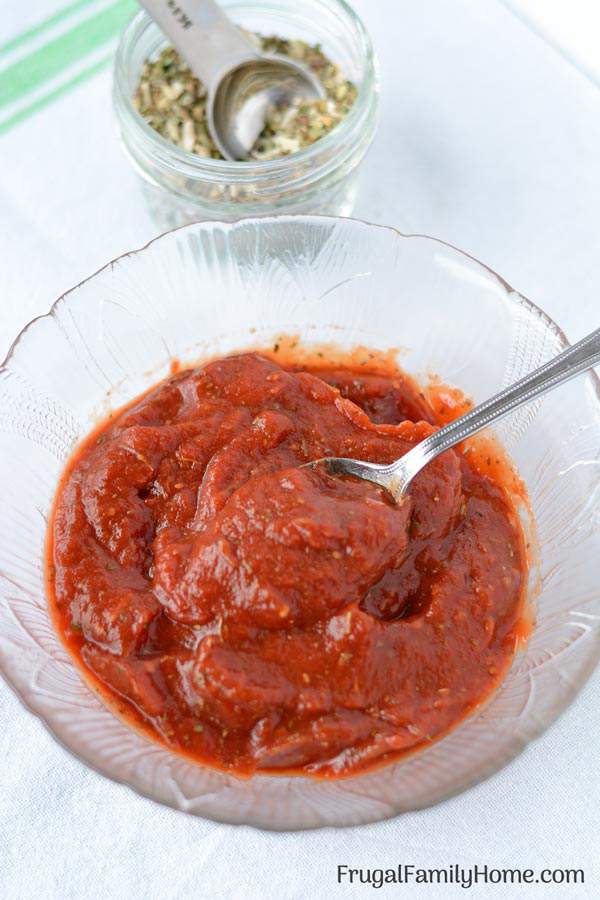 The Cost of this Homemade Pizza Sauce
6 ounce can Tomato Paste $.50
Sugar $.02
Pizza Seasoning $.05
That brings the cost of the pizza sauce to $.57 a batch, which makes about one cup of pizza sauce. Or $.07 an ounce.
Compare that to the store brand pizza sauce at $1.89 for 15 ounces which brings it to $.14 per ounce. If you prefer a national brand that will cost $2.59 for 15 ounces or $.19 per ounce.
We use about half a batch of this sauce for three pizzas. The extra homemade pizza sauce freezes great. Just thaw and it's ready for the next time you are making pizza.
Need a recipe for pizza seasoning? Try this recipe that I use. It's a good blend or spices and can be used in more things than just pizza sauce
By making this homemade pizza sauce you can save half the cost of the store brand and more than half the cost of the national brand.
That's not bad considering to make this homemade pizza sauce you only have to open a can of tomato paste measure three ingredients and stir.
While this pizza sauce is yummy on pizza it can also be used in other ways. If you make pizza pockets or Stromboli, this pizza sauce is a great dipping sauce too.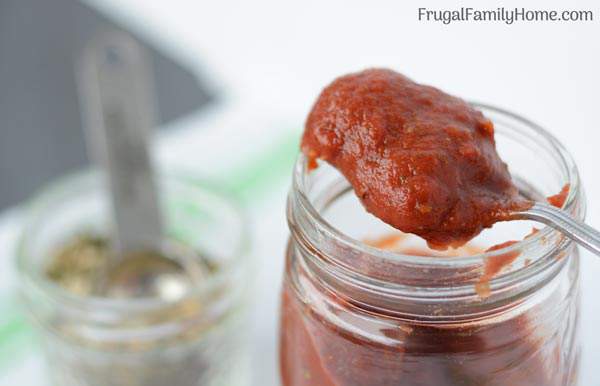 What do you think? Is the savings worth the few minutes it takes to make your own pizza sauce?
More Pizza Related Recipes
Homemade Pizza Seasoning Mix
Pizza Dough, ready in minutes no need to let it rise
How to Grill Pizza