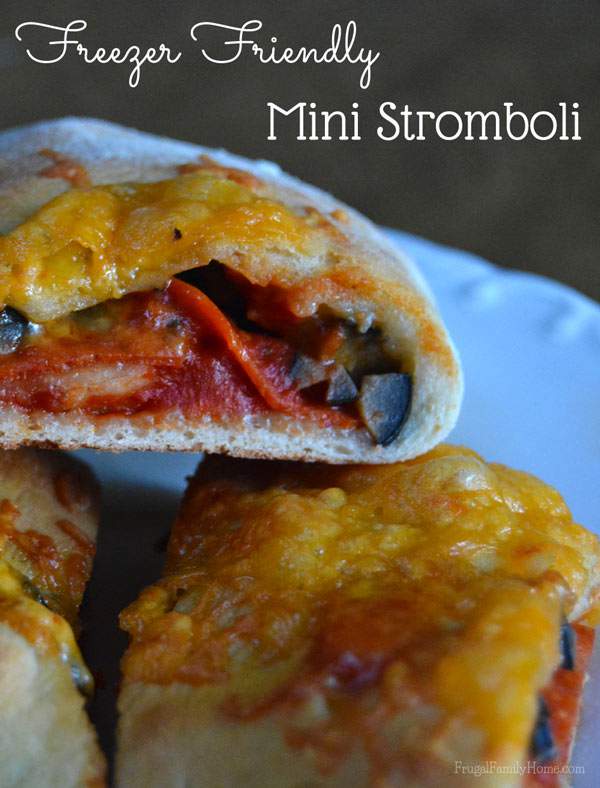 If your family loves pizza, they will love this recipe for mini stromboli. I first had stromboli at a church get together, it was so good. I was sold on it from that day forward.
Just in case you haven't heard of stromboli before, it basically pizza rolled up into a loaf, baked and sliced. So very delicious if you like pizza, that is.
My family has to eat diary free, so we make stromboli at home. That way I can use the type of cheese the kids and my husband can eat. But it is good without cheese too, we've eating it that way before. Stromboli is also really good to make ahead and freeze for later, it's really freezer friendly.
That's where the idea for making mini stromboli came to mind. Wrapping and storing a full sized stromboli is a little hard, especially when the freezer is usually full. But these mini stomboli are like little pizza pockets and take up a lot less room.
Also by making the stromboli mini sized, the kids can make their own. Everyone gets their stromboli just the way they like it and I get some help preparing dinner. I think that is a winning combination don't you.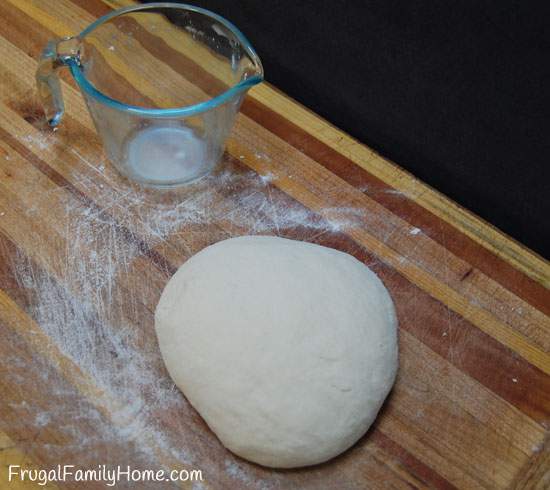 Making Mini Stromboli
I start out by making a batch of my favorite pizza dough. Then cut it into 8 pieces of dough. If you are making extra for the freezer you might want to double the recipe.
Once the dough is done, it's time to assemble the stromboli. We include the things we love on pizza. Ours usually consist of pepperoni, olives, green peppers, cheese, and homemade pizza sauce. But you can include whatever toppings your family likes the most.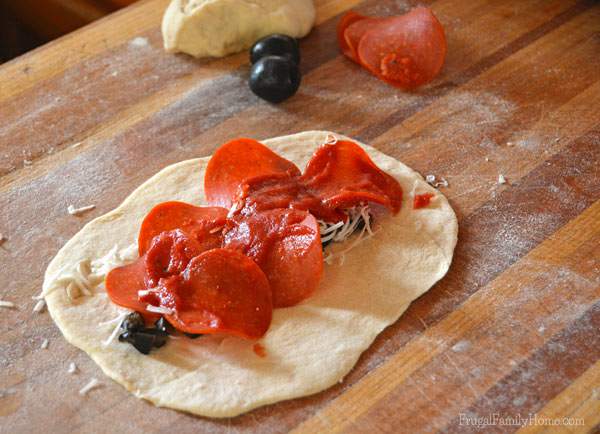 To Assemble the Stromboli
When assembling the stromboli you will be working from the top to the bottom, because you'll be flipping the stromboli over once assembled and sealed.
I usually start with the dough rolled out thin in an oval shape. Then I add cheese first. Any toppings we want and then I spread some sauce. I usually add the pepperoni last, so it's easier to spread the sauce on. Well at least easier than cheese or peppers.
Once assembled and sauce added. I bring both of the sides together and pinch to seal them. Make sure to pinch the dough together good to seal it well. You don't want them popping open and having all the good stuff run out.
Once the top, soon to be bottom is sealed, flip the stromboli over and place on a baking sheet. Then cut a couple of vent holes in the top for the steam to escape as it is baking. Sprinkle with cheese if desired.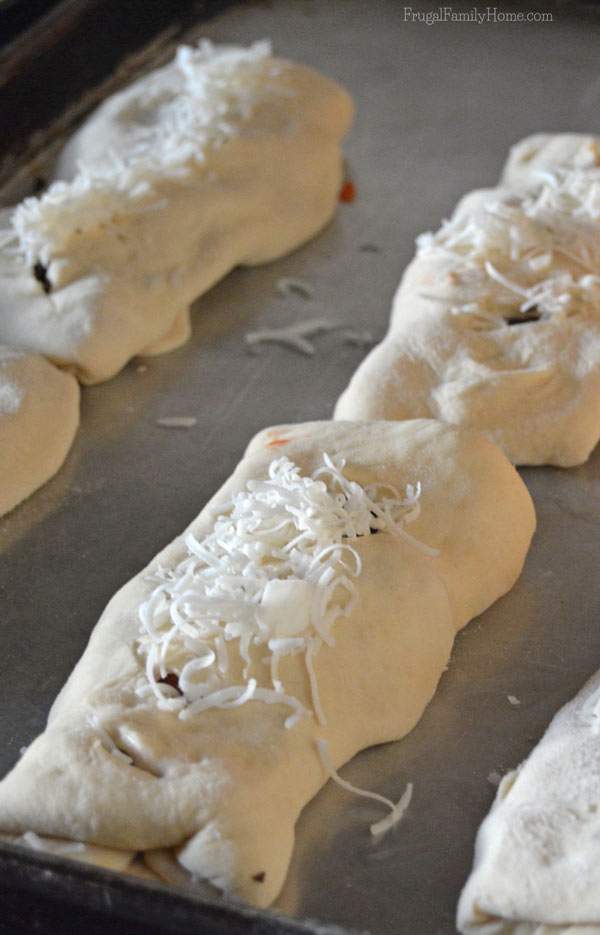 Bake in the oven on 375 until they are golden brown. About 20 minutes. Let cool slightly then slice and enjoy.
Preparing Stromboli for Freezer
If you have extra for the freezer. Let them cool completely, I usually let them cool about 10 minutes on the counter and then finish cooling them in the refrigerator. Once cooled I add them to a zipper freezer bag. Label and freeze for later.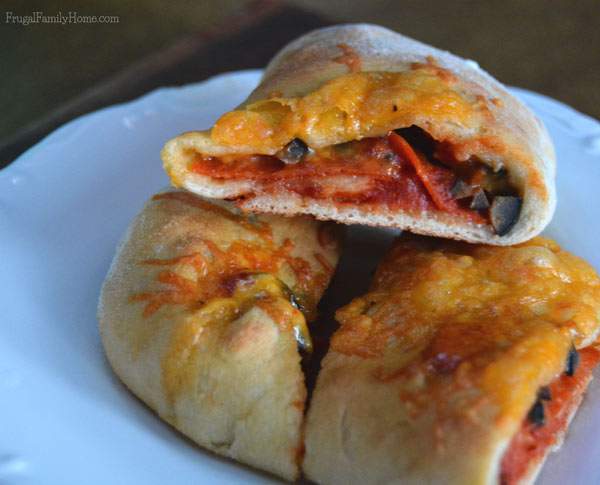 To Prepare from the Freezer
Thaw completely and then microwave for 1 minute and check to see if heated through. If not heat for 30 second intervals until warm through.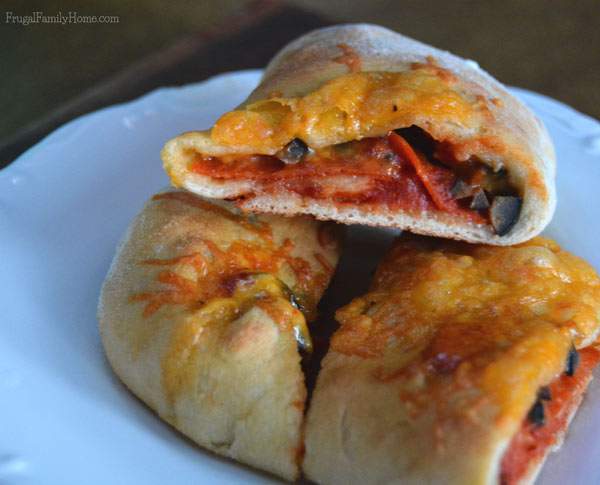 Easy Freezer Friendly Mini Stromboli
These yummy little pockets of pizza are easy to make and are freezer friendly too.
Ingredients
1

batch Pizza Dough

1

cup

Pizza Sauce

Desired Topping

Pepperoni, Sausage, Green Peppers, Olives

2

cups

Shredded Cheese
Instructions
Make pizza dough and divide into 8 pieces.

Roll out dough into an oval shape.

Place cheese on top of dough, towards the middle.

Add other desired topping.

Top with pizza sauce.

Bring both sides of dough to center and pinch well to close tightly.

Place with pinched dough side down on a baking sheet.

Cut two or three slits in the top of the dough for venting while cooking. Sprinkle with cheese if desired.

Repeat for other 7 pieces of dough.

Bake at 375 degrees for 20 minutes or until golden brown.

Cool slightly and then slice and enjoy.
Notes
If I'm preparing them for the freezer I cook and then cool them. But I don't cut them before freezing them. I freeze them whole.
What a recipe you like to make extra of and freeze for a meal later?
Other Freezer Friendly Meals You'll Like
Cheese Burger Rolls for the Freezer
Easy Italian Chicken for the Freezer
Pizza Pinwheels and Pizza Twists for the Freezer