Inside: A simple recipe for an easy and delicious homemade pizza seasoning. Use this pizza seasoning to make a great pizza sauce at home.
There is nothing quite like a homemade pizza fresh out of the oven. Now only is it fresh and delicious it's also frugal too.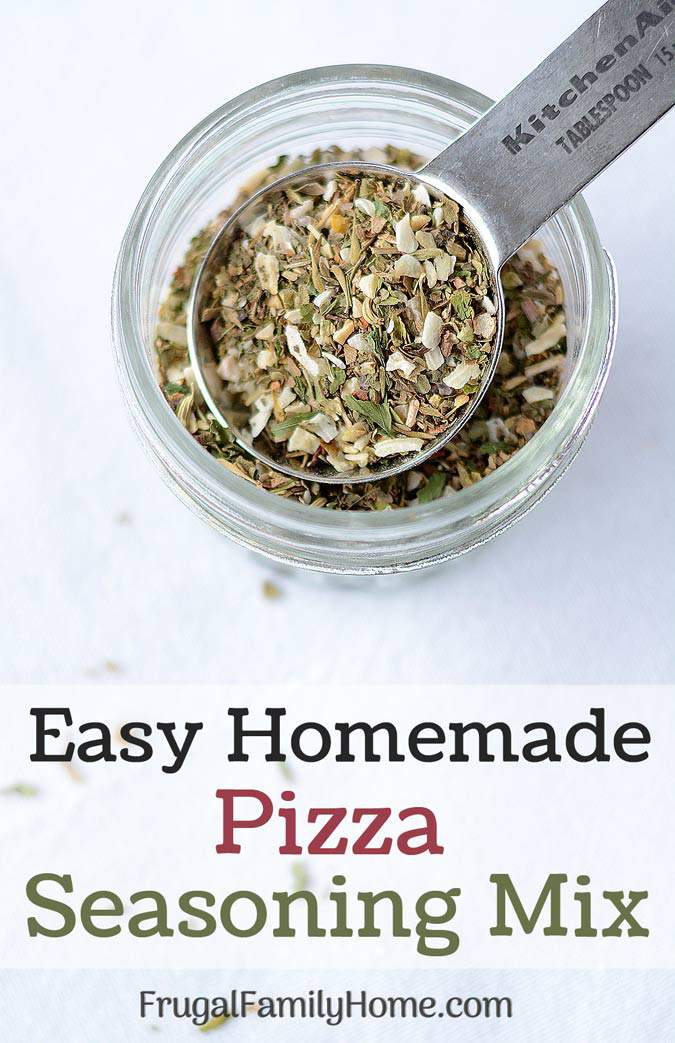 When I discovered I could save around $200 a year by making pizza once a week instead of picking up a take and bake pizza I was sold on making our own.
But to get that great pizza flavor you have to have a great sauce. Regular tomato paste or sauce just doesn't cut it. It's way too bland to make a perfect homemade pizza.
While you could pick up a jar of ready made pizza sauce, it's really simple to dress up tomato paste or sauce with pizza seasoning.
I used to purchase pizza seasoning in the bulk foods at Winco Foods. But one day I noticed it was gone. How could it be that this staple in my frugal pantry was no longer available?
At first, I thought to myself, why didn't I pay more attention to the ingredients on that darn bulk foods label. Why didn't I take a photo of it when I had the chance. What am I going to do for pizza seasoning?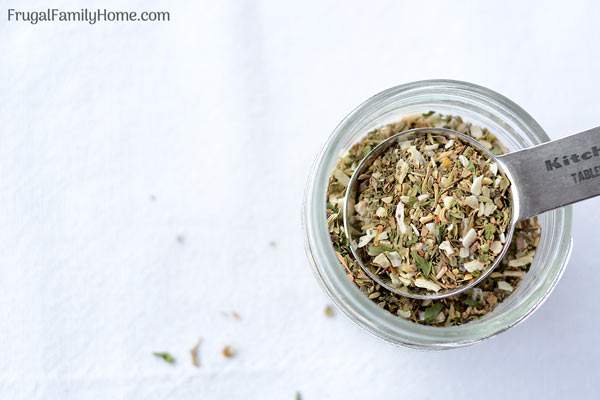 Yes, it's hard when a pantry staple you've been purchasing for years is suddenly gone. I had the same shock when Winco stopped carrying the soy flour I use all the time.
How to Make Homemade Pizza Seasoning
But I thought to myself how hard can it be to make pizza seasoning. I looked over the little bit of pizza seasoning I had at home and tried to pick out the seasonings that were in it.
The garlic, onion, and pepper flake were easy. The fennel was easy to spot too.
I have to admit fennel is not my favorite herb. I could really do without it but I felt I needed a little to keep the same flavor.
If you love fennel you can easily increase the amount in this homemade pizza seasoning. If you are a non-believer like me keep it at 1/2 a teaspoon but don't leave it out.
It was harder to decide on the green flakes that were in the mix but I assumed basil, oregano, parsley, and thyme would probably encompass most of what was left. Add a little salt and the homemade pizza season was ready.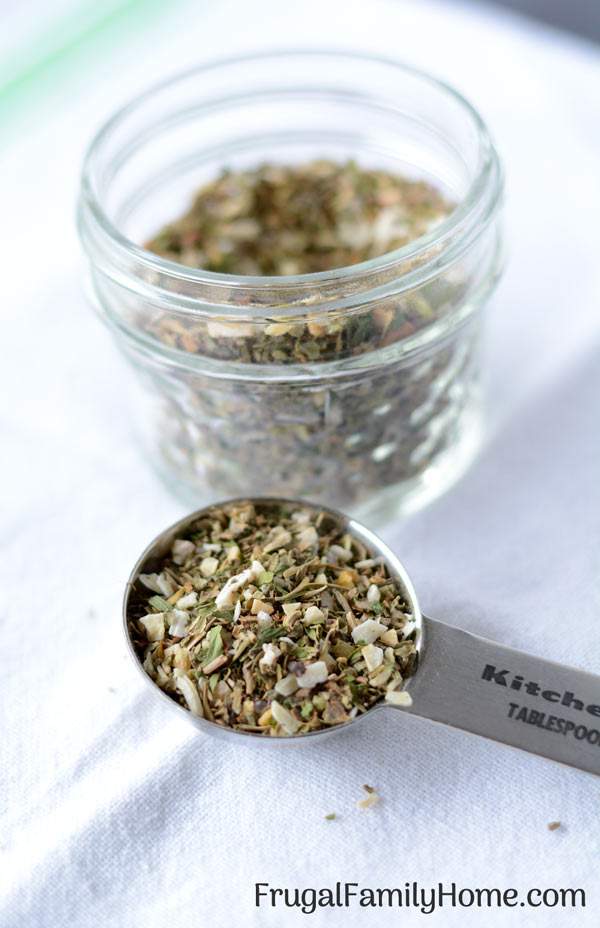 Not only will this pizza seasoning work great in to make pizza sauce, but it can jazz up many of your pasta dishes too.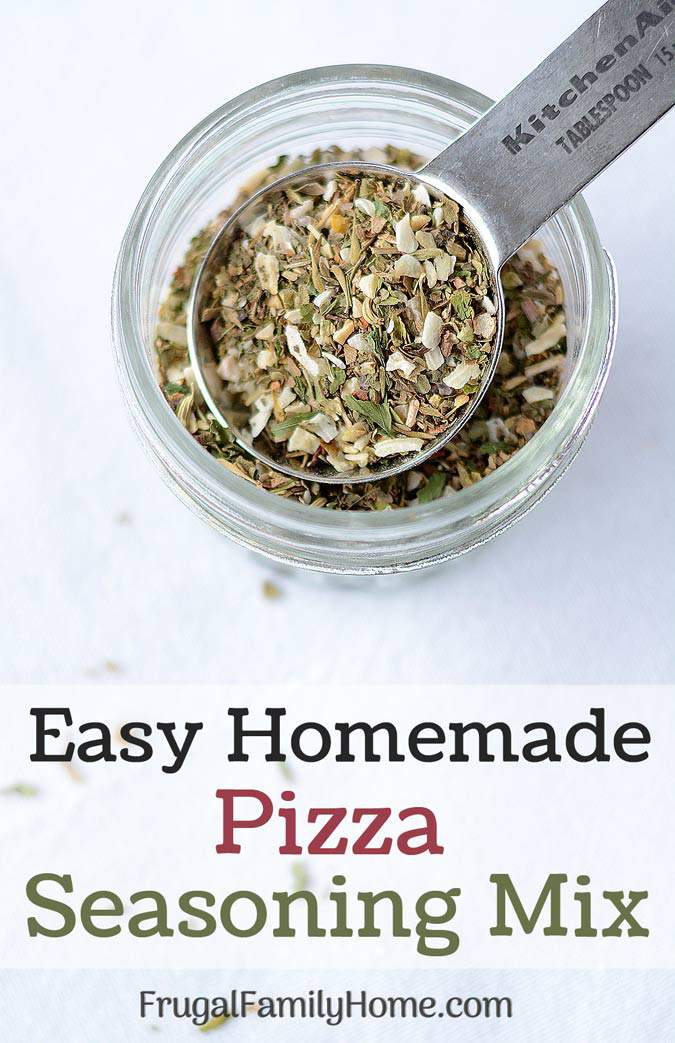 Pizza Seasoning Mix
Ingredients
Instructions
Place all the ingredients into a bowl and mix well.

Place the seasoning mix into a container or a canned jar and label.
Storing the Homemade Pizza Seasoning
I store my pizza seasoning in one of my old glass seasoning jars. I've had this set for years. And these little jars have really held up.
If you don't have glass ones you can store your homemade pizza seasoning in a spice bottle, a canning jar, like I used to when I took the photos above, or even in an empty sprinkles container.
Any of these would work well.
I love that I don't have to be dependent on a store for my pizza seasoning anymore. I can make it at home easily and customize it to fit our tastes.
I use this homemade pizza seasoning to make my own homemade pizza sauce.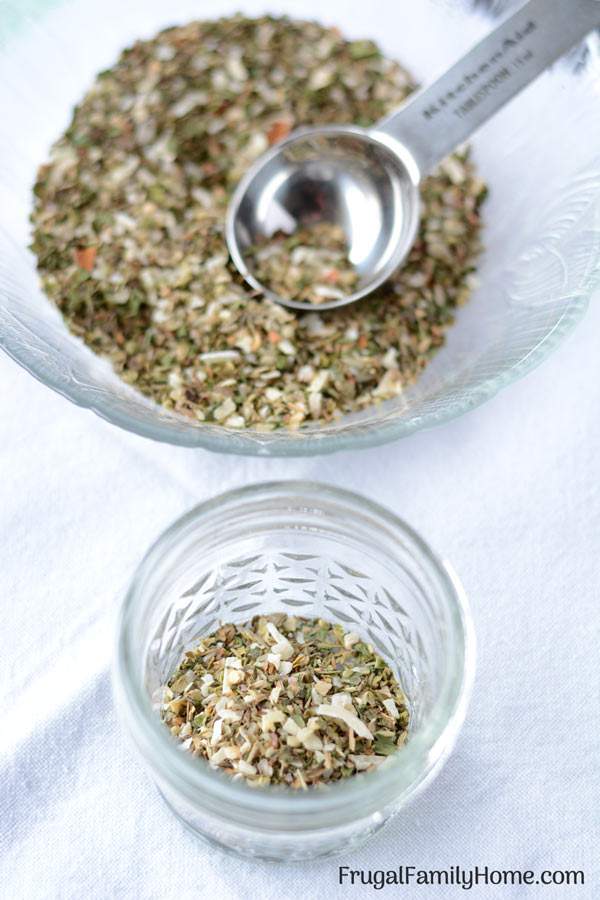 I hope you love this pizza seasoning as much as we do. Be sure to adjust the flavors to fit your family.
Do you make your own pizza at home? What's your favorite kind of pizza to eat?
More Homemade Recipes
Homemade Pizza Dough
Skillet Pizza Pockets
How to Grill Pizza
Subscribe and you'll get Recipes
sent right to your inbox!
Click the button below and fill out the form.