Making brownies from scratch doesn't have to be hard or time-consuming. It can be almost as easy as using a boxed brownie mix. But they taste so much better. Try these easy homemade brownies and see how easy they really are to make.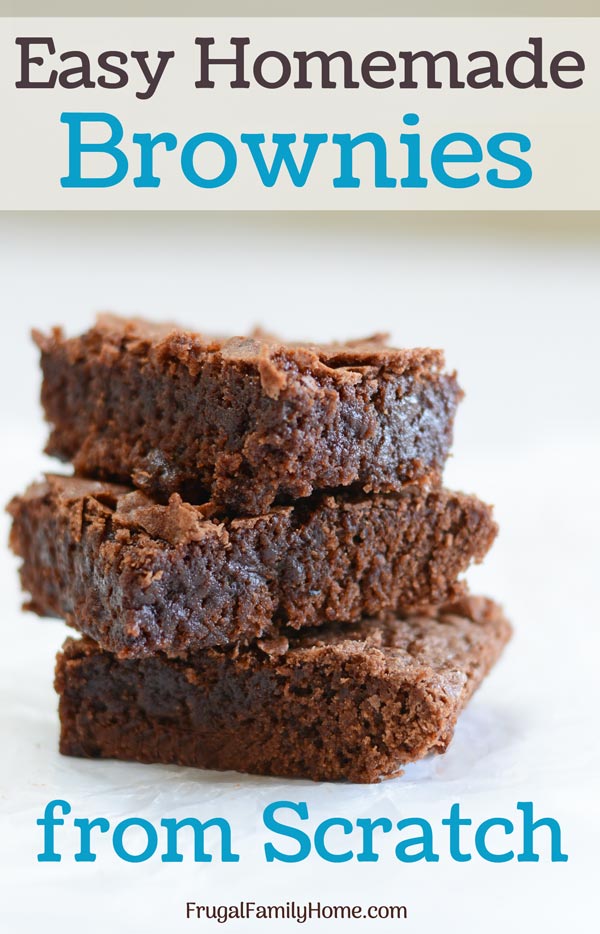 Easy Homemade Brownies from Scratch
I know making brownies using a box mix is so simple and easy but it also has other ingredients in it you won't want to feed your family.
When you make brownies from scratch, you know exactly what goes into them. So you don't have any weird ingredients you don't want.
And it only takes a few extra ingredients, flour, sugar, cocoa powder, and salt needed to make them from scratch.
And I think you'll see that other than measuring a few ingredients that's the only difference between a box brownie mix and making easy homemade brownies.
Even with the brownie box mix you still have to add the eggs, oil, and water.
This recipe I'm sharing is the best brownie recipe at least I think so.
It's one of my grandma and my aunt used to make all the time when I was growing up. They turned out so delicious and fudge like; I think you'll like them.
Watch How to Make This Homemade Brownie Recipe..
I've made a quick video to show you how to make these easy homemade brownies from scratch. If watching videos isn't your think, keep on scrolling for the printable recipe below.
Tips for Making this Homemade Brownie Recipe
Don't mix in the flour until the last step. This helps to keep the brownies tender.
Soften the margarine or butter. But don't liquify it. It should only be softened. You can easily make this dairy free by using dairy free margarine. We like the Nucoa brand for baking.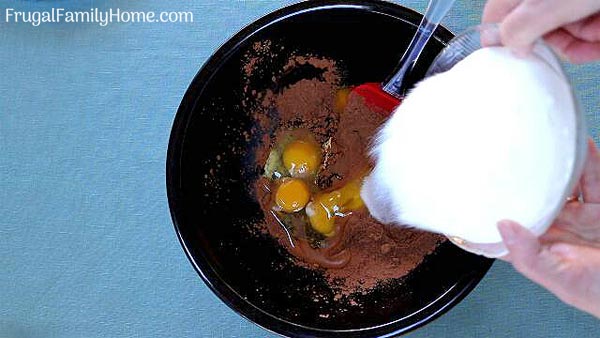 Mix the eggs and sugar into the softened butter. Breaking up any clumps of cocoa powder.
Bake until set, but don't over bake. When you check with a toothpick at the edges, it should come out clean. The middle should be set.
Let cool before you cut into them.
Here's the Printable Easy Homemade Brownies Recipe…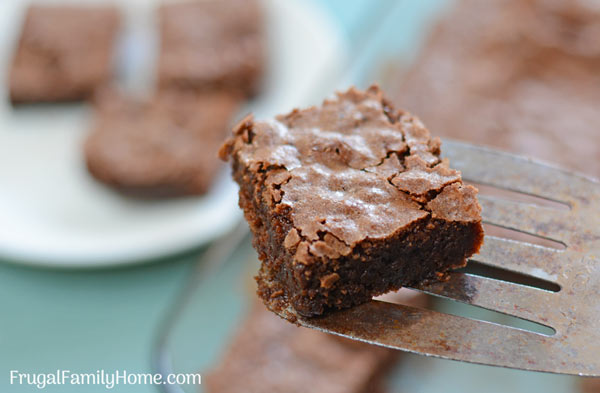 Easy Homemade Brownies
These homemade brownies are crackly on the top and fudge like inside, the perfect brownie. Plus they can be made dairy free too.
Ingredients
3/4

cup

Butter or Margarine

4

Eggs

2

cups

Sugar

5

tablespoons

Cocoa Powder

1/4

teaspoon

Salt

1

teaspoon

Vanilla

1

cup

Flour

1

cup

Nuts or Baking Chips

optional
Instructions
Soften the margarine or butter, add the cocoa, eggs and sugar.

Beat until creamy.

Add salt, vanilla, and flour.

Mix well, add nuts or baking chips if desired. Pour into a 9 by 13 inch baking dish.

Bake 350 degrees for 20-25 minutes. Or until a toothpick comes out clean near the edges of the pan.
Video
Notes
You can easily make this recipe dairy free by using a dairy free margarine like Nucoa brand. Or you can use olive oil or coconut oil if you don't like to use margarine.
Nutrition
Serving:
20
g
Calories:
216
kcal
Carbohydrates:
27.4
g
Protein:
3.3
g
Fat:
11.5
g
Saturated Fat:
5.2
g
Cholesterol:
51
mg
Sodium:
139
mg
Potassium:
96
mg
Fiber:
1.2
g
Sugar:
20.5
g
Calcium:
10
mg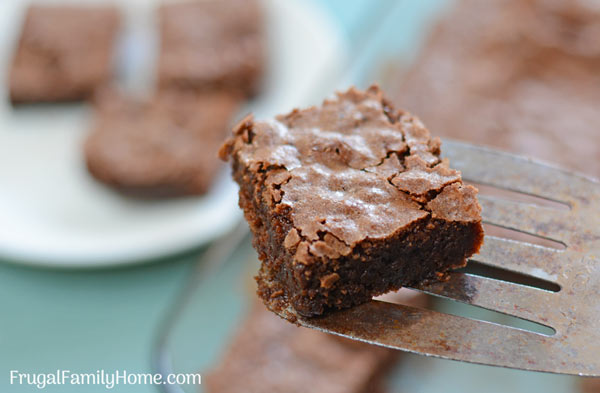 Cost to Make a Batch of Easy Homemade Brownies
While the box mixes are inexpensive costing about $1.50 on sale or up to $2 for the regular price. But that only includes the flour, sugar, salt, cocoa powder, and flavorings. You still need to add oil and eggs to the box mix. So doing a fair comparison. I only priced the ingredients you would get in the box mix to compare.
Homemade Brownie Ingredient Costs
Flour, $3.96 per 10 pounds, 1 cup cost, $.11
Sugar, $1.99 for 4 pounds, 2 cups cost, $.44
Cocoa Powder $4.00 per pound, 5 tablespoons cost $.40
Salt is less than half a cent
Vanilla $1.00 for 8 Ounces or 1 tablespoon cost $.02
That's $.98 for a batch of homemade brownie before adding the butter and eggs. Which you would need to add to the boxed mix too.
So you can save a little money anywhere from $.50 to $1 by making these from scratch instead of a boxed mix.
Not too bad for a minute or two of work.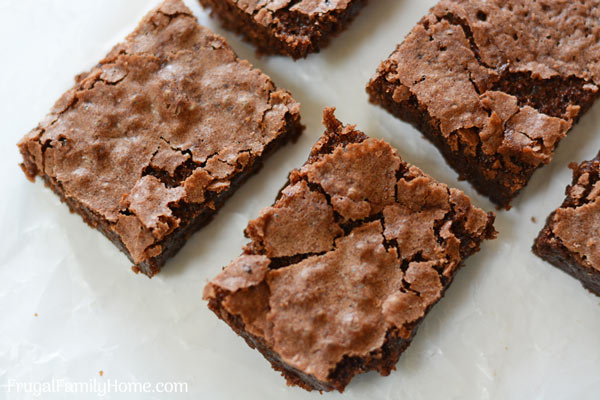 How to Make These Easy Homemade Brownies Dairy Free
You can make these easy homemade brownies dairy free by using a dairy free margarine like Nucoa brand. If you'd like to stay away from margarine, you can use olive oil or coconut oil instead. Either will work well.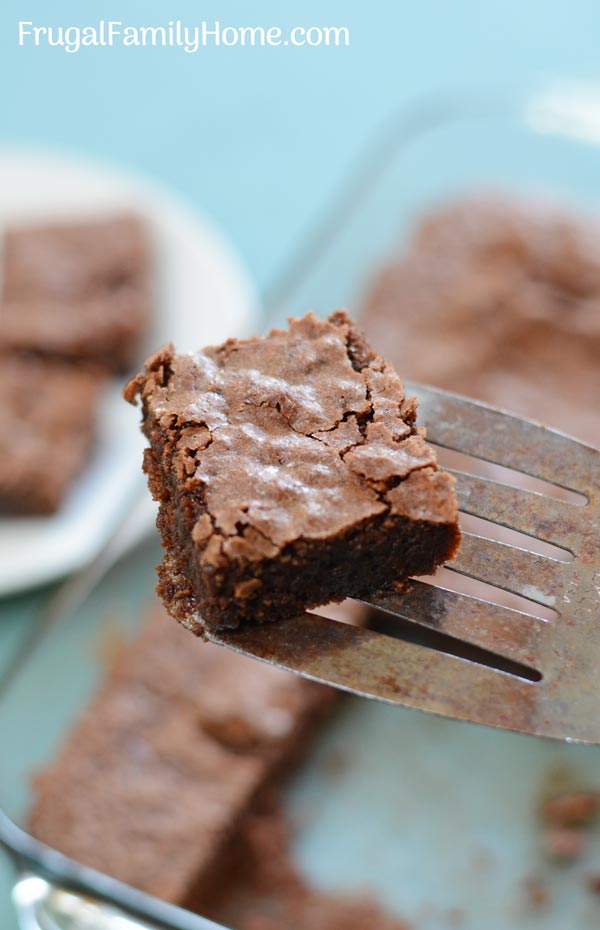 With only a few ingredients and a few more minutes than it would take to make brownies from a boxed mix, you can have from scratch homemade brownies.
Give these easy homemade brownies a try and let me know what you think.
More Delicious Desserts
Homemade Brownie Truffles
Brownie Bites
Subscribe and you'll get Recipes
sent right to your inbox!
Click the button below and fill out the form.