Do you think making candy is hard? Well, I think many people believe that to be true but this recipe for brownie truffles is simple and easy to make.
If you can bake brownies, you can make these brownie truffles, I promise.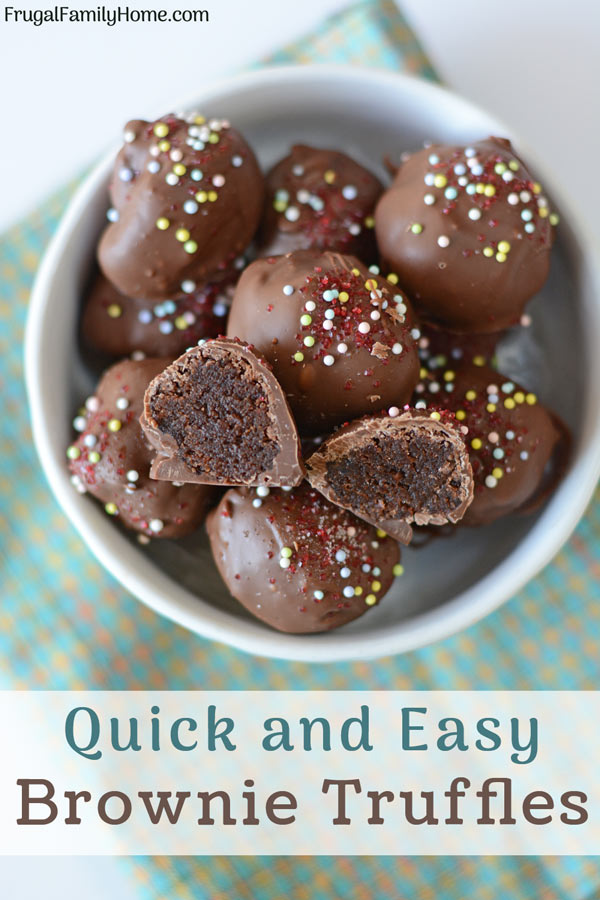 Homemade Brownie Truffles
Candy making sounds like a hard process. Like it would take lots of time and energy. Time that you don't have.
But what if you could make candy in a short amount of time that would wow your friends and family?
Candy that once they bite into it, they can't help say:
Wow, that's so good!
I grew up making candy alongside my mom, grandma, and great grandma. There were recipes we made each year at Christmas and a few for special occasions or gifts.
I never even thought candy making could be hard since I had done it since I was a kid.
Even if you didn't grow up making candy with your mom or grandma. You can make these truffles.
You can wow your friends and family with a delicious candy treat that so easy to make.
Now that I've convinced you, that you are a candy maker, let's make these brownie truffles.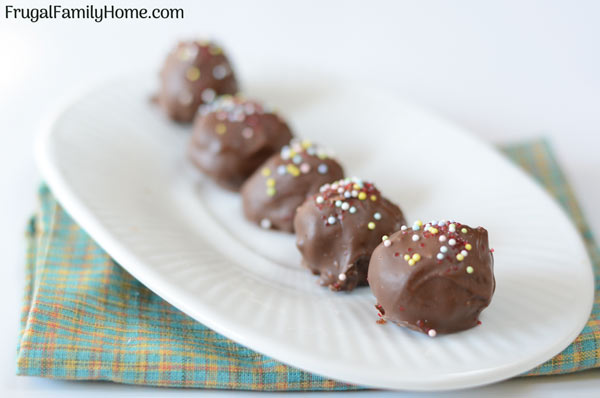 How to Make Brownie Truffles Your Friends Will Die For
Well maybe that title is a bit of an exaggeration but these brownie truffles are superb. Did I mention that already?
But as good as they are, they are also simple to make.
I've made a quick video taking you from start to finish, the full recipe. You can make brownies from scratch with your favorite brownie recipe. Or you can use a box mix. I won't tell if you don't.
Watch the quick video then scroll for the printable recipe and tips below…
Tips for Making these Brownie Truffles Perfect
Bake the brownies until done, but don't over bake them. If you cook them to a crisp, they won't roll into balls very well. The crispy edges are great to snack on but the brownies need to be moist in the middle to roll into truffles.
Cut the edges off to enjoy while you are making the truffles but don't roll them into balls. They'll be too crisp.
If using a box mix, follow the directions for fudge like brownies instead of cake like brownies. They will hold together better when rolled into truffles.
Chill the brownie truffle balls before dipping them in the chocolate. I know it's tempting to just get it done but let the brownie balls chill in the freezer at least 30 minutes before dipping. It makes it a difference.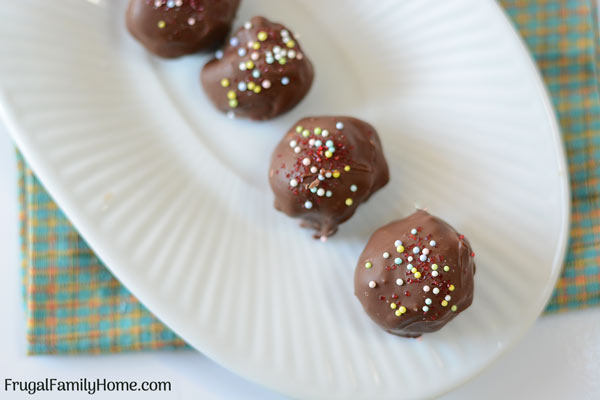 Use caution when heating the candy coating or almond bark.
You want to heat the chocolate in the microwave at 30-second intervals. In between intervals you want to stir. You only need to heat the chocolate until it smooth after stirring.
If you overheat the chocolate, it will get grainy and there is no saving it once it does that.
Dress up your truffles with sprinkles. Add a few sprinkles on top before the chocolate hardens. It makes the brownie truffles look fancy like store bought chocolates.
If you don't have sprinkles but you have an extra candy coating or chocolate, like white chocolate, you can drizzle that on top.
Now for the printable recipe: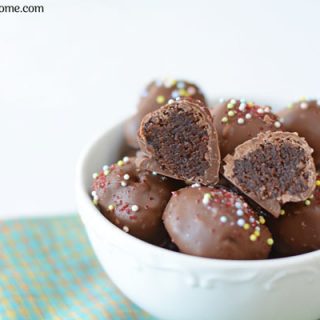 Homemade Sweet Treats, Brownie Truffles
Easy to make homemade truffles that are great to make for a gift or just to enjoy at home.
Ingredients
1

recipe

brownies or 1 box of brownies

prepared

12

ounces

Chocolate Candy Coating or Almond Bark

Sprinkles

optional
Instructions
Prepare the brownies according to the recipe or box. If you are using a box mix, use the instructions for fudge brownies instead of the cake-like brownies.

Bake and let cool.

Once the brownies are cool, roll the brownies into 1-inch balls. Leave the crisp edges for snacking.

Set brownie balls on a cookie sheet lined with waxed paper or a silicone sheet pan liner.

Freeze the brownie balls for about 30 minutes.

While the brownies are freezing, melt the candy coating. You can melt the candy coating in a saucepan over low heat stirring constantly. Or microwave the candy coating at 30-second intervals. Stirring between each interval until the candy coating is smooth.

Dip the chilled brownie balls into the melted chocolate coating. Roll them around to coat all side. Then place on the lined cookie sheet and sprinkle with sprinkles if desired.

Let the brownie balls sit on the sheet pan until the chocolate has hardened.

Once chocolate is hardened store in an airtight container.
Nutrition
Serving:
1
truffle
Calories:
102
kcal
Carbohydrates:
11.1
g
Protein:
1.2
g
Fat:
6.2
g
Saturated Fat:
2.5
g
Cholesterol:
11
mg
Sodium:
49
mg
Calcium:
20
mg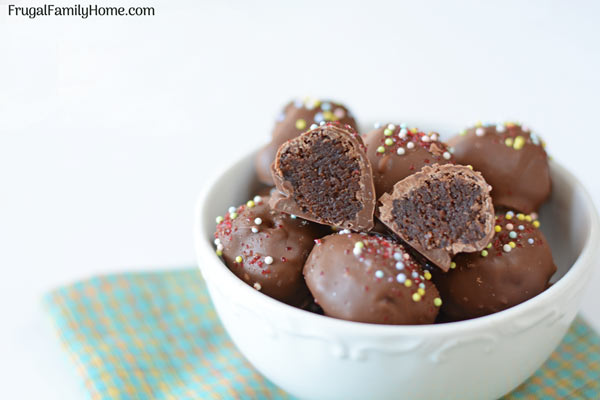 Brownie Truffles for Gifts
These brownie truffles are great to give as gifts. Make a batch and vary the coating from dark chocolate to milk chocolate and white chocolate. Add different sprinkles to each type and box them up like the fancy chocolates from the store.
I'm sure anyone would love to have them as gifts.
Whether you are making these yummy truffles for a gift or as a dessert for your family. These little balls of brownies are so delicious.
They are simple and easy to make but no one needs to know that. Just let them enjoy the yummy flavors and think you are a candy making genius.
Find More Easy but Exceptionally Delicious Candy Recipes
Easy 4 Ingredient Fudge
Rocky Road Candy
2 Ingredient Chocolate Almond Clusters
This post is part of the 31 days of Homemade Sweet Treats series.
Subscribe and you'll get Recipes
sent right to your inbox!
Click the button below and fill out the form.