I really love this Rocky Road Fudge recipe. My mom used to make it and my grandma too. It's one of the candy recipes I was able to help with even at a younger age since there wasn't any boiling sugar mixture to deal with or get burnt by. And when I helped as a kid I got to lick the bowl, which was one of the best parts of making candy, the sampling part.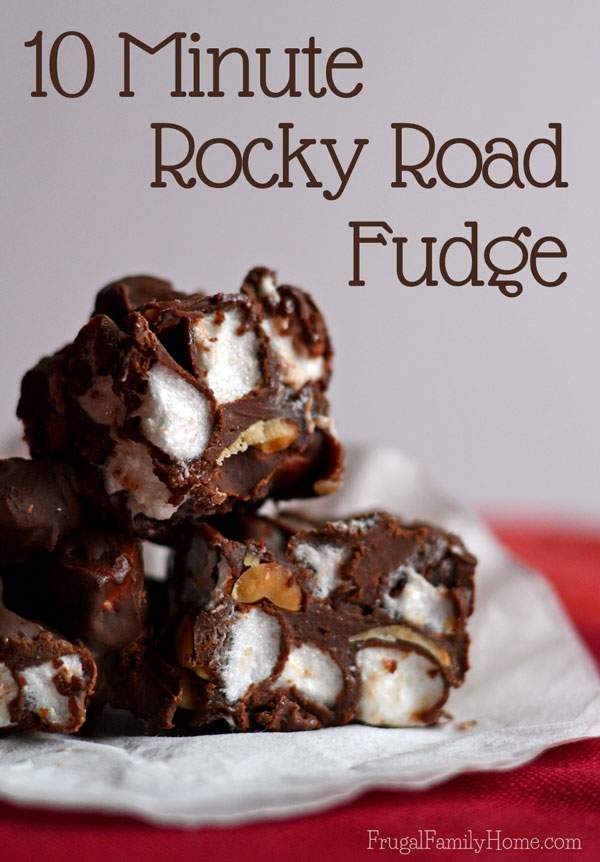 This rocky road fudge recipe just takes 6 ingredients and about 10 minutes to make, minus the cooling time that is. It's one of the easiest candy recipes I make. It's also a great one for kids to help with in the kitchen.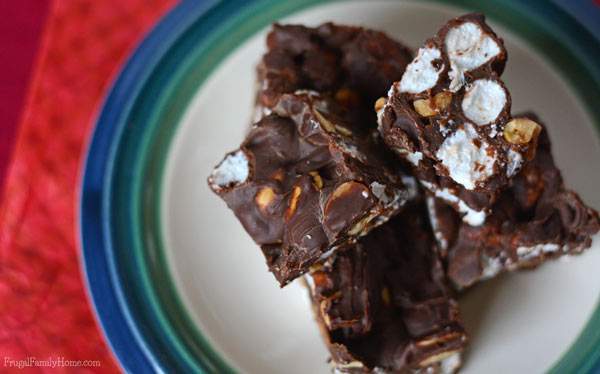 This recipe can be made in the microwave. It's basically melting the chips in the milk and stirring until smooth. If you can stir and run a microwave you can make this recipe. But you don't have to tell anyone it's that easy to make.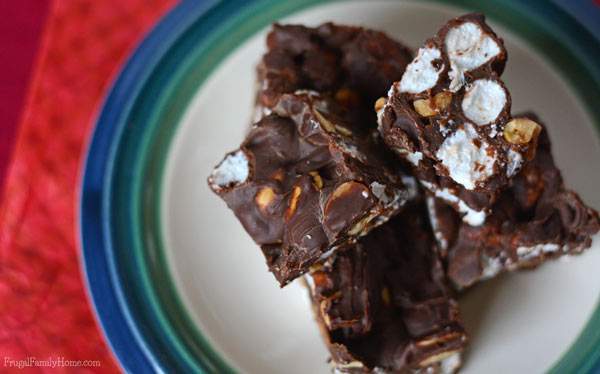 Rocky Road Fudge
A delicious chocolate fudge with peanuts and marshmallows. And it's a simple and easy candy recipe to make too.
Ingredients
1

can of Sweetened Condensed Milk

1

bag or 2 cups of Chocolate Chips

1

cup

of nuts

10 1/2

oz

package of Mini Marshmallows

1 1/2

teaspoons

of Vanilla

2

tablespoons

of Butter
Instructions
Place the sweetened condensed milk, chocolate chips, margarine and vanilla is a large microwave safe bowl. Microwave on high one minute, then stir, then microwave one minute again. Continue until the ingredients are melted and mix until smooth.

Once the chocolate mixture is melted and smooth then stir in the nuts and marshmallows.

Stir to combine well and then spread into a 9×13 inch greased pan.

Let cool/chill at least 2 hours and then cut into squares once firm.
The recipe above is the regular version but if you need a dairy-free version go here for that recipe. I like to make the rocky road fudge dairy free so my kids can eat it too. It's a little more work but if you need to eat dairy free it's worth it.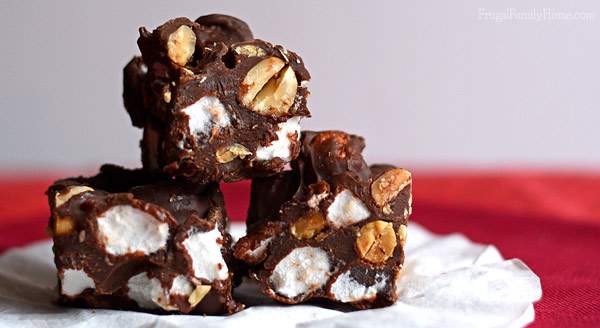 Tips to Making this Rocky Road Fudge Recipe
When melting the chips in the microwave make sure to heat it in intervals. Heat it too long without stirring and the chocolate chips can burn and turn into a grainy mess. There is no saving it once the chocolate is burnt so be sure to stop every 30 sec to 1 minute to stir.

To make this fudge turn out really good, you will need to really stir in the nuts and marshmallows. The nuts and marshmallows really need to be coated well. You don't want any of them showing through the chocolate fudge.
This fudge recipe is so easy to make it makes a really easy and is a nice addition to a Christmas candy and cookie plate. You can buy Rocky Road fudge at the candy shop but once you see how easy and inexpensive it is to make I'm sure you'll make it at home and save some money too.
What is your favorite homemade candy recipe? Please share it in the comments or share the link.
This post is part of my 31 days of Homemade Sweet Treats series.
Just so you know, this is an older post I updated with better, more irresistible photos.
Subscribe and you'll get Recipes
sent right to your inbox!
Click the button below and fill out the form.