Do you think making homemade candy is hard? Making candy can be simple, try this 2 ingredient recipe for chocolate almond clusters. So simple and delicious.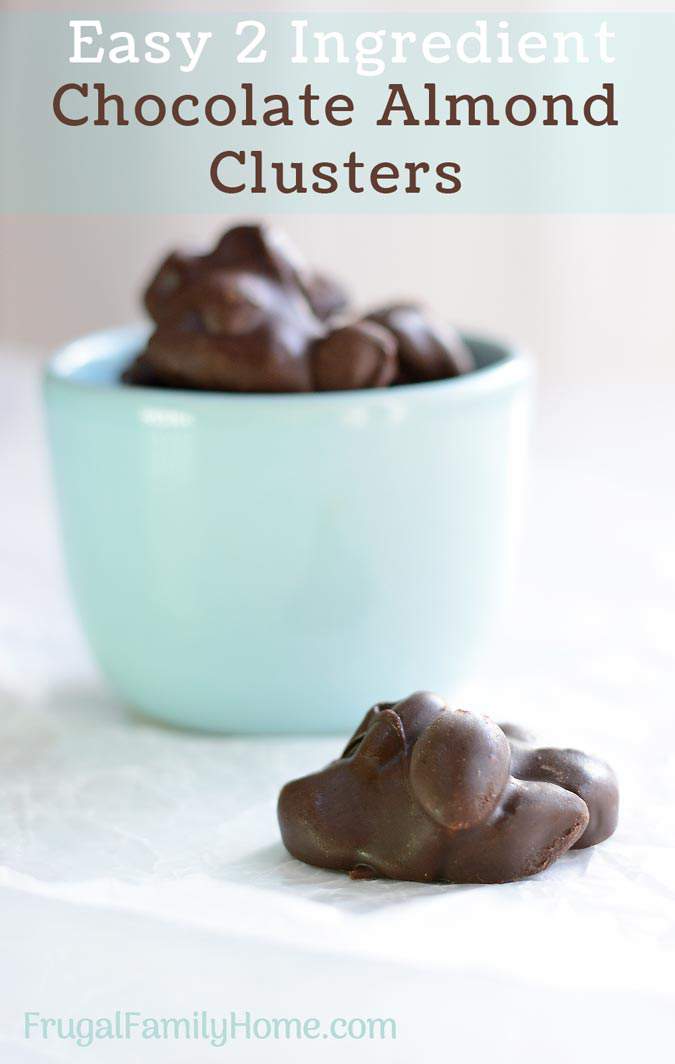 If you can run a microwave and stir, you can make these simple but delicious chocolate almond clusters.
With, only two ingredients it's a quick and easy recipe to make to take to a party or to give as a gift. Plus, you can make more than one flavor of these yummy chocolate almond clusters.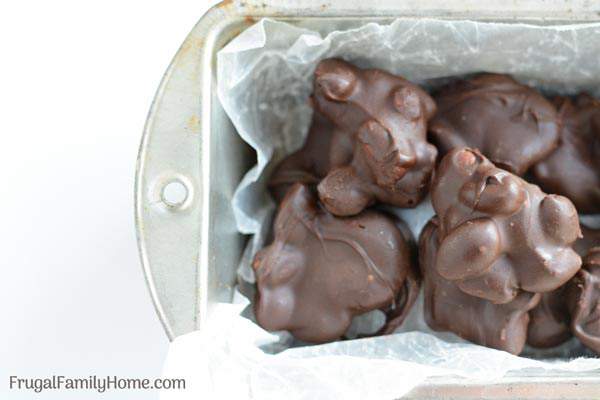 Scroll down to watch the recipe video, grab the printable recipe, and see how other variations of this recipe too.
How to Make Chocolate Almond Clusters
Below you'll find the video for this simple and easy recipe.
If watching a video isn't your thing, scroll down to the printable recipe and written instructions instead.
Variations on this Chocolate Almond Clusters Recipe
I love dark chocolate but you can always make these chocolate almond clusters differently by using different chips. Below I've listed a few ideas for you to try to get just the right combination.
Milk Chocolate Almond Clusters
Substitute the semi-sweet chocolate chips for milk chocolate chips and go ahead with the recipe. This change makes for a more candy bar like cluster.
White Chocolate Almond Clusters
Instead of adding semi-sweet chocolate chips use vanilla chips instead. This small change makes these almond clusters like white chocolate almond bark just in a cluster shape.
Butterscotch Almond Clusters
To make a butterscotch almond cluster you'll want to use butterscotch chips instead of chocolate chips. These almond clusters have a rich buttery flavor with the crunch of the almonds. Perfect for a person who doesn't care for chocolate.
Butterscotch Nut Almond Clusters
In this variation, use half butterscotch chips, half vanilla chips instead of the chocolate chips in the recipe. When melting the chips stir in 3 tablespoons of Peanut Butter. Once the mixture of chips and peanut butter is smooth, add the almonds.
This is a delicious variation because it has more flavors. It has the crunch of the almonds. The buttery flavor of the butterscotch chips and peanut butter. And the added vanilla flavor too. It's a wonderful combination to try.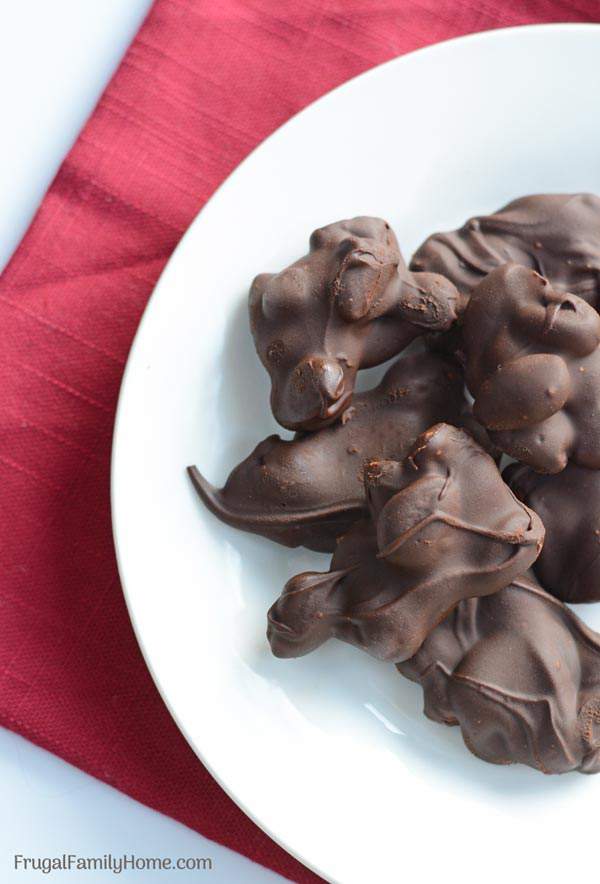 Milk Chocolate Mint Almond Clusters
Instead of straight semi-sweet chocolate chips, use mint chocolate chips instead for half of the chips. For the other half of the chips use milk chocolate chips. You'll end up with a minty milk chocolate covered almond clusters. Yum!
Smoked Almond Clusters
For a smokey and sweet flavor combination use either semi-sweet chocolate chips or milk chocolate chips in the recipe. But instead of regular salted almonds use smoked almonds instead.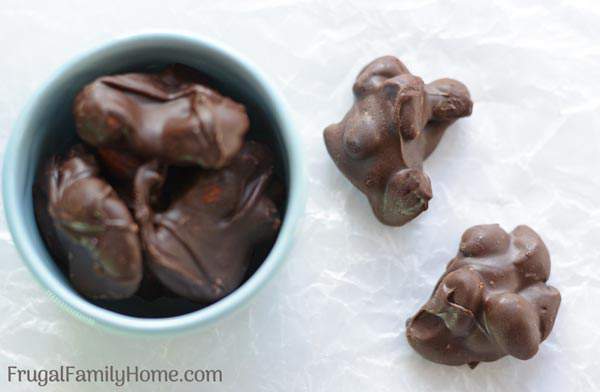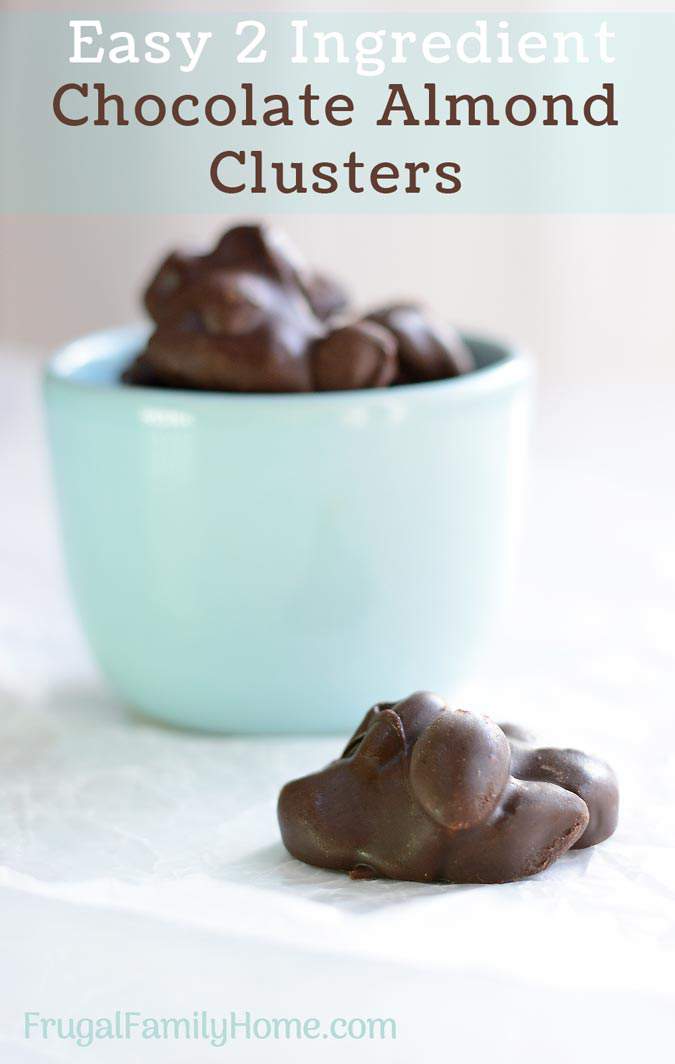 Chocolate Almond Clusters
Ingredients
2 1/2

cups

Chocolate Chips

3/4

cup

Almonds

whole or rough chopped
Instructions
In a medium microwave-safe bowl add the chocolate chips. Microwave for 3 minutes stopping each minute to check to see if the chips have softened. You can stir at each 1-minute interval to help speed up the softening process.

Once the chips are softened remove from the microwave and stir until the chocolate is creamy.

Add the almonds and stir to coat.

Drop the almond chocolate mixture by the teaspoonful onto a lined cookie sheet.

Place in the refrigerator for 1 hour or until the almond clusters are firm.

Remove from cookie sheet and store in an airtight container.
How Much Will a Batch of Chocolate Almond Cluster Cost?
When making candy at home you have to be careful about how much it will cost. Some candies are much less expensive to make at home, while others can end up costing you more so it's good to know how much it will cost to make a batch.Â
I purchase chocolate chips in bulk at Winco foods the price varies but $2.66 is a good everyday price I pay. It will take about a pound of chocolate chips for this recipe.
Then you have the almonds which can vary in price. I've been paying $4.95 a pound for them in the bulk. For this chocolate almond clusters recipe you'll need about 3.5 ounces which works out to $1.08 at the price I paid.
Ingredients Cost
3/4 cup Almonds $1.08
2.5 cups Chocolate Chips $2.66
Total cost for a batch of Chocolate Almond Clusters $3.74 for 24 good sized almond clusters. If you make them a little smaller you can get 36 out of a batch.
Considering the average price I could find online was about $15 a pound you'll be saving quite a bit by making these chocolate almond clusters.
Now that you know how easy and inexpensive these chocolate almond clusters are to make, which variation of the recipe will you try first? Let me know in the comments below.
More Easy Candy Recipes to Try…
5 Minute Butterscotch Fudge
Quick and Easy Rocky Road Fudge
Easy Peanut Butter Balls
Pin it for Later..

Subscribe and you'll get Recipes
sent right to your inbox!
Click the button below and fill out the form.