Inside: I make this delicious chocolate covered peanut butter balls recipe each year to give to family and friends. It's an easy recipe to make and so yummy too.
If you haven't made candy before you might be thinking it would be hard to make. Some candy recipes are more difficult than others but this chocolate covered peanut butter balls recipe is an easy one.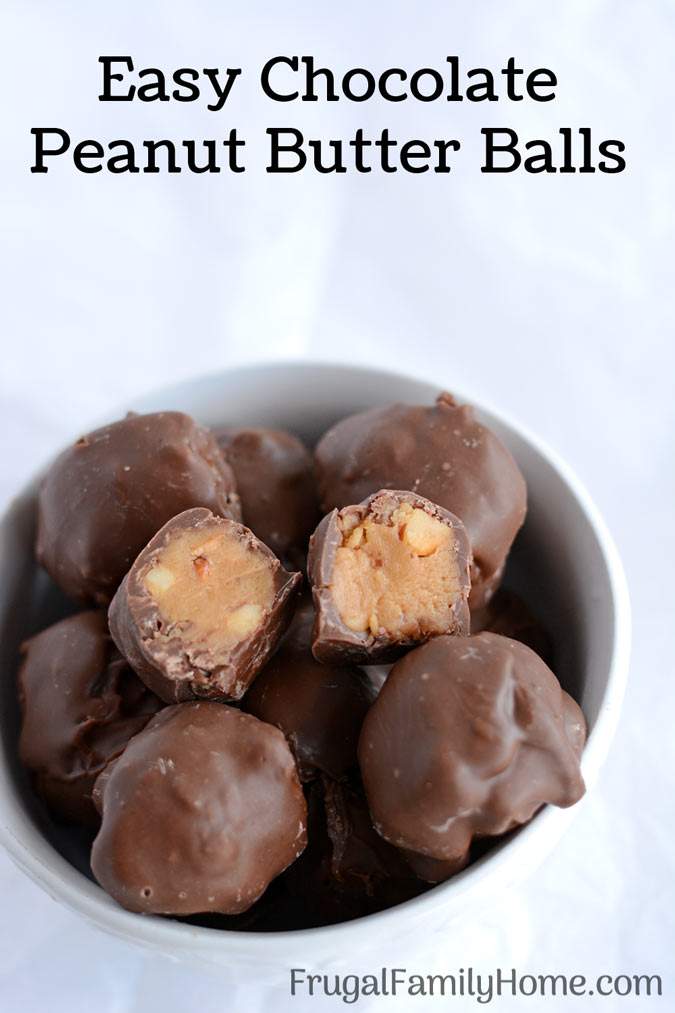 Who can resist a yummy ball of peanut butter wrapped up in chocolate? It like a peanut butter cup but in a nice bite sized shape. These are definitely as good, but I'd say better than the store bought version.
Not only is this chocolate covered peanut butter balls recipe delicious to eat but they can make a wonderful food gift for someone who loves peanut butter and chocolate. Pack them into a gift box or into a decorative tin for gift giving.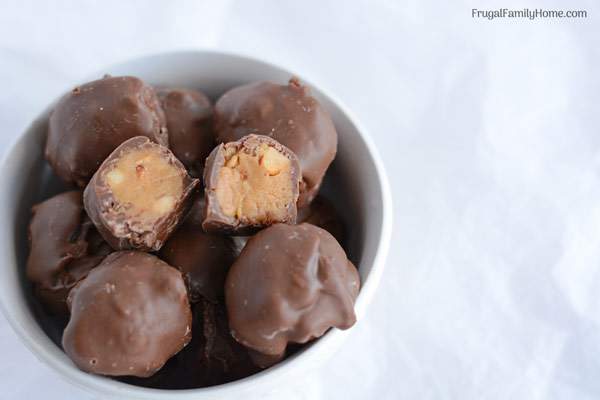 This chocolate covered peanut butter balls recipe is one of the recipes I always add to my Christmas cookie and candy plates to give away to family and friends each Christmas.
I think I started helping make this recipe when I was just a kid. I would help my grandma roll the peanut butter mixture into balls. I would always steal a little bite or two. Because I just couldn't resist. My kids love to do this too.
Then we would carefully dip them into the pot of melted chocolate. Making them the perfect balance of chocolate and peanut butter. Although they don't always look perfect, they still taste great.
I have another peanut butter balls recipe that includes rice cereal added. It does give it a more crunchy texture inside to the peanut butter filling. I really prefer to have a more creamy center, but maybe the crunchy texture is more what you are looking for?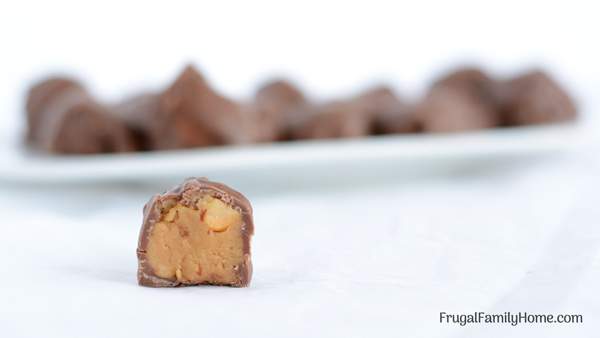 Either way, you make these peanut butter balls, with or without cereal, are delicious!
Some of the links in this post are my referral links. That means if you purchase through them I might make a little money at no extra cost to you. Thanks for your support in this way. 
Here's What Needed to Make Chocolate Covered Peanut Butter Balls
Ingredients
Chocolate Candy Coating or Almond Bark (which it can be called)
Peanut Butter, we like extra crunchy in this recipe
Butter or Margarine
Powdered Sugar
Baking Tools Needed
Spoon and/or Spatula
Mixing Bowl
Saucepan
Cookie Sheet
Silpat or Parchment Paper
Once you have all your ingredients gathered up and your baking tools here's how to make this chocolate covered peanut butter balls recipe. Be sure to scroll down for some tips.
Helpful Tips for this Easy Chocolate Covered Peanut Butter Balls Recipe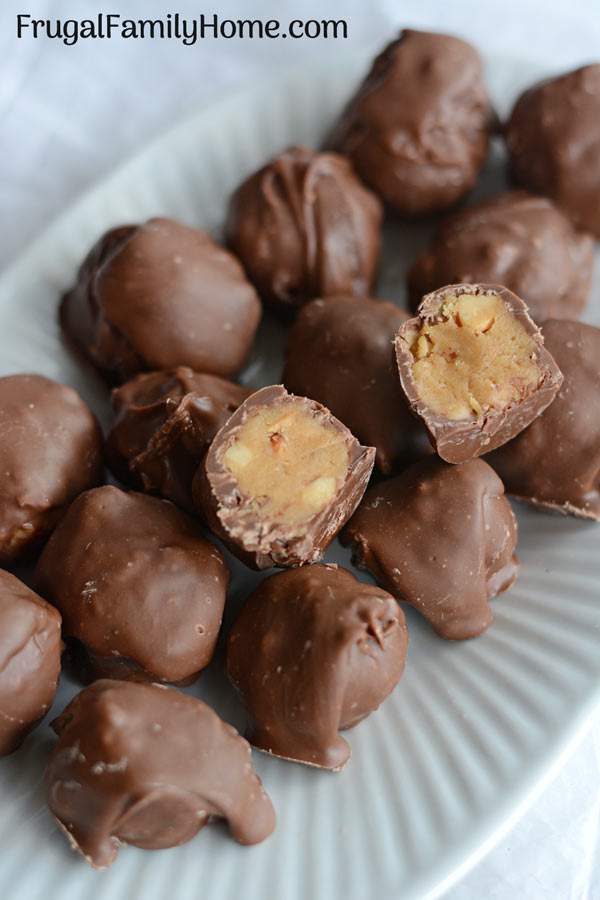 ✳︎ Make sure to mix the butter and the peanut butter well. You don't want to have globs of butter not mixed in. If you are having trouble getting the mixture well mixed, try mixing with an electric mixer. Also softening the butter a little first can really help to make it easier to mix in.
✳︎ If your powdered sugar is a little clumpy. Be sure to sift it before you add it to the peanut butter mixture. You can use a strainer to sift the powdered sugar, it works great.
✳︎ If you want dark chocolate covered peanut butter balls use semi-sweet chocolate chips instead of candy bark. I usually temper the chocolate chips with a small amount of candy bark to keep it from getting spots on the chocolate when it cools.
✳︎ Use a fork to dip the peanut butter balls into the chocolate. I use one fork to lift the peanut butter ball into the chocolate. Roll it around and then pick it up with the fork again. Be sure to drag the bottom of the fork across the edge of the pan to remove any excess chocolate off the bottom of the ball. Then with another fork gently place it onto the lined cookie sheet. Or you can use your finger to roll the ball off the fork but it is a little messier.
✳︎ Once the chocolate has hardened store the peanut butter balls in the refrigerator for up to two weeks. If you'll be giving them as a gift pack them into cute candy boxes or into decorative tins.
✳︎ This recipe can be made ahead and frozen for longer storage. They are also delicious frozen, just thaw slightly and enjoy.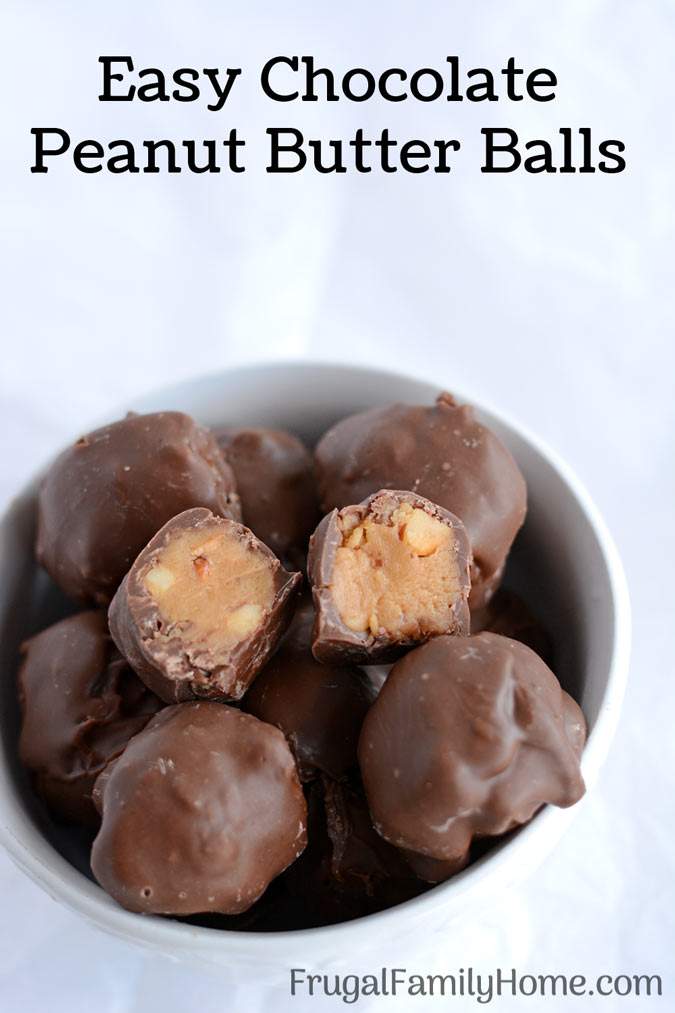 How to Make Chocolate Covered Peanut Butter Balls (With Video Instructions)
Ingredients
1/2

cup

Peanut Butter

3

tablespoons

Butter or Margarine

1

cup

Powdered Sugar

1/2

pound

of Candy Coating or Semi-Sweet Chocolate Chips
Instructions
Melt the butter slightly and add it to a mixing bowl. Add the peanut butter and using the spatula or the spoon mix well. You want all the butter and peanut butter mixed together.

Add the powdered sugar. Mix to combine well. I find it's easier to start with a spoon mixing and then finish mixing with a spatula to really get it all incorporated well.

Roll into 1 inch balls. You should get about 30 balls or so. Place the peanut butter balls onto a lined cookie sheet.

Let sit for about 30 minutes while you prepare the chocolate coating.

Cut the chocolate candy coating into small pieces and heat over medium heat until melted. Be sure to stir constantly so it doesn't burn. Use chocolate chips for dark chocolate coating.

Using a fork dip the peanut butter balls into the chocolate to coat them on all side. Place them on the lined cookie sheet until the chocolate has hardened.

Store them in an airtight container in the refrigerator up to two weeks. They can be frozen for longer storage.
I hope you enjoy this recipe as much as our family enjoys it. But I want to warn you, if you make this chocolate covered peanut butter balls recipe for others, they will ask for them again and again. They are really that delicious.
Pin this Recipe for Later…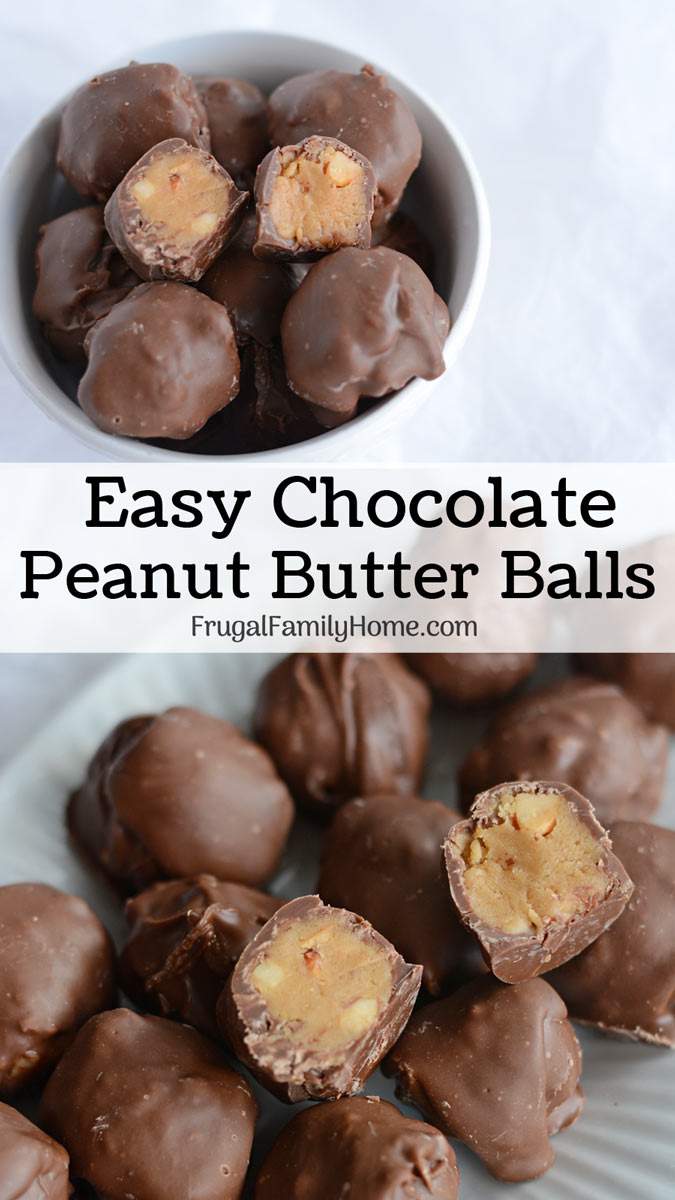 More Candy Recipes to Give As Gifts
Butterscotch Cluster Candy
Homemade Chocolate Fudge
Chocolate Almond Truffles
Subscribe and you'll get Recipes
sent right to your inbox!
Click the button below and fill out the form.