This is a new recipe I just created. If you like chocolate and mint mixed together I think you will like it too.  Recently I made brownie truffles and we all loved them. So, I thought I would make peppermint brownies into a truffle too.
These yummy minty truffles would make a great hostess gift or dessert to take to a holiday party.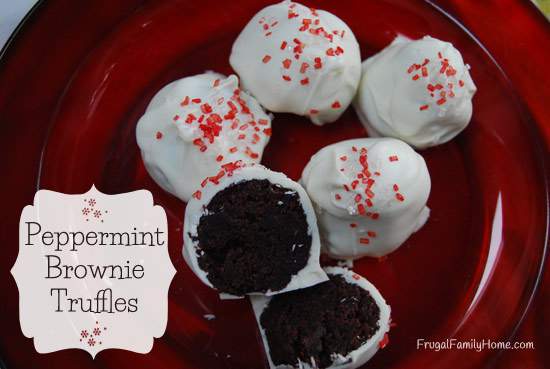 I used my aunt's recipe for brownies and added a few drops of peppermint flavoring when mixing in the wet ingredients. If you are using a box mix just add the peppermint flavoring at the same time you add the other liquid ingredients.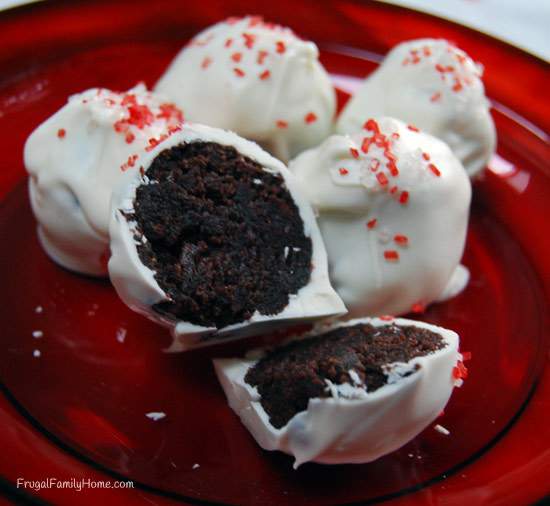 Once the brownies are baked and cooled, I cut the crisp edges off and saved them for snacking on. These crisp edges would also work well ground up and sprinkled on top of frosted cupcakes. The remaining brownies I cut into small squares and roll each square into a ball.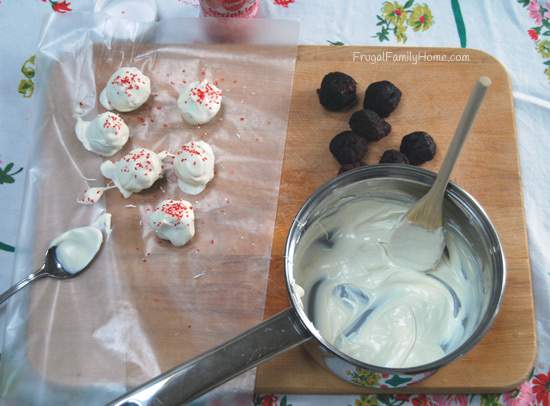 Then it's time to dip the brownie balls into the melted white chocolate bark and before they hardened sprinkled them with some colored sugar or sprinkles.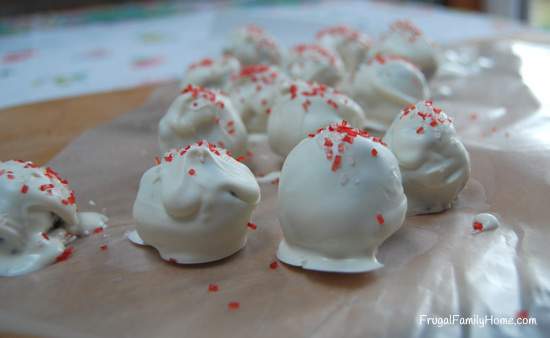 The combination of the crisp white chocolate with the peppermint flavored brownie is so good.
Here's the recipe if you would like to make a batch for yourself or some to share,

Peppermint Brownie Truffles
Serves:
about 40 Truffles
Ingredients
1 Recipe or Box Mix Brownies
12 oz White Chocolate Candy Coating
½ tsp Peppermint Extract
Sprinkles (optional)
Instructions
Prepare the brownies mixing in the peppermint extract with the other liquid ingredients.
After baking the brownies and letting them cool, cut the crispy outer edges off the brownies.
Cut the brownies into squares, I like to cut them into 1½ inch squares but if you like bigger truffles cut them bigger.
Take each brownie square and roll it into a tight ball and set onto a wax paper lined cookie sheet.
Once all the brownies are rolled into balls set them aside.
Place the candy coating into a medium sized pan and heat over low heat, while stirring until the candy coating is smooth and melted.
Dip each brownie ball into the candy coating and roll to coat well. Place back on the wax paper and sprinkle with the sprinkles if desired.
Let set until the candy coating is firm.
Enjoy!
Have you ever tried making brownie truffles?