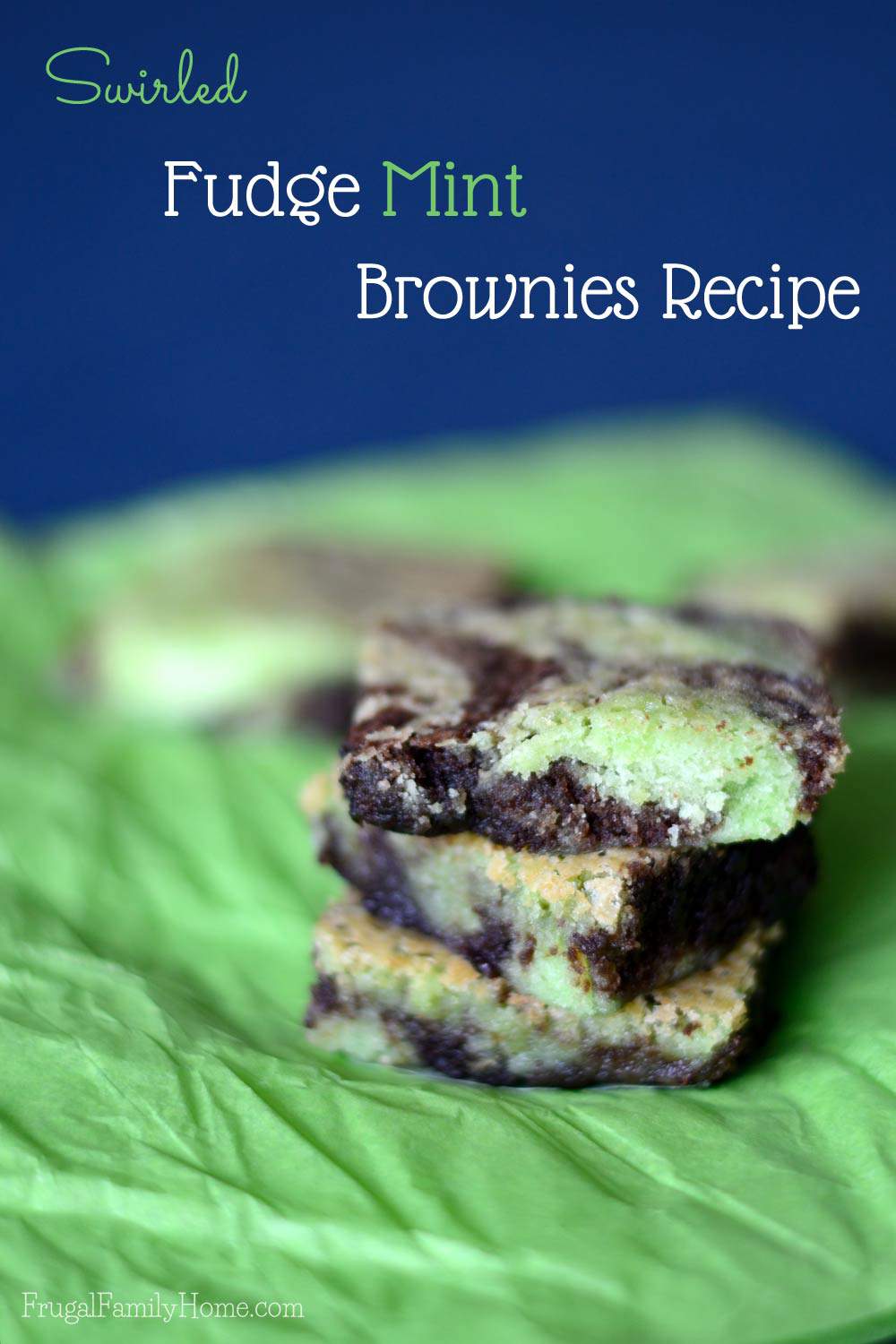 I really love brownies. My favorite brownies are made with a recipe from my great aunt. It's such a moist and yummy recipe. She always frosts her brownies with a yummy chocolate frosting too. It's so good.
I wanted to switch up my aunt's brownie recipe and make it a little festive for St. Patrick's Day. I thought about trying to make lime swirl brownies, but lime just doesn't seem to go with chocolate. My second choice and the winner was swirled fudge mint brownies.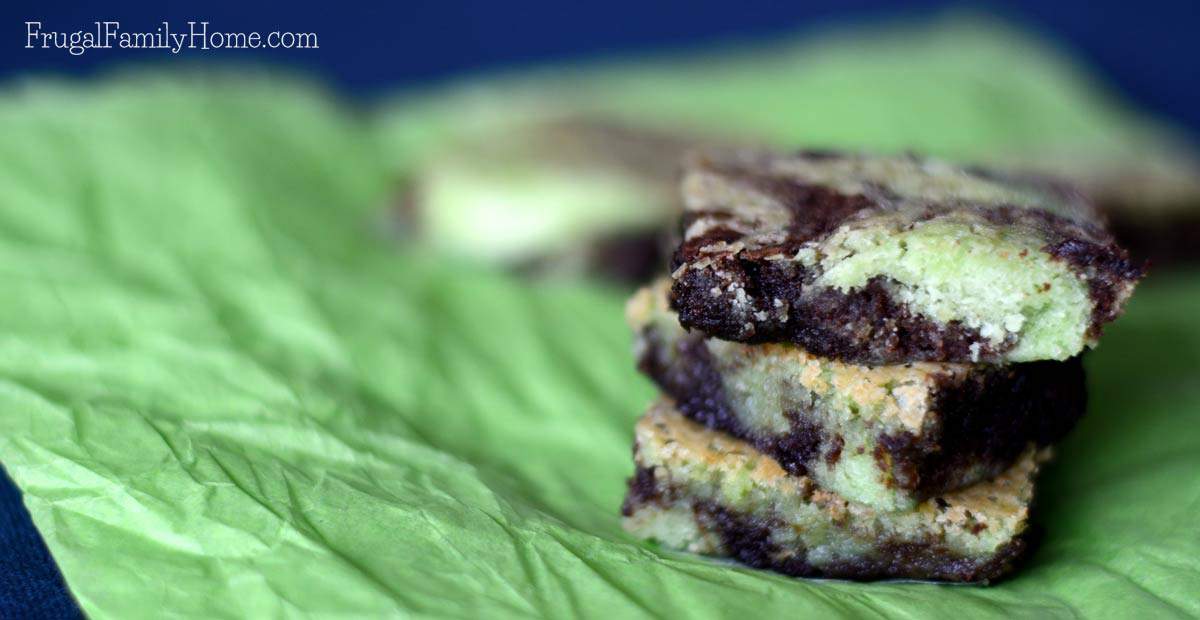 In the past, I've added mint to the brownies and then sprinkled them with some crushed peppermint candies. It does make a great mint brownie but it wouldn't be really anything special for St. Patrick's Day. So instead, I altered the recipe to make a mix of blonde and chocolate brownies. I added just a touch of green food coloring, which made them festive, indeed.
Making the Swirled Fudge Mint Brownies Recipe
Mixing the Mint and Chocolate Batters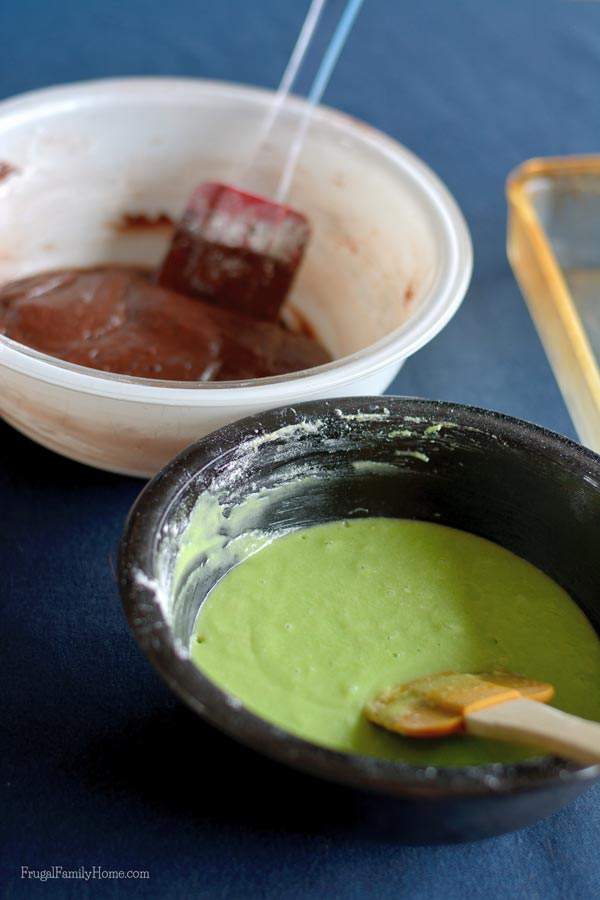 First you will need two bowls. One to mix up the blonde brownie portion and the other for the regular brownies. Because the recipes are almost identical, one without cocoa powder, you can mix them up at the same time.
Once you have both bowls of the batter ready, it's time for some fun. I dropped scoops of the brownie mix into the baking pan. Then I dropped the blonde brownie batter in between the chocolate brownie drops, to make a checkerboard type look. Well, sort of, as you can see mine was just a little messy.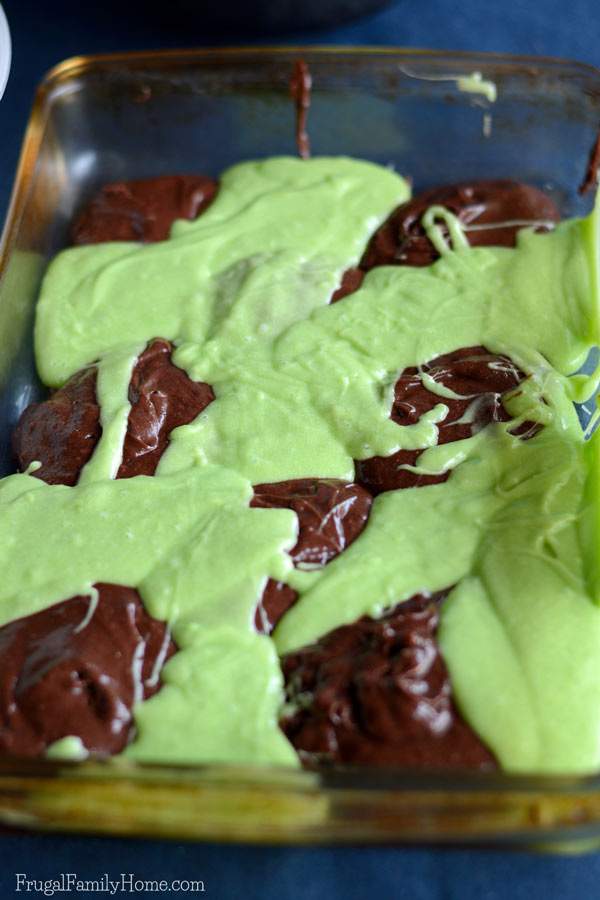 My daughter thought I was crazy, at first. She asked me, "Are you sure you are making brownies?" I reassured her they would be like regular brownies when we were done. Just with mint.
Making the swirl pattern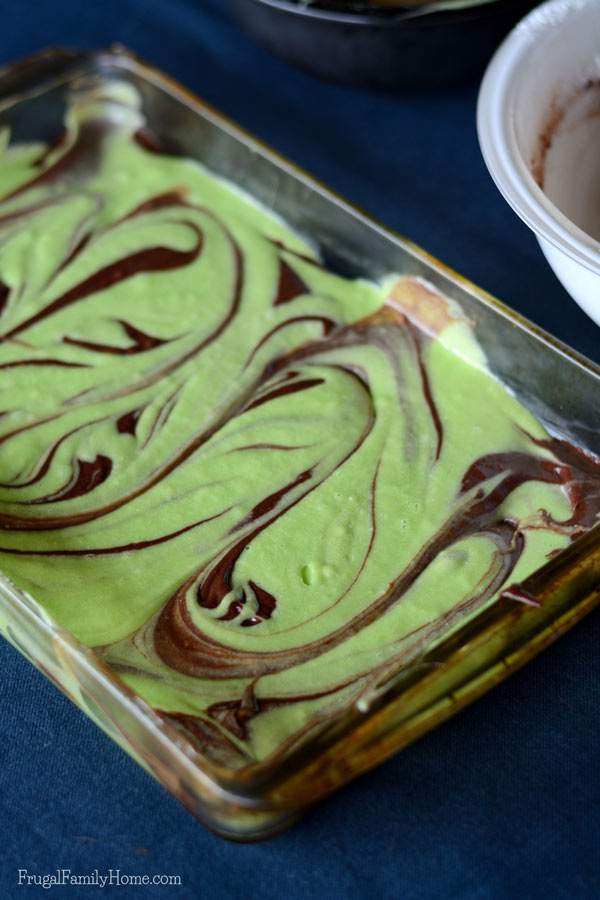 Once you have a checkerboard pattern of green and brown, it's time to mix them up. I ran the spatula three passes through the batter lengthwise and three passes crosswise. I think the swirl turned out pretty good. If you want more of a swirl pattern make a few more passes through the batter.
After the brownies were done baking they smelled great. I let the brownies fully cool before cutting them. Boy was that a difficult task. The brownie were nice and fudge-like, not cake-like at all. That is one of the reasons I love this recipe, for brownies.
The kids and I gave them a try. The flavor was good right, not too minty, a great balance of chocolate and mint. We used spearmint extract in our blonde batter, but peppermint would work great too.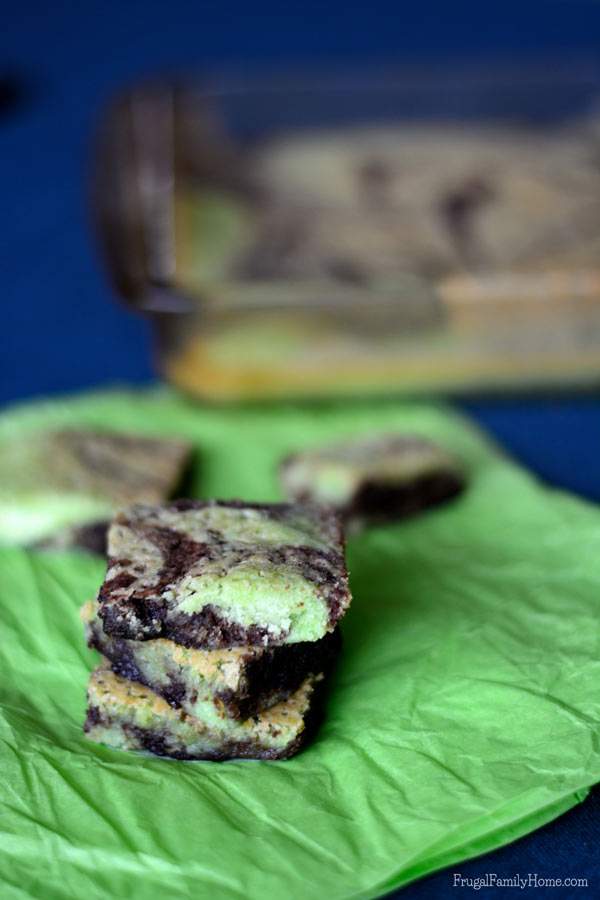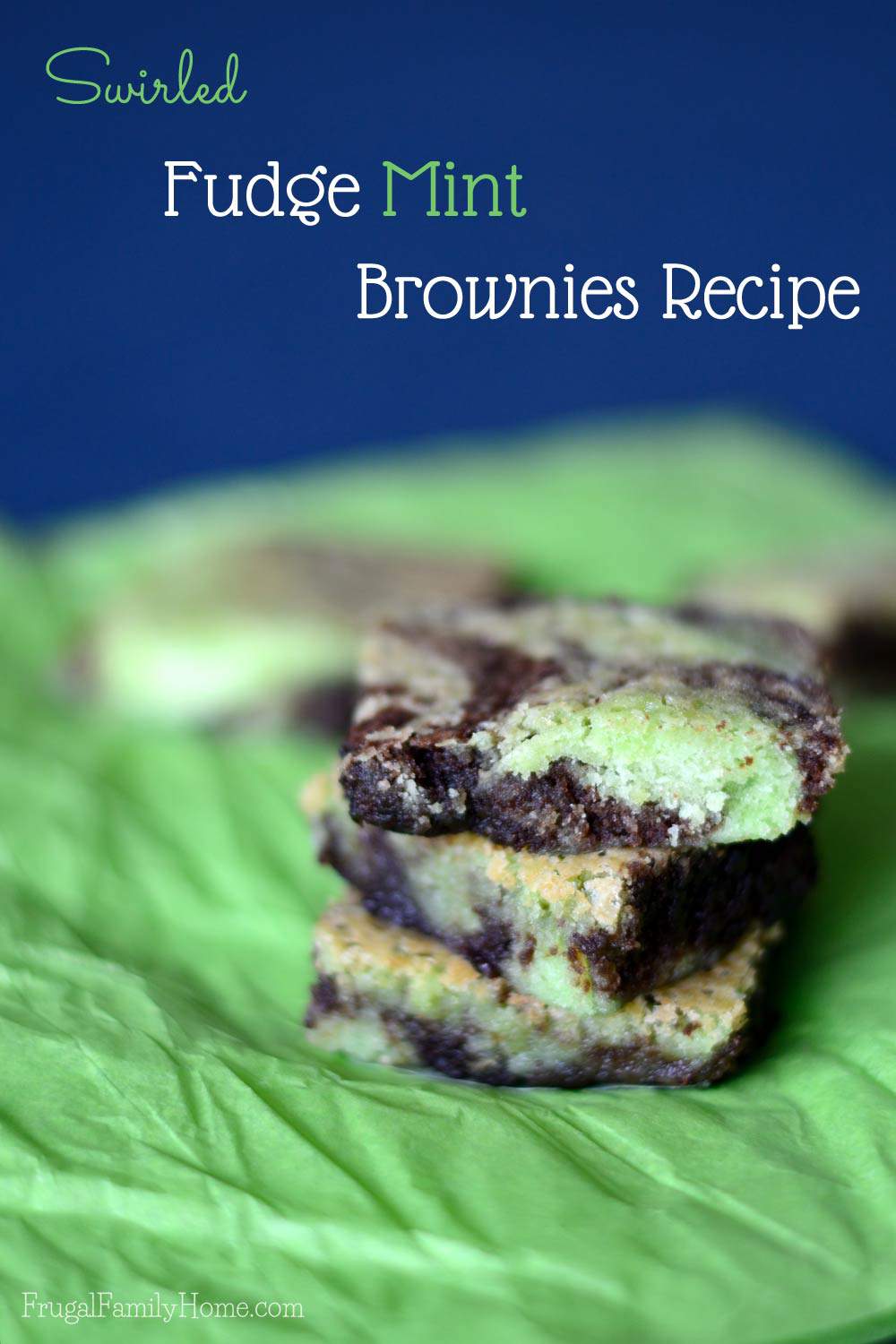 Fudge Mint Brownies Recipe
A yummy mix of mint and chocolate in a brownie. So good.
Ingredients
Brownie Batter
6

tablespoons

Dairy Free Margarine or Butter

softened

2

Eggs

1

cup

Sugar

3

tablespoons

Cocoa Powder

1/8

teaspoon

Salt

1/2

teaspoon

Vanilla

1/2

cup

Flour
Blonde Batter
6

tablespoons

Dairy Free Margarine or Butter

2

Eggs

1

cup

Sugar

4

drops Green Food Coloring

1/8

teaspoon

Salt

1/2

teaspoon

Spearmint or Peppermint Extract

1/2

cup

Flour
Instructions
Brownie Batter
Add the butter, eggs, sugar, and cocoa powder to one bowl and mix well.

To the egg mixture add the flour, vanilla, and salt. Stir to combine.
Blondie Batter
Add the butter, eggs, and sugar to another bowl and mix well.

To the egg mixture add the flour, mint extract, green food coloring, and salt. Stir to combine.
Preparing the Brownies
Into a 9x13 inch pan drop the brownie into the pan in scoops. Leave room between them.

Add the blonde mint batter between the chocolate brownie batter. In a checkerboard pattern.

Using a spatula, blend the two batter together to get a swirl pattern. I made three passes lengthwise through the batter and another three passes crosswise.

Bake at 350 degrees for 25 minutes or until cooked through.

Let cool, cut into squares and enjoy the minty, fudge taste.
Nutrition
Serving:
1
brownie
Calories:
125
kcal
Carbohydrates:
18.4
g
Protein:
1.5
g
Fat:
5.8
g
Cholesterol:
36
mg
Sodium:
64
mg
Sugar:
14.4
g
If you are looking for a yummy treat with a hint of green for St. Patrick's Day, you'll want to give these brownies a try. Be sure to pin this recipe, so when you have a mint and chocolate craving you'll know where to find it.
Other Green Themed Recipes and a St. Patrick's Day Craft too,