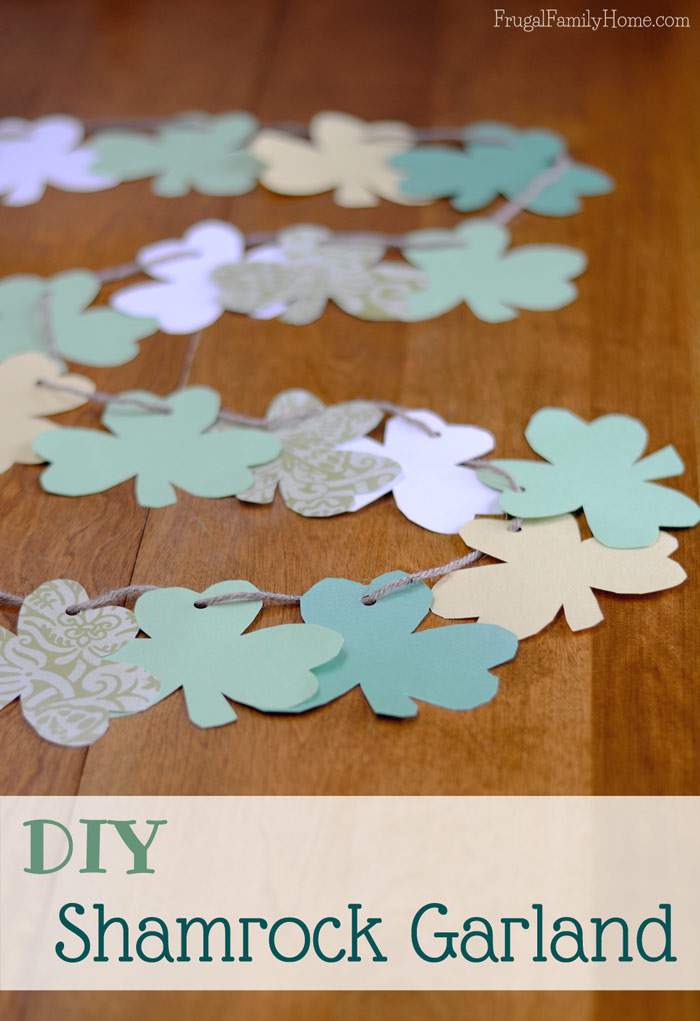 Making decorations with the kids is always fun for me. They love to display things they have made and we get to bring a little extra cheer into our home.
This month we decided to make an easy St. Partick's Day craft, a cute shamrock garland. It is kinda a theme for us.
We made a fall leaf one a few months ago. Last summer we made some cute popsicle flags to hang from the mantle and today, it's shamrocks.
Just so you know some of the links below are my affiliate links. When you purchase through them I might make a little money at no extra cost to you. Thanks for your support in this way. You can read my disclosure policy for more information.
Making the Shamrock Garland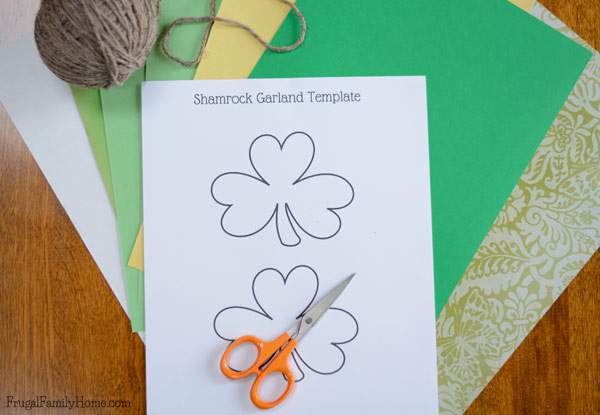 To start, I made a template for the kids to use for the shamrock. I've included the template, so you don't have to make your own. Just click on the photo below to download it.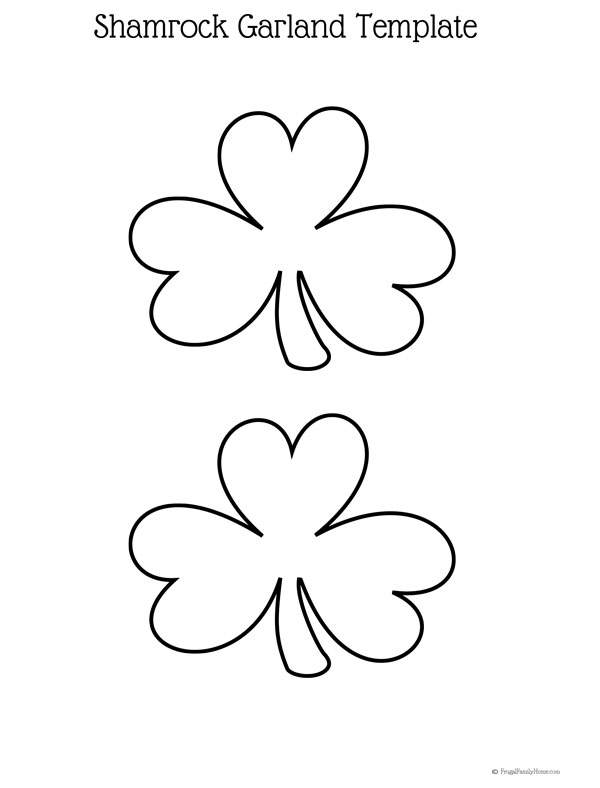 Once the template was printed out on card stock, the kids cut out the shamrocks and we were ready to trace them onto the paper.
We used a few sheets of construction paper in greens, a beige and yellow. Then I remember we had scrapbook paper too.
We picked out two sheets of the scrapbook paper to add a little more variety to the garland.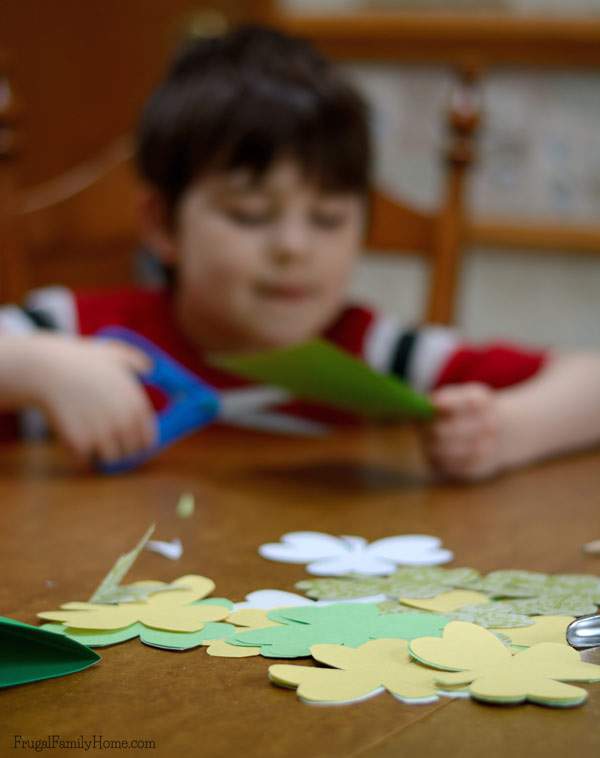 I stapled a few sheet of paper together, then we copied the template to the top sheet to save a little time, cutting out the shamrocks. It worked really well.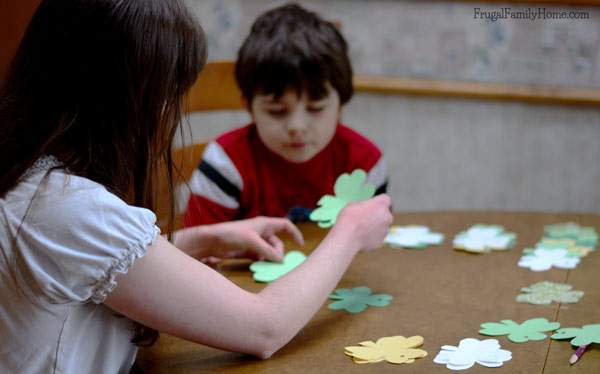 We used a hole punch to make a hole to string the yarn through. We were going to use green yarn, but didn't have any.
So we opted for a brown yarn instead. I think it turned out good. The kids arranged the shamrocks in a pattern the liked and then it was onto stringing them onto the yarn.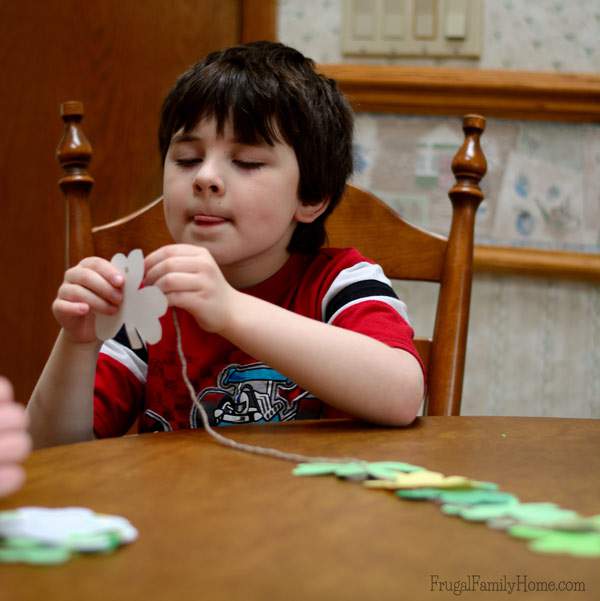 My son really concentrates hard when he was cutting and stringing the clovers onto the yarn. It's really cute to watch him.
He really uses his tongue when he's trying to concentrate. I don't know if your kids do the same, but it is just too cute.

We made the strand long enough to stretch all the way across the fireplace, just below the mantle. We adjusted the shamrocks to be evenly distributed across the fireplace.
I do take the paper garland down when we are using the wood stove. They are paper after all and could catch fire. It's better to be safe.
This was a fun craft project for the kids to make and they did a great job. I hope your kids enjoy making this project too. I think it would look great hanging up in a window or on a wall, or even as decoration in a child's bedroom.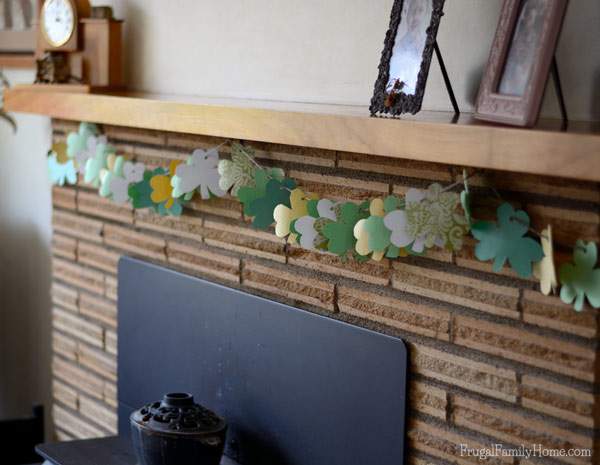 I'll have to think of a new garland to make for next month. I know if we don't make a new one, we might have it this one up for months. Kinda like our 4th of July flags that stayed up for 4 months.
Be sure to check out the other Kid's Crafts I have posted. I'm sure your kids will love them.
PS, If you want to do some baking with the kids, in the St Patrick's Day theme you might want to make a batch of