An Asian inspired side dish recipe of delicious ginger garlic green beans. This recipe is simple to make and takes only a few minutes from start to finish.
This time of year we are up to our ears in zucchini and green beans. If you are a gardener or you visit the farm stands or shop farmers markets you're sure to find fresh green beans just waiting to be brought home.
If you are looking for a way to enjoy those fresh green beans I have a delicious Asian inspired farm to table recipe for you today.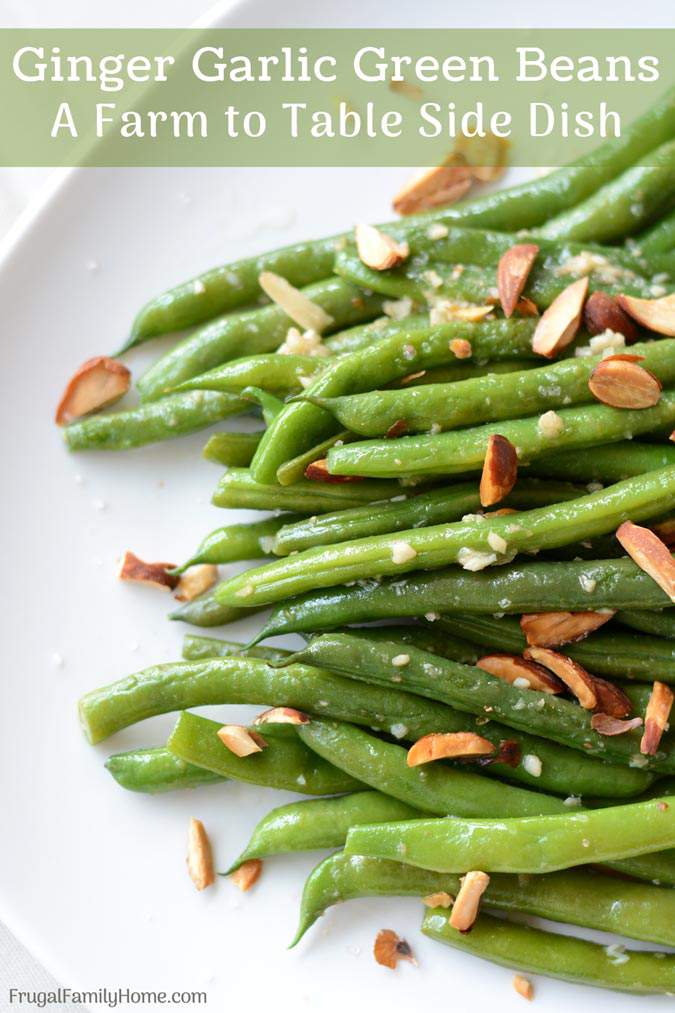 Great Way to Enjoy Green Bean, Ginger Garlic Green Beans
Fresh green beans are such a treat this time of year. But it can be hard to know what to do with them. Sure you could roast them but in the summer it's too hot to run the oven. You could boil or steam them but it's hard to add much flavor to them.
That's why I love to make them in a skillet with ginger and garlic. I discovered this great way to cook green beans from my friend Jami at An Oregon Cottage.
She's one of the Tuesdays in the Garden bloggers and you can see the recipe she's sharing this week along with all the recipes that the other bloggers have to share, be sure to scroll down to find them.
You can see the whole recipe made below in this video or keep on moving down the page to grab the printable recipe and find a few recipe tips too.
Tips to Make these Ginger Garlic Green Beans Perfect
Freeze your Ginger. If you are like me you use fresh ginger often enough you want to keep it on hand but not often enough to keep it from going bad before you can use it up.
To keep your ginger longer be sure to peel and place your ginger in a freezer bag and freeze it. Then when you need ginger, grab a chunk out of the freezer and grate it. You don't even have to thaw it and you'll never have to worry about ginger going bad in the refrigerator again.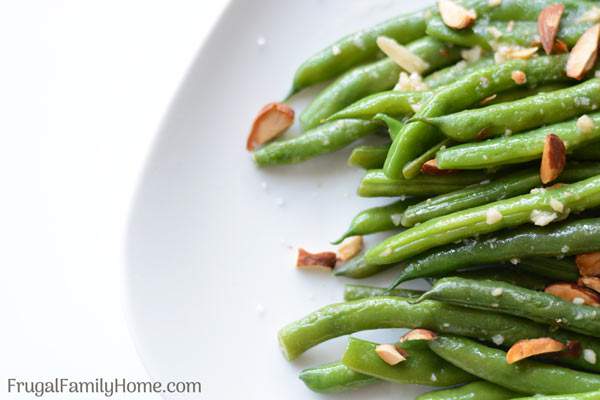 Prep the Garlic. When I buy garlic I buy a bunch at a time, peel it and mince it all at once. With all that minced garlic I make minced garlic cubes.
It makes it so easy to add garlic to any dish you are cooking. Plus the garlic heads don't go bad, waiting around in the cupboard to be used.
Prep the Beans. I take the stem end off and leave the beans whole. If you like to have smaller pieces of beans cut them up into 1-2 inch pieces.
We don't mind the little tail end of the beans but it if you don't like it take it off too. Prep the beans how you like them best. I think the long full sized beans make the dish look more elegant.
Don't Over Cook the Ginger or Garlic. If the garlic gets too brown it will be bitter. Keep it moving in the pan until you add the water to keep it from getting too dark.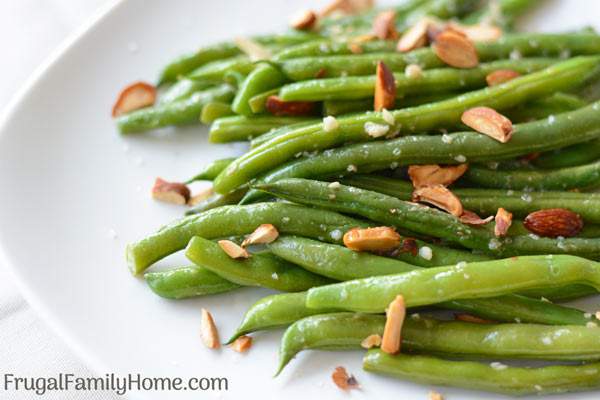 Cook the Beans until Tender Crisp. I find the average sized green bean cooks in about 5 minutes. But if you have thicker beans they might need more time to cook. Thinner beans will cook faster. Be sure to check them during cooking to make sure they don't over cook and get soggy and limp.
Use any kind of Green Beans. If you don't have fresh green beans you can use frozen or even canned green beans. The cooking time will be less since they are already blanched or canned.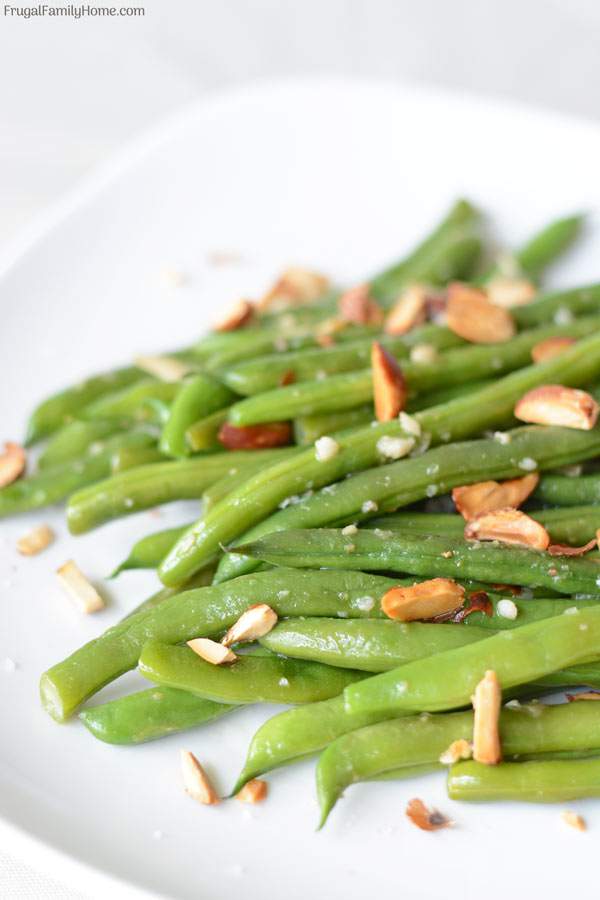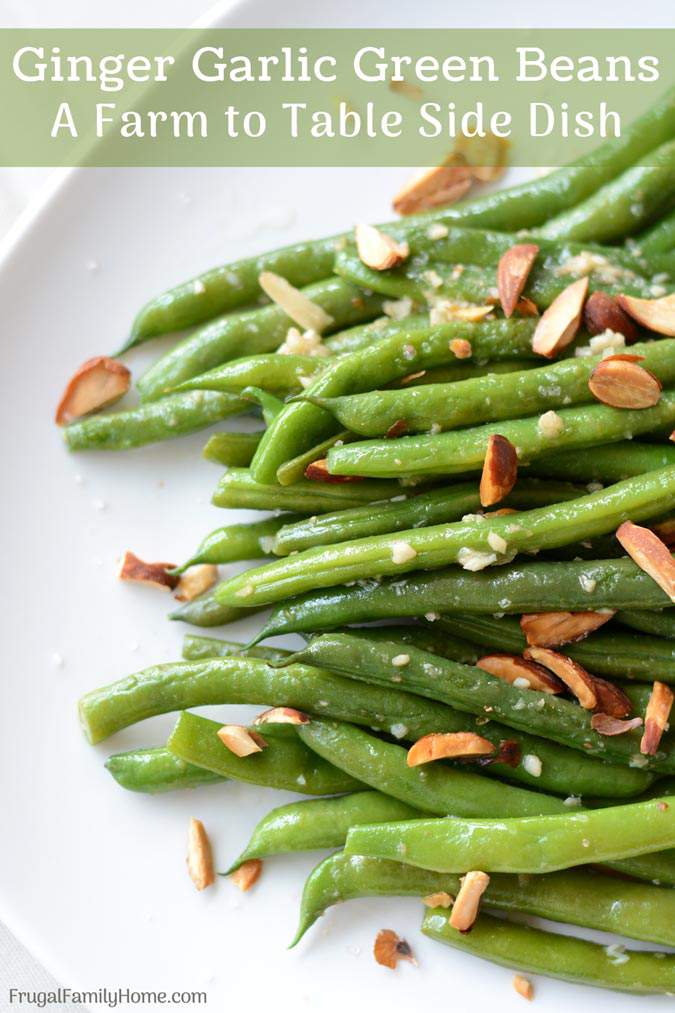 Ginger Garlic Green Beans
Ingredients
1

pound

Fresh Green Bean

1

tablespoon

Garlic

minced

1

inch

Ginger

grated

1

tablespoon

Oil

1/4

cup

Water

1/4

cup

Roasted Almonds

roughly chopped
Instructions
Wash and remove stem ends from green beans, set aside.

Heat a skillet with a lid over medium high heat. While skillet is warming add the oil.

To the warmed oil in the skillet add the garlic and ginger, cook for about 30 seconds.

Add the green beans to the skillet and sauté for a minute or two to get them cooking.

Pour the water into the pan and quickly cover the pan.

Cook the green beans for about 5 minutes or until tender crisp. Adjust temperature to keep the water boiling about medium heat.

Remove the lid and continue to cook and stir until the water has evaporated away.

Place the green beans on a plate be sure to get all the ginger and garlic out of the pan.

Sprinkle the green beans with chopped almonds.

Serve.
This simple recipe for ginger garlic green beans is fancy enough to serve at your Thanksgiving or Christmas dinner. But simple enough to serve any day of the week as a side dish.
We love this dish so much that we had it twice in one week and everyone always gobbles it up. Even my picky eater. Probably because it doesn't have onions although onions would be a great addition to this recipe.
What's your favorite way to enjoy green beans?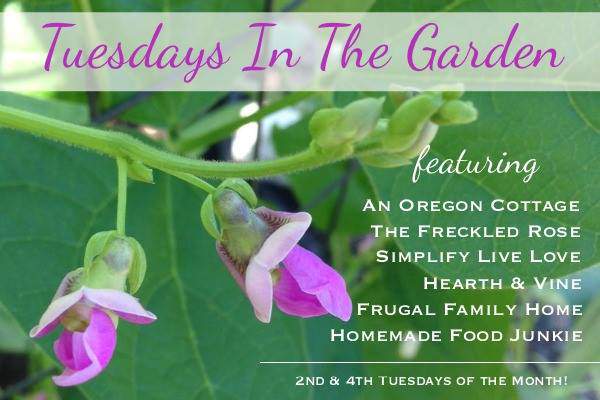 Find more great farm or garden to table recipes. Below you'll find more garden or farm to table recipes from the other Tuesdays in the Garden bloggers. Click on the photo to be taken to the article and the recipe.