My husband loves to grill. He was given the book called The Barbecue! Bible. (affiliate link) It has some wonderful recipes and today I'm sharing one of our favorites from this book.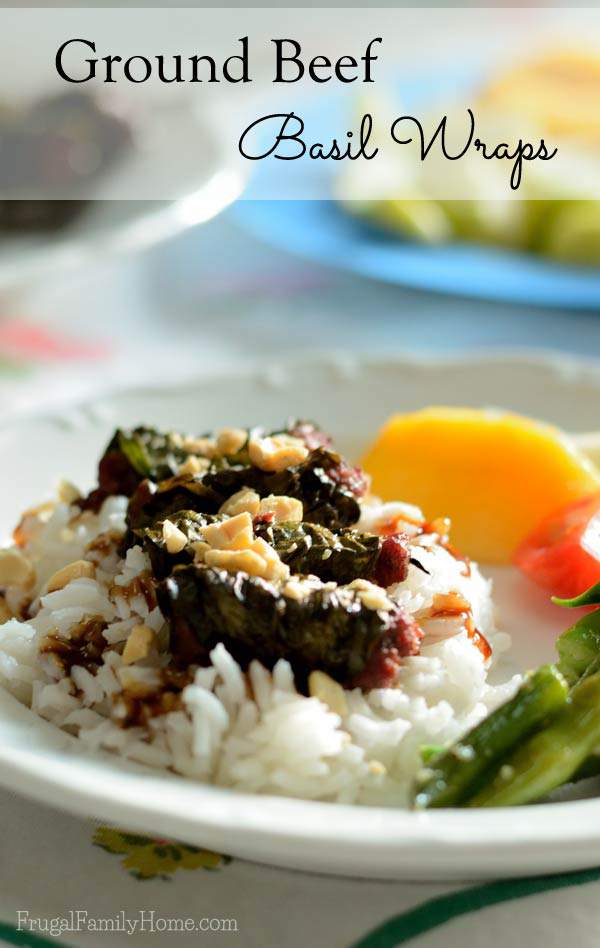 This recipe is probably supposed to be served as an appetizer. But we actually just eat it as an entrée, on top of rice. My son calls they finger hamburgers.
Now, even though my son's favorite color is green, he just can't seem to eat these with the green basil wrapped around them. So, I take the basil leaf off of his. But the rest of us love the crisp basil leaves that surround the yummy slightly salty, slightly sweet bite of meat.
When making these, you'll want the biggest basil leaves you can find. Fortunately for us, I didn't have to go far to find basil leaves. Our basil really took off this year growing as big as our tomato plants. I had two of them so we ended up with lots and lots of basil this year. I found all the basil leaves I needed right out in our garden.
Making the Beef and Basil Wraps
To start you will want to wash and dry the basil leaves. To make them easier to fill, I lay them out on a sheet of plastic wrap or wax paper. Then set them aside while you make the meat mixture.
Next, place the ground beef in a bowl and add the sugar and spices. (see recipe links below) The fish sauce is really strong smelling, but don't worry it won't be strong in the dish. Don't skip it, the fish sauce adds nice flavor to the meat. Once everything is mixed together well, it's time to roll and wrap.
Wrapping the Beef in the Basil Leaves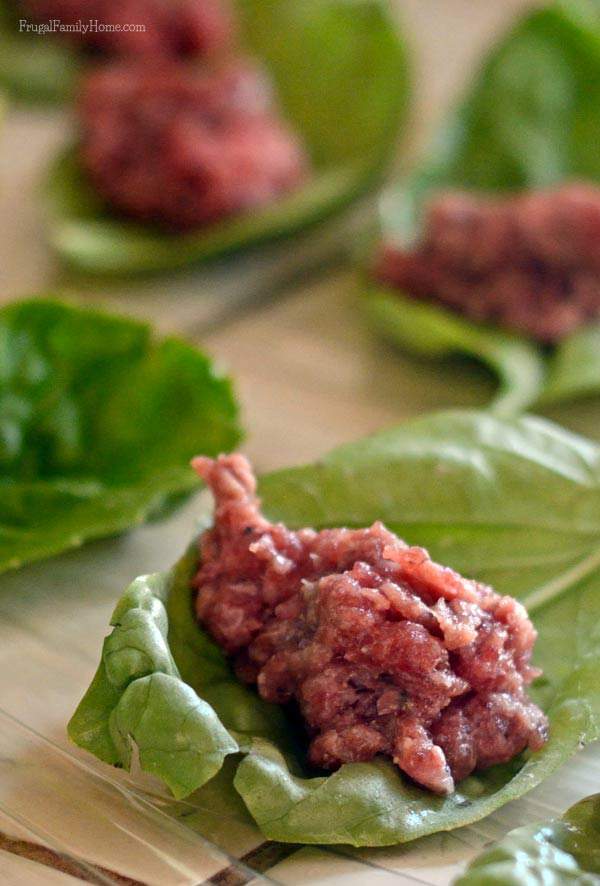 Make sure the basil leaves are underside up. This will make them cup a little and easier to roll. I also remove any extra stem that is on the leaf. Those extra stems can poke through the basil leaves, which you don't want to happen.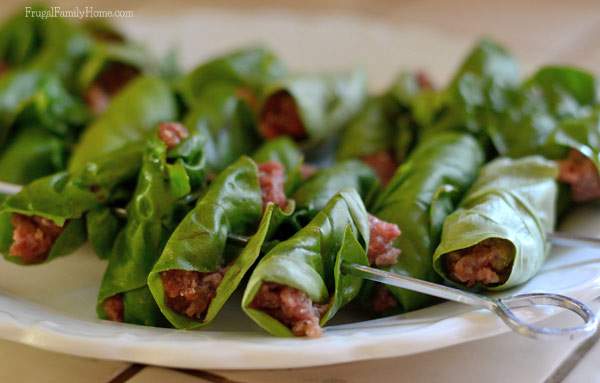 Once rolled up slide the basil wraps onto a skewer, making sure to catch both ends of the basil leaves with the skewer, to keep the rolls wrapped up nicely.
Grilling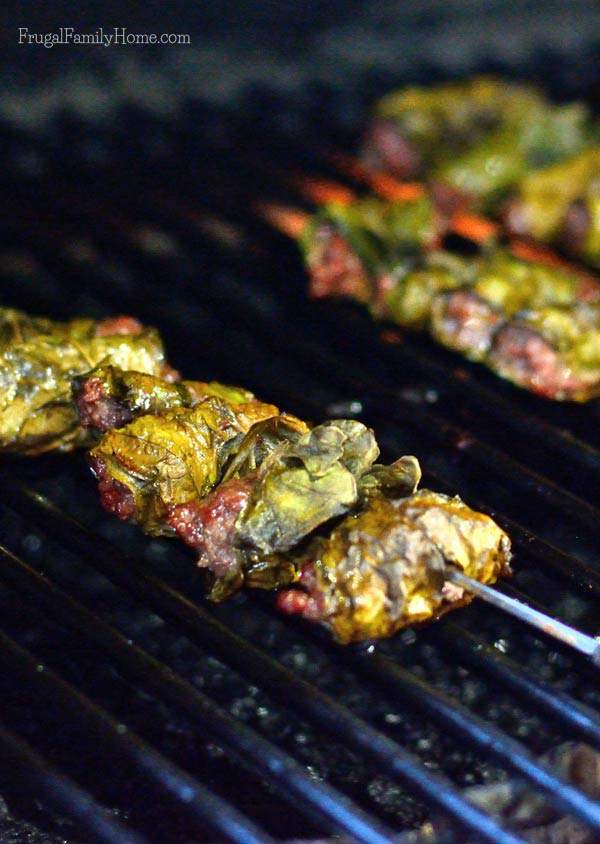 We oil our grill before we place the basil wraps on the grill, just to be sure they don't stick. Grill about 4 minutes over direct heat on each side. The leaves will get nice and crisp as the meat inside cooks.
Serving the Basil Wraps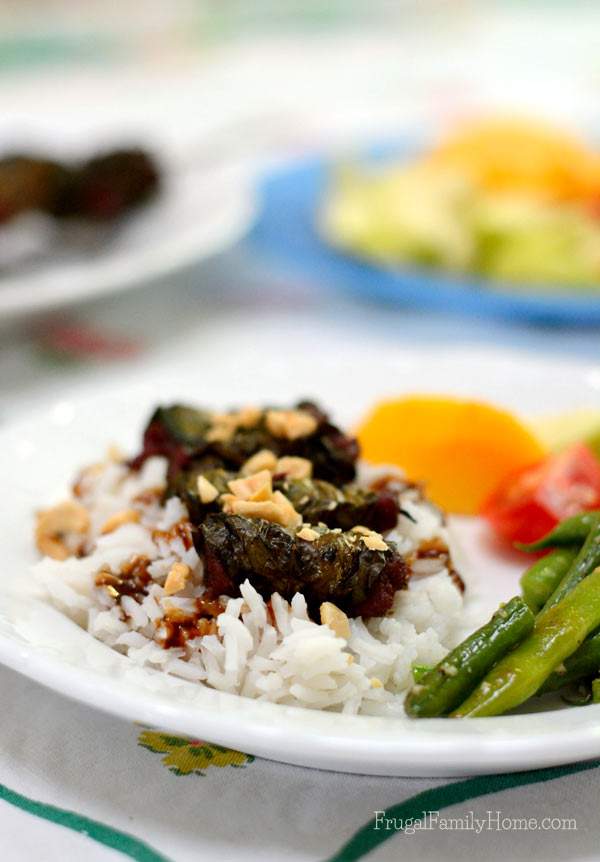 We like to eat the ground beef basil wraps over a bed of rice with a little hoisin sauce on them. We also sprinkle them with a little chopped peanuts too. The combination is so yummy!
The ground beef basil wraps turned out to be so good. You can leave out the sugar if you are on a limited sugar diet. I did just that, by mistake on this batch. No one even noticed, but I could tell something was off and that's when I realized I left out the sugar. 🙂
To get the recipe you can see it here or go over to google books to browse the whole book.
More Ground Beef Recipes,
Easy Slow Cooker Hamburger Dish
Slow Cooker Beef and Bean Enchiladas
Over 50 Hamburger Meat Recipes
Subscribe and you'll get Recipes
sent right to your inbox!
Click the button below and fill out the form.