Need a quick and easy dinner idea? These slow cooker enchiladas are easy to assemble and cook on their own. Freeing you up to do other things while dinner is cooking.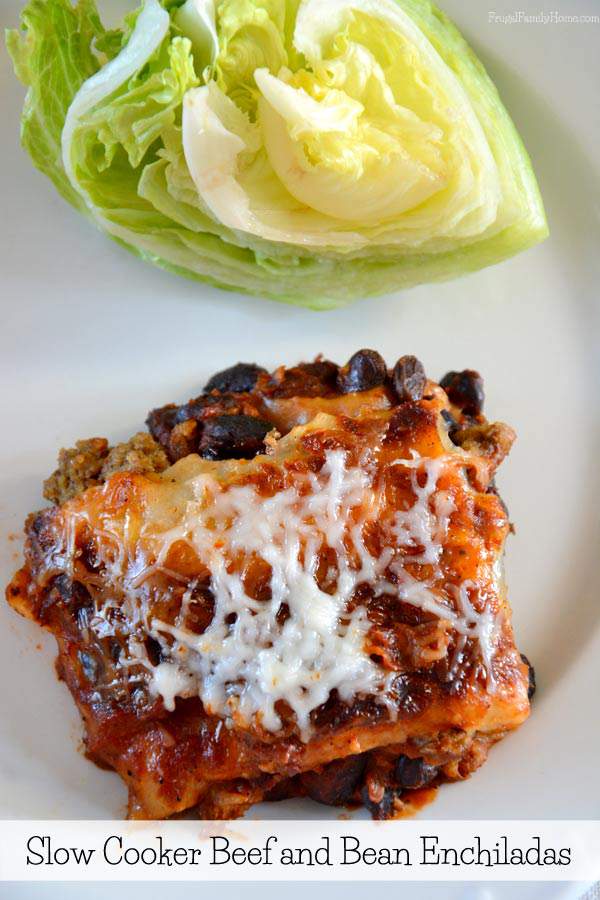 Slow Cooker Beef and Bean Enchiladas for Busy Days
Slow cookers are great to have. You can set it up and forget about it until it's time for dinner. Almost like having a cook on hand to prepare meals. But you have to add the food to the slow cooker.
In the summer, I use my slow cooker often when the weather heats up. But I also use my slow cooker on busy days when I know I'll be tempted to want to eat out and not cook dinner.
But if I have already started the meal in the slow cooker, we eat at home and save money. And you can save a bundle by eating at home.
My Favorite Slow Cooker to Cook the Enchiladas in..
Some links below are my referral links. Which means when you purchase through them I can make a little money at no extra cost to you. Thanks for your support in this way. See my disclosure policy for more information.
My slow cooker is one like my mom had oh so many years ago. I purchased it after I had discovered I was buying a new crock pot about once a year. Yes I use mine that often.
I purchased this slow cooker. It's a great little slow cooker just like the one my mom had. And her's lasted and lasted.
I've had my slow cooker about 5-6 years now and it still is working great. I think the next time I need to purchase one I'll be getting a 6 quart model though.
For just a little more room to cook in. But the 5 quart slow cookers works good for our family of 4.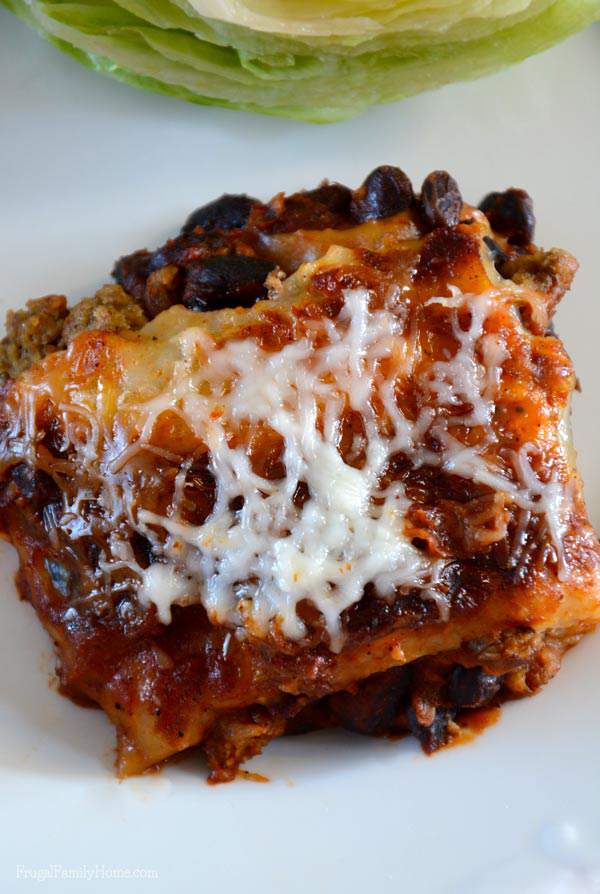 Why Make Enchiladas in the Slow Cooker…
Making enchiladas in the slow cooker is something I tried. We love them but heating the house with the oven on a warm day isn't a great idea.
I went with layered slow cooker enchiladas instead of making rolled enchiladas. It made the dish a little thicker, more like lasagna. So it can stand up to the longer cooking time.
Be sure to check your slow cooker enchiladas after about 3-4 hours of cooking. Some slow cookers can cook a little faster. Mine on low is very slow to cook but others might not be the same.
Everything is already cooked so you only need to heat it through. The first time you make this recipe, be sure to check on it early. To make sure the tortillas don't burn on the bottom from cooking too long.
What You'll Need to Make These Slow Cooker Beef and Bean Enchiladas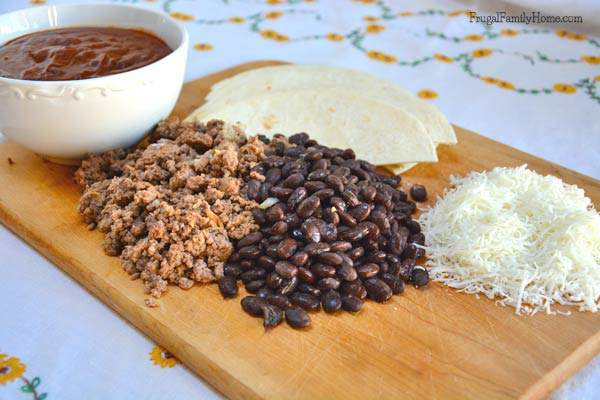 Ground Beef, we use half a pound but if your family likes more meat, use a full pound.
Beans, Pinto or Black Beans
Enchilada Sauce
Cheese
Tortillas
I made my enchilada sauce using my friend Sandra's recipe. But you could use canned sauce or the foil packets with tomato sauce. Use whatever your family likes the best.
I started with some pre-cooked ground beef from my freezer. I only used a half pound, since I was adding beans, but if your family are big meat lovers, add a full pound.
I also had black beans in the freezer, so I used them instead of canned beans. But the canned beans would work well.
You don't have to use black beans, use pinto beans if you prefer them instead. If using canned beans be sure to drain off the liquid.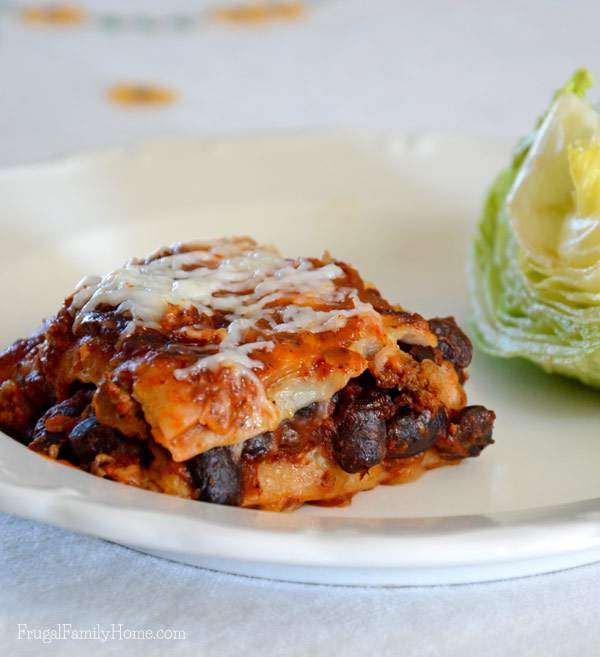 How to Assemble the Crockpot Enchiladas
To assemble the slow cooker enchiladas. I start with a layer of sauce on the bottom.
In the past, I've started with a layer of tortillas on the bottom. But after making this recipe quite a few times it's better to place a layer of sauce on the bottom than the tortillas.
The enchilada sauce helps to keep them from overcooking and getting too crisp.
We make the slow cooker enchiladas with flour tortillas. You can use corn if you prefer those better, but I find they tend to fall apart.
Add a layer of tortillas on top of the sauce. I cut the tortillas in half so they will fit better.
Add more sauce, then 1/3 of the beans and 1/3 of the meat. Then another layer of tortillas. And repeat the process ending with sauce and cheese on top.
Slow Cooker Enchiladas being Assembled
Here's a quick video showing the process of the slow cooker beef and bean enchiladas being assembled. Be sure to remember to add sauce to the slow cooker before the first layer of tortillas.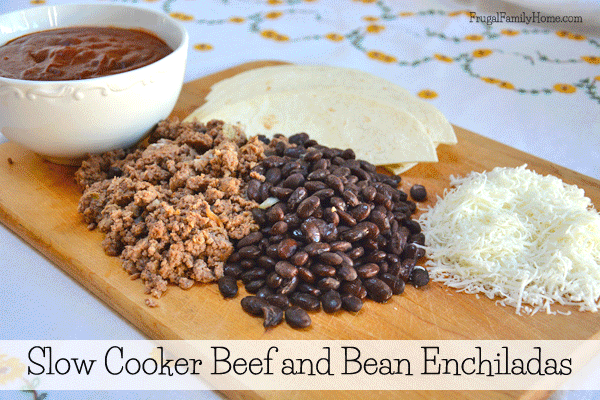 If you're ready to give these crockpot enchiladas a try, grab the printable recipe below…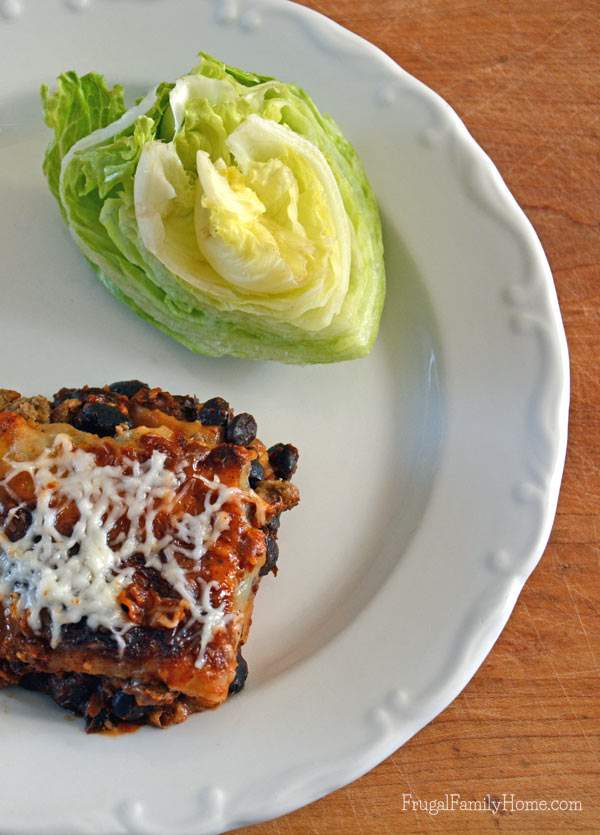 Slow Cooker Beef and Bean Enchiladas
Ingredients
1/2

pound

Ground Beef or Turkey

cooked and drained

2

cups

canned Beans

pinto or black, drained if canned

2

cups

Enchilada Sauce

1

cup

Cheese

shredded

6

Flour Tortillas

cut in half
Instructions
Place 1/2 cup sauce in the bottom of the slow cooker and spread it out.

Place 3 tortillas on top of the sauce. Add 1/3 the beans and 1/3 the cooked meat on top of the tortillas.

Add three more tortillas, spread sauce on top of the tortillas. Add 1/3 the beans and meat again.

Layer another three tortillas on top and spread 1/2 cup of sauce over them. Add the rest of the beans and meat.

Top with the remaining 3 tortillas and spread the sauce on top. Sprinkle with cheese.

Place the lid on the slow cooker and cook for about 4-6 hours on low or until the enchiladas are heated through. Check at about 3 hours in case your slow cooker, cooks faster than mine.

Enjoy!
What does it cost to make Slow Cooker Beef and Bean Enchiladas
I like to break down the cost of recipes we eat often. There are two reasons for that.
One you know how much it costs to make.
And two you can pair more expensive splurge meals in a week with less expensive frugal meals to keep your grocery spending under control.
When you know how much each recipe costs to make you are in control of your spending.
The prices listed below are prices I regularly pay at our local grocery stores. Your prices might be a little higher or lower depending on where you live. But this can give you an idea of how much this dinner will cost to make.
Here's the cost breakdown for these crockpot enchiladas
Ground Beef $1.50 for half a pound, or $3 for a full pound
Beans, Canned $.60, or Beans made from Dry, $.20
Enchilada Sauce, $1.50 canned, or $1 for Tomato Paste and Dry Packet
Tortillas $.75 for 6 (purchased $2.99 for 24 tortillas)
Cheese $1 for pre-shredded or $.75 if you shred it yourself.
The least expensive way to make this recipe the total cost is $4.23 or $.71 per serving.
If you use the most expensive options that will bring the cost to $6.85 or $1.14 per serving. Not bad and you'll be able to get this recipe together faster with pre-made sauce, and pre-shredded cheese plus double the meat.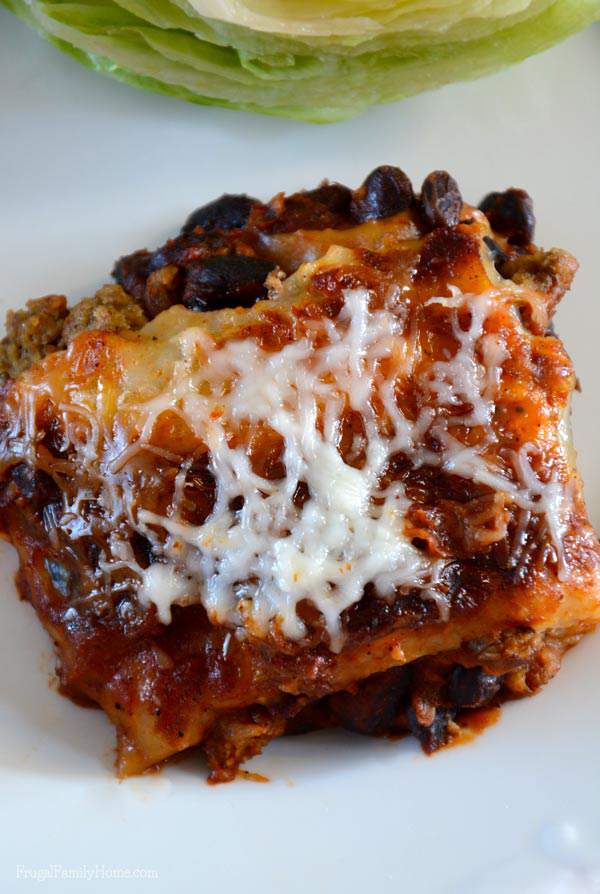 Our family really loves this recipe of slow cooker enchiladas. I think it's the best enchilada recipe because you don't have to roll the meat and beans in the tortillas. Just layer and start the slow cooker and let it do its magic.
What's your favorite type of enchiladas, cheese, beef, pork, or chicken?
Find more Dinner Ideas on my Dinner Recipe Page.
More Crock Pot Recipes You'll Love,
Slow Cooker Cranberry Pork Roast
Slow Cooker Hamburger Dish
Slow Cooker Garlic Pork Roast
SaveSave
SaveSave
SaveSave
SaveSave
SaveSave