A video tutorial on how to make homemade egg noodles without a pasta machine. With only 3 ingredients and no pasta machine, you can make your own egg noodles at home from scratch.
A while back I shared my great grandma's recipe for homemade egg noodles. We make them often and everyone loves them.
But I've had comments on social media about how hard are they really to make?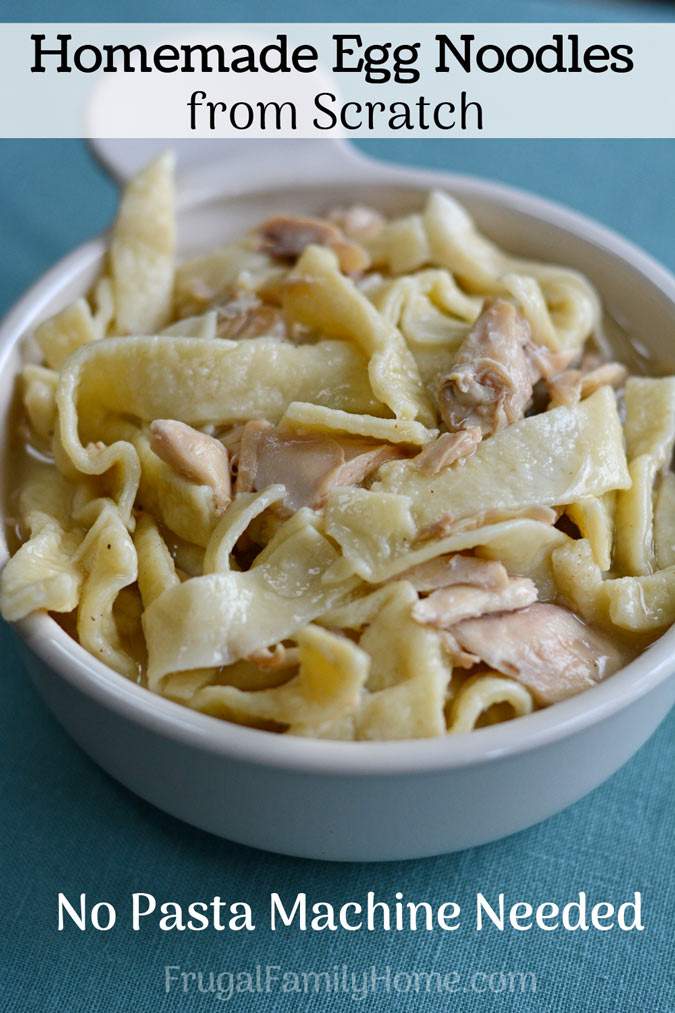 I thought there is no better way to show how easy they are than to make a step by step video tutorial.
But first, let me tell you a little about this recipe. My great grandma was a wonderful cook. She cooked everything from scratch, had 13 kids and raised them on a farm.
I was always so mesmerized when I watched her cook. She did it so effortlessly. She rarely used a cookbook, since she had all of her recipes in her head. But I did get a recipe or two written down from time to time and this is one of them.
I love this homemade egg noodle recipe because it's so frugal. I mean three cheap ingredients along with a couple of kitchen tools you already have and you can make your own egg noodles at home.
To make these noodles, I cook them in broth with chicken, turkey or beef. I will often make them using one of my soup kits from the freezer.
They make a hearty, comfort food dinner. It reminds me of those days looking forward to dinner and having a helping of grandma's noodles.
When I was young we would serve these egg noodles over a pile of mashed potatoes. With a side of sweet corn from the freezer. I know it sounds like we were carb loading for a huge race or something.
Nowadays we enjoy our homemade egg noodles in a bowl with a side salad and fruit. Much healthier and fewer carbs.
I hope I've convinced you on how yummy these are. Now to show you how easy they are to make too.
Print the Homemade Egg Noodle Recipe at the bottom of this post.
Tips for Making Homemade Egg Noodles from Scratch
✳︎ Mix the egg noodle dough with enough flour to keep it from being sticky. I will stir in as much of the flour as I can and then I'll knead in more to make sure the dough isn't sticky.
✳︎ You don't want it dry and crumbly, just not sticky. If you add too much flour it will the egg noodle dough will be dry and crumbly.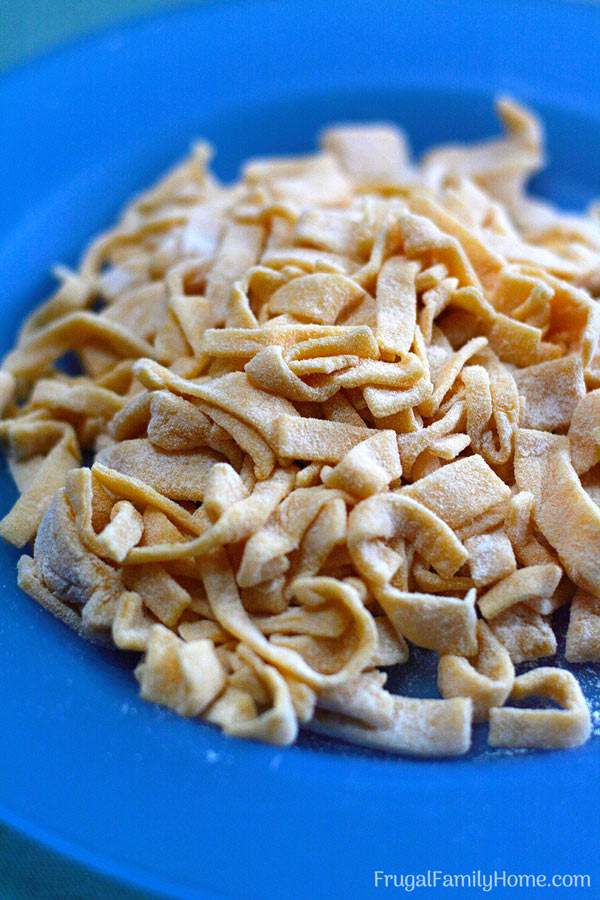 ✳︎ Rolling out the Egg Dough, divide the egg dough into two pieces. Roll out each piece separately until very thin on a well-floured surface.
✳︎ There is nothing worse than taking the time to roll the noodle dough very thin only to have it stick and you have to start all over again. Be sure to flour the board well first or roll the dough onto a silicone baking mat.
✳︎ The noodles need to be very thin since they will puff up quite a bit. If you roll them out too thick they will be huge and might not cook through for a long time.
✳︎ Cutting the Noodle, after the dough is nice and thin it's time to cut it. I like to use a pizza cutter for cutting the noodles. I'm not always that great at cutting them straight but it's a lot easier with a pizza cutter than with a knife.
✳︎ Storing the Noodles, if you won't be cooking the noodle right away put them into a pie plate or onto a plate and toss them with flour. This will keep the cut sides from sticking together. Then refrigerate them until ready to cook.
✳︎ Cooking the Noodles, I like to boil homemade broth to cook the noodles in. Bring the broth up to a boil and then add the noodles. Simmer until the noodles are cooked through about 20 minutes.
I usually cut a bigger noodle in half to check to see if the noodles are cooked through after 20 minutes.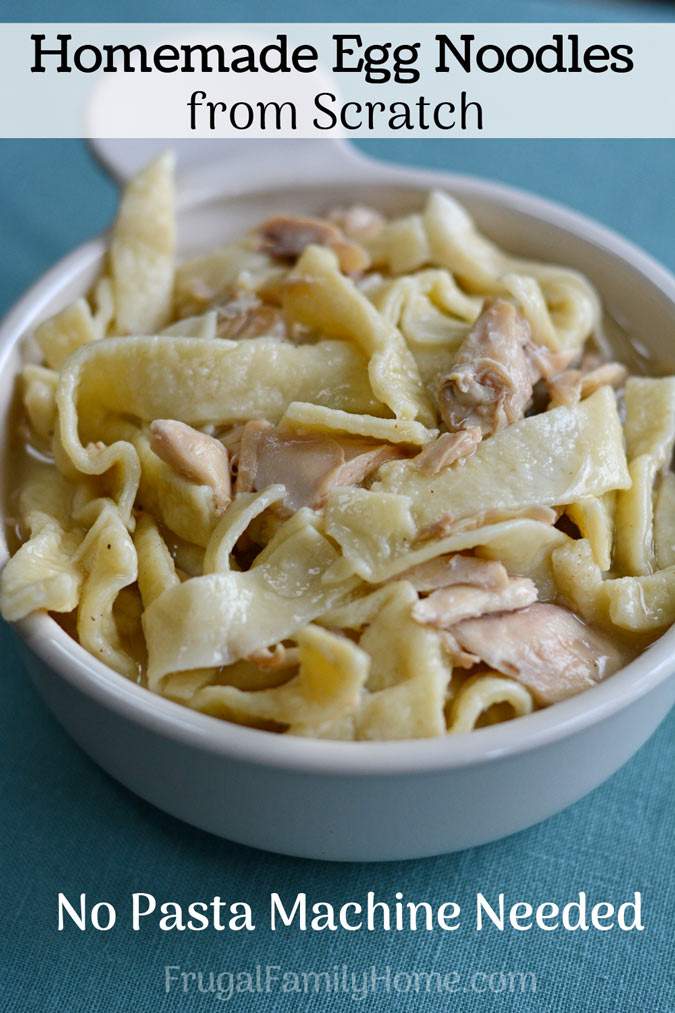 How to Make Homemade Egg Noodles without a Pasta Machine
Ingredients
2

slightly beaten Eggs

½

teaspoon

of Salt

1

cup

Flour

plus more for rolling

4

cups

of broth for cooking
Instructions
Forming the Noodles

Mix the eggs and salt.

Stir in the flour then turn the dough out on a well-floured board.

Knead the dough 3-5 times, then cut the dough in half.

Roll the first piece of dough out very thin. Then cut into strips about ¼ inch wide and then cut the strips crosswise about one inch long.

Sprinkle the cut noodles with flour and then toss with flour.

Repeat for the second dough ball.

Cooking the Noodles

Bring the broth to a boil.

Drop the noodles into the broth and stir.

Simmer for about 20-25 minutes or until cooked through.

If you have leftover meat add it to the noodles and heat through.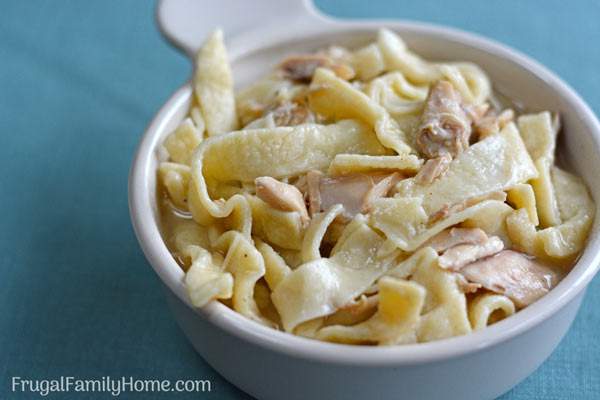 How Much Does a Batch of Egg Noodles Cost?
In case you wanted to know the cost of one batch of these homemade egg noodles comes to $.33
If you'll be cooking them in your own homemade broth it won't cost much more. If you'll be using store-bought broth add a couple of dollar to the cost.
We use leftover meat from a beef roast, a whole roasted chicken, or leftover turkey from cooking a turkey breast or whole turkey. To add meat to the noodles.
Do you think you'll give making these frugal homemade noodles a try? If you have any questions leave them below and I'll do my best to answer them.
Click Image Below to Pin It for Later…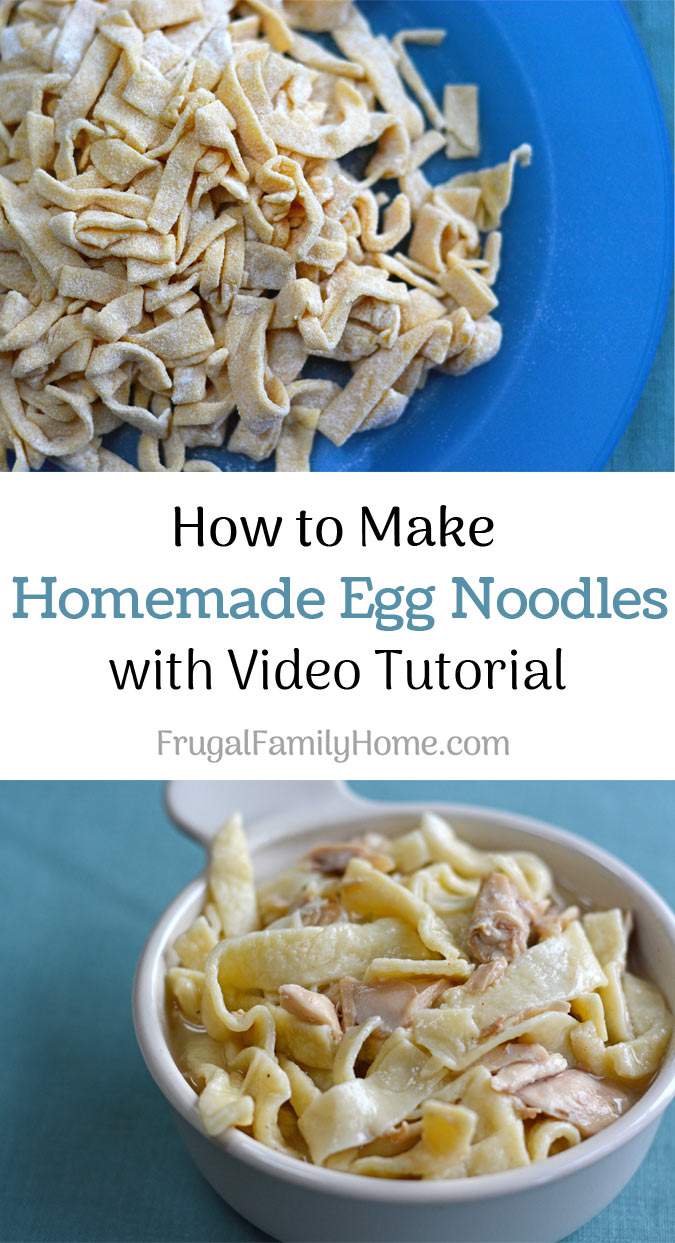 Subscribe and you'll get Recipes
sent right to your inbox!
Click the button below and fill out the form.