I love making sweet treats for Valentine's Day. I think it's because I love to bake and Valentine's Day gives me an excuse to bake. When you think about Valentine's Day you think about chocolate covered strawberries, at least, I do. That's why I created these Chocolate Covered Strawberry Cookies.These cookies with the chocolate butter cookie and filling of strawberry frosting make them something like a chocolate covered strawberry.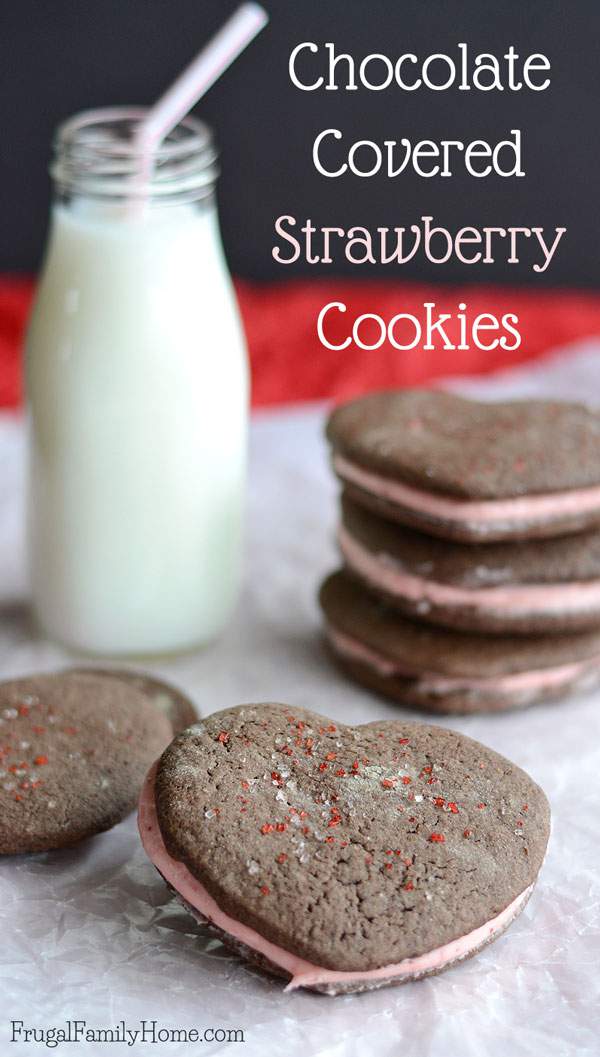 Here's the printable recipe for your recipe file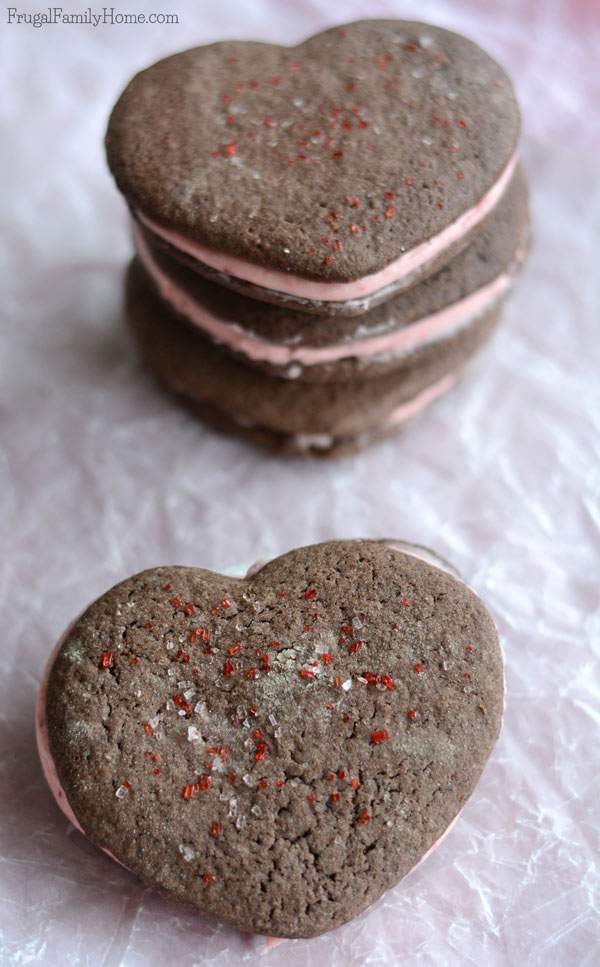 Chocolate Covered Strawberry Cookies
Ingredients
Cookies

1

cup

Butter or Dairy Free Margarine

2

Eggs

2 1/2

cups

Flour

1/2

cup

Cocoa Powder

1 1/4

cup

Sugar

1

teaspoon

Vanilla

1

teaspoon

Baking Soda

Coarse Sugar for Sprinkling

optional

Frosting

1/2

cup

Frozen or Fresh Strawberries

2 to 3

cups

Powdered Sugar

2

tablespoons

Butter or Dairy Free Margarine
Instructions
In a large mixing bowl beat the butter, eggs, sugar, and vanilla.

Add the flour, cocoa powder, and baking soda to a bowl and mix with a whisk.

Combine the egg mixture with the flour mixture and beat to combine.

Divide dough in half and wrap each half in plastic wrap and refrigerate for 1 hours.

Take the dough out of the refrigerator and roll out on a floured surface to 1/4 inch thick.

Cut the dough out into hearts with a 3-inch heart cookie cutter.

Place on a Silpat lined cookie sheet. Sprinkle with coarse sugar if desired.

Bake at 375 degrees for 8-9 minutes or until the edges are done and the top is set.

Let cool on a wire rack

To Make Frosting

Thaw the strawberries and puree. I like to use my hand blender for this.

Soften the butter or margarine and mix with the pureed strawberries.

Add one cup of powder sugar and beat to combine. Continue adding powdered sugar until the mixture reaches spreading consistency.

Once the cookies are cooled frost the bottom of one cookie with the strawberry frosting and then place another cookie on top to make a cookie sandwich.
Just so you know, some of the links in this post are my referral links. When you use them I might make a little money at no extra cost to you. Thanks for your support in this way. For more information please see my disclosure policy.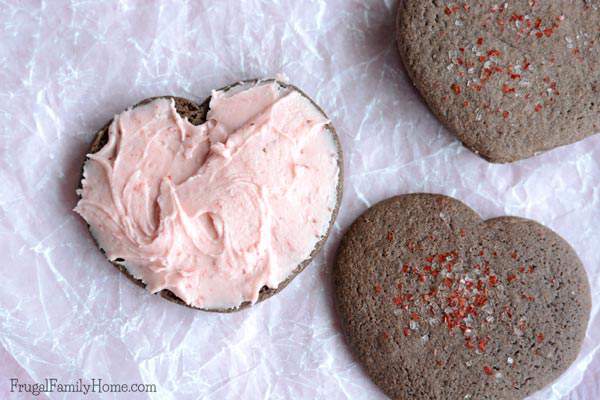 Tips for Making these Chocolate Covered Strawberry Cookies
Be sure to refrigerate the dough before rolling it out. That will make rolling out the dough so much easier. If you don't refrigerate the dough first, it might be hard to work will the stick more easily.
When making this recipe, you'll be able to make 20 Chocolate Covered Strawberry Sandwiches when using a 3-inch heart cookie cutter.
Be sure to cool the cookie fully before frosting. If the cookies are warm, the frosting will try to melt off.
Frost the edges of the outside edge of the cookie and then press the cookies together to distribute the frosting more easily.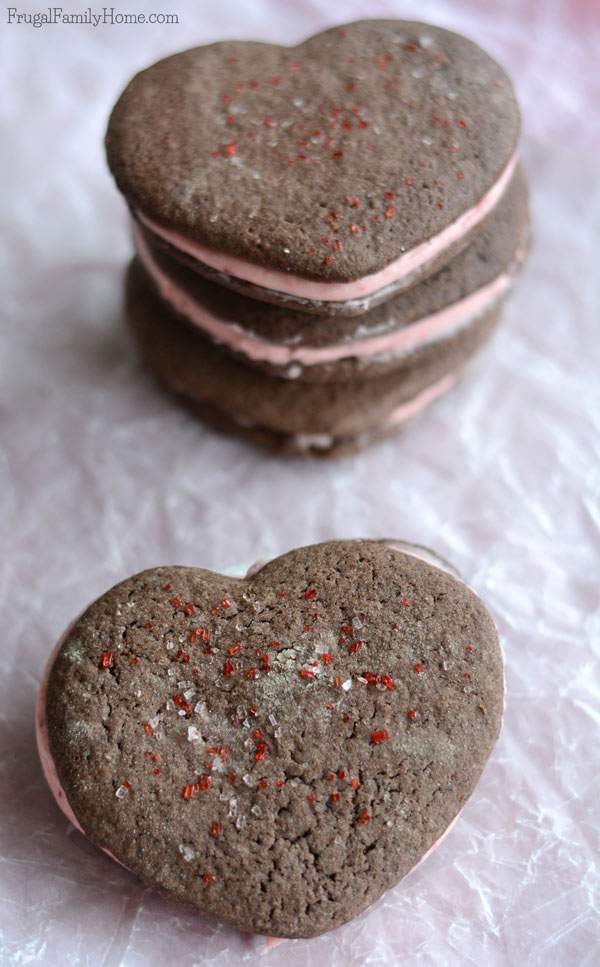 When making the frosting be sure to puree the strawberries well. I like to use my hand blender for this job but you can also use a regular blender or food processor.
Melt or soften the butter to make it easier to incorporate the strawberries with the butter. The strawberry butter mixture also makes a yummy strawberry butter for toast when you leave out the powdered sugar.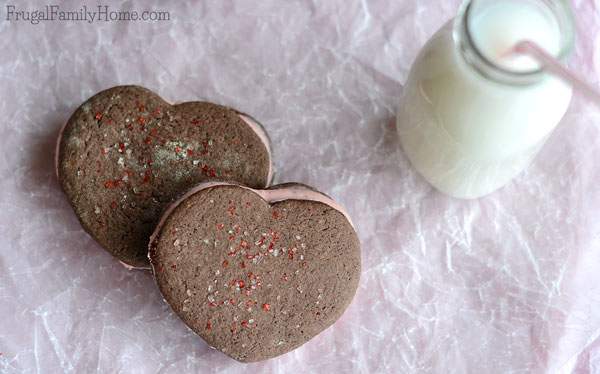 I like to refrigerate these cookies once they are frosted since the strawberries are fresh or frozen in the frosting.
Another Great Valentine's Day Cookie Recipe to try,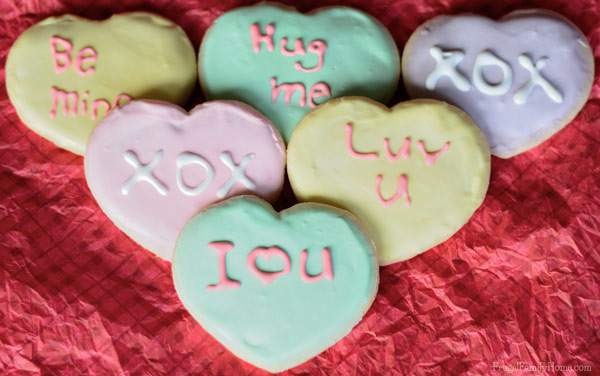 What kind of sweet treats do you like to make for Valentine's Day?
Subscribe and you'll get Recipes
sent right to your inbox!
Click the button below and fill out the form.